Well, this was a dull episode! It got to where it needed to be in the end, but it was kind of limp on the way there. Oh well, we had 3 really good ones in a row, it was time for a sort of soapy dramatic and then nothing happens plot. At least my review should be short! (full index of Mentalhood reviews here)
The "theme" of this episode is learning when to say no and set limits. The little flip to it is that, as adults, what we need to learn is to set limits on ourselves. That's what it means to be adult.
It all revolves around a birthday party. Shilpa Shukla's daughter is having a birthday and she is going over the top with planning for it and spending money on it. Sandhya is in a bad way about the whole thing, especially when Shilpa pays off the party planner to steal the plans for Sandhya's daughter's party. Tillotama finds her sons sneaking sweets and punishes them by not letting them go to the party, that's her story. Karisma's mother-in-law sends a luxurious gift to her son and Karisma takes it away from him and wraps it up to give to Shilpa's daughter and impress the other mothers with her generosity. Shruti still doesn't have custody of her son, but Dino encourages her to come to the party and she sees and plays with him there (with the approval of her ex-husband). Dino has no story at all.
The center of the story is the threat that Sandhya will announce in the middle of the party that Shilpa's daughter is adopted. This is obviously a truly terrible thing to do, crossing a line that Sandhya has not come close to crossing for the rest of the show. It's really dumb, is the thing. They try to make it a reasonable threat by showing her getting drunk and being increasingly out of control (all the stress that we see building up in the previous episodes, especially last week when her child was sick and her husband threw her against a wall for talking back), but it's really so far over the line that it is hard to believe Sandhya as a character, or the writers pulling the strings, would allow it to happen. And then it doesn't happen.
The build up to it happening is STUPID, all of this foreshadowing and ominousness music and stuff, but the resolution is perfect. Sandhya doesn't do it, because of course she doesn't do it. She may be drunk and talking big, but she isn't going to cross that line. These women may snipe at each other, but they will never hurt each other's children. We have seen that all along, no matter how they fought with each other they never let it affect their children. And then, moment passed, the women come together closer than ever, having affirmed that their bond and friendship will never break, no matter how hard things get or how much they fight between each other.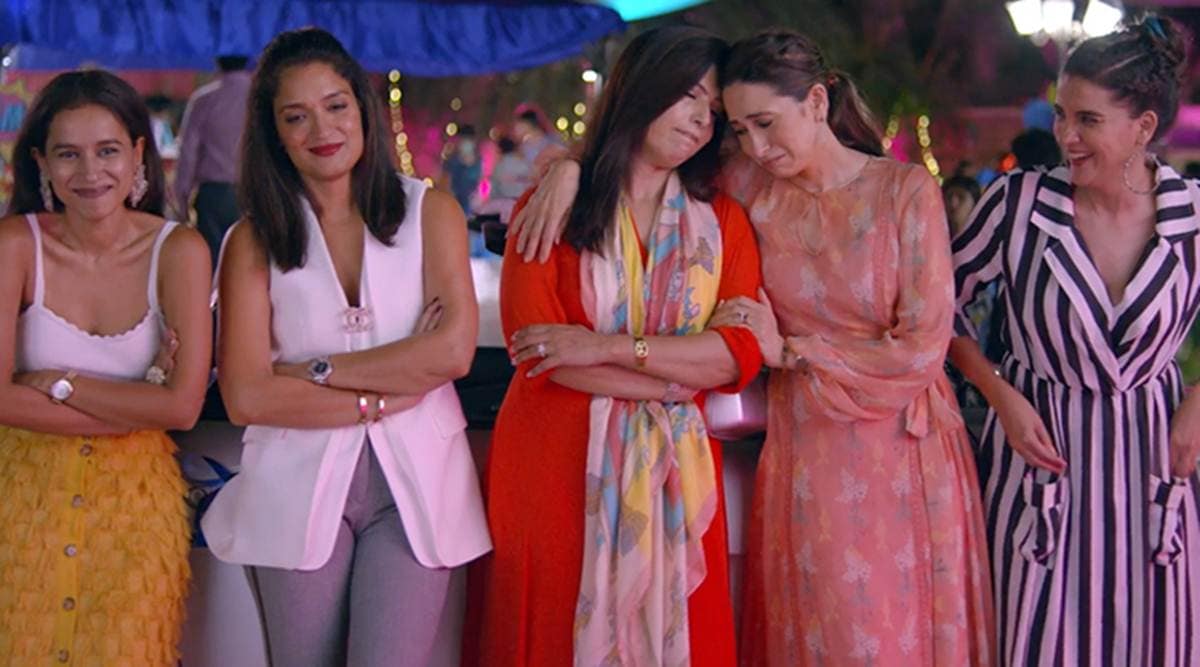 Oh, and another small moment, Karisma notices the biological mother of Shilpa's daughter coming into the party and seeming weird and sneaky. She follows her, finds her with Shilpa's daughter, sends the daughter away, and then gently tells the mother to leave her daughter alone. The mother demands money, and Karisma immediately turns aggressive and calls the authorities to take her away.
Blah blah, the theme is saying "no", but really this episode is about turning our central group of 4 mothers into more of a fighting unit. They won't break internally, no matter what, and even soft Karisma will turn tough when they are threatened. Now, having seen a TV show before, I am just waiting for the pay off. Tillotama's icky husband? Shruti's custody issues? Sandhya's abusive husband? The adoptive mother again? What threat will it be that brings everyone together? And what tools will they use? Shruti's earth mother open mindedness, Karisma's jewelry she is hiding from her husband, Sandhya's scorched earth methods, Shilpa's cool unbreakable confidence?