Woot! MANNAT! And a really lovely hopeful small gem of an episode. Don't watch anything else of this show if you don't want to, just watch this one episode and feel happy. (full index of reviews here)
This is a really beautiful episode. There is never really anything stressful that happens in it, and there are some beautiful views of Bombay, and a bunch of very quiet pleasant conversations between people who are trying hard to make a connection, and really SEE each other.
There is a special relationship between the boyfriend/girlfriend and the parents of the girlfriend/boyfriend. It's different from actual in-laws, once there is a formal relationship there are stresses and expectations. But when you are seriously dating, you are in this odd position of spending a lot of time with someone of an older generation, without any hang-ups that stop you from seeing each other as people.
I should say, there is the possibility for that relationship, so long as both sides are nice open people. Which is what we see here in this episode, as Dhruv continues to crawl his way into my heart this season. Mithila's mother is in town and Dhruv is going to host her for the day while Mithila goes to work. Her mother is a lovely woman who approves of Dhruv's relationship with Mithila and is being pleasant and nice to him as her host in the city. And Dhruv is a very nice man who appreciates this lovely older woman and wants to be sure she has a good time. They are strangers, sort of, because they haven't really spent that much time together one on one. But they also aren't strangers, because they both have heard about each other through Mithila. And because they are coming from a starting point of "this is a person who might be part of my life for the rest of my life". There's an extra effort to connect, and an extra interest in each other.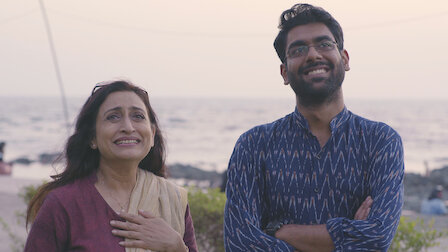 Mithila's mother could easily be disapproving and standoffish. And Dhruv could easily be awkward and ignore her, check his phone, not talk. But instead he goes along with whatever plans she makes for the day, and then truly talks to her and listens to her. By the evening, when they have a nice dinner with Mithila's work friends over, Dhruv is joking with Mithila's mother and teasing the young people for always being on their phones. He and Mithila's Mom are friends now, not just strangers tied by a third party.
Something else I notice, this is an almost entirely Dhruv episode. The meat of it is seeing him and Mithila's mom going around, without Mithila there. At the end, Mithila has a bit of an emotional tangle as she misses her Mom, and also realizes she doesn't really know her, not like Dhruv now knows her, as a person. But the show gives Dhruv the ability to give Mithila a solution, and to listen and care about her problem. Mithila has the problem, but Dhruv is as active as she is in this scene (just as Mithila was there to help him talk out his problem with his friend in the first episode). Combine that with him having the most to do in the middle of the episode, and we are increasingly seeing Dhruv's journey and growth as a person, learning who he is beyond the "statistics and foodie" guy from the first season.
Anyway, plot! Mithila arranges a car for the day and sets up a tourism plan for Dhruv and her Mom to go around Bombay. But then once they are in the car, her mother asks Dhruv if, please, they could go somewhere else. And they go to Mannat. And she takes her hair down and makes herself look pretty and asks Dhruv to take her photo, a little embarrassed but also excited. And Dhruv is happy for her, and tells her she looks nice, and takes the photo. And then she asks to go see where Aamir Khan lives, and is disappointed because it is such a small apartment (I was so caught up at this point, I started saying to the screen "oh, you should go see Jalsa! Or Rajesh Khanna's bungalow! Or Galaxy apartments for Salman!" and then I realized this very nice middle-aged woman was fiction and I didn't have to worry about her having a nice time on her Bombay trip). Finally, she asks one more place, and it is the house of an old friend. Dhruv watches the two of them meet, learns they were friends as young women, but haven't seen each other in years because the friend is never in town when Mithila's mother visits. And then they go to the beach and talk, and Dhruv tells her a story about when he got food poisoning (that sounds bad, it isn't a gross story, just a small funny story that you would tell someone you are close to) and she tells him a story about Mithila's childhood, and then asks him not to tell Mithila about visiting the friend because it would make her feel bad.
That night, Mithila has her friends over for dinner, Dhruv and her Mom tease a little bit about the young woman worrying about "carbs" and playing with their phones, and then her Mom leaves. And Mithila misses her and starts talking randomly, and mentions that it is nice how their parents got married, so young, their whole life things only they shared, the only person they ever kissed was each other. Dhruv reacts to that, Mithila sees it on his face and forces him to tell her, even though he knows it is wrong, and he tells her about her mother meeting this old friend and them talking about "first kisses". He doesn't know if it was her mother's kiss or her mother's friend's kiss, or even if it was with Mithila's father. But Mithila is still upset because it makes her realize she doesn't really know her mother as a person. She didn't know she had this old friend in Bombay, she didn't know about her as a young woman, she didn't know anything about her. Dhruv listens and reassures her and then suggests a simple solution, just take some time, go on a trip with her for a few days. That's all they need, time.
This is really just a beautiful episode. I don't think I can convey in the review how lovely it is. If you watch only one episode of this show, this is the one to see. I think what makes it so beautiful is that there is so much love there, people who don't necessarily know everything about each other but love each other anyway. Just the small details of the visit are so pleasant. Mithila's mother starts the day cooking with her maid. And they are chatting about being mothers and raising children, two women happily working together. The maid could be irritable about another woman in her kitchen, Mithila's mother could be snobby about interacting with a servant, but instead they are just friends, mother's together, happy to make a new friend. At the end of the episode, Mithila suddenly remembers and rushes to give her mother some lime juice and things made for her by the maid as a going away present. And her mother wonders if the maid liked the sari she brought her and they talk about the sari she gave her last visit. It's just a nice thing to do, and something it makes everyone happy to do. Does that make sense? Mithila's mother isn't saying "ugh, I have to remember a sari for the maid", she is saying "oh I hope she likes it!" And in the same way, she is anxious that Dhruv enjoys the food they eat, and Dhruv is anxious to make sure she feels happy and pretty when she takes her Mannat photo. And Mithila is anxious when Dhruv teases her friend about being on the phone because her friend is trying to get over a break up. Everyone is so aware of everyone else's feelings and concerned about them being happy.
Even the end, Mithila is worried about not really knowing her mother, when she gets a message from her Mom. That part is a reasonable narrative touch. If nothing else, they needed a reason for Dhruv to leave the room for a second and then come back with the solution of "go on a trip together" to end the conversation. But the message from her mother wasn't "I made it home" or "I left my bag", it was "I left some money in the apartment for you." And there is a whole world to fill in with that. Of course she is texting this hours later, because she wanted to be sure there was no chance of them giving the money back. And of course she left money, even though Mithila is now making gobs and gobs of money at her new job, because mother's always leave money for their kids just in case. And of course she didn't make a big deal about it, just sent a text, because she doesn't want Mithila to feel bad or awkward, just to know it is there. It's the perfect ending to the whole episode, a little moment of motherly love with no expectations in return.
Really, just a beautiful loving 25 minutes of art! I encourage everyone to watch it, whether or not you are watching the Little Things seasons in general, just to feel good about the world.