Thank you Kainaat! And SRK, of course. Kainaat quoted SRK describing Adi as someone who writes movies about men while his father wrote movies about women, and that started me thinking a whole thing.
It's true, Adi does write movies about men. Or rather, the scripts he writes and directs himself (versus the many scripts and stories he comes up with and other artists bring to fruition). But that doesn't offend me, as a woman. I don't feel ignored, nor do I have a hard time relating to his characters. Why is that?
I think there are two reasons, related to the men themselves and to the way they interact with the greater narrative.
First, the men themselves. There are two kinds of male characters that, as a woman, I cannot relate to. I can enjoy watching them, but I cannot sympathize with them. The first is the Perfect Man. This would be a hero like Salman Khan in Ek Tha Tiger. I like him, I enjoy watching him, I admire his bravery and honesty and so forth, but I can't put myself in his shoes. The gender divide, combined with the human versus inhuman perfection divide, is just too large.
And the second kind of male character is the one that seems to demand my pity. The one who you can only relate to if you feel more sympathy for him than any other character in the film. Reversing the situation, making it a female character, and the film could work for me. Something like Veere Di Wedding, for instance, I am aware that objectively the protagonists haven't "earned" my sympathy, their life is better than some of the other people onscreen. But because they are women dealing with problems that I relate to because of a shared gendered divide of social responsibilities, I can relate to them. And yet something like Bachne Ae Haseeno I can't enjoy in the same way since I cannot sympathize with the protagonist and instead find myself relating to the love interests.
I'm not saying I can't enjoy those two kinds of films, just that I enjoy them without relating to the protagonist. I work a little harder to find other characters I can identify with, or I keep an emotional distance and enjoy the film as an experience without fully losing myself in it. Those films will never be my favorite in the whole world, because they won't speak to me fully.
And yet Rab Ne Bana Di Jodi and Dilwale Dulhania Le Jayenge are my favorite films in the whole world, with male protagonists. Why do I love them, why can I lose myself in them utterly, across that gender divide?
I think the key is that the heroes fall between the two common extremes. They are not perfect, they have flaws, they have feelings, they try and fail and make mistakes. But at the same time, they are not fragile. They can handle being hurt, failing, and will get up and try to succeed again. The audience isn't supposed to care about them because they are so weak and broken, but just because we like them. They are average, that is what it is. Average people who happen to be men.
How does this play out film by film?
Dilwale Dulhania Le Jayange
Let's consider "Raj" in this movie. One of the first things we learn about him is that he is always late. That isn't a "tragic flaw" or a "noble flaw", it's just a flaw. He's late, and then he fails to graduate from college. Does this depress him? Does he consider tragic suicide? Naaaaah. Sure, he feels bad, and is worried about disappointing his father, and a little embarrassed. But he picks himself up and tries to do better.
He is out late with his friends and they want beer. He lies a bit to get into a store and buy some even though the store is closing. He is smart enough to pull off the trick, almost, but then it falls apart. He is ethical enough to leave money behind and not just steal the beer. So, shallow and young and wants beer. Smart enough to pull off a trick but not so smart as to pull it off perfectly. And still honest enough to be sure to pay, even while feeling triumphant with his cleverness in getting beer.
And then there is the way he interacts with girls. While his friends are a little shy and hold back, he bravely barrels ahead and tries to build a connection to the opposite sex. And he is so-so at it. With a girl like Sheena, who is the bravest one of her group of friends, it works. He has a line he can use as an opening and then just sort of feel his way from there. But with any non-Sheena kind of girl, he isn't all that smooth. More likely to get the Kajol response of disinterest and moving on. This is not the perfect ladies man of other films. But also not terrified lost lover. He keeps in there trying, he isn't afraid of girls, just a little lost with them.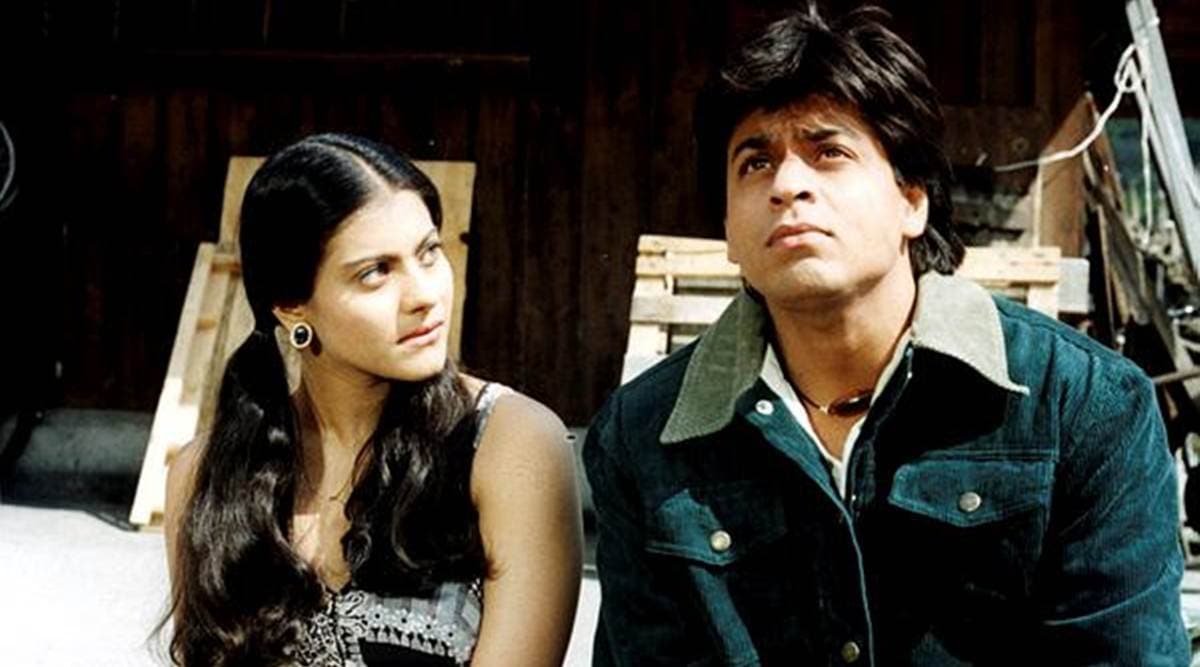 Basically, this is your typical 21 year old boy/man. He is struggling with regulation of life like waking up on time. He is still a little afraid of his father. He is still a little lost with girls, but eager to spend time with them. He will find his way slowly, he will grow up. And that's what we see over the rest of the film. In fits and starts he learns how to accommodate himself to his better nature, to figure out his values and live by them, even to wake up early in the morning when it really matters.
How refreshing! A hero who is a person! Who we like just because he is likable, because he is trying, because we would like him if we met him in real life.
Mohabbatein
Mohabbatein has two heroes of the "perfect" and "pitiful" variety. Amitabh is the pitiful, he made terrible mistakes but his life is so sad that we should all weep for him. Shahrukh is the perfect, he wants nothing for himself, never makes a mistake, just sweeps through life. This is why it is my least favorite film, and probably yours as well. There is nothing to relate to, it just feels dull because there is so little movement in the two central characters.
But the narrative isn't actually about them. They are the lead characters, but not the protagonists. Nothing happens in their story, they are set up as opposing powers in the stories of others, the three young men Jimmy Shergill, Uday Chopra, and Jugal Hansraj. And those three young men each tread that same careful line as Shahrukh in DDLJ.
Mohabbatein is a very silly movie, but Adi successfully wrote three college boys, each with their own individual perfections and problems, each also believably boyish and a little immature. This exact same story could so easily turn into men versus women, or a sort of group stalking scenario. But instead it felt like three average young men doing their best to win three average young woman.
Rab Ne Bana Di Jodi
Adi is making his point most clearly in this film, because for once he is dealing with a mature man. The boy-men, they tend to posture as though they are perfect. They don't believe it inside, they know they are still growing up, but they are hiding their insecurities by playing the role of being special. In this film, Surinder Sahni is old enough to know exactly what he is.
Adi removed all those childish boyish things young man try and placed them onto "Raj", Surinder's alter ego. Surinder himself is neither perfect nor pitiful, a nice man trying his best to do the right thing. He doesn't make small daily mistakes like the other heroes, there is no joke that goes too far or accidental insult leading to a fight. He also can't be romantic, can't be handsome, can't be all those "perfect" things. He just is what he is.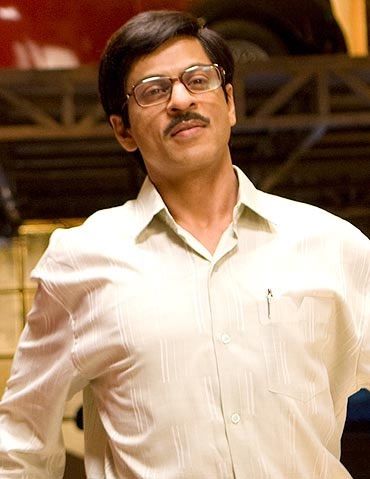 Befikre
Ranveer is Aditya's modern hero, put opposite a modern heroine. With new different modern strengths and weaknesses. He is smart, he can make friends, he can learn languages. But he can sometimes be a little selfish, a little arrogant, a little locked in his own opinion without realizing it and locked away from his own feelings.
I love Ranveer's character in this movie, because his weaknesses and his strengths take so long to fully be understood by both us and him. Which is also very human and real. At the start Ranveer thinks he has his life together, he has a girlfriend and it is fun and not serious, they fight a lot, and finally break up. He is sad, but it will pass, no big deal, modern relationship. It takes until almost the end of the movie for Ranveer to understand that he really loved his girlfriend, and he forced the break up because he was insecure.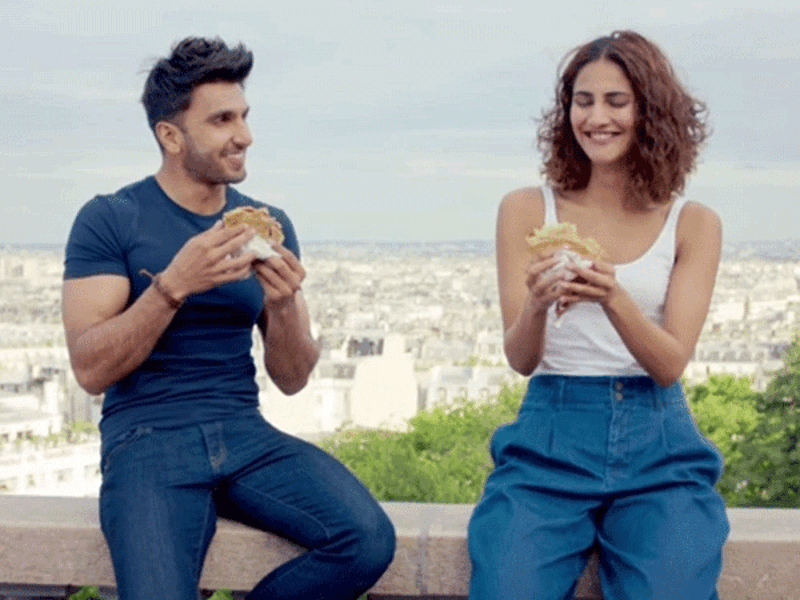 Look at that! A hero who is insecure in his romantic relationship and it is not tragic, just something he has to grow out of. Human.
That is what is special, in the end, about Aditya's heroes. In a film world of SuperMen, they are simply human.