Kishoreda! I don't have a super good source for his life, so I am sure I am going to miss things, but I want to do a 101 anyway because he is such a memorable figure that those of you who are new to Hindi film should have some sense of him. I kind of covered a lot of this in other posts, but I don't think I have given Kishore his on post before.
Usual Disclaimer: I don't know these people, I have no particular knowledge, but this is how it looks to me based on publicly available sources.
Kishore Kumar had a long life with a lot of coverage, and a lot of opinions about him. Everyone basically agrees though, he could make you laugh and smile like no one else. But he could take that same puckish sense of humor and use it to prick and poke and hurt you like no one else. Those he never hurt, loved him like nothing else. Those he did hurt still loved him, but hurt too.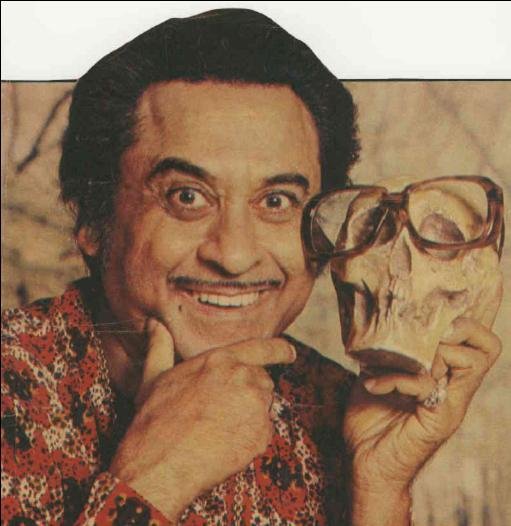 Kishore came from the original film family. Refugees from the Bengal famine, landing in Bombay and going to work at the Bombay Talkies studio, 1 2 3 4 5. First the brother-in-law, then the oldest brother Ashok, then next oldest Anoop, and finally youngest Kishore. The brother-in-law was hired as a cameraman and director, he brought Ashok down to be assistant cameraman and then suggested him as a replacement lead actor when there was a sudden need (because the lead actor ran off with the star/producer's wife, she came back but he was fired). Ashok became Hindi films first movie star, Anoop became a decent hardworking but never really famous or unique actor, and then the baby Kishore came and managed to be a little more than Ashok's younger brother. Kishore was funny and charming onscreen, but didn't have that crazy popularity and power as Ashok.
In the late 30s/early 40s when Kishore started acting, it was still common for actors to do their own singing. Kishore had a pleasant voice, and was more interested than singing than acting. Even in his twenties his rebellious trickster streak started, supposedly instead of telling his brother Ashok "I don't want to be an actor", he would purposefully offend directors/producers so he would end up with the worst projects. He finally stumbled into a successful career at age 26 and kept acting steadily for 10 years. But he kept singing at the same time, non-synchronous song was now the norm for every film and playback singers were in high demand. In his 30s, he basically retired from acting to become a full time playback singer.
Kishore was in an odd position as a playback singer. Most singers were enormously respected as artists, but had little power. They didn't have names people knew, or faces, they would go around to music directors eager for work, in the position of the begging artist not the arrogant star. But Kishore, he came from a family of stars and had experienced being a movie star before he became a full time singer. He was not willing to go along with the usual policies, to agree to what he was offered and be grateful.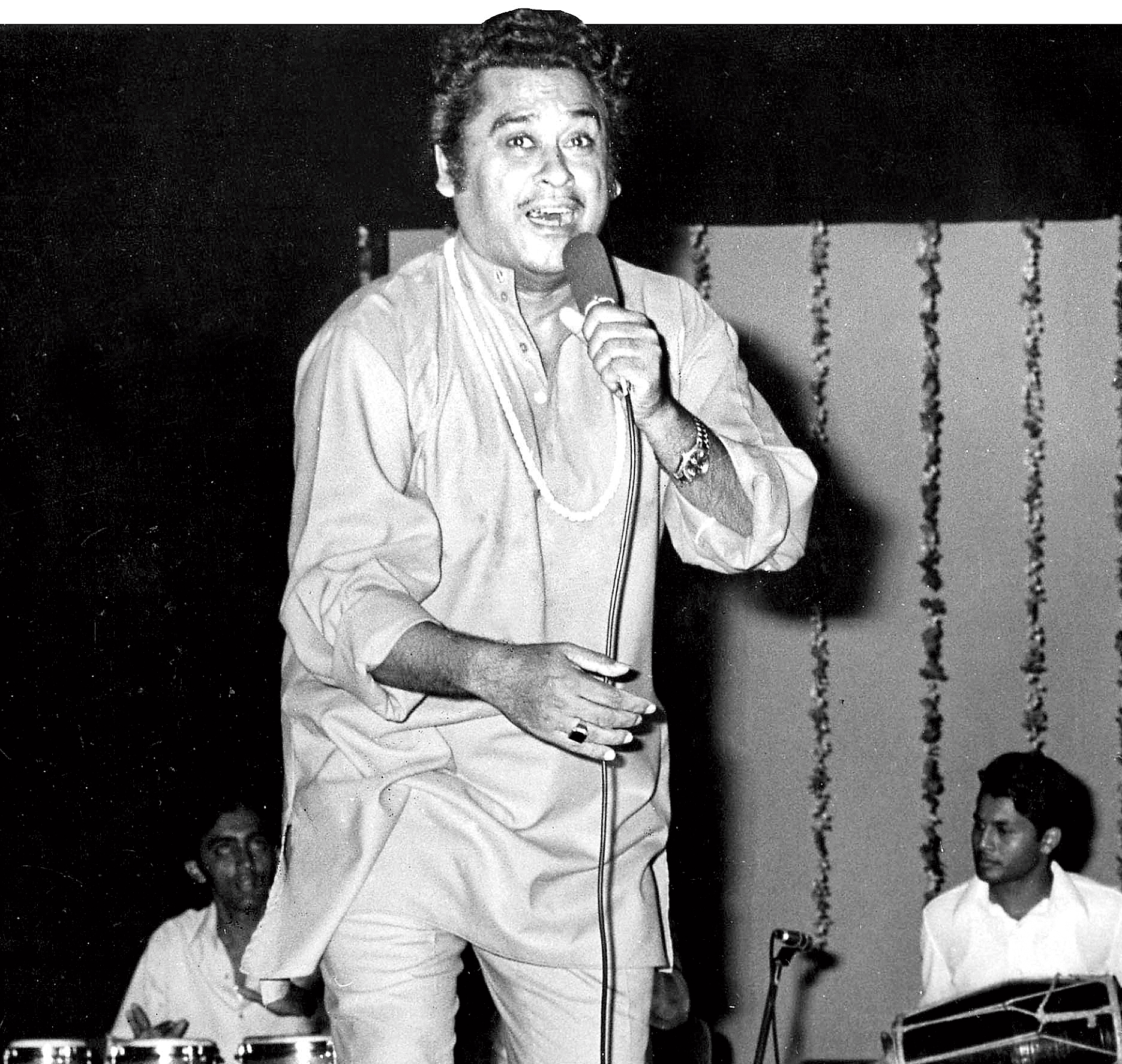 That is the story you hear over and over again about Kishore. If you didn't pay him as promised, he would never sing for you again. If he felt you were overworking him in the studio, he'd just walk out for the day. Didn't matter if you were an old friend, or a struggling director on your first film, he expected to be treated right and given what he demanded. If he showed up for a recording session, before he opened his mouth he would confirm with his secretary that he was paid in full, otherwise he would walk out. One time while working as an actor, he was only paid half, so he only made up half his face before facing the camera. Another time a producer didn't pay him, so he went outside his house every morning to yell "HEY! Pay Me My Money!" until he was paid. His behavior could be even worse than that, one time a producer who owed him money came to his house to finally pay him (after being very very late), he took the money and then tricked the producer into going into a closet and locked him in for 2 hours. It was erratic beyond logic, to the point that perhaps there was something inside him he could not control. Whatever it was, money triggered it.
The funny thing is, he could also be as generous as any other successful film fraternity member when he had to. There were a few producers he never charged anything. There was another producer, the one who gave him his first break. After he died, Kishore sent a salary to his widow and children until his own death. It seems like the issue was with contracts. If Kishore was promised money for work, he wanted the money and wanted to be sure he had it. If the initial promise was for no money, he was fine.
For those with whom he had no monetary agreements, his view of relationships was surprisingly flexible. First of course was his loyalty to his brothers. But he was also by what I have read a kind and loving father, and a responsible and kind husband. Sort of.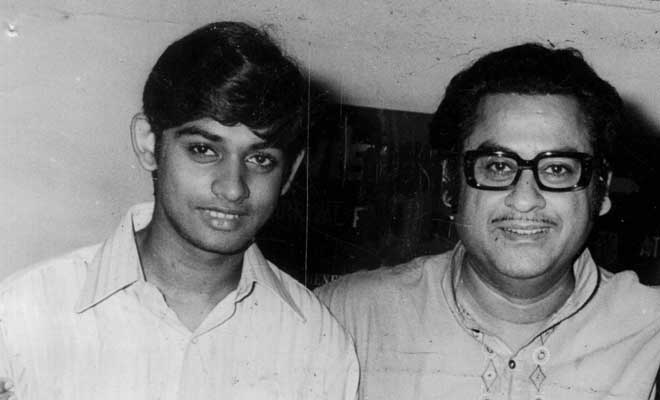 Kishore was married 4 times. But it wasn't his fault. That sounds strange, a 4 times married man and it wasn't his fault. But it's true! At least, as I look at it. His first wife was another singer, they marred when Kishore was 21 and Ruma was only 16. Ruma came from another Bengali artistic family, started working in films as a child, and married Kishore for love. They had a son together, and then started to grow apart. After their divorce, Rumar remarried before Kishore did, only 2 years later. She also left Bombay, went back to Calcutta and started getting seriously involved in the Bengali art scene, acting in Bengali films and founding a youth choir. I'm not seeing a shy broken abandoned young wife, but someone as mature and sure of herself as Kishore, the traces of a divorce by mutual consent.
His second wife was Madhubala. Madhubala was coming off a public affair with Dilip Kumar that almost lead to marriage. More importantly, she was coming off a controlling angry father who wanted to pick who she was with and when and use it for career advancement. Dilip says their relationship ended because he refused to sign an iron clad contract with her father's production house, and she wasn't willing to marry him without it. Kishore was Kishore, he was not going to sign a contract or agree to anything he didn't want to agree to. If Madhubala wanted to marry him, and he wanted to marry her, no father was going to stand in their way. Kishore successfully saved her, got her out of her father's house, while knowing that she was dying. She was diagnosed with a heart defect that kept her an invalid for the rest of her short life before their marriage. Kishore took her everywhere looking for treatment and, once he know it was impossible, bought her a house, hired her a nurse, and visited her regularly, but they didn't live together any more.
The Kishore-Madhubala relationship is almost impossible to separate from the Madhubala-Dilip relationship. The popular version is that Madhubala and Dilip and a true and pure love, her heart was broken when he dumped her, and evil older divorced Kishore got her on the rebound, then dumped her and broke her heart a second time. But somehow, I just don't see it. What I see is that Madhubala was a woman who loved being happy, loved laughter and fun, and her father didn't let her have any of that. She tried to escape into love affairs but couldn't find a man brave enough to stand up to her father and get her out, until Kishore. Kishore made her laugh and laugh, made her happy, he was older and already divorced, he didn't have any hang ups about doing the right thing and marrying a woman with her family's permission, if he wanted to marry her and she wanted to marry him, it was going to happen.
Kishore didn't divorce her, or abandon her completely. He didn't even start another relationship until after she died. And he didn't force her to go back to her demanding father. Madhubala spent her last years in as much comfort and happiness as it was possible for her to have. She couldn't do the work she craved, she couldn't have children, she couldn't go out and have fun, and she was feeling her body waste away day by day. There was nothing Kishore or anyone else could do about that. All Kishore could do was make her comfortable, and he did that. Maybe he could have also been there day by day and hour by hour watching her fade away, but I can't find it in myself to blame her for not being up for that. This was the time when a reporter visited him at his house and asked how he handled the loneliness, and Kishore explained that the trees in his yard were his friends, he walked between them and talked to them. Kishore took the reporter around and introduced each tree by the names he had given them.
Madhubala died in 1969, 9 years after Kishore married her, and he didn't marry again until 1976. Yogeeta Bali was 22 years younger than him, age 24 at their marriage. She had been acting since she was 19, they met through the film industry. This was Kishore's shortest marriage, less than two years, and the only one ended by infidelity. Not his infidelity, hers.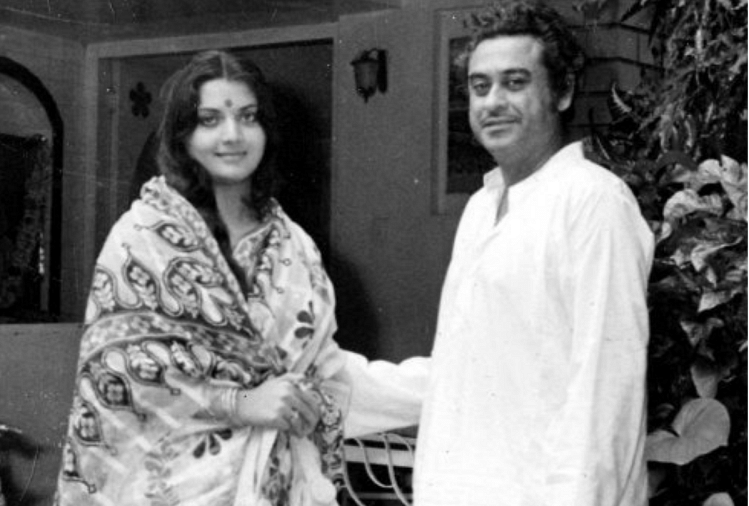 Yogeeta left Kishore for Mithun Chakraborty. She and Mithun are still married. It's a relationship that makes sense, Mithun is only two years older than her, they both were in front of the camera talents, like called to like. I can't really blame Yogeeta. But, at the same time, I certainly can't blame Kishore for the lifelong anger he felt towards the two of them. Yogeeta had married him of her own free will, he had been a good and faithful husband, and she broke his heart. Kishore stopped singing for Mithun, even after Mithun became one of the most lucrative actors in Hindi film.
It seemed like Kishore might never marry again after Yogeeta. He was 40 when she divorced him, he had a close loving relationship with his son from Huma who was now grown and starting his own family. And he had his tree friends. Would he ever fall in love again? Or would he be happy just staying in his house, doing his work, and avoiding yet another heartbreak?
This is the Kishore I first met, as a person. Early on in my learning about the Hindi film industry I ran across an interview with his widow where she talks about the Kishore she knew, the middle-aged 3 times married man who taught her to laugh in the face of sadness. I'm glad this is the Kishore I first met, the version that the people who loved and knew him best knew, while also aware it probably makes me a little more forgiving of him than others who saw him first in another way might be.
Leena Chandavarkar was a local Bombay Maharashtrian middle-class daughter of an army officer, and an actress. She started working at age 17 and become a popular actress with her first film. She kept working steadily, one of those nice middle-class actresses, no tragedies or abuse or desperation for work. No authoritarian father like Madhubala had, forcing her to work. Just a nice thing she enjoyed doing. At 25, with her clean history, her father was able to find her a nice young man to marry from a good family. They had an arranged marriage, the usual arranged marriage, knew and liked each other a little before marriage but with no real deep understanding. That was supposed to come after marriage. And then, two days after the wedding, Leena's new husband shot himself. It was listed as a gun accident but I wonder if it was more than that. And surely Leena wondered as well.
This is the point at which Kishore met her. She was in her late 20s, a widow, trying to figure out what her life was going to be. She had tentatively returned to acting but it wasn't making her happy. Marriage seemed terrifying. All of life seemed terrifying, unsure, and sad. And then there was Kishore. He was doing the songs for one of her movies, and he made her laugh. And he kept popping up and he kept making her laugh. It seemed crazy for her to fall in love with this much married 50 year old man, but somehow she did, he brought happiness back into her life and taught her how to live again. It was so clear that even her father eventually came around, agreed that Kishore (despite all logic) somehow was the best person for her. Kishore's son Amit (only two years younger than Leena herself) was living with Kishore now and welcomed her happily into the family. Kishore's brothers followed suit. Kishore and Leena married with full joy and blessings from all who loved them when Leena was 30 and Kishore was 51. 7 years later, Kishore was dead of a heart attack and Leena was twice widowed.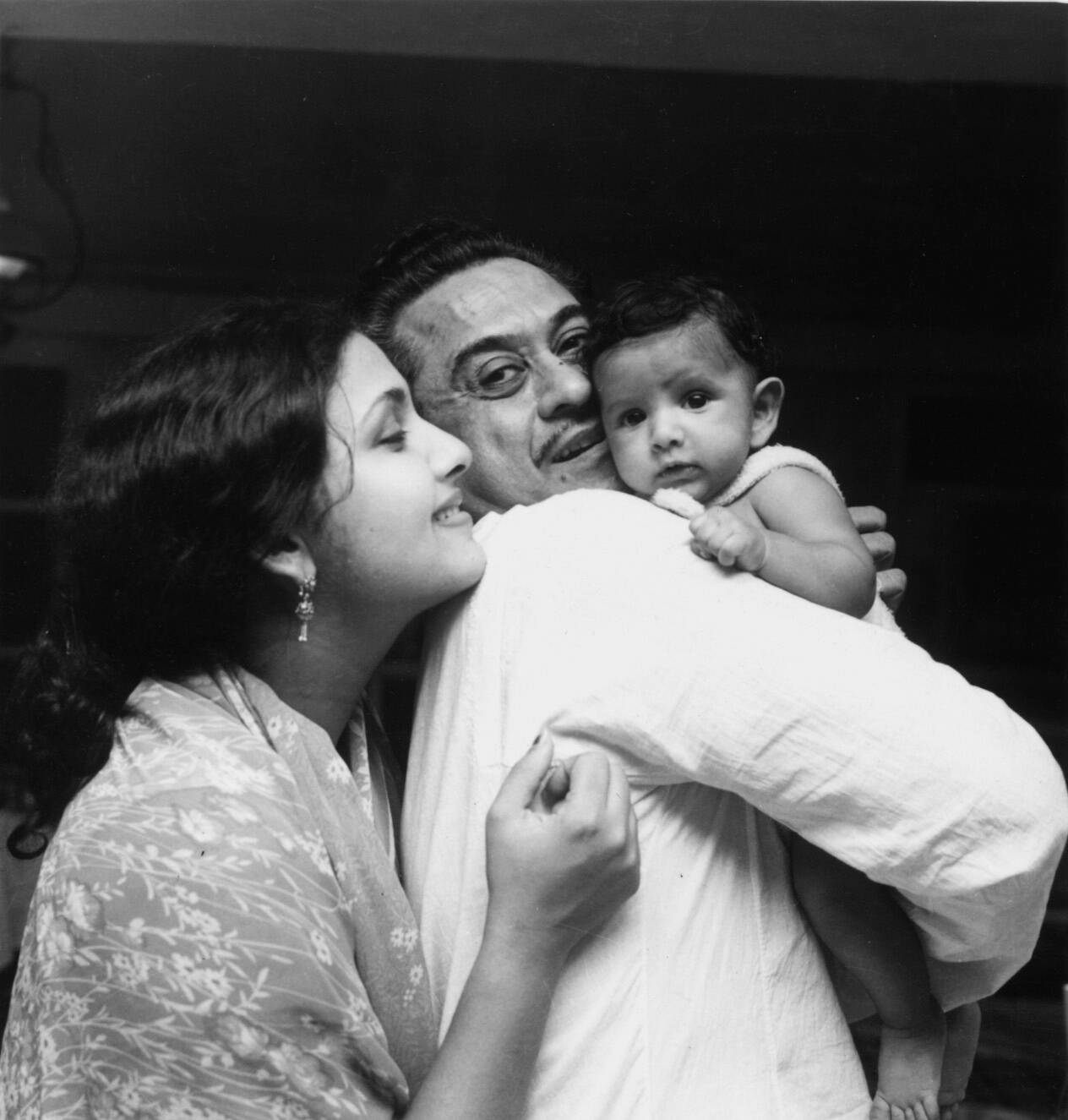 As I said, it was through Leena's eyes that I first met Kishore. And in her eyes, the 7 year marriage was the best decision she made in her life. He taught her how to be happy, and he loved her so much that he left love behind for her. They had a son, and he taught his older son Amit to consider Leena his "mother". Leena still lives with Amit and his wife and children, along with her son Sumit. This isn't some late in life trophy wife relationship, or an old man praying on a young woman, or any of those simple versions of a marriage between a 30 year old woman and a 51 year old man. They really loved each other, and Leena still loves him, never felt the need to marry again in the 33 years since his death.
Kishore was a special person for Leena, someone who could always make her smile and taught her how to look at life without fear again. I think that best version of Kishore comes through in the way he approaches a song. Kishore is not technical perfection when he sings, his voice has a distinctive roughness to it, and he lets it linger on the words, trailing behind or ahead of the music as he feels is best. He puts a particular Kishore-ness into the sound, and whatever it is that is there, it makes you smile.