Woot! Anne of Green Gables!!!! I love this series, have loved it almost my entire life since my Mom first read it aloud to me when I was 6. And in many ways it defined my identity as a woman and my life goals, spoke to something no other text does. Mostly, it spoke to the beauty and happiness of every day woman's work.
What I find really interesting is the people for whom Anne of Green Gables DOESN'T work. My Mom absolutely adored the books when she was a little girl, and I absolutely adored the books when I was a little girl. Meanwhile, my sister never really loved them. And many of my current friends never really loved them. I found this totally mysterious, because to me the appeal of the AoGG books, and really all the LM Montgomery fiction, was universal. It was about the small details of a comfortable little life, a very female life. Making your house pleasant, worrying about people in your community, staying in touch with old friends, telling family stories, watching children grow up and making sure they are fed and educated and clothed, caring for the sick, burying the dead.
This is a choice the books, and Anne the character, consciously made. Anne was talented and well-educated. When she was a young woman, she had a chance to seriously pursue a career as a writer and educator. She rose to the position of principal of a high school and could have gone on beyond that, and she had short stories published and encouragement and connections with other writers. But then the boy she loved proposed and she decided that the life she wanted was one embedded within a family and a community, following the soft rhythms of day to day existance.
What makes Anne unique in the realm of heroines, I think, is that this was clearly a CHOICE. If you look at Pollyanna, for instance, all she ever thought of or wanted was to make a home. She never pursued higher education, never seemed interested in anything beyond relationships, was just a sweet young wife in waiting. Or if you look at Jo from Little Women, she fought hard against marriage and only succumbed when she saw a way to marry her ambition to her marriage. But Anne, she had two paths in front of her. On the one side, a life in the greater world. On the other side, a life focused on home and community. And she chose the second, and did not regret it.
For me, these books work. Not because I am an unambitious woman who dreams of romance, but because I am someone who cannot feel fully happy and complete without that home and community involvement. Like Anne, I taught Sunday School, I was on church committees, I joined a quilting group so I could hear all the gossip, I dream of new curtain colors and enjoy rearranging my family heirlooms around my house and telling people the stories of where they came from. There is a place for highly intelligent curious interested people who really like community involvement, really like the rhythm of day to day life. And that is who Montgomery wrote for, and that is the Anne she created.
In the first book, Anne is introduced as an orphan with an extremely rough background, a lot of semi-abusive foster homes and dehumanizing institutions. She finds, for the first time, some sense of community and security when she arrives at the Green Gables house to be fostered by a spinster and bachelor brother and sister. In the first book, we are introduced to Anne's wild imagination and almost brilliant intelligence. But we are also introduced to her bone deep loneliness and need to feel loved. In the second book, she has become a young woman, a teacher in the local school, and she is finally able to give back to the community she loves. She and her friends found an "improvement society", she is more active in church, in other social activities around the area. In the third book, she goes to college and for the first time experiences life in the greater world and considers how that would be.
The third book, I think, is by far the most interesting for how it explores the choices women make and how they make them. Ultimately, AoGG is set in a time and place where marriage defines the life a woman has more than anything. Even the absence of marriage defines it. Anne arrives in college, leaving her hometown for a long time for the first time, and is immediately desperately lonely. She clings to the few people she knows already, and quickly finds roommates with whom she can set up a household. This is not a young woman enjoying the freedom of a big city, this is a young woman torn up with the loneliness of a big city and trying somehow to build an island within it that feels like "home". The title, "Anne of the Island", even nods to that. In the first book, she found her place within one house. In the second, it was within her town. And now, in the third one, she is finding her place and identity from the whole of Prince Edward Island and, more than that, BUILDING an island of home within her larger city.
Halfway through the book, Anne meets the man who fits all her romantic ideals, and now suddenly her future life choices have become reality. Does she want to marry this "perfect" man, who is rich and handsome and sensitive, who can give her all the worldly comforts she wants? In the end, she rejects him. It is an awareness that "home" is not made of wealth and comfort, but rather of human connection, needing someone with whom she will always feel comfortable and happy. Which gives her a new future suddenly. If the "perfect" man cannot satisfy her, then she is left to consider higher education, more career possibilities, a life of travel and adventure. But again, it is not quite what she wants. She loves her home, she loves making a home, travel and adventure and career success cannot give her that.
Enter Gilbert. The Gilbert character is as original as the Anne character. He is surprisingly opaque, we are often told that Gilbert made her laugh, or Gilbert dreamed with her, or Gilbert challenged her in school, but we the reader are not really shown that. We see Gilbert through the lens of Anne, even more so as the books continue. But again, it gets back to choice. Women look at the men in their lives in terms of what they will mean for them, not in terms of who they are themselves. And for Anne, Gilbert isn't quite like any of the heroes in the books she has read and their romance isn't quite like the romances she devours. He is the handsomest boy in school who all the girls love, but he is also a bit of a prankster and a jokester. He teases her, he challenges her in tests, he is a part of every day life and not some mysterious fantasy. After high school, they become friends for real, and talk all the time. Just talk. They have jokes and they laugh and they enjoy doing things together, but there is no moment when they dance together or he kisses her or any of that nonsense. When Anne finally realizes her love for him it is an awakening not just to Gilbert, but what love can be in her life. It doesn't mean she must lose herself and what she enjoys, it doesn't mean she has to stop her career, it just means she will always be happy and at home. Gilbert is handsome and fun, but he isn't some romantic mysterious stranger, he is the nice boy down the road. How often does that nice boy end up the hero?
And that is what happens. Anne marries Gilbert, and her life becomes dull, because happiness is dull. There's is not a marriage of crazy highs and lows, of drama and misunderstandings. Gilbert is there, steady, in the background. Anne's interests remain the home, the community, her friends, and eventually her own family. Most heroine's of this era either disappear into bland happiness post marriage with no more books about them, or enjoy wild swings of tragedy and highs and lows of life after marriage. Not so with Anne. Her life is as interesting post-marriage as it was before. She loves local gossip, she loves involving herself in other people's lives, and she loves fussing about her beautiful house. That's what makes her marriage so beautiful and different. It doesn't actually change ANYTHING. She chose a husband, and a life, that allows her to keep all the things she loved about life before marriage and just make them slightly better.
So that's this series. If you read it and think "wait, she marries GILBERT? And never becomes a famous author or anything???" then these books are not for you. If you think "why are we hearing so much about the color of the room and which quilt is on the bed?" then these books are not for you. And if you think (and how DARE you think this!!!!) that church meetings and quilting groups and stories about small town drama at weddings and funerals don't matter, or are boring, then these books are DEFINITELY not for you.
There are plenty of books about protagonists who have strange gifts as children and go on to fabulous worldly success. And there are plenty of books about young women who dream of romance and then fall in love. But if you want a book about an intelligent unusual child who grows up into a woman who finds happiness where ever she is, even in a life of "no real importance", than this series is for you.
I should mention a few things about the books related to "real life". Montgomery herself grew up in a small farming town, raised by loving but stern grandparents. She had many jobs as a young woman, made many friends, and was very popular. She was courted by the local minister and married him at an older age than usual (closer to 30 than 20) and was very happy at the marriage. And then after marriage, her husband became deeply deeply depressed. She was forced into a role as his caregiver, following him around as his career sank lower and lower, never again to feel like she had a home and stability. I believe that the early Anne books were written in nostalgia, Montgomery remembering her childhood before the disaster marriage. But the later books where her fantasy, what she had hoped her marriage would be, a stable kind of partnership that would let her be happy and part of a community, instead of writing for a living (no matter how much fame the writing brought her).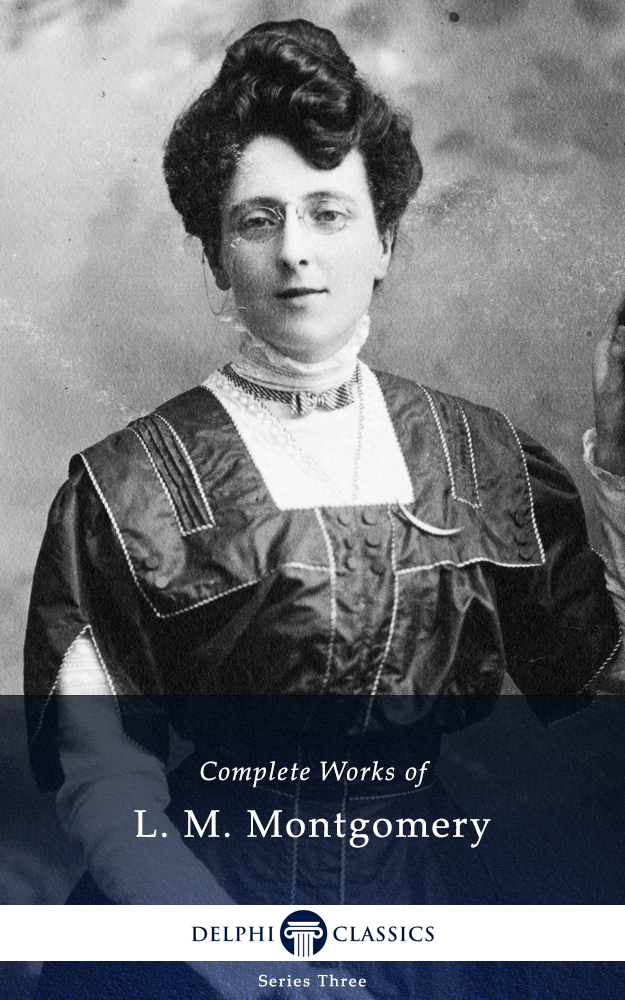 The other VERY VERY important thing is that the Anne series culminates in Rilla of Ingleside, about Anne's youngest daughter. One thing about this book is that we get to see Anne through Rilla's eyes, as a wise nice kind mother, but a person who is kind of "old" and "boring" and in the background of her life. That is a good thing. Anne in this book should not be the center of life for her daughter, she should be stepping back and taking her place as a matron in the community rather than insisting on still being young and vibrant as in the earlier books. In the same way, Gilbert is now an older respected hardworking and tired doctor, not a charming teasing boyish new graduate.
But the more important thing about the book is that it is a written account, almost day by day, of the homefront during WWI. All these other books showed the women getting together for church bazaars and quilting bees and gossip sessions and everything else. And now we have a book that shows the culmination of all that "women's work". The women of Canada kept the flag flying and the world going during WWI. They volunteered for farmwork, they fend their families on almost no food, they knitted socks and rolled bandages and did all sorts of things. While the more traditional heroines in this book are off joining the Red Cross and doing amazing work, and all the boys go off in their turn to join the war, we have Rilla and her "boring" mother Anne simply staying home and working. This matters, this is vital, this is not dull or forgotten and overlooked, this is bedrock that keeps life going.
So I loved these books. And now, during quarantine, I am making masks and hosting virtual events for my friends and spending a lot of time with my parents and staying in touch with old friends and doing all the things that Anne would be doing. I'm not going to go out and volunteer, I'm not going to make a big splash, I will never be famous or appreciated and I honestly don't want that. I just want to feel loved and at home and like I am giving something back to my little world.