The world is a bleak and horrible place filled with no sun and snowdrifts, it's super unfair that I have to do work-work in the living room instead of continuing to sleep in my nice warm bed, and I don't want to walk the dog. And you know whose fault that is? MEN! White Old Rich Men!!!! In some way I am not clear on, but I know I am mad about it. I'm gonna talk about how Tom Cruise/Cameron Crowe are terrible people who think they are good. Oh, and don't bother actually watching Jerry Maguire before reading this post, I will tell you everything you need to know.
When I was 11, everyone was talking about Jerry Maguire. It's so deep, it's so romantic, Tom Cruise is amazing, and on and on and on. And my parents went to see it and my Mom came home and went "pfffffft. Bad movie!" It was her thing for a while at dinner parties, "the one person in America who didn't like Jerry Maguire". But that wouldn't be a thing now, because now LOTS of people don't like Jerry Maguire!!! No, that's not quite true, now lots of people accept Jerry Maguire as a movie that existed and was a hit but they may not have seen it ever, and have no strong feelings one way or the other.
Why is that? Why was this film crafted in such a way that the whole world was briefly brainwashed into loving it, and has now woken up and gone "eh, it's there, it's fine"? Let's start with the fact that the title of the film is the name of the hero. That's WEIRD. You have titles like "Mr. Deeds Goes to Town" that you abbreviate to "Mr. Deeds", but the full name is something else with a little more oomph. Or you have "Rocky", where it's the hero's nickname, one strong word. "Jerry Maguire" is just his name. Like, his normal name he would use in real life. It tells you nothing additional about his situation, or anything special about his personality. It tells you that this person, in his every day life with his normal name, is worthy of having a film made about him. And then the whole movie continues that concept.
The plot of Jerry Maguire is kind of stunningly…nothing. Our hero is a successful sports agent. He has an epiphany about his life and decides he wants to start his own agency and really care about the clients. His fiancee dumps him and the only person who follows him from his original agency is a sadsack single Mom secretary. He only keeps one client, a demanding football player. Inevitably, he sleeps with the secretary, then feels guilty because she is such a sadsack and marries her without loving her. He gets closer to his client, the marriage struggles and the sadsack finally stands up to him and says he clearly doesn't want to be with her, and then he has another epiphany and realizes he DOES love his wife and wants to be with her. And at the same time, the whole world realizes what a great sports agent he is (somehow) and gives him accolades. And it ends with his wife adoring him while he smiles and is successful and life is great.
Why should I watch a movie about this person? I'll start with the first problem, we don't see the original epiphany. The movie starts with him in the throws of a realization that the way he has been living his life is bad. And then it goes from there. He is a person who (we are told) used to be kind of yucky and uncaring and ambitious, but the person we see in this film is presented as basically perfect right from the start. There is no growth. It's very weird to have a central character of a narrative who has no growth. The whole film feels kind of like "and then this happened and then this happened and then this happened" because there is no central inner narrative to pull it along.
The first time I saw Jerry Maguire (cable TV while folding laundry, the best way to watch it) I thought it was just a super weird thing about this particular movie. And then I saw Elizabethtown, also by Cameron Crowe (also on cable TV while folding laundry), and I realized it is just a weird thing about Cameron Crowe. He cannot STAND to question his central hero!!!! His hero has to be innately perfect. He may have external problems that need to be solved, but he has no inner problems. Crowe writes male characters the way powerful men see themselves. Perfect. The rest of the world is at fault.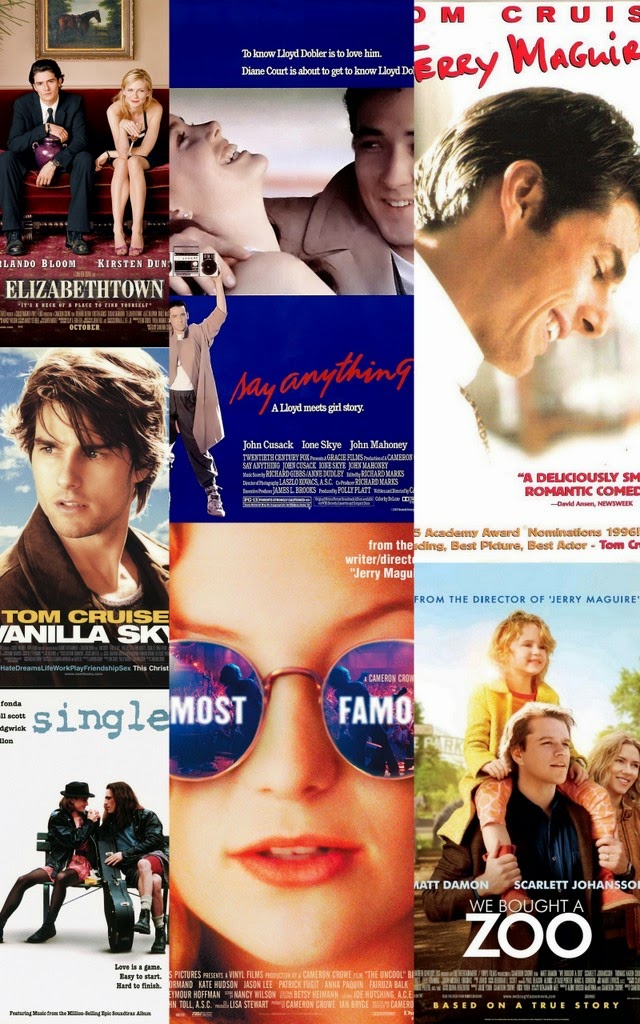 I mentioned recently in another post that tenured older male science professors are, generally speaking, the scum of the earth. One of my favorite stories to explain how and why this happens to these poor earth scum who, presumably, were once adorable babies, is about a professor who fell for a ridiculous catfish scam. He was divorced with kids and tenured and doing science in America. And then online he was approached by this beautiful woman. They wrote back and forth and finally she asked him to visit her in south America. At the airport, she wasn't there to meet him, but she sent a note and a bag and asked him to carry it through security for her. And then he was arrested for smuggling drugs, duh. It's already kind of an interesting story because this guy who is average and middle-aged believed that a random beautiful young woman on the internet was in love with him. But what gets really interesting to me is that after being arrested, he STILL believed it!!!! The Russian model whose photo was used in the scam even reached out to him to prove that no, she was not the woman he was messaging. And he STILL doesn't believe it!!!! This is the level of self-confidence available to folks at the top of the food chain. Whatever is their vision of themselves and their place in the world is the vision they will hold onto without question. (here is the case: https://en.wikipedia.org/wiki/Paul_Frampton#Drug_smuggling_conviction)
So we have this movie. A central character who has complete self-certainty. That doesn't mean he never questions himself, it means he questions himself and then immediately answers himself "yes, I am doing the best possible thing in the best possible way because I am the best possible person". That feels like reality, like certainty, because it did actually occur to you that you might be wrong and then you decided you were still right. But what you never do is look at yourself from the outside, think about why someone ELSE might think you are wrong, what their vision of your actions is, how your actions affect them. And in Jerry Maguire, we are seeing a whole world through that haze of self-interest.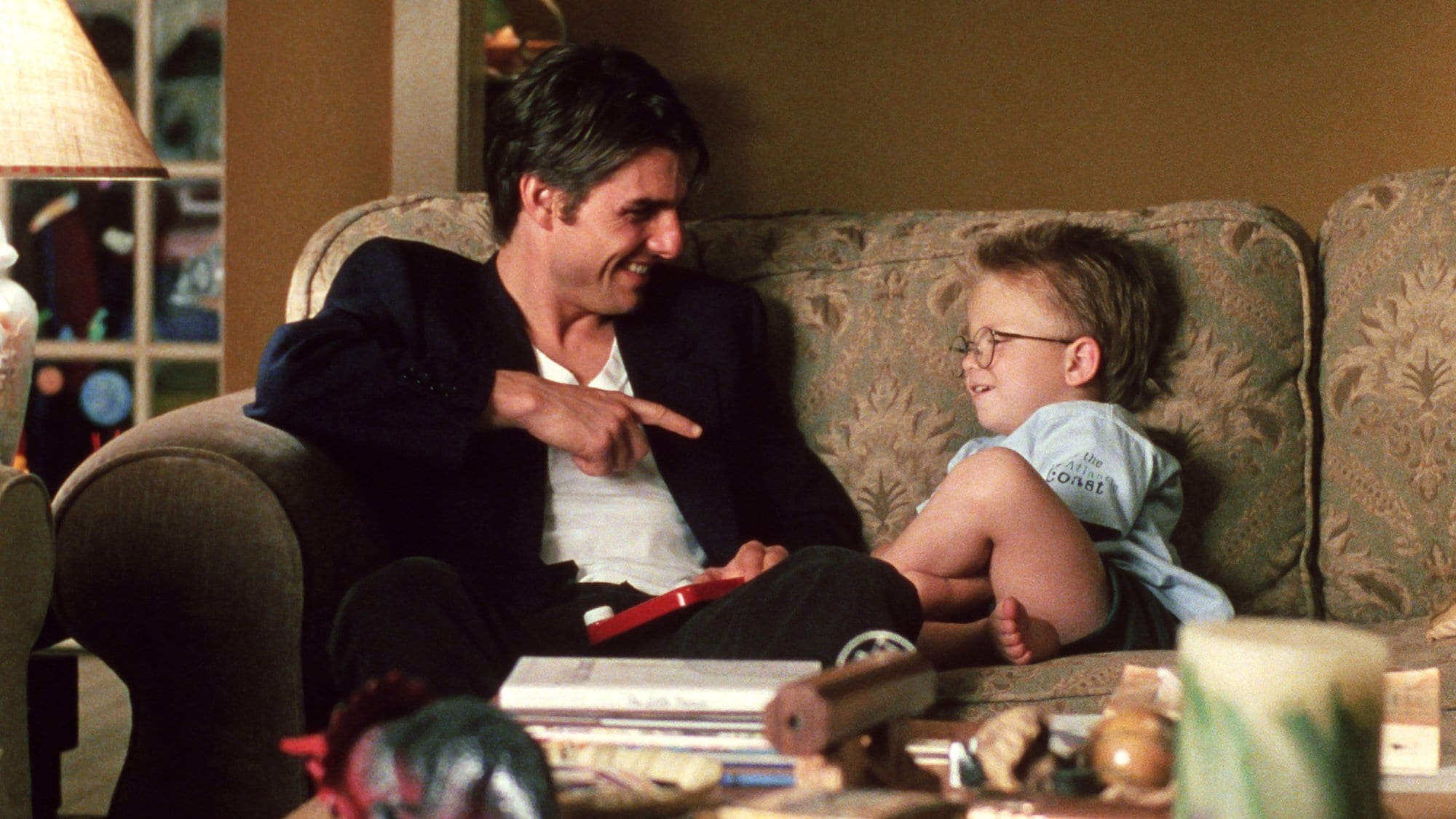 Why do his boss/co-workers not understand him? Is it because he did not approach and deliver his argument in the best way? No, it is because they are flawed. Why did his fiancee dump him? She is flawed. Why did the humble secretary follow him? Is it because she had her own reasons and motivations? No, she has an innate perfection that responds to his perfection. Why did the world come around to accepting his way of thinking? Is it because they each made their own choices for a variety of reasons? No, it is because the world has to agree with him eventually because he is so clearly Right.
So, why is this particular movie a hit while many (many many MANY) other Cameron Crowe movies were flops? I think it is two things, casting and unexpected story consequences. For casting, Tom Cruise is perhaps the only movie star in America who can convey the sort of bone deep faith in himself and his rightness which is required for this character. In Elizabethtown, poor Orlando Bloom had this vague sense of doubt in his performance, like "really? You think this poor fellow I am playing is God's gift to the world? But, WHY????" And he was right to doubt! All the character around him were far far more interesting, but unfortunately their job was to exist only to show how interesting he was by being connected to them. But Tom Cruise, he has nooooooooo doubts. You tell him, "this character is the most sensitive intelligent generous important person in the world" and he says "yep, I can see that" and plays it that way.
And then there are the unexpected story consequences. To make our hero interesting, he was given two supporting players. A football player best friend/client, and his secretary/love interest. Both of them were crafted to serve his character, the football player is obnoxious and over the top so we can see how patient he is and how he suffers dealing with this person. And the secretary is totally downtrodden and miserable so we can see how kind and pitying he is dealing with her. But what happened was these characters crafted to serve our boring White Male Hero ended up resonating with the audience, making us care about them way more than we care about the titular guy. The two most famous lines of the film, the ones that are quoted as punchlines even now, are "Show me the money" and "You had me at Hello". And those aren't lines from the hero!!!! Those are lines said TO the hero by the more interesting people around him. The central person, and central storyline, is way dull. But the two subplots of the supporting characters are way interesting, and that is where the audience responded.
Let's take this back to male privilege again. This is what always happens. Let's say you are a fancy male scientist. You have a person of color and a woman working as your lab assistants. You come up with the big splashy research idea and get funding for it. And then they do the grunt work and come up with the really interesting results that actually make your study relevant. But in your mind, they were just your supporting players. You are the White Man, you came up with the big idea and set things in motion, it doesn't matter that the other people added the real value to the work. And that attitude will be reinforced by everyone around you. You will be the one asked to give talks, you will be the one given awards, you will be the one who gets all the credit offered by the world. And everyone KNOWS you didn't do the work! But they don't care, because there is the myth of "yes, but he is the one who got the funding and 'supervised' and therefore he is more valuable". In this particular film, people liked it for Renee Zellweger and Cuba Gooding Jr. And everyone knows that! Those are the lines you quote, those are the characters you remember. But Cameron Crowe and Tom Cruise got all the credit. Because they are the Big White Men who took the lead, who made it happen, who got their names plastered up on everything.
I think what irritates me most about this movie, far more than other similarly bad movies, is that it had a really super interesting idea in the romance which now we will never get again because this film took it and stomped all over it and claimed it for it's own.
Get rid of everything else, the idea of the Renee Zellweger-Tom Cruise romance is that here is a guy going through a life crisis who impulsively marries a woman out of a combination of pity and confusion. He knows the woman actually loves him for real and rather than deal with that reality, he avoids it by rushing into marriage, and then rushing away from marriage and spending as little time with her as possible. Until, unexpectedly, months later, he has a realization that he misses her and loves her after all, just not in the way he expected love to feel.
I love this idea!!!! The marriage of impulse/pity/life crisis is a real thing that happens probably way more than people would like to admit. I want to see a movie that digs into that, how it happens and why it happens and what happens next. And follow that up, the idea of a guy who always thought he was "better" than the person he married, who had that pity/guilt motivation, finally humiliating himself and owning his actions and saying that he now loves her without pity or guilt and just wants her, that is fascinating.
Heck, let's think about the woman. Here is a woman who has a crush on a guy she never really considered being seriously interested in her. He makes one small move and she is immediately building castles in the air but not really believing them. And then he follows through! He gives her all she dreamed of! But deep in her heart she always has doubts, she feels that they aren't quite connecting, that something is off. But she kills those doubts because here is her fantasy becoming reality, she would be crazy to turn away. It's a journey for her of coming to value herself, of reaching the point where she can walk away from her fantasy and say out loud "this isn't good enough for me".
And this movie does not give us that. It does sort of, it give us the broad outlines of the story. But then we turn away from our heroine just as her internal journey is getting interesting. And of course our hero never fully acknowledges the wrongness of him rushing into marriage and his own responsibility in this situation (because he is flawless). And yet it is that big romantic culmination at the end that we all remember, that the world responded to, him humbling himself before her and her fearlessly accepting him again. If only that one scene were put on a better movie!
And now, Ranbir. I think Ranbir could be in a Jerry Maguire remake because this is the kind of role he tends to play over and over. His characters feel like they go on a journey, but they really don't. He starts out self-involved, and ends self-involved. There are moments when he doubts his own decisions, but only because of their effect on HIMSELF not because of their effect on others. Empathy has to be learned. You have to tell small children "when you hit me on the leg, how do you think that makes me feel?" And for some people of privilege, no one ever asks them that question. It is "when you hit me on the leg, I will make things worse FOR YOU" or even "when you hit me on the leg, I feel like you are wasting time that you could better spend doing other things FOR YOU".
Movies like Jerry Maguire reflect a world without empathy, where other people exist as characters in your own story and only you are real. The reinforce that world view for all those people who think that way. And they tend to be made by and star Men. Women won't accept it, women have more empathy, because they have been TAUGHT to have empathy. And movies for women show that. A female version of Jerry Maguire might be Working Girl, in which our heroine struggles with guilt over her actions the whole time she is persuing a new career. Not because she worries over if she is doing the moral or right thing for herself, but because she is constantly considering how her actions might affect others. Because it is a very good movie, that consideration ends up being her super power. She can see connections others cannot because she can see the world from the side of the other person. If Jerry Maguire were a true film, it would show the truth that this is the weakness of its hero. He fails at his job because he can't conceive of how to convince other people of anything. He fails in his relationships because he can't honestly see the needs of others. And his unexpected redemption at the end is because the needs of the two most important people in his life, his client and his wife, happen to temporarily line up with his own.
And somehow, this whole male privilege attitude, is to blame for my having to walk the dog in the depressing snow today. I haven't figured it out yet, but I know it is! Everything is the fault of men, somehow.