I feel like DCIB as a whole has Feelings on this topic. More Feelings than is, necessarily, logical and expected when talking about a film reviewer/writer. But that is why we come together, to share our Feelings-with-a-capital-F about topics that really make no sense to have feelings about.
Anupama! Let me quickly run through her biography highlights. Born to a film adjacent family (her Mom wrote some scripts, her sister directed), she graduated college and started working for a film magazine in Bombay. It was a silly fun starter job, she went on set with a bunch of other media folks, chatted with stars, wrote up silly little stories. And then she applied for graduate school in America and came to Northwestern to study Journalism. I happen to know, thanks to Northwestern being a Chicago area school, that it has one of the best Journalism programs in the world. A Masters in Journalism from Northwestern really really means something.
Anupama could have done almost anything with that degree. And what she chose to do was move back to Bombay and try to write seriously about the film industry. She was one of the first, if you read her early stuff (First Day, First Show is a nice collection) it's very impressive. Yes, she is just doing an interview with a movie star. But she sets the stage for the interview, she asks penetrating questions, she draws out really good quotes, and the end result is an article that is as enjoyable to read as it is informative.
She managed to start getting some recognition, which led to her first 3 books, boom boom boom, all of them just EXCELLENT and all of them similar. She wrote about Dilwale Dulhania Le Jayange for the British Film Institute, she combined really good journalism (tracking down interviews, paperwork, all kinds of research) with a solid analysis of the text of the film itself. My favorite of her early books is the one on Sholay, which is almost entirely a historical account of the film with very little textual analysis. She did an amazing job creating the story of the creation of the film, talking with everyone she could about the experience, piecing together a timeline and just making you feel like you were there from the inception of the idea to the day it released in theaters.
And then there is her Shahrukh biography. It truly is the best book on him. She had unprecedented access thanks to their long friendship (she first met/interviewed him back in her early post-college days when his career was just beginning). And she combined his long family stories with hardcore research, talking to other people, finding photographs, confirming what she was told, and then finally pulling it all together into a logical book that moves along in a clear way so you don't feel lost.
Anupama was hitting her stride in her career and really taking off in the early 2000s, the era when Hindi film was riding high and culturally respected all of a sudden both at home and abroad. She wasn't the only writer seriously working on it in that era, but she was the one with the most access (thanks to her film media background), and I honestly think she is just the best WRITER of all of them. Well, maybe tied with Tejaswani Ganti.
And then she got a TV show where she did interviews, and then was given funding for her Film Companion website. At the same time, Hindi film began to fall out of favor. The craze was over in the West, it was no longer the hip cool thing, just one of many funky options. And in India itself, as the liberalization of the economy and the arrival of the multiplex and DVDs lead to more and more foreign films being available, suddenly Hindi film was no longer "cool" to treat seriously.
If you come to Anupama Chopra now, you will know her as the reviewer who tears down popular film, who calls out hypocrisy and poor quality, who runs a website that consistently rips into every new release. And as a public figure who tends to do quick videos and uncut interviews, rather than a writer.
What breaks my heart is that Anupama was one of the first to be serious about Hindi film! Her early writing is gorgeous, conveying the importance of popular media to a culture, and treating with respect the goals of the films for what they are. And now, somehow, she has turned into the standard barer (sp?) for tearing down popular film. Her website employees, her own interviews and reviews, suddenly they are all scornful, dismissive, unhappy. The pure joy is gone.
It is most apparent in her writing. Her early stuff is almost like poetry. You can see how her feelings for these movies just swept her away and inspired her. And now, it is so empty. There's no inspiration, no joy, it's all gone.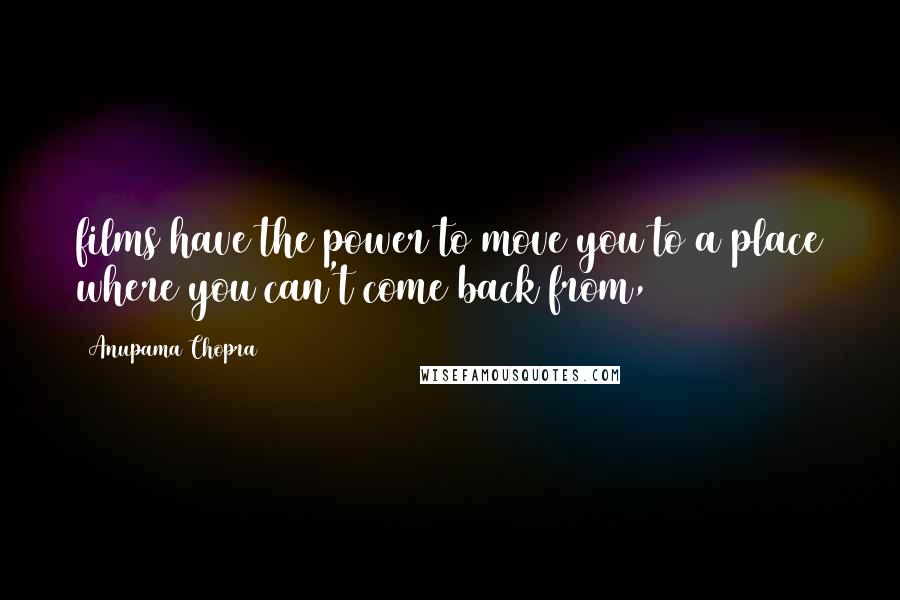 I find Anupama fascinating in many ways. As a writer, what happens when the spirit leaves your writing. As a representative of the Bombay intellectual community, the embrace of Hindi film followed by the rejection over the past 20 years. As a cautionary tale, when you try to achieve perfect objectivity and end up losing your own beliefs. Or just as an interesting story of how people change as they age and lose their youthful fire.
What do you think?