Now that movie theaters are opening up again, there's a discussion of what the future of movies might look like, and if there is a future. This is scary, but I am trying hard to relax and instead of being scared, embracing change. Because Popular Media is change, any sense of permanence is an illusion.
In America, Vaudeville was the big popular media. And then movies and radio killed it. And then TV killed movies and radio. And then streaming killed TV. All of this happened in just the past 100 years. We think of the form of popular media we grew up with as the "real" one, the one that is the best and forever version. But, it's not. The world moves too fast for that.
(Parsi theater in Bombay. At some point, people were saying "the movies are killing my beloved theater")
But then on the other hand, nothing ever fully dies, it is just reborn again and again. The old radio shows and radio stars died out. But now suddenly Podcasts are big. And it's the same thing, it's the same listening experience, it's the same form of art, just in a different medium and 50 years later. The movies in America were decimated by the 1960s, 4 out of 5 movie theaters closed, and going to the movies went from a daily event to a special occurrence. But they still survived just in a new form. Live performances somehow never died. I'm in a little town in Wisconsin right now, people can stream and watch cable and go to movies and listen to podcasts and all those things. And last night we drove by the local bar where some local person was playing music, and it was packed. Vaudeville is dead, but people still perform live to small crowds in small towns.
Indian film as a large theater experience has been dying for at least 10 years. The arrival of multiplexes and the way they dominated the market while serving only a small percent of the audience, the arrival of streaming which just increased the problem, the loss of the international market as the West turned to streaming even harder, and of course competition from the international market within India, all of those forces have been digging away at Indian film theatrical trade since the early 2000s. Yes, now politics are also added to the mix. But they are just in for the kill. If everything else hadn't already weakened Hindi film, then politics wouldn't have been able to break through the defenses.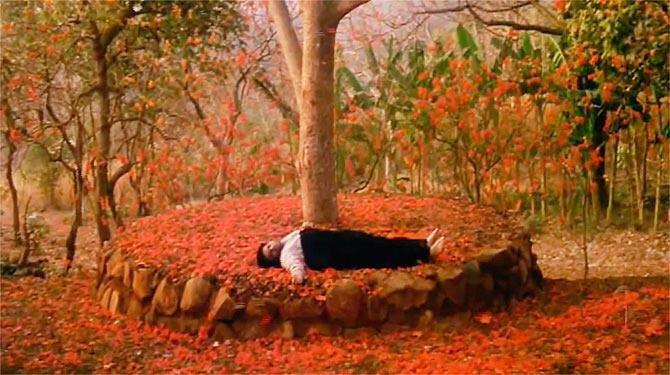 (Dying like Shahrukh in Devdas, very very slowly until you get kind of bored of watching it and just want him to hurry up and DIE already so you can go to the bathroom)
But I don't think it will ever fully die, because that's not how popular media works. Something will survive, always. And while I want to mourn and bewail the loss of my favorite form of media, I need to also learn to embrace what comes to replace it.
How will Indian film survive? I don't know, but I know it will. Maybe it will survive as live performances. Maybe it will survive as non-Hindi films. Maybe it will survive as special event releases once a month instead of every Friday. But in some way, the experience of going to a theater and seeing a musical emotional film with a group will survive. Because that is what has always happened with popular culture before.