I don't like to deal in rumors. But then, on the other hand, I also know there are so many rumors flying which aren't being outlined clearly. So if you are feeling like you are missing something, read this post so I can fill you in.
Aamir Khan! Let's start way back with his childhood. His maternal uncle was a movie producer, and some of his cousins on that side worked as actors. He started college and then dropped out to be an actor. His big starmaking film, Qayamat Se Qayamat Tak, was produced by his uncle and directed by his cousin. Right at the same time that the film came out, he quietly married his Hindu girlfriend Reena Dutta. This was before film wives were really part of the celebrity world. Aamir worked hard, the usual 20 hour days of a new star, and Reena stayed home and raised their 2 children.
There are other parts of Aamir's personal life that is simply never discussed. His brother has mental illness issues. Aamir sued for custody of his brother versus his father. Aamir and his father had an increasing falling out after that. Aamir has a large close extended family, but not so much his father. He supported his nephew Imraan Khan not just in his career but in giving him and his wife the family home to live in. Aamir isn't as showy and obvious about it as Salman, but he is the head of a large family that relies on him in the background.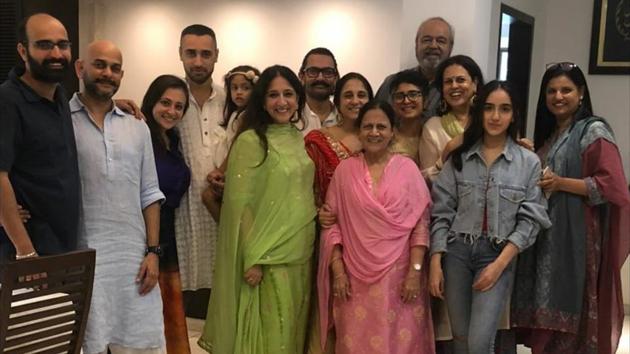 In the late 90s, Aamir started to be more interested in directing and controlling and doing a few films very well. Not so coincidentally, this is around the time his uncle Nasir Hussain (informal head of the film family) was dying. In 2001, he decided to produce Lagaan, a huge risk which had a huge pay off.
On the set of Lagaan, two things happened. First, a British female journalist came to visit and write a profile on him. She went back to England and had a son who she named an Indian name and strongly hinted was the child of Aamir Khan. I'm not giving names because I think it is wrong to bring an innocent child into this story, but part of the oddness of this story is that his mother doesn't seem to find it wrong? She made him a child model and has dropped all kinds of hints that his father is really Aamir. If you google "Aamir Khan white son", he pops right up.
Second thing that happened, young Kiran Rao was working as an assistant director on set. She was 8 years younger than him, 28 to his 36. They met and were friends on set, no one denies that. And then shortly after Lagaan released and became a hit, Aamir announced he was divorcing his wife.
Most innocent version of this story, which is of course my preferred version, Aamir married young, he increasingly grew apart from his wife who was happy to stay home with the kids and not interested in the artistic world where he lived. As the marriage was falling apart, he made one big mistake and had a love child. Marriage over, he reached out to a nice young assistant director he had met on set and started a relationship.
There is nothing to say that this version is wrong necessarily. But there is also nothing to say that an alternative version is wrong either. For example, we know about this one affair and love child because the mother is strangely public about it (strangely, because it seems strange for any parent to shove their child into an international gossip story). Does that mean there might be other affairs and even other children who have been kept more protected and hidden?
Kiran says she was dating someone else at the time that she worked on Lagaan so of course there was no relationship with Aamir. Aamir says he was interested in her, but it was messy, so he waited until his divorce was final and stuff and then tracked down her phone number. All of that could be true, but it could also be true that Aamir charmed Kiran into cheating on her boyfriend and their relationship started on the Lagaan set, not later. At the same time Aamir was also having his fling with the British journalist.
Aamir and Kiran get married and start working together on film productions, on charity, all kinds of things. Much more public partners than he ever was with his first wife. The most innocent version, again my preferred version, this is why they worked as a couple and what they both wanted. Aamir wanted a partner who was interested in international affairs and pushing the artistry of film and all of those things he was doing now. It just made sense for him to find a partner that fit with him, and Kiran had already been into the artier film world before she got together with Aamir.
10 years after their marriage, they co-produced the film Dangal. There was a massive search for the young stars of the film. Fatima Sana Sheikh and Sanya Malhotra ended up being cast. Fatima was a former child actress, who had done a few small roles as a friend-of-the-heroine type already. It's hard to pin down her age, but based on how she looked in One 2 Ka 4 in 2001, I would guess she was born around 1990. Making her about 24 during Dangal. Kiran was very involved in casting Fatima and Sanya, in fact they were invited to Kiran and Aamir's house to be told they got the roles.
After Dangal released and became a massive hit, Aamir announced his next film, co-starring Fatima, another big budget long filming movie, Thugs of Hindostan. Meanwhile the other actress, Sanya, broke off on her own and started taking a variety of smaller films without any seeming support from Aamir. Innocent version, Aamir likes to mentor his co-stars and help them in their careers, Sanya chose to go her own way but Fatima welcomed his mentorship. Less innocent version, Aamir and Fatima were starting an affair.
For the past 5 years there have been persistent rumors about Aamir and Fatima. On the one hand, any time an older man is friends with a younger woman, you will have those rumors. Plus being already divorced once made folks natural suspicious of him. But on the other hand, it is kind of strange that as the years ticked by, they stayed so close? While Sanya, the equivalent co-star in Dangal, formed her own identity separate from Aamir.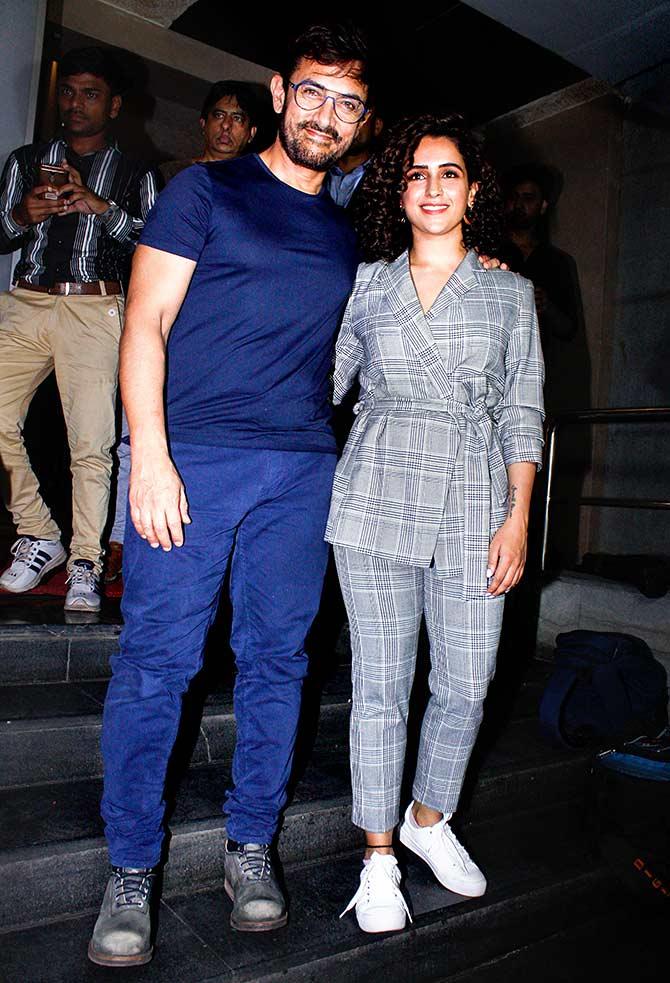 And now Aamir and Kiran are announcing their divorce after apparently a long secret separation. Is this because Aamir is having an affair with Fatima? Does that mean that Aamir has been a constant cheater? How does it change how we look at him?
For myself, I've gone from "Aamir married too young, had one affair while the relationship was falling apart, then found a second wife who made more sense" to "Aamir maybe just needs a new challenge, a new relationship, every few years".
What do you think?