Woot! It's a Love Story! The title did not tell a lie. It's not the best most satisfying love story I have ever seen, but it is for sure a love story. If you are considering seeing it, I will warn you now that the end bit is EXTREMELY stressful. And I give you the option of finding out what happens even in this No Spoilers review if you just can't relax and enjoy a movie with that kind of stress.
This is a classic love story of the type that is also a character study. Two broken people with complex pasts and motivations come together and slowly heal each other as they fall in love. It's a showpiece for writing, acting, directing as the relationship develops and the layers are removed from the characters. And then in the last ten minutes it gets WEIRD.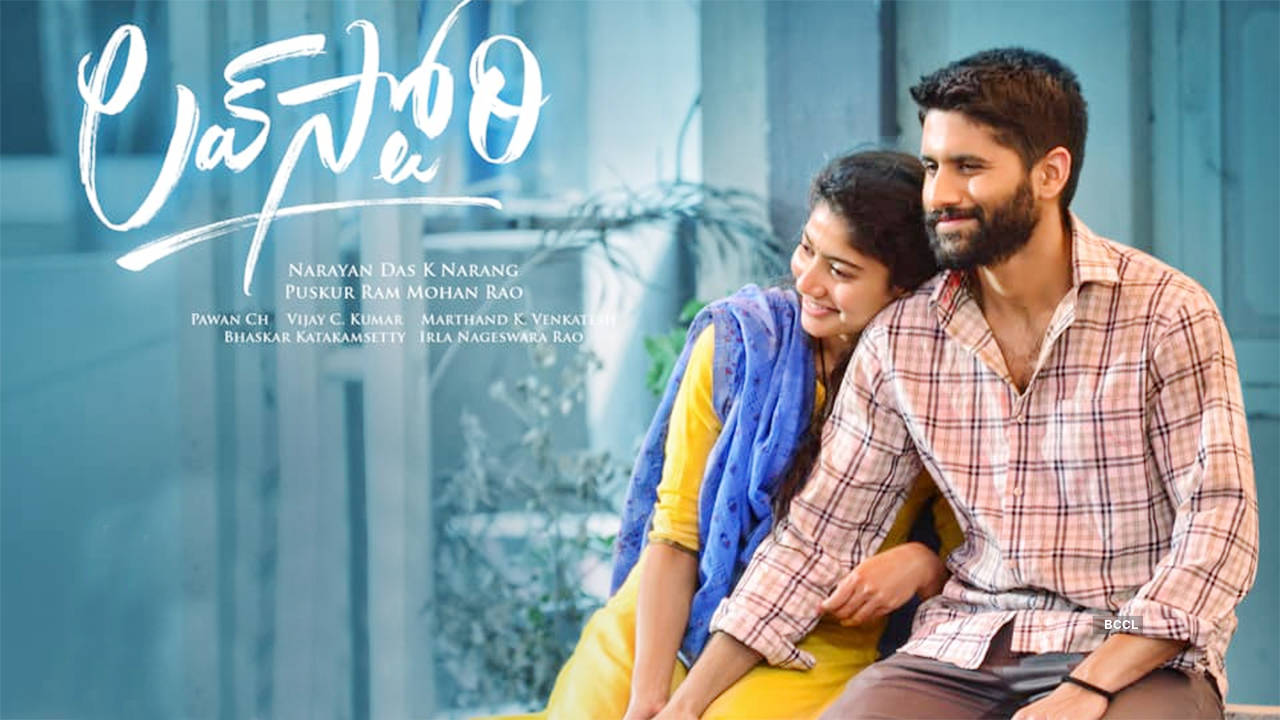 I don't like to routinely research the development and filming process for films, I like to just deal with them as a final product if I can. But in this case, like with many COVID era films, it was such a striking shocking break in intention versus result, I really CAN'T ignore it. This film has a very clear strong tone to it, a build to who the characters are and where they are going, and then in the last few minutes it just fizzles in a way that MUST have been affected by the 2 year interruption in filming.
It's too bad that it fizzles because the early non-interrupted sections are like clockwork. Sai Pallavi is predictably wonderful, and gets to play a really layered character. Naga Chaitanya, who is usually more of a "get by on looks and cuteness" sort of actor, gets an equally layered character. We know a little bit about them and then, as they learn about each other, the audience slowly learns about each of them. It's just perfect. And then weird, and not perfect.
I guess I would recommend this as a movie that you watch as a journey, not an ending. Relax, enjoy the ride, enjoy the small moments, don't worry about where it is going and why and when. If you watch it that way, you will get the best of it. Especially the music! Very solid soundtrack, and a plot that builds dance right into it so you get full Sai Pallavi enjoyment.
And the best of it is very VERY good. Shekhar Kammula is of course very strong with character based lowkey slow moving. What he is especially good at is the feminist/not feminist film. That is, he doesn't have some big message he decides on and then writes a film around it. He has an idea for an unusual female central character and lets things naturally develop from there. If you are telling a natural story about an interesting woman in India, then yes, you are going to stumble into gender issues. But his films never feel like he is setting out looking for those issues, he just comes across them by accident. And the same with anything else, caste, and class, and economics and religion and anything, he doesn't have a "point" in mind, he just lets it grow.
With this film, he decided to write two characters who have a classic Indian film Love Story conflict but, unlike many other films dealing with similar issues, he let the story develop naturally and doesn't turn away from all the potential conflicts and problems inherent in the situation. Love can be a revolution, especially in restrictive societies like India. With this film, Sekhar is saying this is a love story, but it is a love story that is forced to also be a social drama because that's what society demands of lovers.
But yeah, the ending is frustrating. Feels like he just needed a little more space to make it sing and, unfortunately, during COVID he just didn't have that space.
WARNING: Below this block, I have a spoiler so you can relax and not worry about where it is going. Don't look down if you don't want to know!!!
SPOILER They are both alive at the end, and vindicated by a court case. END SPOILER