What a good movie! Yes, the end totally fell apart, but it bravely confronted all kinds of big scary issues along the way. Read on if you won't have the chance to see it, are not interested in a romance film, or are interested but need to be spoiled first so you can relax and enjoy it.
Whole Plot:
Our hero Naga Chaitanya is a young man from a lower caste who left the village and came to the city to try to start a Zumba dance/fitness studio. Our heroine Sai Pallavi is a young woman from a good family in the same village who is desperate to find a job and stay in the city but struggles with anxiety. She is staying with a friend who lives next door to Chai. They fight, make-up, and finally she reveals her amazing dance ability. He begs her to be his partner in the Zuma studio, and she agrees. They slowly fall in love as they work together and build their business, until they have a big fight because he stood her up one night when she invited him over. In the middle of the fight, she kisses him. And then they are in love. But there is a major issue, since they are from the same village and she is from the landlord's family (although an unloved daughter of a younger son) and he is a low caste Christian. Then another intercaste couple they know dies (him murdered by her family, her suicide after his death) and it makes them see the risks. They decide to do whatever it takes to be together. They sell their business, and he moves to Dubai to do manual labor and establish himself while she goes home to the village. After 6 months, they plan that she will fake her suicide but really come to marry him and then they will live Dubai where no one can find them or hurt them again. Only then she doesn't show up for the wedding. He goes back to the village to find her, and she finally confesses that her powerful uncle raped her when she was a little girl. He is a pedophile. That is why she has been so traumatized and anxious all the time. And she doesn't dare leave the village and leave her little sister unprotected. Chai says they can't live like this and supports her in going home to tell her parents the truth. Her father blames her, but her mother supports her and tells her to run away, she will protect the sister. Chai and Sai Pallavi go on the run and it seems hopeless, until Chai says they will go back and confront the uncle. He kills the uncle and is promptly arrested. And then in one freeze frame at the end we hear that the court declared him innocent and acting in self-defense.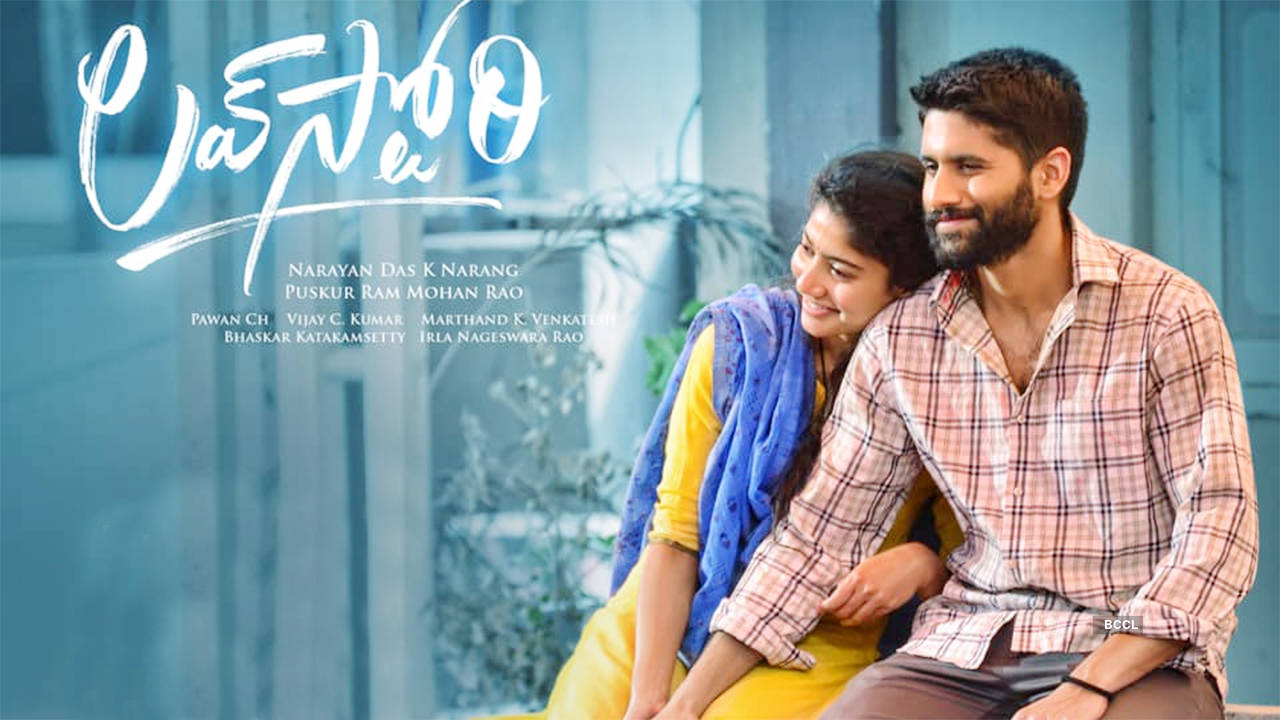 So, that ending SUCKS. Let's get that out of the way in the beginning. And I am 99% sure it was an ending forced by COVID. Filming was about 2/3rds completed back in 2019. And then the last 3rd just dragged out over abbreviated schedules with limited cast members and so on. The ending as it stands could work, if we got a 5 minute court room scene, establishing that their friends rallied to their support, they had a really good lawyer, the newspapers were behind them, and then we see Chai released after the innocent verdict and him and Sai Pallavi embracing and maybe a wedding over the end credits. Not that much more screen time, not even that expensive. But it would mean at least 200 people inside in a confined courtroom set without masks. And I am guessing that was just not possible.
Heck, there could even have been a more radical difference. Maybe the ending was supposed to be some big fight scene in which the underclass of the village stood up to the overclass once and for all and it wasn't all on the couple. Instead of 4 people on a dimly lit roof set and a quick fight scene. I think I also read that their Dubai shoot was cut short, I could easily believe the movie was supposed to take them to Dubai, happily, and only then would she feel safe enough to tell him the truth and he would encourage her to file a police report against her uncle.
I'm not going to analyze the ending in detail or blame anyone for it, because I truly think it was out of their control. In general though, the ending was the perfect culmination of the message of the movie. We needed to see a woman and a lower class/caste man united and fighting together against entrenched powers, and ultimately succeeding. This is a movie about alliances between the oppressed and the power of that.
"Who is worse off?" is a common social justice question in every society. And it is NEVER helpful!!!! The question you should be asking is "Who is best off?" and just focus on that. Sai Pallavi's uncle in this movie is destroying EVERYONE'S life. He is keeping Chai and his mother and friends in grinding poverty. And he is keeping his own brother's family in misery. And he is bringing the worst ugliness down upon the unprotected young women in his family. That's what this movie is about. The power of love is to let them share their story with each other, and ultimately see how they are alike, not different.
In both cases, their story is very VERY well done. We don't just see one moment of oppression, we see the scars and crippling of a whole lifetime of oppression. When we meet Chai as an adult, he is fast talking and fearless. But he also warns off a young man of the neighborhood from following a rich young woman not like "them". And he swallows the difficulty of getting a bank loan with no family behind him and the "wrong" kind of name. There's a certain attitude, a "I am going to be loud and fearless and confident and nothing will stop me" vibe to it that we slowly see was the defense he built up to a lifetime of slights and injuries. Never let them see it hurts, never let them see that you see what they think about you.
And then there is Sai Pallavi. When we first meet her, she is desperate for a job in order to avoid staying back in the village. But she is also so stressed, she faints in a job interview as soon as they start questioning her at all. She has a hard time standing up straight, talking back to people, looking anyone in the eye. When she agrees to teach dance, she demands a promise that Chai will never touch her, when he does by accident she faints. Later he offers her a ride on his motorcycle and she admits that whenever she touches a stranger, she gets dizzy, so she is afraid to ride pillion on a motorcycle. We see her blossom in their freedom and friendship and, finally, their love story.
Chai's trauma is there for everyone to see, he is clearly low caste. But Sai Pallavi's is hidden, the way the trauma of women from powerful families is hidden. The audience knows Chai's story from the start, but we can only guess at hers through subtle clues. She has an intense physical reaction to being touched. She is terrified of her uncle, to the point of locking her door and hiding, and he doesn't seem surprised by this. She avoids dancing, and then comes alive when she finally gives into it. She had a bad academic career, she has a hard time focusing, she gets "emotional" for no reason. It's all the signs of PTSD and a sexual assault survivor. They were there all along, we just had to put them together.
Late in the film, Sai Pallavi confronts her parents about how they always worried about her honor but never thought to worry about why she suddenly became afraid, crying, confused, stopped taking dance lessons, started avoiding going to school, never played with her friends any more, all of that. They didn't care, they didn't ask, because she was still being "proper". And now, they care more about her having an undercaste boyfriend than about her uncle raping her!
This is the thing that was always there for us to see, it is the hidden message of women with "sharam" and the family honor. If your daughter prefers to hide at home, is afraid of boys, etc. etc., that's not a good thing! That means you have successfully traumatized her so that she will never truly trust a man. What did you do to her???? Even Chai, when she first makes her "never touch me" demand, reads it as some perfect virtuous rich girl thing, doesn't see it as the sign of trauma that it is.
At the end it is all about Chai supporting Sai Pallavi as she confronts her family. But until then, it was about her helping him confront society as a greater whole. He takes the blows again and again and just keeps working, but he never really dreams or hopes for anything. She blows all that up. She gets him to plan big for his business, she starts the love affair, she gives him all the things that his internalized protective inferiority would not let him risk. And because of her support of him all along, he is able to dream of being with this woman.
In broad outlines, this is a familiar story. Intercaste young love, touching romance, struggling with reality, blah blah blah. But I really like the execution! Even in the city, their caste differences are always hovering around them, and her PTSD is always there. But because they are in the city, they have the power to make a choice. They could break up, her family would never know, it would be fine. But instead they choose to find a way to make it work. And the movie chooses to honestly show just how hard that would be. You can't just get married and move to the city, it's not enough. You have to erase your entire life and start totally fresh, never to return home again. There is no power that can protect you, there is no simple talking it out solution, and you certainly can't just "change their mind".
It's that last bit I found so refreshing. In Hindi films in particular, there is this need to win over the patriarch. He has to be forgiving and forgiven by the end of the film, his actions explained and excused away. Not in this case. Instead, the enablers who explain and excuse for him (his mother, his brother, his sister-in-law) are confronted with what they have allowed to happen, with the knowledge that a little girl knew, for a fact, that no one would ever side with her against her uncle and he could do whatever he liked to her. So no, their plan isn't that he will sneak into her house and win over her family. Nor is it a self-sacrificing decision to do what her family thinks is best. They will do whatever it takes to escape and be happy instead.
And then the film kind of loses it's way. That's where the ending happens. Sigh. But it is SO GOOD up to that point! Such a wonderful case study of how social injustice affects individual people, and how finding love can change that.