Well, this is a frustrating combo. A great movie stuffed inside a limp dull modern wrapping. If you have to watch it, it's a definite start at the interval and skip the first have kind of film.
I've seen enough Telugu films to know that the first half/second half divide in plot is pretty common. Gives the Hero Actor a chance to have to costumes, two heroines, two hair styles, etc. etc. Even Bahubali followed that trend. And it's also pretty common for one of the halves to be way WAY better than the other half. But in this case it feels a little bit different to me. It's not so much giving Nani a chance to play two characters opposite two actresses, as it feels like there is the Real movie that they Really wanted to make, but they ran out of time or money or just couldn't convince anyone it would work, so they wrapped it up in a far inferior easier to sell movie.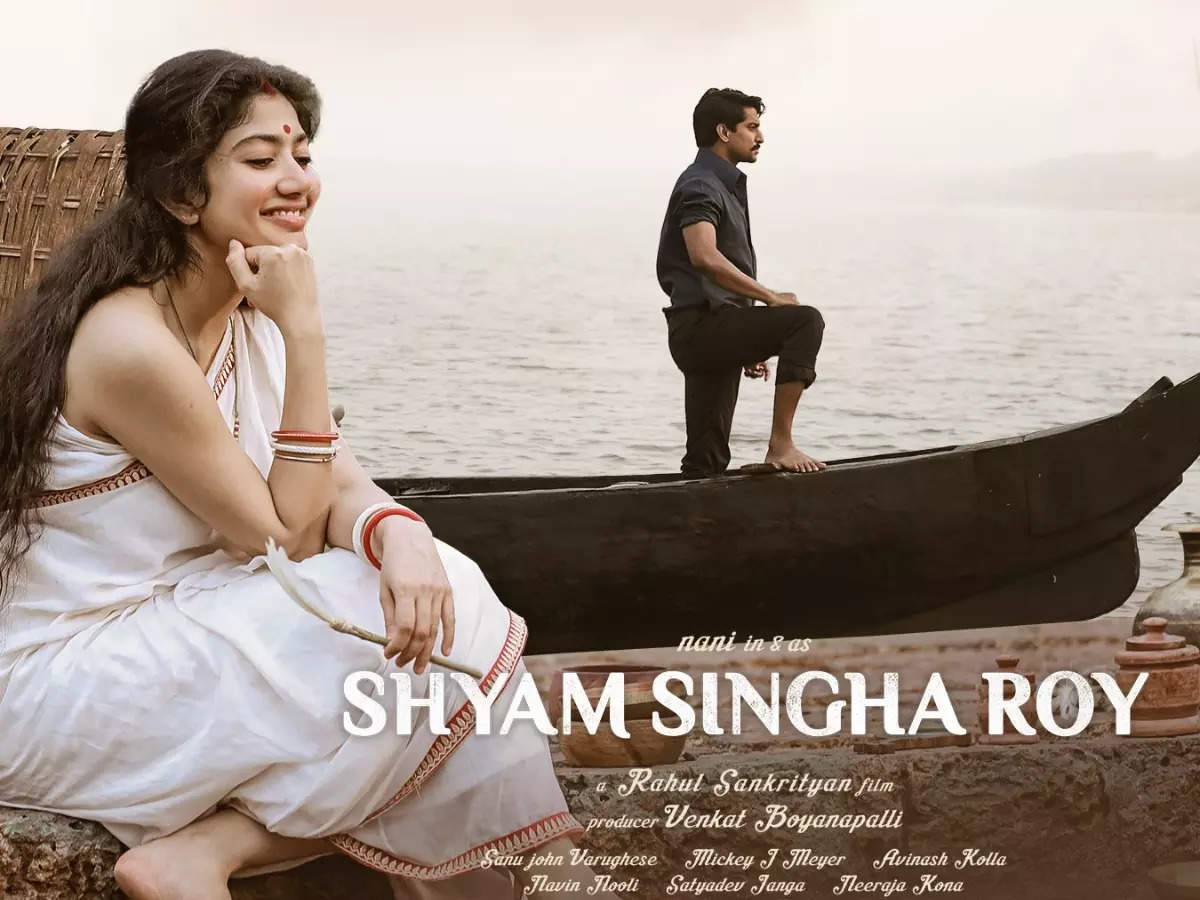 A quick check at the history of production backs up my theory. They wanted to make it one of the most expensive films in history, the producer got spooked by the pandemic, and they shifted production houses mid filming and slashed the budget. The second half heroine Sai Pallavi was announced almost right from the start, the first half heroine Krithi Shetty was announced, then changed, then re-announced, sounds like it was much more last minute. And even minor first half actors, like Murali Sharma, were also announced much later. So, yeah, it was intended to be an awesome expensive historical romance featuring Nani and Sai, and then the producer pulled the funds and they had to scramble together what they could of what they had and last minute pull together a first half/present day cast to fill out the screentime.
But, if I deal with the film we have and not the film it could have been, it's still pretty good! The less good half has an irritating heroine (I think), but some cute flirty scenes still. And Madonna Sebastian is GREAT in a not-heroine role, just playing an interesting character (very refreshing that they chose to cast an actress instead of an actor in a character role). And there's an interesting twist on reincarnation to tie it all together. The good half is really REALLY good. So, yeah! I would watch it again! And recommend it to others! And say "this is a fine solid entertaining film, nothing spectacular, but it doesn't always half to be spectacular".
SPOILERS SPOILERS SPOILERS SPOILERS SPOILERS SPOILERS SPOILERS SPOILERS
Nani is a pleasant young filmmaker who is trying to make a short film. He sees Krithi Shetty in a cafe and convinces her to be his lead. They flirt and romance during filming, but when they are kissing he calls her "Rosie" instead of her name and she gets mad and storms out. He shows the short film to a producer and gets money to make his longer script. It is a blockbuster hit and will be remade in Hindi. But at the press conference, he is confronted by publishers who claim he stole all his stories. Krithi is now a psychology student and gets her cousin the lawyer Madonna to defend him. Krithi's professor hypnotises him to learn how he knew these famous stories he claimed never to read. And he regresses to a previous life, when he was the famous author in Calcutta, Shyam Singha Roy, who wrote the stories. They present this defense in court and, thanks to his short film being based on a story that was never published, the Singha Roy family believes him. They bring him to his widow from his previous life who sees him one more time and then happily dies.
The past plot is much more exciting. Shyam is a radical communist atheist son of a high caste land owning family in Bengal. He is about to leave town for the city to be a writer when he sees a beautiful temple dancer, Sai Pallavi, at the Navratri festival. He stays in town for the 9 days and convinces her to sneap out to see him every night. He finally convinces her to run away with him, but first he kills the head priest who has been abusing the dancers every night. He goes to the city with Sai Pallavi and gets a job writing for a paper. Soon he is super successful, even starts his own press to publish his radical novels. All the profits get folded into a trust focused on saving temple dancers. And then his family invites him back home for a visit. He goes, only to have his own brothers kill him when he refuses to marry a "respectable" woman and leave Sai Pallavi.
The present day plot is certainly clever. The mixture of court case, reincarnation, plagiarism, and cross-language filmmaking is a kick. Just the little touch that his film released in Telugu wasn't noticed, but once it got a Hindi remake it became national news and the Bengali language publishers saw it, that is interesting. But there's no heart to it.
Arguably the point is that there is no heart to it, present day India is shallow and spoiled and blah blah versus the Noble Past. If that is the point, it needs a resolution. Our present day hero needs to acknowledge his debt to the past and how modern India is built on the shoulders of giants and so on and so forth. Alternatively (and preferred by me), we need to have our present day hero inspired by the sacrifices of the past and dedicate himself again to social service instead of shallow success and fame. I mean, supposedly he is writing these stories that were originally extreme revolutionary things. Surely if Present Day hero is making extreme revolutionary movie plots, he should feel a little more extreme revolutionary himself?
And then the past plot is all heart!!!! We barely meet our hero before he is in love, and then he is rescuing the heroine, and then they are building a happy life together, and then he is dead. SO FAST. The whole thing felt like it was setting up for a bigger plot that never happened. But I don't really care, because what is there is so perfect.
The Temple Dancer plot is excellent. It's the best one I've seen, which doesn't mean it's the best one that exists just the best I've seen. Yes, they are highly educated and respected women, not sex workers, not like naach girls at all. But on the other hand, their entire lives are controlled by the temple which makes them ripe for abuse by the priests. And just plain stunted lives, never interacting with the greater world, spending all day every day in study and worship. We see the priest arrive every night and pick out the dancer he wants. We see the little girls trapped in study inside instead of living their lives. We hear that Sai Pallavi herself was sold to the temple by her parents, no memories of them or even her name before. And finally we see Sai Pallavi stand up to the priest and decry his abuse, only for him to beat her and humiliate her. The problem is both in the one person who abuses them (the Priest), and in the whole system which leaves these women defenseless and ripe for abuse.
Rest of the plot, equally good! So many small things that work well. We see Nani and Sai Pallavi get the news that she can never have children. It's left open to interpretation if that is because of sexual abuse from a young age, or not. What is not left open to interpretation is that Sai Pallavi is upset about this, and Nani teases her out of it by saying he should be enough for her. In a world where wives are seen as potential mothers before all, to have Nani's character just not care, and to show them as a functioning happy couple without children, culminating in Nani REJECTING the possibility of a second wife, all of that is amazing.
Nani's hero is good beyond just his romance. He only fights once, to kill the priest. And he does that in the middle of the ceremony in front of the whole village, very satisfying. The rest of the time he fights by writing, his heroism is typing away at a computer. And of course, spending all the profits on a charitable trust instead of finding success through buying a big house. The only possible flaw with him, is that he is flawless.
But he has to be flawless, because his section isn't long enough to make space for character growth. And in the same way, the modern hero is super superficial and flawed because his section isn't long enough to make space to grow better.