We last did this a few months back, and I had sooooooo much fun watching Hum Saath Saath Hain with you guys!  It was the most painless way to watch a Rajshri without going into insulin shock.  Heck, it was even enjoyable!  So I want to do it again.  We just need to figure what movie to watch and when.  I am strangely leaning towards Easter/Night before.  But that might not be viable for everybody.
If you weren't part of the other ones, the way it works is, we pick a movie, start it at the same time, and you set up your twitter account to automatically look for certain hashtags on twitter and that way you can follow along with what everyone says.  And join in if you want (hopefully).  And somewhere in the middle I usually announce a bathroom break, because these movies are 3 hours long, after all.
Now the question is, what movie to watch?  Hum Saath Saath Hain was our best one yet, I think.  Because unlike Kal Ho Na Ho or Kabhi Khushi Kabhi Gham there was no scene that we minded talking over.  And someone always had something entertaining to say, whether it was about the hotness of Salman while looking at Sonali, or the amazing all denim outfits.
So I am going to lean strongly in the Hum Saath Saath Hain direction with my suggestions this time around:
Maine Pyar Kiya (on Netflix and Amazon and Youtube, best Salman has ever looked, killer pigeon)
Prem Ratan Dhan Payo (on Netflix and Youtube and Amazon, gorgeous costumes, swordfights!)
Mann (on Amazon video, Amazingly 90s!)
Chaahat (iTunes, Youtube, GooglePlay, SHAHRUKH!!!  And a puppy)
One 2 Ka 4 (Netflix, GooglePlay, Youtube, SHAHRUKH!!!  And Juhi)
Just say your votes in the comments!
Do you want PIGEON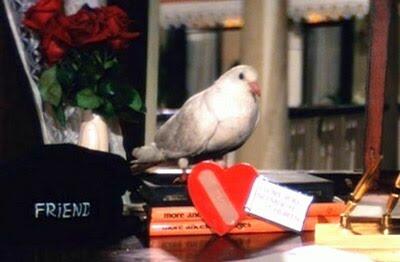 SWORDS
90s
PUPPY
JUHI
Scheduling-wise, last time we did 7pm Saturday Chicago time, which seemed to work pretty good for Australia, Japan, and America people, since it landed at mid-morning Sunday for the Pacific Rim, and early or late evening all over North America.  Not so great for India people, because it's early morning Sunday.  But you can just wake up early and then go back to bed, it's the weekend!
For the date, I am pretty open, April 1/2, or 8/9 or 22/23 (April 15th I'll be all worn out post Tax protest march).  Again, put your votes in the comments!