Happy Thursday!  I was going to do two posts yesterday, but instead I did one summary post and one speculative post.  And I think the speculative post is a little better written!  Check it out.  And to try to get this back on track, I am starting to slow down to 2,000 words for every 5 minutes.  And at that pace I will never be finished! (part 1 here, part 2 here, part 3 here)
So far, Prabhas was declared heir, Rana was jealous, Ramya tried to make it up to Rana with gifts, and she ordered Prabhas to go on a tour of the remote territories while he waited for his coronation and she picked out a nice bride for him.  Prabhas and Kattappa left town, and on the remote edges of the kingdom, Prabhas has just fallen in love with beautiful princess Anushka who he saw fighting off a team of bandits.
There's a little moment I noticed in the post-fight scene on my second watch, actually two little moments.  First, there is the way that Kattappa and Prabhas are kind of in the back of the crowd, but it's not because they are trying to be inconspicuous, it's because they are sort of herding together the women and children and bringing them forward to thank Anushka for what she did.  It's like a gift, if that makes sense.  Prabhas and Kattappa are experienced courtiers/warriors, and they know that this is what Anushka would most like after her battle, to receive the thanks of the people.  And so they have arranged that for her, holding themselves back since they know it would be less meaningful coming from them.
The second little moment I noticed was when Anushka address them, and Kattappa introduced himself as Prabhas' "uncle" and gave her a little bow.  And then nudged Prabhas to bow as well.  On the one hand, it works with their disguise as a humble peasant type and his unintelligent nephew, that Kattappa had to remind Prabhas to bow.  But it also, on a second watch, was a reminder to me that Prabhas had never had to bow before, this whole "humility" thing wasn't part of his experience, he needed Kattappa to guide him in it.
(Unlike in real life, where humility seems very familiar to him)
Oh, and then Kattappa (at Prabhas' direction), suggests to Anushka that she take his simple-minded nephew back to the palace and teach him to be a man and a warrior.  While Prabhas just stands there and smiles.  He keeps smiling as they ride their carriages to the palace, Anushka standing noble and impressive in front and Kattappa and Prabhas shuffling along behind.
I'm going to come back to this later, the way Prabhas arranges for all this to happen around himself and seems to enjoy it.  So remember that!  And keep noticing it through out this section.  But first, random moment when Prabhas notices some cowherds chasing after their animals, joyfully running with them and herding them in the appropriate direction.  It felt really clunky, to be inserted into his trip back to the palace with Anushka.  But it was supposed to be clunky, so that the audience would remember it, and put it together with the moment 20 minutes later when Prabhas uses that knowledge.  This was a tiny little example, so that we would pay attention and put together the much more subtle versions of this transition.  Those little flashes we saw in Prabhas' traveling song, those will come back.  The water wheel, the different ways of finding justice, all of that was stuck in his mind and gave him ways to improve Mahishmati, if he had the chance.
Okay, now we are back in the palace!  Anushka is trying to shoot an arrow.  Actually, to shoot two arrows.  And she looks terribly clumsy at it, and I had a moment of fear that she would turn into another weak woman type character.  But, phew! That doesn't happen.  This scene was to set up something else entirely, which again I will get into later.
(This!  this is what it is related to)
We also get to see some interesting stuff about how the genders interact in the Kuntala palace.  Anushka is shooting her arrows, when her brother and sister-in-law come up.  Her sister-in-law reminds her to stop practicing and instead start preparing for the "full moon ceremony".  Her brother-in-law, when appealed to, says that it is none of his business and he is staying out of it.  And meanwhile, Subbaraju is giving Prabhas and Kattappa a tour of the armory and they are pretending to be impressed, while secretly laughing at his pretensions.  I also got the feeling that Prabhas was enjoying being an audience to someone else, letting someone else take center stage for once.
But in terms of gender, there is a line still, there are all female ceremonies of which Anushka is naturally a part.  But that doesn't mean she, and her ladies in waiting, can't practice with arrows too.  And while Subbaraju is naturally taking charge of these two strange men in the kingdom, because he is also a man, that doesn't mean he is good at weaponry, or even that anyone else thinks he is good at weaponry.
Prabhas is still a little dopey with love, and he is distracted looking at Anushka and accidentally allows his hand to weigh down Subbaraju's and help him to shatter an entire block of wood.  But he quickly recovers and pretends that Subbaraju must not know his own strength.  However, Anushka is suspicious.
That night, Subbaraju is practicing in his room, trying to split a log.  Along the walls, we see glorious full length paintings of him in heroic style, standing over a bear, carrying a tiger's body, etc.  But when the camera pans towards him, he can't even manage to make a mark in a small block of wood with a sword.  He is interrupted by Anushka and her attendants, and quickly hides the sword and the wood when he hears them coming.  But the attendants easily find them and tease him into showing how he can split the wood.  Until Kattappa and Prabhas come in with a tray of fruit and say that it is inauspicious to perform the same feat at night as in the day.  Anushka lets it go, but warns him that he had better be prepared to show his skills the next day on a boar hunt.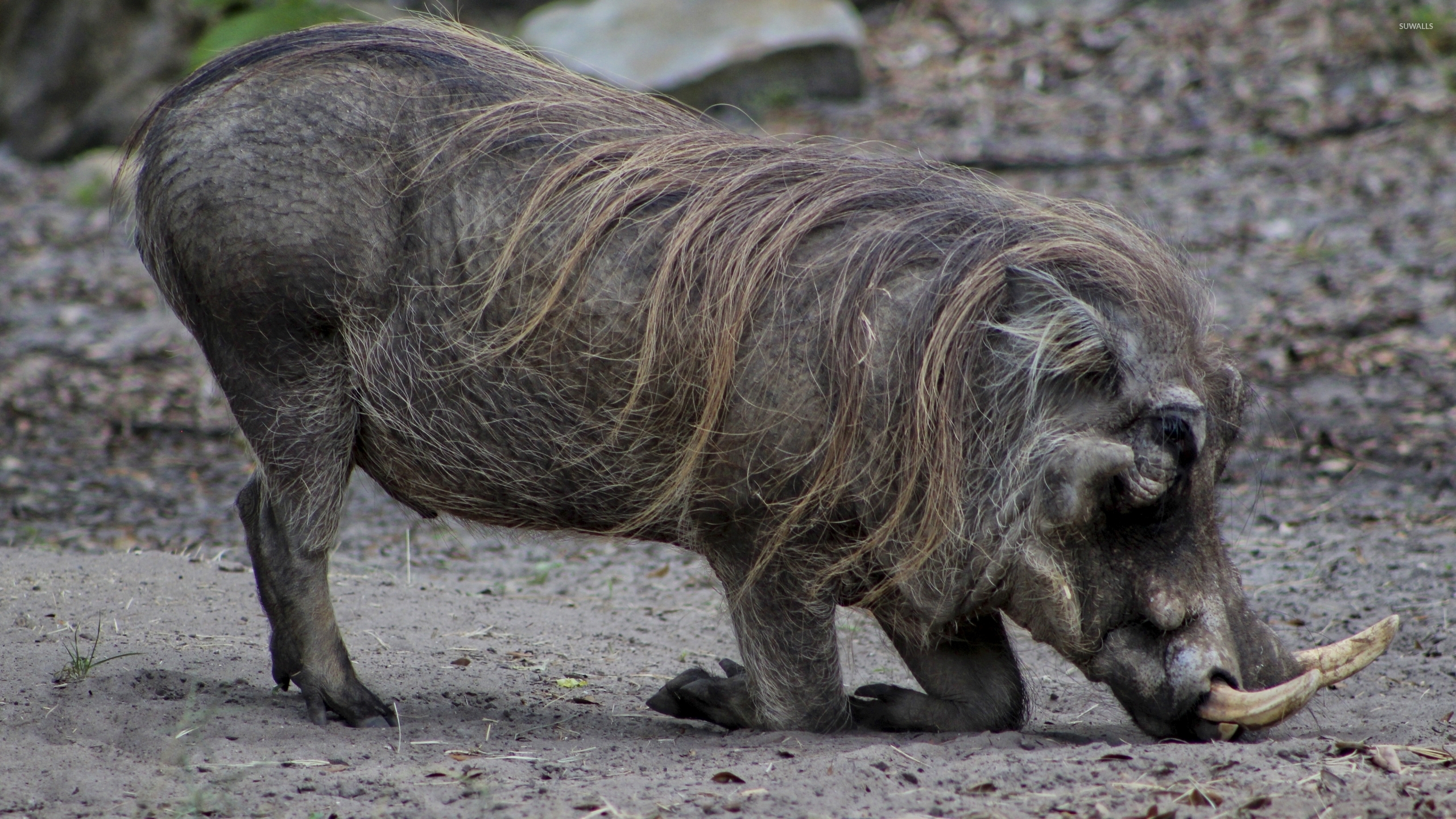 (Wild boars, very scary)
Okay, discussion time!  First, note the tight construction, establishing in this small way that Prabhas' power is so strong, and his abilities so well trained, that even the smallest touch of his hand can cause a sword to shatter a tree trunk.  This will be important in the next sequence, but we need to see it established now, because things will move too fast for us to fully understand it later.
Second, the light touch, making Subbaraju funny but not threatening.  He is fooling no one but himself.  Even Anushka's attendants can see through his pretensions to bravery.  There is no risk that Anushka will be married off to this weakling, or even that he will be given too much responsibility in his duties, he can be laughed at without us worrying about his actions.
Another thing to notice, how we see that Anushka is already trying to puzzle out this problem.  She isn't only Prabhas' match in weaponry, she is in intelligence as well, noticing small things, putting together clues, and setting up tests and traps.
Oh, and also, the way that Prabhas and Kattappa are still standing back a little, letting others drive the story forward.  Including arranging for Subbaraju to ask Prabhas to be his attendant on the boar hunt the next day.  So he can continue his little game with Anushka, with Subbaraju as a pawn for both of them.
The boar hunt itself brings together a lot of different themes that all boil down to "Kshastriya".  I saw some complaints that this film is caste-ist for how much it talks about the Kshastriya way and Kshastriya code.  But I didn't see it that way at all, to me it was just the "good" part of the castes.  Not that people are locked into a particular caste, but that once you do end up in that particular position (however it happens), there are certain responsibilities you must uphold.
Subbaraju asks why they are hunting the boar, and Anushka clarifies that the boars are destroying the fields and threatening the farmers, and therefore it is their responsibility to kill the boars.  This is exactly why the fighting class came about, all over the world.  The weapons and training required were expensive, and so all of society would pass money towards the chieftains, who in return were expected to use their fighting abilities to defend the rest.  Anushka does not learn archery to amuse herself in her copious free time as an indulged princess.  She learns it so that she can fight bandits, kill wild boars, and otherwise serve her people as best she can.  That is going to be Prabhas 1 journey through out this film, to always serve his people however he can wear he can.
(See?  Medieval Europe, same thing, the wealthy went out with their dogs and their stakes and hunted boars that the peasants couldn't take care of)
Before we get to the real hunt, there is the funny scene, Prabhas talking with Kattappa about why he is doing this charade.  He doesn't really explain, when Kattappa argues that he could simply reveal his identity instead of sleeping in the kitchen and pretending to be a simpleton.  And Prabhas simply says that Kattappa has never been in love (clearly not knowing about Kattappa and Ramya's hot affair that I have decided in my head canon has been happening for the past 20 years).  He then tries to explain by suggesting that Kattappa look at the two lovebirds out the window.  Which Kattappa immediately translates to thinking about how tasty the two birds would be, cooked with a little salt and pepper.
It's fun seeing how perfect Kattappa has this big blind spot.  And it's fun seeing Prabhas and Kattappa interacting as equals and friends.  But it also kind of does answer Kattappa's question, or start to answer it.  Prabhas is in love, he wants to be with the woman he loves.  And he wants to "play" with the woman he loves, like the two birds are playing with each other.
Right, boar hunt!  This is such a fun sequence.  It moves so fast, cutting between Anushka and Prabhas' chariots with the boar running in between.  And it is so well directed!  I always knew where everything was in relation to each other, the boars and the chariots and the two arrows.  And Prabhas has so much fun coming up with different ways to make sure Subbaraju wins, knocking his arm or startling him to release the arrow to soon.  It's fun because it is so small, the little things he does.  Thank goodness with had the sword and log scene earlier so we could understand what he was doing and that just that little amount of attention lets him win this contest.
What makes it really great is that it doesn't make turn Anushka into a figure of fun.  It is clear that she could easily kill the boar, that she is the best archer in the kingdom.  Prabhas 1 is better, but that's because he just is.  It's not a male-female thing, it's a "Greatest and best trained warrior in the empire" versus "greatest and best trained warrior in a small kingdom".  And she doesn't respond by throwing a female hissy-fit, it just makes her think more.
And thus another trap for Prabhas!  A clever one, not just clever because she knows he is secretly a warrior, but using his hidden weaknesses against him.  Anushka pretends to trip while stepping out of her carriage, and Prabhas automatically grabs her waist before she can fall.  Not just showing his reflexes and strength, but showing that his emotions have gotten the better of him and he can't stop himself from saving her even if it reveals his identity.  And Anushka ignores that aspect, which she surely is also aware of since she used it as part of her trap, and instead just grabs his hand and raises it up (no feminine modesty about touching his body!) and declares that it is the hand of a "kshastriya", she will of course recognize it's touch.
(Or else she recognizes his touch from 1:13 here)
Again, I really don't think Kshastriya is being used in a super casteist way.  She means a strong hand, capable of fast movements and all those things that come from training.  Not that she can instinctively recognize the blood flowing in his veins.  Especially the way she phrases it, "the touch".  There is a layer of sexiness there.  I feel like, if she had tried the same trick on Subbaraju, she would not have liked "the touch".  He is the same caste, but his hands wouldn't feel right to her in the same way.
Anushka definitely reacted to Prabhas' touch, but she does not let that stop her, she only files it away as another bit of evidence, and sets up her next test, directing Prabhas to stand in the road, and let a wild bull run at him.  Prabhas does a nice job of pretending fear while letting the audience see that he is waiting for the right moment to step aside and let himself be hit.  He flies into the air and hits the ground, and Kattappa immediately steps into his role of sorrowing relative, crying over his injured nephew and the cruelty of the princess, while Prabhas sits there and watches Anushka from behind his hair, enjoying her frustrated reaction.
Back at the palace, Prabhas has been settled in a bed with a sling and Kattappa is still sorrowing over him, and manages to knock him sidewise so that he falls against Anushka and she is forced to embrace and support him.  And while doing so, there is a moment that she definitely lets her face brush against his hair, and he smiles as he feels it.  It could feel sudden, that Anushka feels so much for someone she barely knows.  But I totally buy it!
This has been a game between them all along.  Prabhas acting the fool and Anushka trying to catch him.  It's how they learned about each other, testing their mental mettle.  Similar to how Prabhas 2 and Tamannah will fight their own duel, only that time Tamannah doesn't realize Prabhas is playing just for fun, until it is almost too late.  This time, Anushka and Prabhas both know exactly what is happening.  She isn't trying to weed out a spy in their court or anything like that, she is smart enough to know that Prabhas is essentially honorable and harmless.  She just wants to get the better of him for the same reason she wants to learn to shoot two arrows at once and suggests a contest at the boar hunt.  She is a competitive person, and she can sense that Prabhas is a worthy foe, and therefore really wants to "win".  But she also enjoys the competition, fighting against someone who is her equal or who superior.  Look at how easily she and her ladies in waiting see through Subbaraju, there is no challenge there.  And her brother and sister-in-law, they are good people and she loves them, but they don't bother challenging her any more, just let her go her own way.  Prabhas has been traveling the kingdom, seeing new things and having his assumptions challenged.  Anushka has been sitting at home, craving that same experience.