Welcome back!  A lot to dig into in this section, and then we get into the bit that depresses me terribly.  But this is the bit that makes is talk about whether the character developments are contrived or inevitable.  SPOILER: I land on the inevitable side of things. (last section is here, you can crawl backwards from there)
Prabhas is the crown prince of Mahishmati, but has been sent to go walkabout until his coronation.  He falls in love on his travels with a princess of a minor protectorate, Anushka.  His evil brother Rana finds out about his romance and arranges for their mother, Ramya, to promise to marry Rana to Anushka.  Anushka insultingly rejects the proposal, arguing that no man would have his mother send his proposal on his own behalf instead of coming himself.  In fury at the response, Ramya orders Prabhas (who she thinks is traveling nearby) to arrest Anushka and bring her to Mahishmati as prisoner.  Prabhas, just having saved the kingdom from roving bandits and professed his love for Anushka, gets the notice and uncomfortably has to ask the woman he loves to agree to be his prisoner.  Anushka naturally refuses, Prabhas argues that his mother wouldn't do something wrong and there must be a greater reason behind it all.  And he is so confident, that he promises Anushka that he will not let any harm or disrespect come to her.  More than that, he also essentially makes a marriage vow, that he will dedicate his life to her and follow her lead until his dying breath.
Phew!  So romantic!  But also, so honorable!  What we were talking about in the comments of the last section is how Prabhas could easily have made almost the same promise to anyone.  He believes that his mother always has a deeper reason and always does the right thing.  And so if any Innocent had asked his guarantee for their safety, an old woman or a small child or even his new friend Subbaraju, he would have easily assured them that nothing would go wrong and he promise them that on his honor.  And he wouldn't have thought twice about it, assuming that he would never have to actually do anything, his mother and his kingdom are always just and kind and this obvious Innocent will never come to harm.
The second bit, where he swears to follow her all the days of his life, that's just because it's Anushka.  Not just because he is in love with her, but because of the kind of woman she is.  Which, come to think of it, is why he is in love with her, so it's all tied up together.  Anushka sees things clearly.  She saw through his pretense, she saw through her own feelings, and she speaks honestly and makes clear judgements based on what she sees.
(Remember the big deal when her eyes were revealed for the first time in B1?  Because she has such powerful eyes.)
Prabhas has always trusted other's judgments along with his own.  Ramya, Kattappa, even his evil brother Rana, he likes getting input as it were.  And he is wise enough to know when he needs the input, and when another's opinion is better than his own.  It might make him appear weak, in fact that is what some of his enemies at court probably think.  But it is the special wisdom of knowing who to follow, and when to lead himself.  He's mostly been a follower up to now, following Ramya.  And now he is making the biggest decision of his life, picking a new person to be his guide.  And he is making it in full consciousness of what he is doing, this isn't a vow of love, or a vow that's just about getting her to agree to go to Mahishmati.  This is a big big vow, that says how he wants to use his energies and spend the rest of his life.
And then after this big big vow, we get a cute cute scene.  Anushka and Prabhas have to take a small boat to a big boat to Mahishmati.  Prabhas walks across a plank between the landing to the boat.  Anushka starts to step on it, but gets distracted looking at Prabhas, and knocks the plank off.  Prabhas smiles and says "Princess, was your mind elsewhere?"  Anushka looks a little embarrassed, but not really.  And then Prabhas leaps down into the water and holds the boat in one hand and the landing in the over and smiles up at Anushka, and she smiles back and lifts her skirts and walks across his arms in her bare feet into the boat. And on the bank, Kattappa and Subbaraju exchange what my friend Dina described as "Oh yeah, that's what's up" smirks.
I didn't notice until the 3rd watch, but this scene is echoed in the finale.  The bridge is burned, just as Anushka is about to fall in the water, or be burned by the fire, the head of Rana's giant statue falls onto the burning bridge, and she calmly walks across the face with her bare feet.
We all know that bare feet, and feet in general, are super insulting in Indian culture, right?  Really they are super insulting in most cultures, it's just common sense, feet touch the ground and get all yuchy.  And they are the opposite of the head, where the eyes and mouth are, all the good things.
Prabhas and Anushka here, her walking on him with bare feet, it's foreplay.  He loves to serve her, and he finds the feel of her bare feet as a bonus.  And Anushka loves to be served, and trusts his body to hold her.  But for Rana, at the end, seeing Anushka walk across the statue representing his face, it gets under his skin.  He has been trying to dominate her for 25 years, and here she is dominating him.  And, of course, it is Prabhas 2 picking up where his father left off, toppling the statue which leads to Anushka being able to safely cross the water again.
This is the essential difference between Rana and Prabhas 1.  Both of them see Anushka as a Grand person.  For Prabhas 1, that makes him want to serve her, to get off a little bit on serving her.  And everyone in happy Kuntala can see that and understand it.  But for Rana, it makes her someone that he must dominate, that he has to prove himself by forcing her below him, not by having the honor of supporting her.
And then there's a love song!  I think we can all agree this is a fantasy, yes?  Prabhas and Anushka are traveling together to Mahishmati.  This is kind of their happy engagement song.  They are in love and in that magical moment between confessing their feelings and being married.  What I love is that it is all about Anushka, how she is feeling different, she is enjoying this new sensation, she is making Prabhas obsessed.  It's not the usual love song, about how her eyes drive him crazy and blah blah blah.  And in the middle of it, we go to total fantasy when they both through sparkly light from their palms and the boat takes off into the sky.  And then they kiss.  The actors, not necessarily the characters.  Moimeme in the comments reported that the kiss might have been cut from the non-Telugu versions.  Which is really not fair, because it is a great kiss!  Not all sucking and grinding and spitting.  They lipsynch lyrics with their mouths right by each other, brushing against each other.  And then gently let their lips meet.  And then the camera pulls back, and that's it.
At the end of the song, we come back to earth, the boat sails on beautiful clear water, and the music suddenly shifts to "doom doom doom" and the mast goes underneath the trunk of the huge elephant marking the entrance to Mahishmati, and Anushka's swan emblem flag breaks off and falls into the water.
Okay, firstly, we had a debate in the comments over whether the waterfall Prabhas creates at the end of his battle with the Pindaris in Anushka's kingdom is THE waterfall, the "Dhivara" waterfall.  I thought it was, but others pointed out that that waterfall would have to be connected to the Mahishmati capital for the other parts of the film to work.  But, HA!  They traveled by boat all the way to the capital moat.  So it is the same waterfall!  It goes from the palace grounds, out of the city, into the moat, out of the moat, through the kingdom, past Kuntala, and then down the side of the mountain to where Prabhas grew up.  Which also works with Prabhas 2 climbing the waterfall and ending up in Kuntala rebels' territory first thing.  Oh!  And during Prabhas 1's wandering song, we saw him riding a horse through a beautiful green Ghat-like region.  I bet that's the snowy mountains that Prabhas 2 and Tamannah sledded down.  And then ended up near the city.
It's confusing because the distances and sizes are all messed up.  For instance, in this shot with the boat the elephants are big enough to knock of the mast, but in the next film Prabhas 2 is going to leap from the top of the wall they brace up in one jump, which doesn't really fit with the 100 story tall size they are supposed to have.  And it's the same with distances of things, Kuntala is supposed to be on the far outskirts of the kingdom, but in B1 Prabhas gets to it from Kuntala in like a day's travel.  On land too, not by ship like they do it here.
But we are going to ignore all those things and just enjoy the film.  And enjoy the things they did right, like I am pretty sure that "green mountains" scene that matches with the avalanche geography in the original was not a coincidence.  Pretty sure Rajamouli really studied that map from the B1 opening credits and made sure that everything kind of matched up.
Okay, enough procrastinating, we are at the bad part!  Prabhas and Anushka come into the throne room with a low angle and slow motion and everything.  They look very cool and very noble.  They are also super dressed up, fancy clothes and lots of jewelry and all that.  But most importantly, while Prabhas is in front, something about his posture is telling you that he is in front in order to break a path for and protect Anushka, not because she is his prisoner.  And Anushka certainly doesn't act like a prisoner, head up, looking around, not even glancing at Prabhas because she knows he will be there to her left, protecting her weak side.
Prabhas on the other hand isn't worried at all about leaving Anushka behind in the judgement space while he trots up and greets his mother by touching her feet and getting a pat on the head in return.  He then casually takes up his position next to her chair.  It's a student's position, or an apprentice.  And that's what he has been, Ramya's apprentice who watches her give judgements and then has them explained to him later.  He was so confident that she would have a "hidden reason" for ordering Anushka to be brought as prisoner, because he must have had many such "hidden reasons" explained to him, judgements that initial looked cruel or arbitrary or just plain wrong.  And then Ramya would explain that she had to do this, or else that worse thing would happen.  And no doubt her judgements were correct, and wise, and her hidden reasons justified them completely.  But what Prabhas has never done is to demand those reasons in open court, to challenge a decision.  Because that's not his place, his place is to stand and watch.  And he is sure that Anushka will be fine, that his mother will make the right judgement and it will all work out.  So he leaves her alone, undefended.
And Anushka does a beautiful job.  She apologizes for the hasty words in her response to the engagement.  Ramya also does a beautiful job, indicating that she enjoys such behavior, her daughter-in-law should be strong like that.  Both women smile, problem solved!  Until Ramya tells Anushka to go stand next to her husband and Anushka starts to move towards Prabhas.  And Ramya asks why she is doing that.  Anushka plays this part so well, honestly confused.  No one watching her could possibly think this was anything but an honest mistake.  There is no calculation on her face, and she has a definite "wait, what do you mean?" reaction when Ramya corrects her.
And that's when things go wrong.  Ramya reacts with slightly too much horror and anger in correcting that it is Rana she is supposed to marry.  But Anushka is the one who puts the frosting on the cake, when she bluntly replies that she is not going to marry Rana, because she has the right to choose her own husband, and Ramya should know that if she knows anything.  It is not respectful, it is not apologetic.  It's not angry either, it's confident and definite.  Anushka knows she is in the right and is not going to prevaricate about it.  Because, why should she?  She's right!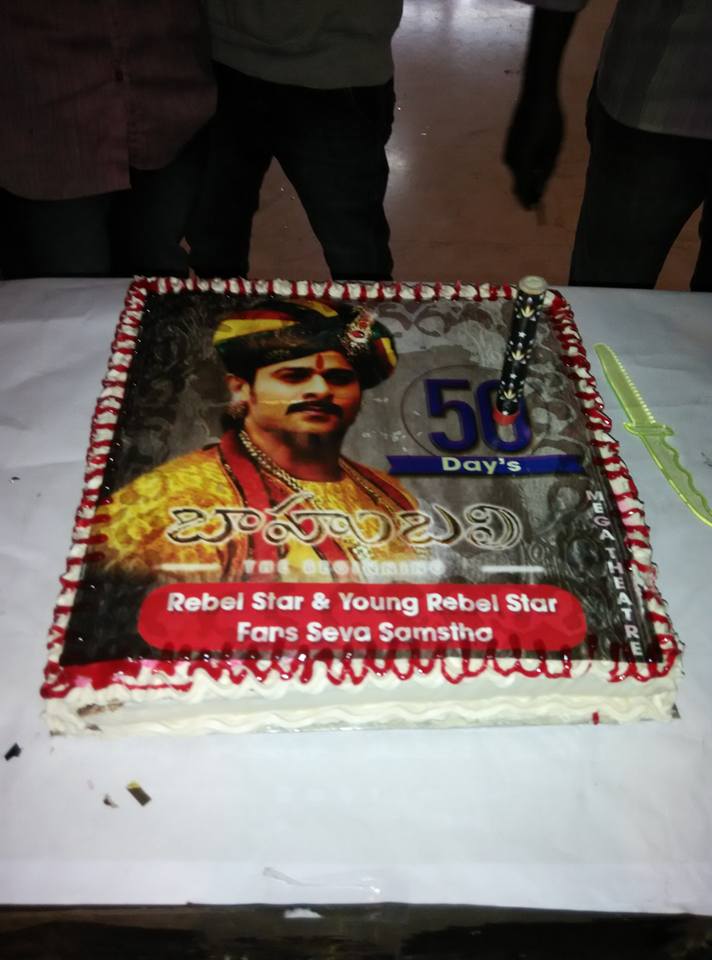 (Frosting on the cake)
And that is what bothers Ramya.  To have someone tell her, to her face, that she is wrong.  And that is why she immediately orders Anushka to be chained and pulled away.
Let's back up to the first time we saw Ramya in this throne room.  The king had died, the only potential heirs were tiny babies, and the nobles were ready to revolt and break the kingdom into pieces.  Ramya stopped it with her personality and nothing else.  She said that Prabhas and Rana were equal heirs and she would rule until they were ready, and it was so.  Because everyone was too scared to go against her.
This is how she has ruled for 25 years.  She says something, and no one dares to go against her.  But it's all a bit of a house of cards.  If anyone ever stops to think and realizes that she is just a woman who married into the family and has been scaring them into obeying her all these years, then the kingdom would fall apart.  That's why Nassar and Rana can't stand her, because they can see through her.  She's a woman, a flawed human woman, to them.  And there is no reason she should be ruling them, but no one seems to see that.  And Kattappa only sees the other side of things, the bravery and noble decisions and ability to keep and hold the peace for 25 years.  He doesn't see the "woman" side of her at all.
Prabhas can see both.  Mostly he sees the nobility and perfection.  But I think he has also always been aware that she is human too.  He just doesn't acknowledge that when he is being her noble prince-in-training, only when he is being a son with his mother.
So now here is Ramya, on the home stretch.  She just has to keep her empty rule in place for another few weeks and then she can hand it over to someone who actually has a right to it.  And the closer the time comes, the firmer she gets.  And here is Anushka, presenting a threat, stating that she is not a proper ruler or behaving honorably.
I think this is the moment when Nassar starts to rise, and Rana puts his hand on his shoulder and shakes his head.  Because Rana is the only one who can see how this will all play out.  He knows these people, even Anushka.  Because he really really knows Prabhas and therefore knows the kind of person Prabhas would love.  And that kind of person is not going to back down or get scared off.  And he knows that Ramya is not going to accept being insulted in her throne room, especially over an issue that touches on her whole maternal guilt for loving Prabhas more than Rana.  And he knows that Prabhas will never abandon the woman he loves, even if it means going against Ramya.  Not because he loves her, but because for Prabhas love and respect would go hand in hand, and he respects her.
And it all plays out as Rana hoped.  Ramya orders Anushka chained, and suddenly Prabhas is standing in front of her with an unsheathed sword declaring "To lay one hand on her is the same as touching my sword".  Not, like, "I will cut you if you touch her", but like "she is so close to me, that to touch her is as insulting as to take my sword without permission."  Also, there is totally a phallic metaphor way of reading this whole thing, but with all the Shiva lingaas around, I have overdosed on phallic metaphors in these films so I am not getting into that.
Ramya was kind of in the right sort of up until now.  Anushka had sent a very insulting response, Ramya ordered her brought before her.  And after Anushka's pretty apology, Ramya immediately let her off the hook.  But it's that moment when Anushka's face clearly shows confusion over which brother she is supposed to marry, that is when Ramya should have backed the heck up.  This is clearly a victim of an innocent miss-communication.  She is not picking Prabhas in the throne room to embarrass Ramya in some calculated manner, she thought that's what was supposed to happen all along.  But Ramya's reaction is as though she is purposefully doing something.
Anushka's response, yes, that was on purpose.  But she was only reacting to what Ramya had already done.  As I see it, Ramya crossed the line first.  If not in her initial proposal that was more of a demand, than by ordering Prabhas to act as a minion of Mahishmati in response to a personal issue.  Or if not there, than just now, when she ignores Anushka's obvious innocence and reacts as though it is a cold-blooded crime.  Each time, both Ramya and Anushka were a little wrong.  Anushka was quite rude in her response to the proposal, and she was quick to pull a sword in response to being asked to come to Mahishmati as a prisoner.  I think Ramya was more wrong, to offer such a demanding proposal and try to have her arrested for turning it down, but Anushka was a little wrong as well.  However, just now, when Ramya told her to go stand by her future husband and Anushka walked in the wrong direction, that was absolutely totally not wrong on the part of Anushka.  And you just need to look at her face to see it.  Ignoring the evidence right in front of her, the evidence that clearly showed Anushka's honest error, that is when Ramya crosses the line.  And that's why Prabhas, for the first time in his life, had to go against his mother.