You all realize this is the Tuesday Telugu/Tamil post this week too, right?  I still put up a Malayalam post, because I feel bad for my poor Malayalam readers who have so few places to go to read their reviews.  But Telugu/Tamil, you will have to make due with my crawling through the same movie for yet another week. (part 13 here, you can crawl back from there)
Uch uch uch, bad things to recap!  Ramya took away Prabhas' place as heir at the last minute because he disobeyed her and declared that Anushka had the right to pick her own husband.  Prabhas and Anushka got married, Rana got the throne.  But Rana is still jealous of Prabhas because the people love him.  And so at Anushka's baby shower, Rana fires Prabhas as head of the army.  Anushka is furious at the petty insult and declares that the gift she wants from Prabhas is that he take back the throne, as the people want.  Ramya is now suspicious of her.  And then Anushka responds to Rana's new head of the army feeling up women at the temple by chopping off his fingers.  She is standing in judgement, in chains, in the throne room, when Prabhas strides in, fingering his sword.
In the last section, I talked about the significance of Prabhas holding his sword here (which Marees pointed out in the comments), that it represents his position as a Kshatriya who must uphold justice and defend the defenseless, and also Anushka, who he previously identified as "his sword".  And the significance of him seeing Anushka's hands chained, hanging in front of her pregnant belly.  It's not just a humiliation to see her like this, it is an endangerment.
(Yes, I very very much want this)
There is also the way he is shot as he enters.  Low angle, slow motion, dramatic music.  Which is echoed in the reactions, the nobles at court buzz and murmur as he comes in.  Not in fear, but in excitement and happiness.  I don't think all the nobles at court are particularly worried about Anushka as a person, she's not one of those "and all the people love her for her gentleness and beauty" kind of princesses.  But they are worried about her as an embodiment of justice, who is clearly being treated unjustly.  In the same way that she will become a symbol for 25 years in future.  Not of a particular person they care about in chains (although she is that as well for some people), but as a symbol of an egregious misuse of power.
And it is that which Ramya is reacting to, as much as anything Prabhas says, the way the mood in the room shifts with his entrance and reveals that the people are more with him than with her.  Now, correct me if I miss something, but I believe one of the first things Prabhas says is to ask why Anushka is in chains, when she is in her 3rd trimester.  Rather than address the health issue which Prabhas has brought up, Ramya retreats to the law, saying that he must know it is always the case in Mahishmati trials, the accused is chained and stands guilty until proven innocent.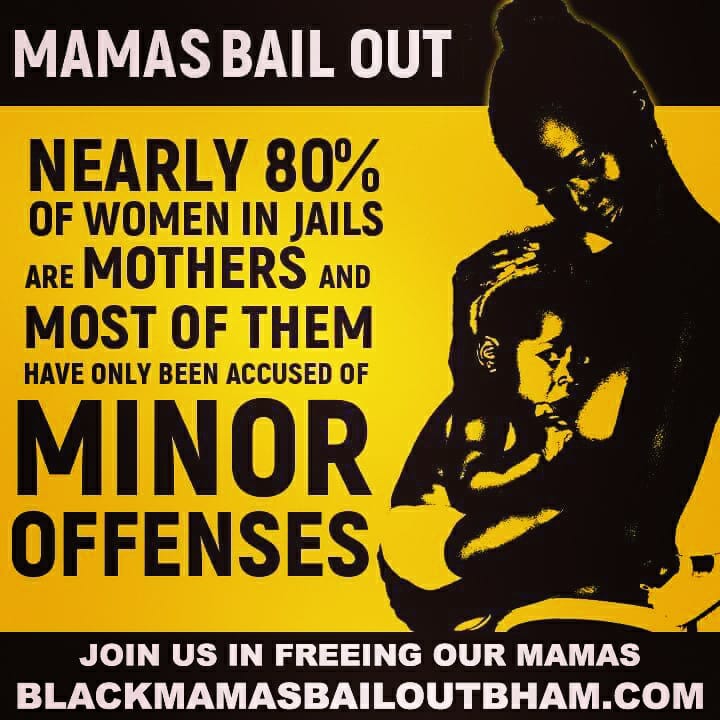 (in America, 80% of women behind bars have not been proven guilty, merely accused, but are too poor to pay for bail and are kept in jail until trial, separated from their families.  Donate here to an organization that is trying to bail them out and inform people of this injustice)
Prabhas essentially ignores this argument, and instead silences the bully boy whose fingers Anushka slashed with a glare, and turns to Anushka and demands that she tell her story.  What I find most significant is that Prabhas gets away with this.  His sheer force of personality allows him to upend the procedures of court, at least for long enough for Anushka to talk.
Remember back when he was on his Rumspringa journey?  One of the little moments we saw was him witnessing a trial in some out door place with a bunch of people sitting in a circle, and a blindfolded judge in the center.  There were two prisoners in the middle, the people all held out their hands, and the judge hesitated a moment, and then pointed to one of the prisoners who immediately confessed.  That was ages back, but I think it was meant to show that Prabhas was learning to question how Mahishmati "does" justice.
Here's an interesting random thought.  Ramya sent him on that journey saying that the people should see him, just like they would a God from a temple.  But what happened was that Prabhas saw the people.  He didn't change them, they changed him.  Which pretty much encapsulates the difference between how Prabhas and Ramya see ruling.  Both of them see it as service to the people, both of them put justice and fairness above all, both of them are/would be good rulers.  But Ramya sees her service as providing an ideal, a steadiness in an uncertain world.  While Prabhas sees his service as constant improvisation and invention and improvement, constant alterations in order to better fit the situation.  The same way we see him more and more over the course of the film come up with his little unique engineering ideas, to solve problems, that is how he looks at governance, there is no one answer, the best thing is to constantly think outside the box.
Which is what he does here.  The laws of Mahishmati say that Anushka should be changed, and her "victim" should give his statement, and then Anushka should be judged.  But Prabhas looks at this and says "it could be better".
And so he silences the victim and instead asks the accused to speak.  I am torn on how Anushka delivers these lines.  I see what the director was going for, he wanted her to deliver them like a report to a superior officer, or a technical manual.  No emotion, no hesitation, just a recitation of facts.  But it feels ever so slightly like it could be better.  There is too little emotion, or the language isn't interesting enough, or something.  I only notice it because it is one of the few acting moments in the film that didn't feel right.  Maybe it is just because it is such a contrast with the declamatory methods all the other actors are using?
I like the general content, notice that she is not saying "I defended myself" or "He was about to humiliate me, a Princess".  She is telling his crime, of harassing women, and her punishment, chopping his fingers.
We've talked quite a bit in the past few sections about the significance of movement versus stillness in representing character's minds.  Anushka as she speaks is completely still.  She is almost always completely still.  She is the one firm character who never wavers in purpose or meaning.  If you think back, even in fight scenes she never moves back or forwards.  Her intro sword fight had her at the center, while everyone else came towards her.  The hallway arrow fight had her holding her ground and staying in one place, again while the attackers came towards her.  And while Prabhas advanced during the Pindari battle, Anushka stayed by the palace wall.  Her few significant moments of movement are all romantic, walking over Prabhas' body to the boat, and most importantly, going towards him in the throne room.  But even there, it is resolved again a second later.  The beginning of "Hamsa Naava" shows her seated, in charge and confident with her decision.  And her hesitation ends in the throne room once she has retreated back to the center and is waiting for Prabhas to come to her, rather than going towards him.
This is all a bit of foreshadowing of what she will do to win the final battle.  Both in that moment, and in the 25 years leading to it.  All she does is refuse to be moved.  She may be in chains in the palace square, but she will not give in by word or deed to Rana.  And she will remain there, a symbol of oppression and hope for the people, waiting for the right time and the right person to rescue her.  Think Nelson Mandela.  Or Gandhi, during one of his many incarcerations.  There is a power in patience.
All of that is a lot of words to say that in this scene, Anushka does not move.  But Prabhas does.  He is pacing back and forth behind Rana's bully boy while Anushka talks.  But it isn't the same pacing as Ramya was doing when we saw that Nassar was unbalancing her mind in the first throne room scene.  Instead of feeling like it shows a complete confusion of mind, thoughts going here and there with no structure, it feels like a purposeful movement between two goals.  And that's what unnerves the bully boy.  He knows that Prabhas' pacing indicates "Should I kill him, or should I not kill him?"  Or, even more simply, "Is Anushka telling the truth?  If so, I should punish him."
The pacing indicates, in this case, that Prabhas is following some version of judgement, he is not in fact out of control.  His judgement is sure and swift, but he does not deliver it immediately.  He sees his pregnant wife in chains, and still manages to control himself.  He waits until he has heard her story before deciding the rights and wrongs of the situation, pacing between option a) and option b).  And then his judgement is swift and exact.
Ramya sees this as rebellion, but it is one of the most "kingly" and civilized things we see him do.  If he had ever been king, we can imagine how he would have conducted these trials, keeping an open mind and listening to both sides, and then deciding quickly and surely which is the "right" way.  Combing the Prabhas and the Ramya, as it were.  Since Ramya also believes that quick and sure decisions are the best way to keep a stable rule.
But I also think, going along that track of thought, that even if Prabhas had been king, there still would have been a moment like this.  As king, it would not be just decisions related to Anushka that raised his anger and caused his concern, it would be anything related to his people.  And at some point, there would be a swift and sure judgement such as this that would not be the judgement Ramya would have made.  And Ramya would have to decide if that meant it was a "wrong" judgement, or simply a different one than hers would have been.
Going back to motion versus stillness, once Anushka finishes her speech, Prabhas is still.  He is still as he faces her and issues his judgement on her behavior "You did wrong.  If he was molesting women" (again, Prabhas does not make it a personal issue about Anushka, the crime was to molest any women), "then you should not have cut off his fingers" he turns here, perfectly balanced, sword flashing out, no hesitation or re-positioning of his body, and issues his final judgement "you should have cut off his head!"
It seems like Prabhas' initial determination of "You did wrong" is just a trick on the audience, to change our expectations.  But it also serves as a new way of giving judgement.  It is no longer "you are wrong and in chains, you are right and will not be punished."  It is looking at both people involved and finding a balance between them.  Which is why Prabhas stands between them in the end.  He paces back and forth, hears the story, then stops in the middle, issues judgement on Anushka first, then turns and issues judgement on the bully boy.
In this one instance, his uncertainty of mind is a virtue.  While Ramya already sits in judgement, literally sits, no movement in her mind available, already settled into one place, Prabhas paces.  He is not settled until he has heard the evidence, and he ends up between to places.
His action in response is equally controlled.  While Ramya, and possibly others in the room, might see in it a moment of uncontrolled rage, it is very controlled.  This is not a sudden chop, this is a perfect almost balletic movement.
What I find really interesting is to compare the father and son in this same situation.  It took me a minute to see it, because so many of the moving parts are different, but Prabhas 2 also saw Anushka in chains and reached for a weapon.  And he saw/heard of her being disrespected and, and reacted by chopping of the head of the one who disrespected her.
This is one of those moments that makes me kind of wish B1 and B2 had been strictly chronological.  The fight in the rain in B1 appears to be a moment of uncontrolled fury from our simple forest-raised Prabhas 2.  And the fight when he frees Anushka appears to be a moment of anger at this older woman being forced to wear chains.  And then it ends with the moment when he uses his sword, his father's sword, to chop off the head of the man who he is fighting.  The meaning in isolation is a combination of him being raised to fury at insults to Anushka, and using a sword for the first time and regaining his power and Kshatriya status and royalty through that.  In fact, that is the meaning I found in my Bahubali 1 posts.
But if you combine it with this sequence, you see that he is not just regaining his royal status, but his status as his father's son.  Like his father, seeing his mother in chains raises him to a fury.  Like his father, seeing her disrespected makes him decide that death is the proper punishment.  And like his father, the moment when the sword comes down is a beautiful controlled slice, not a sudden gesture of anger, but a judgement.  And it is this moment of judgement that turns him into a ruler, not the use of the sword alone.  Or, to put it another way, the sword is not just a weapon and a symbol of royalty, it is the source of judgement and control and everything Prabhas 1 evoked.  Prabhas 2 has now taken his father's place in making sure and implacable judgments.
And then there are the differences.  Prabhas 1, taught by years in court to control himself, fights down his temper and resists the urge to break Anushka's chains immediately.  And waits for full evidence before making his judgement.  Prabhas 2 sees no need for such control.  With him, to feel is to act.  In the same way he saw Tamanna's vision and immediately began climbing the waterfall.  Or rushed in to battle to save her when she was captured by the guards.  And then vowed to take up her goals as his own and rescue Anushka for her.
And this is not a bad thing.  Normally "impulsive" is seen as a criticism.  But Prabhas 1's fatal flaw could be seen as him not being impulsive enough.  He has been taught by Ramya to wait and wait and wait.  To wait on her primarily, wait for her to make a decision as to what his future will be.  The moments when he follows his own internal guide are the moments when he makes the most noble decisions.  To vow to serve Anushka all his days, to then defend her in court.  To issue his own vow of service at the coronation, one which (Marees and Avani in the comments) pointed out vowed service to the people of Mahishmati, not to the throne.  And did so with Sivagami as a witness, not God.  And now to issue his own judgement, rather than accepting the flawed creaking judgement of the old-fashioned Mahishmati court.
Of course, all his impulsive actions backfired.  You could say that if he was "wiser", like Rana, he would have had a happier end, as would his kingdom.  But it would not have been a "right" ending.  That is Prabhas 1's whole argument in the scene when he gives up the throne.  To give in at that moment would have been against Dharma.  Which would have poisoned his entire rule, ultimately turning him to "the Dark side" (to put it in Star Wars terms).  Prabhas 1 never goes against Dharma, but there are moments when he could have made a choice to more fully, or more impulsively, support it.  In that moment in court, he could have declared that Ramya's rule was against Dharma, as shown through her incorrect judgement, and therefore he was taking the throne from her.  He could have done the same when Rana took away his position at the baby shower, as Anushka urged him to do.  Even now could have been that moment, he came very close, instinctively seeing that the justice of the court was improper and issuing his own judgement.  He could have taken that a step further, said that the proper punishment for Ramya supporting wrong judgement was death, or dishonor, or simply losing her position.  But he did not.
And now we are back to the Mahabharata.  I guess one way of looking at this film is that Prabhas 1 is working through the greater issue of the Mahabharata, when is it more right to break the rules than to accept them, while Anushka is working through the issues of the Ramayana, holding fast to faith and righteousness against all odds and trusting that your very faith will have a power to defeat your enemies.