Don't worry, Farida Jalal is fine.  So is Waheedaji.  No, prepare yourself for a shock, Reema Lagoo has passed away.  Very suddenly of heart attack, at age 59.
If you are like me, your first reaction to that news, after feeling sad, is "she was only 59?"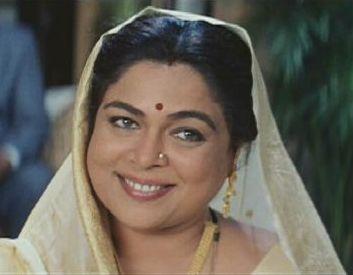 It's not that I would necessarily have thought she was older now, it's that I thought she was older than!  How could she have only been 30 in Maine Pyar Kiya?  Only 7 years older than SRK in Kal Ho Na Ho?
Reema carried such dignity with her.  At age 30, we could believe her as not just "old enough to have a 20 year old son", but old enough to be wise and mature and give that 20 year old son the exact support and advice he needed.
And she must have been as wise in her personal life, because unlike the other famous mother actresses (Raakhee, Farida Jalal, Jaya Bachchan, etc.), she didn't start trying to be a famous actress and eventually settle for mother roles.  Reema started as a mother, a role she could fill well, and never desired anything more.
She was a mother in real life as well.  After growing up as the child of Marathi stage actors, she started acting herself, and married another Marathi actor.  The marriage broke up, a few years after her daughter was born.  And Reema slowly transitioned from stage to film, and then later to TV, where she played a mother again, to Supriya Pilgoankar from Fan.
But her greatest legacy will be those warm wonderful mothers she played over and over again on films.  The Khans may have brought in romance, but Reema gave them the human touch.