Welcome back to Bahubali!  I am going to do another post on "Dandaalayya", because there is so much more to consider in it.  And then get into the "bad part" a little bit. (part 15 here, you can crawl back from there)
Previously in the second half, Prabhas tried to follow his Dharma, which meant going against the laws of Mahishmati when they conflicted with true Dharma.  Ramya saw this as rebellion, Rana saw this as an opportunity to get rid of him, Anushka approved of it since she also believed in pure Dharma.  In the end, Prabhas was stripped of all his powers one by one, and finally thrown out into the world with nothing but the clothes on his back and his pregnant wife.
And the song starts!  There is a lot happening in the visuals of this song, and I think there might be a talky-talky bit in the middle too.  In the last section I just scratched the surface, talked about how Anushka's pregnant belly is a constant reminder that Prabhas 2 is there as well, learning from his father how to be a good man.  Through out the second half of the film, but especially in this section.  At the baby shower, Rana used twisted logic to say he was giving Anushka what she needed most, time with her husband, by taking away his responsibilities.  But in this song, we see that is in fact what she gets.  Anushka and Prabhas are almost always in frame together here, with her belly growing larger and larger.  Anushka and little fetus Prabhas 2 are getting to see how Prabhas 1 functions in the world, sharing in his growth, in a way they couldn't in the restricted world of the palace.
I'm sorry, I can't remember who in the comments pointed out that Anushka gets all she asks for in the baby shower scene, but in a twisted way!  Whoever it was, you got me thinking about this section in a new way.  The argument from Anonymous Commentator (please identify yourself and I will give you credit!) was that Anushka does get everything she is promised.  Kattappa puts the baby's foot on his head after birth, and Prabhas becomes a king in his own way during this song.  I add on that Ramya delivers the protection to the heir of Mahishmati that she promises, both protecting the baby and making him heir.  And then in this section, Rana's duplicity promise that a mother only craves time with her husband comes true, Anushka gets to spend the last trimester of her pregnancy in constant contact with her beloved husband.
That's part of the sweetness of this song, getting to see them be a simple couple in a way they never could in the palace.  Not because it was a palace, but because of who lived there.  I never doubted that Prabhas and Anushka lived each other and had a happy life.  But in the palace that happy life was surrounded by stresses and rules as soon as they stepped out of the door, rules put on by Ramya and Rana, not innate to royal life.
It kind of reminds me, have you seen the movie Eat a Bowl of Tea?  It's a really sweet film, set in the Chinese-American community in the post-WWII era.  Our young hero and heroine meet and get married very quickly.  Before they have time to feel sure of their reasons for marriage, if he is just eager for a wife because he is sickened by war and she is so pretty, if she is just desperate to get out of her village and to America, if it is simply the easy way out because their parents kind of expect it.  Anyway, they have this really quick and happy love story, and then they go back to live near his family, and everything starts to go wrong for no reason.  They just never seem to have time together, time to talk and be happy and figure out who they are as a couple and enjoy this new marriage.  There is a happy ending, don't worry, but it's not really about resolving any huge problems, it's just getting away from the family and being able to be themselves.  That's all they needed.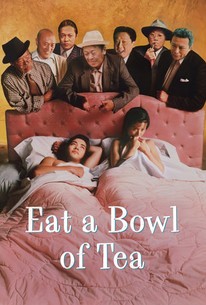 (The post is a fairly accurate vision of the problems in the marriage, but slightly sex-farce looking, which the film isn't at all.  Really, watch it!)
In "Dandaalayya", both Anushka and Prabhas seem much happier than they have been since Kuntala.  And also more relaxed together, smiling and touching each other, touching each other almost constantly, not in a sexual way, but just because they love each other so much and are so happy to be together.  And the constant touching of Prabhas' hands on Anushka's stomach is not just a reminder that he is giving his influence to Prabhas 2, it is also because he is a nice young man who is very very happy about his first child.  And Anushka is as well, it's not just that he is holding her stomach, it's that she is calling him over, all excited, eager for him to feel the baby kick and share this wonder with her.  They aren't dignified responsible royals, they are eager and nervous and excited, just like any other couple.
That's the personal part of the song, there is also the public duty part of it.  Or, not duty, but public joy almost.  We stat by seeing them in the workers' village, Prabhas cutting stones.  But he notices how hard the work is, and how likely it is to cause injuries.  So he goes back to his hut and pulls out his engineering compass and straightedge (which I guess he brought with him from the palace?  Or built himself out of his own brilliance?) and designs a little wheel shaped rock breaking tool.  What's interesting about this is that it is an idea that comes entirely outside of his palace experience.  The initial inspiration was the waterwheel he saw on his travels.  And the motivation is the labor of the common people that he is aware of for the first time and wishes to ease.  Two things, new ideas and getting to know the commoners you can make their lives better, which are not part of the Mahishmati court as we see it.  Which doesn't mean it is a bad court, we did see that Mahishmati cares about protecting its people, respecting old ideas, and keeping things working reasonably smoothly.  But it isn't about new ideas and making things easier for the people.
(there's also a whole thing about how in today's India, engineering has become the highest of achievements, thus tying the modern day assumptions into this fairy tale land.  But that's too obvious, so I don't want to get into that)
It's also interesting that this is the job he found, working in a quarry.  I mean, it's always a quarry, isn't it?  Whenever our hero is exiled, he ends up breaking rocks with no shirt on.  But in this case, I had to think about it for a second, but this quarry tells us about about the society.  First, it is always building.  Remember Rana was going to make Prabhas a massive summer palace?  Why?  They already had a palace!  There is a certain concern with appearance, with dominance, in constantly building new structures.  And secondly, while doing all this building, they don't care much for the people.  Or think about them at all.  In two ways, this quarry is a needlessly dangerous and unpleasant place.  And secondly, the people laboring here could instead be farming or artisans or otherwise doing something that would contribute to the common good, rather than to only those who can afford and want massive stone buildings.
The quarry waterwheel is interesting in a lot of ways, but the palm tree water slingshot is frankly silly.  And I don't think it would actually work.  The idea is to save women from going all the way down to the spring for water.  So instead they have to do a massive day long task of using pulleys to lower a basket tied between two palm trees, and then slingshotting the basket up to the top of the hill where the village is.  And then they do it again and again until a central pool in the village is filled.  And then all the women will empty it as they use water, and the whole process will have to be done again in like 3 days!  What's the point of this?  The only advantage is instead of women doing hard labor for an hour, you have men doing hard labor all day.  It's just silly.  Although it's also a nice pairing with the water wheel, since the water wheel looks to the past, Prabhas' travels, and the silly slingshot thing looks forward, to the final battle, when Prabhas 2 will take his father's idea and somehow manage to make it even more silly.
And then there's the way Prabhas 1 interacts with the people.  We never really got to see him spend much time with people before.  He had happy moments playing with crowds, or joking with friends (Kattappa, Subaraju, Rana in the beginning), but we never got to see him actually leading.  That's what we see here, how Prabhas 1 would be within a community.
(that's where we started with Prabhas 2, seeing him being joked about by the fellow villagers, teasing his mother, grumping at the priest, and so on.  He always saw himself as one of the people, what we saw was the first moment when he became distinctly "other" than them)
In the comments, we've already talked about how Prabhas 1 and Anushka might have had a happy life in this village, they didn't seem to want anything more.  But I think even if they didn't want it, they would have gotten more.  Because Prabhas 1 couldn't change who he is, and he couldn't stop leading.
What I find really interesting is that the things we see here aren't because he is the former heir to Mahishmati.  They are because of who he is inside.  If he had been born in this little village, he still would have grown to be the center of it, the one who the small children go to when they are hungry and he gives away his food, who old women bless, he sees a problem and determines to solve it.
What is because of Mahishmati is his Kshatriya skills.  Of all the things we see him do in the village, building labor saving devices, happily taking blessings from the old women, shining forth while Anushka sits back and smiles (sitting back in a way she never could before, when she was always trying to push him towards the potential he has now achieved), the one I find most interesting is the little moment when we see him happily teaching the little boys fighting techniques.
This is truly dangerous.  It isn't meant to be, Prabhas isn't thinking about it particularly, you can see that he is smiling and relaxed about it, just enjoying being with the kids and helping them learn something.  But what he has to teach them, what comes naturally to him, is Kshatriya knowledge.
Prabhas is breaking caste.  Give him a few more months, or years, and he will turn these little peasant boys into elite warriors.  Not just skilled in arms, but trained in Dharma, in judgement, in charity, all of the virtues Prabhas believes in.  Caste has been confirmed multiple times in this film, but always in terms of an essential inner quality further molded by training, not merely birth.  During the Kuntala battle, Kattappa called on the cowherders, with Prabhas 1's encouragement, to join the battle as it is right for everyone to fight.  Now, Prabhas is working alongside the laborers, because there is work that needs to be done.  But he also sees that if he, trained in Kshatriya skills, can work at labor, than that means that children raised to be laborers, could also be Kshatriya's.
(Rejecting the story of Eklavya, basically)
It's not just breaking cast, it's also building an army.  Prabhas doesn't see it that way, would never even consider it.  He is just doing what comes naturally.  But what is natural for him is to win the love and loyalty of the community.  And to train the young people of the community as he was trained.  Which means, letting nature take it's course, in a few years Prabhas will have an established infrastructure that might rival that in major cities (thanks to his engineering achievements), a culture of happiness and caring (as we can see from how he lovingly interacts with others), and devoted young people who have learned the very best possible military skills and will be loyal to him above all else.
Rana comes by at this point and observes this happy band, and declares to his father that it isn't enough to exile Prabhas, he is a threat as long as he is alive.  It sounds petty, but I think it is a straight statement of fact.  Just by being himself, Prabhas will inevitably rise to the top, over and over, and Rana will have to keep beating him down.
Speaking of Rana, someone in the comments (again, sorry!  there are so many now, I have a hard time finding the particular reference) talked about how Subbaraju is kind of an alternative version of Rana.  He loses in the Anushka love triangle, and happily steps aside to become a loving brother-in-law and brother to them both, truly delighted that they have found happiness together.  He is an alternate in this song as well, another version of what happens when you realize someone else might have a better right to your throne.
I'm not 100% on the geography of Mahishmati, I assumed this quarry was near the palace, since that same peasant-woman-who-is-everywhere lives there, and also seems to be crazed-mob distance from the royal courtyard.  But in the middle of this song, Subbaraju appears and is clearly serving as the royal circuit rider for the village.  Showing up and hearing current disputes and giving judgements.  So maybe they are living on the outskirts of Kuntala?
(Abraham Lincoln, also a circuit rider.  The lawyers and judges would travel town to town, solving all the legal issues from criminal to civil in a few days once a month)
Anyway, the point is, we see Subbaraju clearly giving judgements.  And then Prabhas comes in and gives an opinion.  Not in a pushy way, the body language doesn't have him shoving Subbaraju aside or anything.  But at the same time, the scene quickly shifts to Subbaraju sitting lower on the central stone, and Prabhas sitting above him.  And Subbaraju is silent, while Prabhas gestures and obviously takes over the judgements.
In the last throne room scene, the trial of Anushka, Rana and Ramya were shocked and angry when Prabhas took over.  Well, Ramya was angry, Rana was kind of pleased at the opportunity.  But Subbaraju here, he is open minded, he sees that Prabhas is better at this and lets him take over.  There is no injured pride, or fear of losing place.  He steps aside for the better man because it is the thing to do.  Which in some ways makes Subbaraju himself the better man, better in this one particular way than anyone else in the film.  There is a special nobility in knowing you are not the best, and using that as an inspiration to be the best you can be, instead of a desire to draw down the rest to your level.  And I think it might be the miss-use of that nobility that makes this next section so unutterably sad.
(He has that same nobility in real life, making the most of supporting roles instead of trying to over-shadow the star)