More big battle!  My goodness, if this is the edited version, can you imagine how long it was to begin with?  Although it's also strangely soothing to have all this big battle with physical fireworks after the emotional drudgery of the past few scenes. (part 23 here, you can go back through the archives from there)
Previously: 2 whole films happened!  I'm gonna skip all that and go straight to the battle.  Prabhas 2, the rebels, some quickly gathered together peasants who also hate Rana, and Kattappa's elite band of fighters are all together on the battlefield in front of Mahishmati.  Rana sends out his men, straight into boobytraps and unpredictable fighting styles from Prabhas 2 and his allies.  Rana follows after in his lawnmower chariot, mowing down his own soldiers in his haste to get to Anushka and capture her again.  Prabhas 2 tries to free her but isn't fast enough, Anushka is taken back into the city and the drawbridge is brought up, smooshing a few more of Rana's own soldiers, while Prabhas 2 is left outside, with an arrow through his chest shot by Rana's bow.
Let's talk about arrows!  In Europe, arrows were a sign of the peasants and rebels.  They changed modern warfare, especially after the invention of the crossbow, because they were cheap and (comparatively) easy to learn how to use.  Suddenly the archers, the lowly archers with no swords or horses, were the most valuable fighters.  And just as suddenly, back home, the lowly peasant folk had a tool they could use to hunt, to fight, to defend themselves.  Essentially, Arrows=Robin Hood.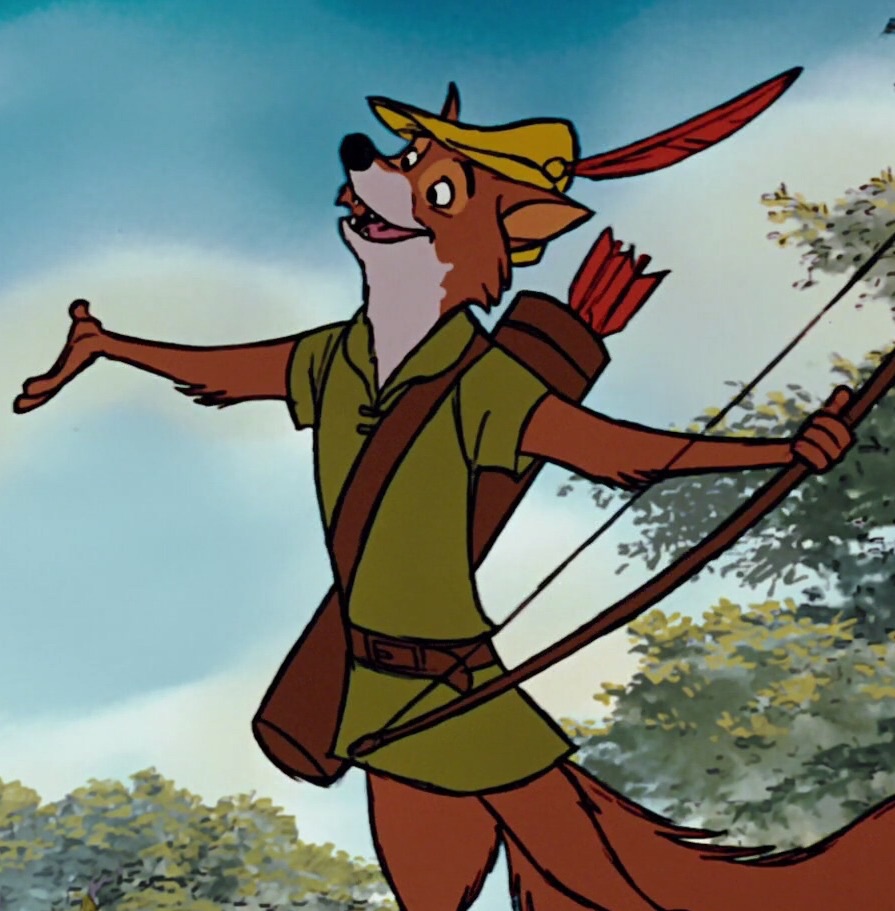 (the one true Robin Hood, accept no substitute)
In India, very different tradition of arrows!  The Aryans used them as part of their invasion technique, and so did the Mughals.  It wasn't about a row of peasants barely taught to draw a bow shooting down a rain of arrows, it was about the greatest warriors in their chariots rushing in and with perfect aim and ability, shooting down the enemy.  It was a weapon of class, of power, of sophistication.  The greatest warriors would show their greatest skills through their ability to shoot.  And someone of the lower class was never supposed to touch one (thus the incredibly infuriating story of Eklavya who taught himself to shoot from watching Drona, and cut off the right thumb, making himself a cripple, at his Drona's command, since he was not supposed to learn these skills.  I know I know, there's more to it, but the point is that it was the ability to draw a bow in particular which placed him at a higher level than that to which he was supposed to belong).
We have seen that through out both these films.  Prabhas 2 finally reaches the top of the waterfall, and his destiny, when he makes himself a bow and leaps out with nothing to rely on but his skill.  Anushka and Prabhas 1 fall in love when he shares with her a trick with the bow, and earlier when he proves that even secondhand, he is a greater archer than she.  Ramya gives a bow to Rana as one of her "sorry for making you second best!" presents.  But you never see a common soldier use them.  In fact, the films have to go to great lengths to avoid that, with the recurring mass weapon, those huge arrow towers that I don't think would actually work, but okay.
(Never not going to use an excuse to put this song in a post)
Rana, also, almost never uses an arrow.  It goes against his nature, he would always rather beat his foe into submission than use cleverness.  His distance weapon is that mace that somehow swings out on a chain, not an arrow.  But the two times we see him shot an arrow are when he has a particular goal in mind, and has to reach to the very limits of his ability to accomplish it.  First, when he shoots Ramya in the back, so perfect aimed and so quickly accomplished that most of the palace is unaware it even happened.  And second, just now, when he turns back and shoots his nephew Prabhas 2 in the chest, with such strength and accuracy that it forces him to fall back.
That first arrow, that was the most powerful and the most dangerous.  But it is followed by a rain of arrows, all the hatred of Rana sent out in blind uncontrolled and unplanned fury.  And Prabhas 2 is powerless in front of it, he has no protection of preparation or planning for this kind of attack.
And thus, Kattappa.  This moment, when Kattappa leaps forward to raise his shield and protect Prabhas 2, it is the redemption for that moment when he let Prabhas 1 shield and take the rain of arrows for him, the first step towards his death.  Then, Kattappa's hands were tied, both literally and figuratively.  But now, he has been set free!
There's been a lot of debate about Kattappa in the comments, did he ever truly become "free", if so when, why did he go back to working with Rana, etc. etc.  Here's how I see it.  25 years ago, when he killed Prabhas 1, something broke inside him.  He returned to Ramya a broken man, ready to confront her and then will himself to death.  But her need of him, to help her escape and save Prabhas 2, revitalized him.  He regained the will to live.  But it was only a half-life.  He continued to work for Rana and Nassar, because he could not imagine any other purpose for himself.  But slowly, over 25 years, his will was breaking again, with ever moment of sacrifice and every wrong-doing he was forced to witness.  It broke to the point that he was willing to help Anushka escape.  Although, I think even there it was only because Rana had given him sort-of permission in the earlier scene.  He still needed some kind of justification.  He was primarily, still, the King's man.
But once Prabhas 2 returned, he became not just Kattappa-the-loyal-servant, but Kattappa the man again.  The one who had someone to love and live for of his own, not just because of orders.  This battle happened so quickly, the plans were thrown together and Kattappa just went with it, without thinking it through, letting his emotions carry him.  Very Prabhas 2ian.
And this moment, here, this is Kattappa as free as he will ever be.  Last time he was tied by promises and loyalty and doubts, as well as actual rope.  This time, nothing is holding him back and his instinct is to leap forward and save Prabhas 2, and then call on others to join him in so saving him.
This is why Prabhas 2 will win where Prabhas 1, I don't want to say "failed", but could never win.  Prabhas 1 was always protecting others.  He had never learned the skill to ask for help.  Kattappa, through out the films, has represented the common man. In the power of the nobles, but also their strength.  He chose Ramya to rule.  He loved Prabhas.  He suffered under Rana.  And now, with Prabhas 2, he sees an opportunity to make-up for the past 25 years, to do better, to not just trust his leader to take care of him, but to take up arms and lead others in battle and make things better for himself.
And so is everyone else in this battle.  Kattappa's troops are following him because they are ever loyal and trusting of Kattappa.  The rebels are following Tamanna and Devasena because they trust them.  Remember Tamanna is the one who convinced the rebels to come to the first battle, simply because she believed in Prabhas 2?  Not as the king, but as a person she trusted.  The forest people are there because they love Prabhas 2, the peasants are there because they believe in what they saw at the statue raising, everyone is there by free choice based on what they know of Prabhas 2 personally, or what someone they know knows of him.  This is the protection, the shield, that Prabhas 2 has around him.  Something Prabhas 1 never had, the only person ever willing to really fight for him was Anushka.  His mother, his family, they all abandoned him.  And the people believed in him, but not enough to fight back.
But all that belief needs to be harnessed, to be controlled.  That's what Kattappa is trying to accomplish in the moment after he stops Prabhas.  To force him to grow into what Prabhas 1 spent his life training to be, the one who thinks and plans and comes up with the best solution for all people.
And that's what Prabhas 2's yell in this moment feels like to me.  Growing pains, Kattappa (representing all the people who believe in him), is forcing him to grow, telling him he has to think like his father, not just react, but plan.
(I picture a similar reaction when Rajamouli told Prabhas he had to somehow grow a million muscles for this movie)
Okay, I'm not going to sugar-coat it, this Palm Tree catapult plan is STUPID!!!!  But while the actual fact of it is STUPID, it does pull together a whole variety of themes in one.  Maybe a smarter plan (ladders, anyone?) would have worked better and cut down on the cathartic giggling in the theater when everyone realized what was happening, but it might not have so perfectly encapsulated all the kind of loose ends that need to be tied up here.
First, Prabhas 2 is using a unique plan based on something Prabhas 1 did.  This is clearly not something he could have read about or seen in pictures (like, say, A LADDER).  It could only come from his fetus memories of his father (or else the story Kattappa just told him, either way).
Second, he is combining nature with manufactured.  Again, as his father did with this plan.  Prabhas 1 was almost always about manufactured, unnatural.  The first moment he used nature was in the fight scene when he was distracted thinking of Anushka and almost without thinking used a tree as a weapon.  And then it slowly grew, breaking the dam, using the stampede of cows.  When he returned to Mahishmati, he awkwardly returned to that place of rules and artificiality.  And then in "Dandaalayyaa", he reached his full potential and combined the two.
(When are they going to post all the full videos?  This is torture!)
Prabhas 2 is always about nature.  In B1, he never used a manmade weapon or tool until the moment he grabbed a sword to break his mother's chains.  But he has been resisting that path ever since then, using clubs or blocks of wood, even in this battle.  Now, Kattappa has forced him to think, and his solution is driven by nature (the palm trees), but the end goal is manmade (trained soldiers with swords and shields).
And the plan only works (kind of sort of if you pretend physics are optional) because everyone holds together.  The people on the ground pulling the trees down, the people on the trees linking arms and flying through the air, everyone has to work together and trust each other or it will all come apart.
Finally, notice that Prabhas 2 goes first, with Kattappa, flying into the air ahead of the rest.  And others follow, with no guidance or orders, just because they have faith and want to.  The only moment I kind of sort of stopped wanting to laugh while watching this is when we cut from Prabhas 2 and Kattappa fighting on the wall, the closest this strange army has to leaders, and then down below group after group flying up after them.  That's the important part, that they are taking this huge leap into the unknown because they believe in it, believe it will work (it really really wouldn't!), believe that Prabhas 2 and Kattappa made it and are fighting ahead of them, believe that this is a cause worth risking the impossible.