I'm just cruising along with these character posts!  Partly because, as I said before, they are more sort of discussion starts than the end all-be all.  Every single moment of character development has been covered in the scene by scene posts, this is just gathering together some of the more interesting thoughts in one place. (full index of all Bahubali posts, including the other character posts, available here)
Avantika!  I just realized I am still going along in chronological order of main characters.  First Sivagami, then Shivudu, and then Shivudu and the audience meet Avantika.
Avantika is an interesting character, especially compared with our other heroine/romantic interest Devasena.  In the comments, Asmita recently called Devasena a "flat" character.  I know exactly what she meant, I don't necessarily agree with it in regards to Devasena, but the "flat" description is really evocative.  It means a character where you have plenty of details about them, but there still feels like there isn't much there.  You get bored whenever they are onscreen, they just don't feel "real".  Avantika really SHOULD feel like that.  We know almost nothing about her, and spend the least amount of time with her than all of our main characters.  And yet, she doesn't feel "flat".  She feels sketched in, if that makes sense.  There is just enough of her character for us to feel like we know her, the bare minimum to give a feeling of shape to her.  I guess kind of like an MF Hussein painting, big colors and brush strokes, not a lot of details.  But the end result is still a full portrait.
(See?  No eyes or nose, perspective is a little funky, but still clearly a person)
So, what do we know about her?  She is not a happy person.  That is the first thing we learn.  She is unique in that way, the only one of our main characters who never allows herself a moment off the path of duty to find any joy.  Even Sivagami and Bhalla, the two other characters who are the most "head" over "heart", have their moments of letting go.  Sivagami sings to her son.  Bhalla tortures animals.  The point is, they have hobbies!
Avantika has nothing.  I'm talking about real Avantika, not Shivudu's vision of her.  In my discussion of B1, I talked about the significance of her introduction, and how it varies slightly in the Hindi and Telugu versions.  Sticking with the "real" Telugu version, what we see is a group of soldiers laughingly running after her, teasing her, clearly preparing to rape her just for the fun of it.  Avantika is running away, leading them into an ambush.  And then neatly killing them all.
It's a cool opening, establishes her as a great warrior and fearless and so on.  But it also shows just how empty her life is.  She is at the point of seeing her body, her whole person, as just bait for attackers.  And then as a weapon against them.
The film spends a surprisingly long time on establishing Avantika's life.  If you look at it from the Shivudu side, it seems like spending a long time on his romance.  But just as B2 didn't just give us the Devasena-Amarenda romance but also a sense of life in Kuntala which would carry through the rest of the film and Devasena's behavior, so do Avantika's scenes let us see life in Kuntala now.  We see her at what is social time for her, sitting in a smokey cave talking about death and duty.  And then at what is her "luxury" time, letting fish eat the dirt from her fingers.  And what passes for friendship is the nameless fellow female fighter who sometimes covers for her during night guard duty.  And who will help her set a trap for an attacker.
This is a very thoughtful opening sequence for Avantika's character.  By the end of it, we know more about her than, for instance, Shivudu after his introduction.  Maybe we don't know her backstory, how she came to join the rebel band exactly, who her parents were, what her equation is exactly with the rebel leader.  But we know who she is now.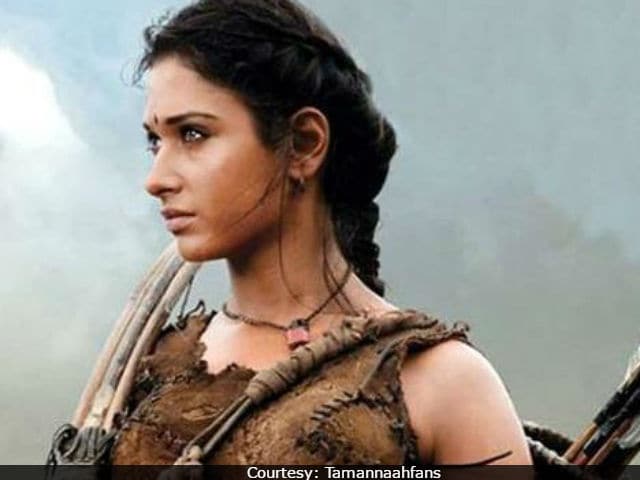 There is nothing else in her life but the rebel band and her duty to them.  Whether her family is dead, abandoned her, or she was born into the rebel life, it is all she has now.  And it is an empty life.  One of the first things we see is her learning of the death of one of her closest companions from the guardsman, and then passing that news on to the rebel leader.  And any emotion this news might create is hidden away, not allowed.  Tears are forbidden and so, clearly, are smiles.  Life is just about duty and mission and nothing else.
And we know that Avantika has begun to chaff under this, at the same time that she is achieving "success" (clearly a high level warrior within the band, finally given the biggest honor of all in being assigned her impossible mission).  Perhaps the two are related?  Perhaps her success comes from her ability to follow orders so perfectly.  And that perfect control is exhausting, is making her more and more crave respite, something different.
Which is where Shivudu enters.  Something completely different from anything else in her life.  Happy, open, hopeful.  He puzzles her at first, she defaults to seeing him as a threat because that is how she sees everything.  But, finally, he breaks through her reserve and her coverings of responsibility, and makes her see and feel like a real living person again.
Avantika's greatest strength is not in the battle scenes, it is in the moment when she walks away from Shivudu.  She has made a decision of what is the right thing to do, and is following it, although it dooms her to a life of misery.
Really, the closest character comparison for Avantika is Kattappa.  Two characters who have sworn obedience above all, who have wrapped up all their human emotions into their duty.  As Sivagami is to Kattappa, so is her brother, the rebel leader, for Avantika.  As Amarendra is for Kattappa, slowly wearing away his resolve and giving him one person to call his own, so is Shivudu for Avantika.  And Avantika drugging and walking away from Shivudu is her moment of heartbreaking duty over love, as much as Kattappa's stabbing Amarendra.
That is why Avantika is so fascinating.  A character who has foresworn everything but duty in a way we don't usually see from female characters.  And her moment of character resolution (short though it is, it is there!) is not a romantic one.  It is in the middle of B1, when she orders her rebels to go and wait for Shivudu because she is sure he will fulfill his quest.  It's the same as Kattappa deciding to lead the army for Shivudu later.  She is placing her love and faith above all "logic", risking her duty because of her trust in something else.  And for the first time giving orders instead of taking them, because her love makes her confident in her own decisions, able to break through her blind obedience.
From then on, it is all just kind of done for Avantika.  She has resolved her duty-versus-love conundrum in her own way.  It would have been interesting to see what would happen if it came up again in a new way, for instance of Devasena as Princess of Kuntala was against the marriage and ordered Avantika to leave Shivudu.  Would she choose love over duty?  Or, would she choose duty to her King who orders her to marry him (Amarendra would never have done that, but I am pretty sure Shivudu wouldn't hesitate to abuse his power in that way, technically forcing someone to do something he knows they really want to do) over duty to the Princess she idolized for her whole life?  But, that doesn't happen.  The only tiny moment of Devasena/Avantika we see has Avantika sitting with her head on Devasena's lap, clearly they get along fine.
And then we have Avantika in B2.  For, like, 30 seconds.  But, again, it does resolve her character.  We want more not because we feel like what we got was wrong, but because it was so right it whetted the appetite.  Yes, of course Avantika would be fighting in this battle, not sitting on the sidelines.  And yes, of course, when it is over, she would be dressed in royal clothing on the royal pavilion.  Because that is where her duty takes her.
Oh, one final interesting note while I am thinking about it.  We were discussing in the comments recently how Amarendra calls Kattappa "Mama" and Anushka regards him as her father.  Therefore making the two of them, in their own way, follow the "daughter of my maternal uncle is my bride" southern tradition.  We don't know exactly how Avantika is related to the rebel leader, but he is clearly the closest she has to a father.  And, since he is Devasena's brother (we learn through the cast list since the dialogue scene that must be there explaining it was cut!), that means Avantika is the child of Shivudu's maternal uncle, once again repeating the pattern.  Which is kind of neat.
(Just like in this movie!  Which is otherwise completely different)