First of all, blessings on Hotstar for making this available, and blessings on Shahrukh for agreeing to do something now, during my all time lowest view periods when I really really need content.  Now, on to the discussion!  Of the first two episodes, with Alia and Deepika.
Back when I was saying why I loved Shahrukh, I mentioned that there is something special about how he treats women, both opposite him in films and just in real life interviews and stuff.  And this is the perfect example of why that is so true.  It's a show called "Baatein with the Baadshah" but it's not really about "the Baadshah", it's about the women he is talking with.  He is the perfect charming gentlemen, heaping compliments on them in a way that is natural, helping them present the best version of themselves, and (at least in the 2 episodes so far) keeping the focus on them as whole people, sensitive and smart and interesting and so on, minimal comments about their looks or anything like that.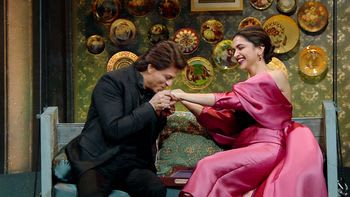 And that's his job, this show is clearly designed to help sell the star persona of the female guests, to make us love them, and part of that is using the perfect host.  Karan Johar doesn't make us love his guests.  He makes us like them, and be amused by them, but we don't love them.  Shahrukh makes us love them.  Just like he makes us love his heroines in his films by seeing them through his eyes, he makes us love these women by being charmed and delighted and caring towards them.
It's not just Shahrukh, the whole show is structured that way.  The woman is introduced with lavish compliments, comes out with a slow motion glamour shot, wearing a gorgeous gown and perfect hair and make-up and everything, Shahrukh escorts her over to the special swing that comes down from the sky and she asks him a series of questions from a card, he is charming and witty in a way that makes her appear charming and witty for asking the question.  Then he escorts her over to the sofa and asks her questions about her career and her acting (nothing personal, everything respectful).  This section ends with videos of others talking about how great she is.  And finally he takes her to the table and chairs on the other side of the room and reads off a series of letters from people who love her about how awesome she is, and she has to guess who they are from.  And then he takes her back to the center of the stage to present her with a golden rose, her "award" from Lux for being one of their Golden Divas.
So, it's just a love fest for these lucky women, that's all.  And we get to see their glamorous looks (in all the walking back and forth in evening gowns), their wit and charm (in the questions segment), their serious professional ability (in the serious questions section), and then all the reasons that the people closest to them love them (in the letters section).  By the end of the show, the audience loves them for their personality, their talent, their glamour, and their heart.  And Shahrukh has guided us through that, just as he guides them around the stage.
Oh, by the way, what is it with those slow motion/repeat transition things in Indian TV shows???  It's one of my least favorite things, they can't just walk across the stage, they have to walk in slow motion while a music cue plays.  And then they sit down, and then they sit down again, and again on repeat. I get the idea, it's boring to watch people go across a stage so there has to be something there, but why can't they just edit the whole bit out, go straight from Shahrukh saying "and now we will go to the sofa" to them actually being on the sofa.
When I say it is all structured to make us fall in love with the actresses, what do I mean?  Well, let's start with Deepika's episode.  She is introduced as the "Queen" of the industry and comes out in a gorgeous elegant evening gown.  Shahrukh walks her over to the golden swing and hands her the card of questions.  I didn't get all of the answers to the questions, but I did catch a back and forth about how proud he is of her, how when she started out with him she didn't know anything, not even how to use her "dimples".  And then they joke about how he taught her everything, even how to dimple.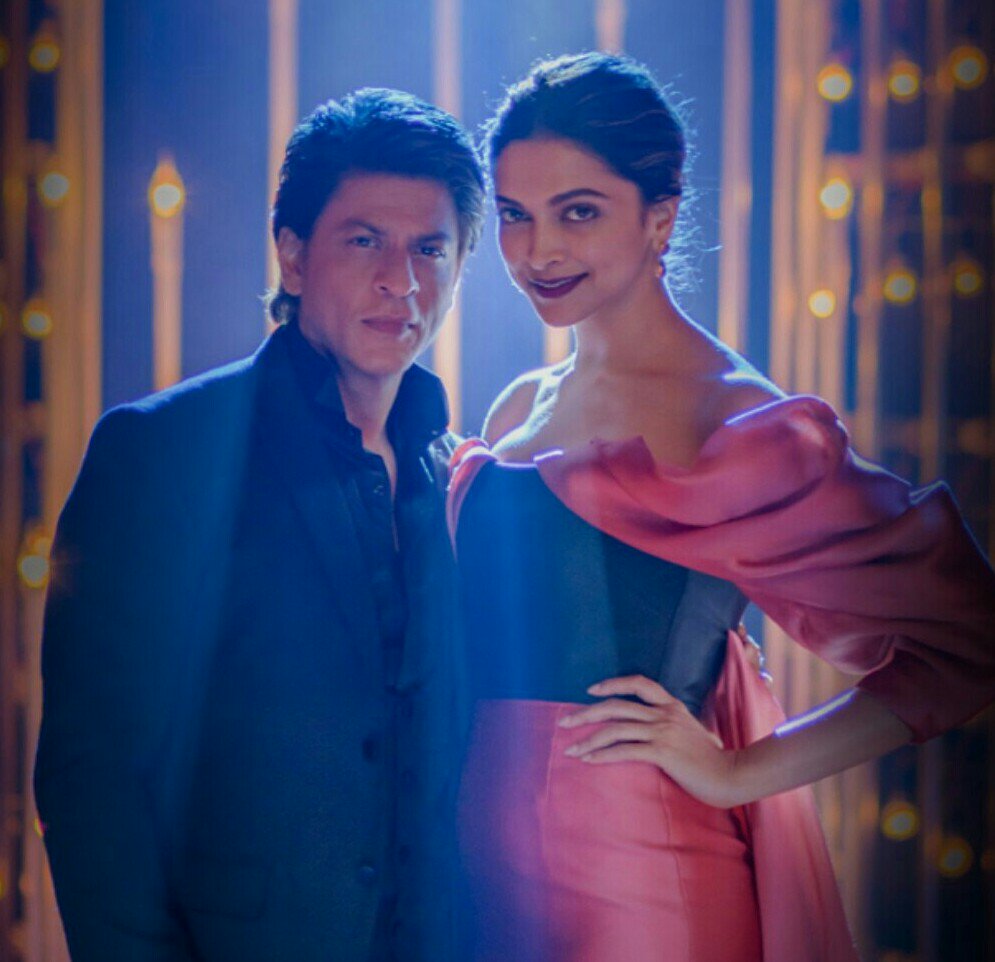 See, the thing is, he DID teach her everything!  Well, sort of.  In a different kind of show, Shahrukh could have made this all about himself, how he picked this model out because he could see her talent and gave her her first job and so on and so on and isn't he awesome.  But instead he keeps it light and charming, makes jokes about teaching her to dimple, makes it seem like he is a shallow over the hill type actor who only has these little things to pass on and she is the real talent.
And then they move to the sofa for the "serious" section.  Shahrukh asks about her acting, but also about her mental health issues.  Which is appropriate, since she has become a bit of a spokesperson for those issues.  He is showing us her serious side, her dedication to her work and the issues that are close to her heart in the world.  We've seen her charm in the jokes about dimples, now we are seeing her intellect and depth.  Oh, and this is just an odd thing, but in the middle of the serious discussion of depression, Shahrukh jokes about how she likes to clean things, she is "OCD".  I just find the cognitive disconnect funny, in the middle of trying to treat mental health seriously in terms of depression, they turn another mental health disorder into a joke.
To talk about how great she is, they use a video of Irrfan Khan, who seems fairly serious and talks about how she is as a co-star and all that.  And then Ranveer, who did a video of him walking along and singing "Ek Ladki Ko Dekho Toh Aisa Laga".  Because of course he did.  Good lord he must be a lot to deal with as a boyfriend!  Dips deserves an award just for that.  Anyway, it's a good balance, we see her as a serious co-worker type, and then as a warm and beloved woman.  The actress and the human.
And finally, her letter section!  First a brief letter from Sanjay Leela Bhansali, which she accurately identifies.  And then a very long letter from her mother which goes into great detail and makes Deepika cry.  Sincerely (it looked like to me), tears going down her cheeks and having to wipe her eyes around the mascara.  Shahrukh finishes the letter and then goes over to give her a hug and help her clean up her face.  And again, he does it the perfect way!  Doesn't make it about himself, like "look how saintly I am helping this poor woman".  Gives an appropriate amount of sympathy so she doesn't feel embarrassed by her reaction, but doesn't try to make her a spectacle by egging her on to cry more or anything like that, keeps it dignified.
And then she gets her gold rose down in the center of the stage, and everyone cheers, and the final step is for her to write a letter to be read to the next guest, Alia Bhatt.  Which is very nice and supportive.
Everything about this show is nice.  Nice, but also honest.  They aren't saying that Deepika is, say, the greatest dancer in the history of Indian film.  They are saying she is a great actress with a caring heart.  They find the nicest possible honest thing to say about her.  And they will do the same for the next star.
Alia!  Very different persona from Deepika.  Right from the start, even her styling is different.  Instead of Dips' dramatic full length gown, Alia is wearing a shorter younger looking thing with a poofy skirt.  And she acts differently too, where Deepika elegantly waited for Shahrukh to guide her around, Alia takes control and announces she knows everything and drags Shahrukh over to the swing for questions.
This is her persona, a precocious cute little girl who is bubbly and smart and quicker than her elders.  And that's how their questions section goes, she is bubbly and Shahrukh is witty, but in a sort of "I'm trying to catch up!" way.  He falls into her rhythm, helps her to shine the way she wants to shine, makes her look smarter and quicker and brighter than anyone else, including himself.
But the "serious" section is where Alia struggles, while Deepika was less comfortable with the charming witty part, she was fine with talking about "serious" things.  Alia is not quite so comfortable with that, and more importantly, it doesn't fit with her persona.  She is supposed to be your cute little sister, not your bossy uppity big sister talking about big serious things.  So they bring out Gauri Shinde to help her with that section, to do some of the serious conversation weight lifting.
Oh, there are two small interesting things in this section.  First, Alia mentions Shaandar when Shahrukh says something about failures.  It kind of feels like a continuation of their Koffee conversation last year.  Shahrukh said he wanted her to fail, to learn not to be afraid to fail.  And now she is coming back and pointing out that she has failed, and survived it.
The other thing is, she mentions a quote from Sinatra that helped her through that period and asks Shahrukh to translate it to Hindi.  See, this whole show is in Hindi!  There are English words dropped in off and on, but otherwise it's all Hindi.  Another reason for Shahrukh to host, he is one of the most fluent Hindi speakers in the industry.  And another sign of what kind of an audience they are looking to attract, not the witty sophisticated English speakers who watch Koffee, but more the respectable middle-class types who can understand Hindi with a smattering of English.  This is the big broad audience, the big broad public, who has to love these actresses and want to see them in their movies.  And also, of course, buy soap from them (sponsored by Lux, don't forget!).
(This is the quote)
After Gauri and Alia are on the couch, Shahrukh rolls the videos.  Varun is first, and tells more sort of "cute little girl" stories.  Madhuri is next and didn't quite get the memo on what the persona is supposed to be, mentions that she admires how smart Alia is in picking roles.  She's not supposed to be smart!  She's supposed to be "clever". "cute", all those things.  But then it ends with a video from her father, bring us back on message, she is just a daddy's little girl still.
And then there's the letter section!  The first two letters are from co-stars, and then her mother at the end (although Alia first mistakenly identifies it as her father).  Her mother, who she doesn't refer to as "my mother" but as "mummy".  Again, playing the little girl.  Finally, a photo of her and her mother appears after the answer is revealed, and Shahrukh mentions that she is so much more beautiful than Alia.  He plays it off kind of joking, like "you are pretty too", but Alia agrees.  Very nice little sentiment to keep up the trend, Alia is cute and sweet and young, but not "beautiful", that's for her mother and other older women to be, she is more about her personality and smartness.
And then of course it ends with Alia giving a letter to Madhuri, just as Dips gave a letter to Alia.  It's a nice thing, the women paying it forward to other women, no men involved (except Shahrukh to support them).  Okay, so the show is called "Baatein with the Baadshah", his name is the one at the top, but that's just to get you to tune in, once you are watching, you discover it is all about the women.
(Shahrukh's in the tub, but the women are still the ones on the box)