I'm back to K. Balachander!  He is just so great.  And available on Rajshri Tamil on youtube.  And I have also now seen a Gemini Ganesan movie!  Which was super distracting, because it was kind of a little bit about his real life and I have no idea if that was on purpose or not.  Was his real life situation with multiple wives so well known that it would make sense to bring that into one of his movies?
This is a familiar story told in a slightly different way.  Well, of course it was different, it's K. Balachander!  He's not like anyone else.  Either in the details of how the story plays out, or in the manner of the filming.
This makes a nice pair with yesterday's Malayalam movie about how love and marriage don't need to be separated.  In this film, marriage is all and love is forgotten.  At least, fun happy romantic love.  Instead it is replaced by proper marital devotion on the part of the wife, and confused attempts to live up to that devotion by the husband.  Breaking the bonds of society is allowed, so long as the essential elements of wifely devotion and husbandly willingness-to-be-devoted-at are still in place.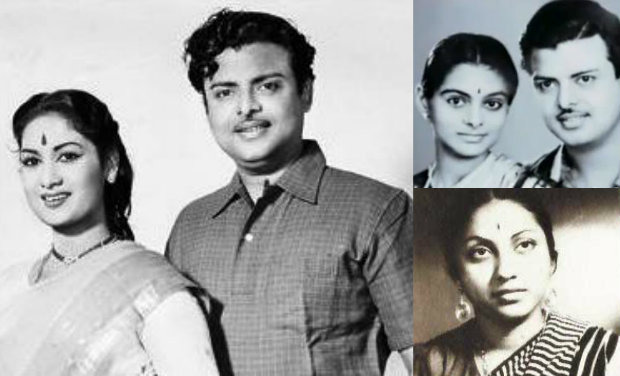 (If I understand this correctly, he may, or may not, have been married to three of these women.  He was definitely married to one of them.  I leave it to you in the comments to tell me who is who and who is Rekha's mother)
It's not that I think the film is super regressive, ultimately it is about the characters making their own choices and doing what they want to make their lives happy, despite what society thinks.  Well, not exactly despite, more with an awareness that society does have an effect on their personal happiness and the question is how and how much.
Gemini, I have to admit, did not blow me away in this film.  He didn't have that much to do, purposefully.  The man was merely a helpless ping-pong between two women.  But he accepted that un-heroic status with grace, playing the beffuddled husband to the hilt.
The two women were better, Sowcar Janaki and Jayanthi.  Of course, they had more to do, since it was their desires that drove the film.  Their desire to be subservient to their husband, but it was still their desire.
As always, Nagesh stole the show.  But V S Raghavan wasn't far behind him.  Once again, Balachander finds everyone more interesting than the hero.  The perfect heroic central character, the powerful upperclass male, he is just there to set things in motion, the important thing is what happens around him.  The women and lowerclass men and older men and children even, they are the ones doing the stuff that matters.
SPOILERS SPOILERS SPOILERS SPOILERS SPOILERS SPOILERS SPOILERS SPOILERS SPOILERS
We start with a happy household that rotates around Gemini.  He lives with his wife, his 3 children (a boy and two girls), and his father-in-law.  The household works like clockwork, the kids do homework, Jayanthi (the wife) bustles around in the kitchen, Jayanthi's father stays home and jokes with the kids, and Gemini sweeps in and out on his way to the office.  The initial question of the film is posed by Gemini's son, his teacher asks him how to make a long line small without erasing it.  The whole family is stumped, until Jayanthi comes up with the answer.  Just put a longer line next to it.  It was like when her mother died, she did poorly on a test that day, but learning of her mother's illness made her test-sadness appear small suddenly.
This is the theme of the film.  That thing which appear big can become small in comparison.  There are a series of problems in the film, culminating in the biggest disaster of all which makes the rest of them appear small suddenly.  There are also a series of characters whose needs go back and forth, one appearing more important and then the other.
But before we get there, we have the surprise of how it all comes out.  Gemini and his wife talk about the new "collector" coming to his office the next day, he has to make a good impression since he is chief clerk.  The new collector arrives, in a fancy car and a fancy dignified sari, and sunglasses, it's Sowcar Janaki.  And then she meets Gemini and they are both suddenly thrown back into a flashback.  She is his WIFE!!!!!  Not the one he was just happily chatting with in the midst of their happy household, but another secret one.  They married when he was studying with her father for his civil service exams.  They eloped, her father reluctantly accepted it, but his mother refused.  Gemini left her with his family while he went to Delhi for…..something.  His mother threw her out, she went back to her family who was furious and planned to marry her off to someone else who would appreciate her, only to discover she was already pregnant and therefore could not marry anyone else.  And so, instead, her father decided to make her a Collector, help his daughter achieve more than her deadbeat husband ever could, make her powerful enough that she would never need a husband.
The rest of the story slowly unfolds, while the office begins to spread rumors that Gemini and Sowcar Janaki are having an affair thanks to the pulpable tension between them and their occasional secret chats, Gemini and Sowcar Janaki try to work through the difficult situation they are in, and back home Jayanthi gets more and more worried over the state of her marriage and angry with her husband's demanding boss.
While the situation in the present comes to a boil, the situation in the past is revealed in a series of conversations between Sowcar Janaki and Gemini.  She had his son, who is now raised wealthy and spoiled in a powerful Collector's household.  Her father has hardened into a fierce hatred for Gemini.  Meanwhile, Gemini was told by his mother that Sowcar Janaki was dead.  And when he went to investigate, he spoke to the new tenants of her house and was told that someone had died, but didn't understand their Hindi enough to realize they meant Sowcar Janaki's aunt, not her.  And yes, there is a little joke about how this whole thing came about because of language problems.  Tamilians=Never Pass Up a Chance to Bring Up Language!
(There's also a whole song sequence about classic Tamil poetry)
Sowcar Janaki also reveals that she knew Gemini would be working beneath her when she took this position, and that is why she took it.  All she wanted was to have a chance to see her husband every day, like any other wife.  This completely flumoxes Gemini and he doesn't know what to do about it.
Poor Gemini!  He is in the odd position of having no power because he has all the power.  His wife back home is jealous and worried and ready to do anything she can to win him back.  His wife at the office just wants to see him every day and worship him.  But the end result is that Gemini can't just go home and relax because his wife is so crazed, and he can't get a leave off from work or a transfer because his wife at work refuses to let him go away from her.  Both women keep saying that they live to serve him, just want him to be happy, etc. etc.  But the reality is, Gemini is the one with no power in this situation.  He can't refuse them anything, because they aren't actually asking anything from him, they are offering it.
As the film moves forward, multiple possible solutions are presented to both Gemini and the audience.  The two women fight, and it appears that he will have to choose between them, he tries to get leave from his job to resolve the situation so he can stay with only Jayanthi as his wife.  But then the two women make peace, including sharing the winning spot at the office sports day whether than competing.  Perhaps Gemini can find a way to have two wives.  The problem is, it isn't just the wives, it is also the children and the fathers-in-law who are involved  Jayanthi and Sowcar Janaki may be able to make peace, and the two sons may be best friends, but that still isn't everything.  The daughters have no relationship with Sowcar Janaki.  And Sowcar Janaki's father still hates both Gemini and his son with Jayanthi, while Jayanthi's father is concerned only with his daughter's happiness, not with what is best for Gemini.
A surprisingly realistic view of plural marriage!  It doesn't just mean two wives, it means two wives, two sets of children, two sets of in-laws.  Even if the 3 people who consented to the situation (the wives and the husband) are fine with it, there are all the others to consider as well who may not be quite as okay.
Everything comes to a head in the end when a series of disasters leave the audience guessing as to which will be the big line that makes all the others seem small.  Jayanthi decides as a good wife her only choice is to kill herself, thereby leaving her husband free to marry his boss who he clearly is having an affair with.  But her father chases after her and surprises her by jumping off the bridge first, saying that he has no reason to live if she doesn't live.  She rushes down and finds him perfectly healthy below, he was just teaching her a lesson about how sad she was when she thought her father was dead, think of how sad her family would be if she died.  At the same time, Sowcar Janaki has decided to dedicate herself to her job since her marriage is falling apart now that Gemini is angry with her, and so agrees to head a risky anti-smuggling task force, and while pursuing the investigation is caught up in a shoot out and shot!  And finally, Sowcar Janaki and Jayanthi's sons are playing together in the swimming pool, but Sowcar Janaki's nutty bitter father is reluctant to save Jayanthi's son when he starts to drown.
Oh, I forgot the weird Annadurai part!  Sowcar Janaki has been dealing with petty office politics all along.  Nagesh is mad at her because she is trying to stop him from bringing his small son to work with him.  And he is also a gossip anyway, so he and the other clerks start spreading the rumors that Sowcar Janaki and Gemini are having an affair, first calling Jayanthi to tell her, and then finally reporting Sowcar Janaki to her superiors.  Which leads to Sowcar Janaki being called in to see the Chief Minister!  Also known as "Anna", beloved old man of Tamil politics.  Someone much too big to actually show onscreen.  And so instead we have his point of view, Sowcar Janaki entering and sitting on the other side of his big desk, the camera catching his iconic glasses sitting in front of him and the voice over in his iconic (I am assuming) speech cadences.  He tells her he is sorry to hear these things about her, because she has a great responsibility, as a promising young female officer of the government, he has great faith in her and wants to trust her with an important task, assigning her the smuggling investigation.  It takes Sowcar Janaki's career from a petty revenge orchestrated by her father, or a way for her to see her husband without anyone knowing he is her husband, and makes it suddenly honorable, noble.  And explains why she is willing to risk her life to follow his orders.
This last section does something fascinating, changing the question from Gemini being torn between two women, to the two women being torn between their position as wife and other considerations.  Sowcar Janaki has to balance her responsibility to the state versus her need to be a faithful wife.  And Jayanthi has to balance her emotions as a broken-hearted wife with her responsibility to her father and her children.  Gemini, once again, is just wandering around going "what's happening?????"  He rushes home to discover Jayanthi is gone, and suspects she has done something drastic.  But before he can search for her, Sowcar Janaki, with a gunshot, shows up at his door.  She risked her life because of her duty to the state, but now that she might be dying, she wants to die at his feet as a wife.
Jayanthi and Sowcar Janaki have faced death and worked out their internal conflicts.  And now, finally, they are able to be honest with each other.  While Gemini wrings his hands and looks on, the two women tell each other the truth.  Jayanthi offers that Sowcar  Janaki can share her husband, if it is what will make him happy.  And then Sowcar Janaki reveals the truth that they are already sharing a husband.  At which point Jayanthi immediately realizes that she is the one who owes Sowcar Janaki a debt, that Sowcar Janaki could have destroyed their lives but instead has respected the bond that Jayanthi built with Gemini.  The two women declare they will be sister wives, while Gemini looks confused and vaguely doubtful in the background.
This is the resolution of the situation in some versions of this story (someday I really have to watch Daag).  The two wives realize it is neither of their fault and find a way to share the husband.  Either by actually sharing him in a joint household, or just accepting that they will both carry him in their hearts forever (Chori Chori Chupke Chupke, that one I have seen.  Oh, and also the fanfic I wrote last week!).  But this film takes it a step farther.
(Also, of course, Design for Living)
As the two women are bonding, a call comes from the hospital, Gemini's son is dead.  Sowcar Janaki immediately comforts Jayanthi and shares her grief, since Jayanthi's son has been playing with Sowcar Janaki's so much, she has come to love the boy.  Only they reach the hospital to learn that "Gemini's son" was not his son with Jayanthi, but his other son with Sowcar Janaki. !!!!!  Not just that, the boy died saving his brother, after his grandfather refused to help the boy as he sank in the swimming pool.  There is devastation all around.  This is the final long line that makes everything else seem small.
And finally, Jayanthi finds a solution.  To this final disaster which has solved all the previous disasters.  The two women are not angry with each other, and Jayanthi knows that she has a responsibility to her family not just to her husband, and Sowcar Janaki knows she has a responsibility to her job.  Jayanthi cannot break up her family by sending Gemini away with Sowcar Janaki, and Sowcar Janaki cannot quit her job and become Gemini's wife alone.  They cannot be together, but they are also always tied together.
And so Jayanthi finds a way to make that tie real.  By sending her son with Sowcar Janaki, acknowledging her as the boy's second mother and Gemini's first wife, Jayanthi has found a way to resolve Sowcar Janaki's misery over her uncertain status.  And Jayanthi is happy as well, confident that Sowcar Janaki will love her son as her own, and that Jayanthi's family is still intact, the entire family, her father and her two daughters and her husband are all still together.  Sowcar Janaki has just been welcomed into it, and sending Jayanthi's son with her signifies that.