Davos videos are out!  Have been out for like a day now, but I am a baaaaaaad Shahrukh fan and just got around to watching them now.  Anyway, let's talk!  Because I am guessing some of you have already seen them, or plan to see them. (for background on what Davos is and what it does, go to this post here)
Starting with the speech!  Which Maryam Khan tweeted at Davos to make sure they streamed, and Davos listened and responded.  Which is cool, because Maryam Khan (I think) has also come here sometimes.  My little brush with greatness!
Anyway, speech!  I skipped the other two speeches from Cate Blanchette and Elton John, so I don't have context, please provide it if a missed something.
Speech
Introduction
Shahrukh's introduction is very good, and very interesting.  It starts by referring to him as being raised in Delhi and telling his teacher that he wanted to be a movie star when he grew up, his teacher not believing him, but him going home and his mother telling him that he could make it happen.  And then a brief acknowledgement of the movie star fame he enjoys, followed by detail about his foundation, when it was started and what it does, and also the work he does with children's hospitals.
What I find interesting is that it is re-framing him as more a humanitarian who also happens to be a movie star than a movie star who happens to be a humanitarian.  The important part was his dedication and belief in himself, and his mother's belief in himself, when he was a child.  And the way he has used the resources he has acquired, not the method by which he acquired them.  Very different from how his introductions usually go.  Because this is not the introduction he usually accepts, he prefers to downplay his accomplishments as a person in favor of playing the tongue in cheek movie star.
Black on black, no tie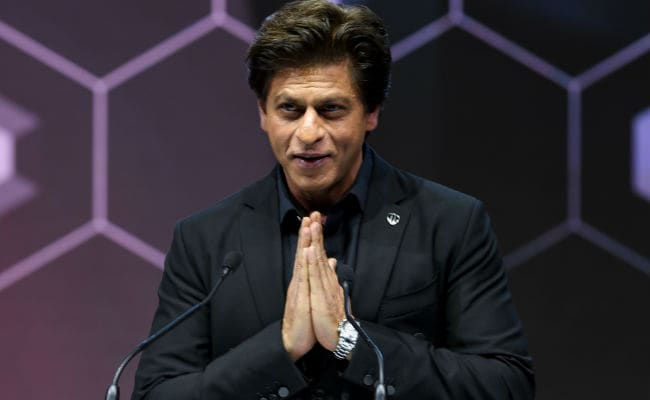 Very nice outfit choice.  Of course, a perfectly fitting suit and shirt.  Since Karan started shopping for him, he doesn't own anything else.  But it is "business" wear, not movie star wear.  He is dressed like a serious professional person, not splashy or overdressed, and also not in jeans and a t-shirt.  No tie, that's what puts it over the top.  In just the past few years, ties have stopped being required as part of a business suit, Shahrukh isn't trying to impress anyone by following the rules a little extra hard, he is just doing the same as everyone else.
Pulling out paper
Shahrukh pulls out paper for his speech and is clearly reading off the page as he talks.  He looks down at it, and stumbles over the words a bit.  Very very unusual for him.  He's an actor after all, he is good at memorizing and effortlessly cold-reading.  And besides being an actor, he is very good and witty and effortless in public speaking.  There was a story at the end about AbRam which he didn't quite deliver right, strange for him.
A couple of explanations occur to me.  He could have just not been taking it seriously, realized he had to write down some notes last minute.  He could have been taking it too seriously, written and re-written his speech until he couldn't remember what it said.  Or maybe he just didn't realize the time limit, was expecting more of a 20 minute thing and had to boil his points down suddenly
The end result felt very respectful.  Maybe it was odd to us, who are used to effortless chatty SRK, but in the room, this clearly serious and careful work choice looked like he appreciated the platform he had been given and wanted to say exactly what he wanted to say.  So, what was that?
Content
Shahrukh started perfectly, acknowledging Elton and Cate Blanchett as deserving fellow winners that he admired through little comments that showed he was familiar with their work.  And then making a self-deprecating joke about taking a selfie with them, and that now he has embarrassed his children.  It hit that perfect tone of "I am truly honored and respectful of you" without being overly obsequious, without making it look like he felt less than them.
(Love that Shahrukh is sneaking a look at the camera in a kind of "hey, you and I are friends, right?" way.  Also love Elton's glasses, but that goes without saying)
And then the actual content of the speech.  There are 3 ideas he wanted to keep, I think.  The over all points were, first, the women he helps do not "need" his help, they are strong and happy without him, not victims.  Second that everyone is equal and deserves equal access to resources, accident has made him more powerful but these women deserve equal resource.  And third, that those in power are standing in the way of progress, power needs to get out of the way, it is not the solution but the problem.  And underlying all of this (and I think this is what he was struggling to articulate and would have done more gracefully a different time), that gender issues are at the heart of all the other points.  Women are not victims, women deserve as many opportunities and resources as men, and men need to get out of their way.
How he conveyed this points was a little interesting.  He started by acknowledging himself as a movie star only in that he lives a life controlled by beauty.  So it was astounding to see these women who truly did not care that they had lost their beauty.  Then he goes out to talk about how they reject victimhood, they are not weakened but strengthened by what has happened to them.  Within the first few sentences, he has acknowledged his own place in the story, and then stepped aside so the focus is back on them.
(Also tends to step back and let the woman be the focus in his songs)
And then he gets philosophical, declaring that equality is not a concept but a truth.  That everyone is equally entitled to resources but only some have gained more access.  And again, he acknowledges but removes himself from the discussion, saying he has gained resources by accident but others in the room gained them by hard work.  The issue is now between those others in the room who have resources, and the people who are being denied resources. A neat little judo flip of using their own power against them, the more they claim to have/deserve, the more pressure they have to use it well.
And finally, his AbRam story.  Which is just good speechifying, end with a cute anecdote. But it's not the cutest anecdote, and like I said, I don't think he tells it right.  The point is, AbRam said "get my eyeball out of my hair" instead of "get the hair out of my eye".  We need to flip the conversation and say that those in power need to remove themselves, not put themselves forward, for problems to be solved. But it doesn't somehow come across right, the story isn't delivered just so.  Maybe he just noticed he was going over time and felt rushed?
But the ending, that is just as he wanted.  He has been dancing around power and privelage and equality and victimhood without directly addressing gender.  But he finally does at the end, acknowledging that he has asked and implored and begged for a "yes" from a woman, but he has never forced it.  That was the hidden message in everything else, which ties it back to the work he is doing.
(And then we get into the whole question of whether a scene like this is "imploring" or "forcing".  I think I land on "imploring")
And then "Jai Hind" and "Namaskar" at the end.  Ooo, I do not LIKE that!!!!! "Jai Hind" is okay, although a little aggressive, because this is a world forum and it is appropriate to acknowledge were you came from.  But "Namaskar" feels like sucking up.  I allowed it at the TED Talks because he was clearly representing all of India there.  But he isn't the only Indian at Davos.  Say "Insh'Allah"! like usual!  Or "Salaam"!  Or anything else.  I don't watch as many speeches and interviews as others do, has he dropped the "Insh'Allah" in general? Because I would hate that.
Okay, blah blah, speech over, interview!
Interview
At the speech he was nervous, or appeared to be nervous, but the interview is home ground!  Down to the crowd being very excited as he walked out, and the interviewer asking for a moment for everyone to take photographs, so they wouldn't be a distraction while they were talking, and Shahrukh calmly and casually doing his pose for the crowd.
(This isn't from the interview, but this is the pose he did, of course)
And then the actual interview!  I did not like the interviewer, by the way.  Not a big dislike, I just felt like her questions were asked a little overly sincere, like she was putting on a bit of an act instead of being natural.  Good questions and all, it just made me zone out a bit while she was talking.
Now, content of the interview!  It sticks with the main points outlined in his speech, but in much more detail.  Maybe this is the longer version of his speech that he had ready and rehearsed?
He starts by making fun of himself, saying he loves awards, but he didn't expect awards for this work.  This is what we were talking about in the comments a little, if you follow Shahrukh (and all the stars, really) very very closely, you pick up little breadcrumbs that indicate their charity.  But in most cases, it is something you just do not talk about or bring up.  It's something you do but don't expect to ever have it recognized.
And then he alludes to that a little when he says he started the foundation a few years back to "regulate" what he was already doing.  He uses the word "regulate" again later when talking about possibly expanding, as something he doesn't fully understand.  As I see it, it is because this form of generosity, the more public kind, is very foreign to him and, I suspect, most of the film industry.  You don't have a foundation with paperwork and employees, you have a door to your house and a family who gives things to anyone who comes to the door.  The whole concept of "foundations" and "awards" is alien to this form of charity.
He then goes into a the same themes from his speech, that it is strange for him to see people who have lost beauty, and do not care, that they have no value for beauty.  And a little bit of humility, that he is learning so much from others and is here to learn.  Humility, but not obsequiousness.
(I just had a great idea for this week's fanfic.  In the meantime, enjoy this video about Shahrukh calling a woman beautiful!)
Speaking of charity you don't talk about, he explains how this started by saying that he goes for physical therapy and rehab at the hospital regularly, late at night so as not to disturb anyone, and then he always goes for a round around the hospital to visit anyone who might want to see him while he is there.  The way he says it, that's just what you do, like I put my dirty dishes in the sink after eating.  And I think that's how most of the Indian film stars see the things they do like this, it's not blocked off and labeled as "charity work", it's just folded into their every day life.
(Like when Aamir met this sick kid and the world only found out about it because the kid's family posted it on Facebook, not Aamir)
Anyway, then he explains that he met two severe burn victims, children, who were the same age as his children at the time, and it started him thinking about these issues.  And he explains, again in a sort of sideways way, that you always do stuff like this, there are so many issues, you are always speaking for them or appearing for them, his friends do it too.  I think what they are talking about are the many village adoptions, free concerts, donation checks, etc. etc. that are just part of life for these film stars, all film stars.
But this was different, because he realized that the issue was so small, he could do it all himself.  Only 400 acid victims a year in India, he can handle that individually.  And he can grow his business big enough to employ all of them once they have been rehabilitated.
It's an interesting way to look at charity.  This is what I was getting from the foundation website as well.  They don't need or want money, and they don't need or want publicity.  Shahrukh can handle it himself.  He gives plenty of money and publicity to other groups, but this one issue, that is something he can take care of without asking for help.  The bit about hoping to employ all of them at Red Chillies, I believe that, it is a good place to employ them, especially the VFX wing since it is an easy process to be trained in and requires a large number of worker bees.  But I also wonder if he added it, or at least decided to mention it, because of the Davos audience. Because that's what they want to hear, corporations solving these problems through employment.
The interview asked him about expanding beyond treatment and so on to legal aspects and he brushed aside the question a bit.  That isn't what he is interested in, he wants to see and solve this problem for the women who are suffering, not get into the big public fights over the laws.  He also acknowledged that he isn't an expert on those issues.  Again, it's a fine line, he isn't saying those issues are unimportant, just that that is not what he cares about.
And then he moves on to general questions of gender equality and violence.  And he expands on that final point from his speech.  Women need to be allowed to make choices.  This is just one of many ways women are brutalized.  Women are oppressed every where in the world, just by different methods.  And that ultimately, it is an issue of categorizing humanity, putting things into boxes.  And that gender and male and female are perhaps the first box.
Obviously, I have always thought that Shahrukh was a great feminist, but he then gives some examples of exactly how women are put into boxes which, to me, show how true that is.  For instance, being told "you can't sit with your legs open".  Or that the only thing women need is to just "be", just be themselves and not have anyone else define them.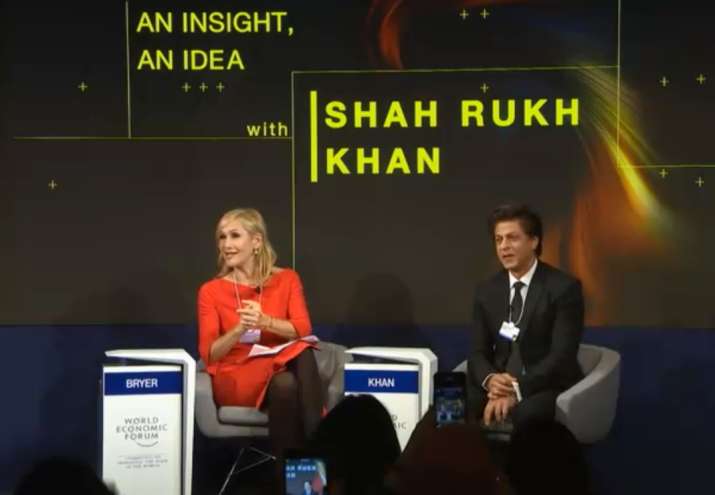 (Legs closed like an anti-feminist.  This poor woman, I don't know why I dislike her so much, but I really really do!  Sorry, interviewer lady!  Don't feel bad that an anonymous person on the internet dislikes you!)
And then the interviewer, again, tries to steer the talk towards legality and so on, and again Shahrukh pulls back.  As he puts it "this is a fight I don't think anyone has to fight for. It is so obviously wrong".  I appreciate that, he doesn't bother trying to convince us, or acting like he is better for seeing this injustice.  He just says that it is so obviously terrible he will let the legal part of it play out and be sure it will solve itself, while he focuses on the victims.
The interviewer also tries to pull him into discussing the Prime Minister.  And Shahrukh refuses to be drawn into that, merely says that he very much likes the big push towards educating women in the past few years, that is a good idea, and he is glad India is being represented here.
And then, again, he pulls it back to women.  What he is here to talk about, on this global stage, even as he acknowledges that it is unfair he (a man) is the one here talking about it.  He explains that he was raised by women, his father died and he only had a sister, and now he has a wife and a daughter.  That he doesn't spend time in the company of men.  Which I (guardedly) agree with.  My father was the same, as he used to point out when we were growing up "Even the DOG is a girl!"  And he had two sisters and no brothers (a cousin-brother, but that's a different story).  It's not like he never spoke with men or didn't have a father or anything, but there is an extra level of comfort and understanding that men, some men, can gain through just being surrounded by women all the time.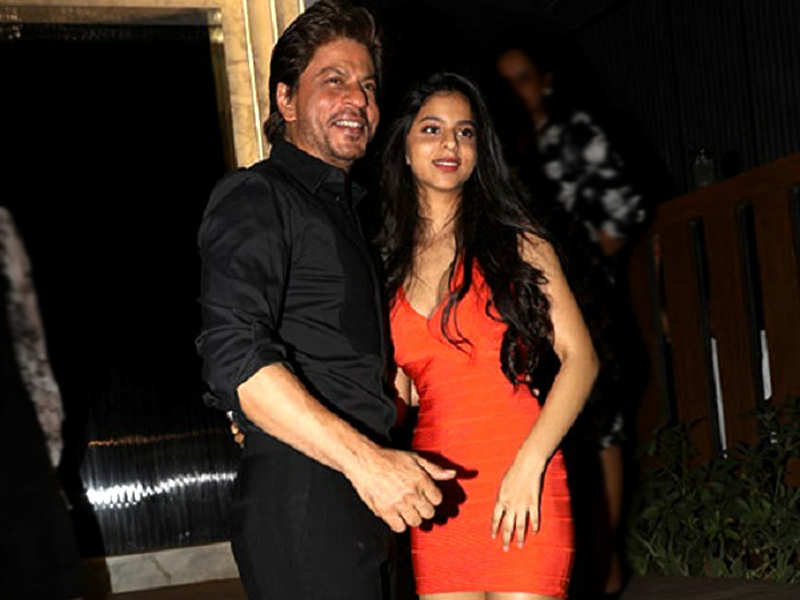 (Going out to dinner with your teenage daughter, and listening to her, can teach you more than a whole semester of a gender and women studies class)
This explanation also lets him flip the conversation to be about the women around him, not himself.  His sister, his wife, his daughter. And then his co-stars.  This I found fascinating, the acknowledgement that working as a romantic hero has let him work closely with many many women.  And that he sees and appreciates that they do all the work, and he gets all the credit.  It's a unique sort of work environment, where the gender gap is obvious to him who is benefiting from it but no one else.  I can't actually think of anything similar.  Maybe doctors and nurses.
And finally he reaches his final point, that he gift of seeing this, of working with these women, is that they have given him courage.  He feels bad because his films do not make money, he wants a private plane, etc. etc. (he doesn't say "the entire country hates me because of a thing I said that reminded them I was Muslim", but we can fill that in), but this women teach him how to be courageous and survive, essentially.  It is the same "I'm not teaching them, they are teaching me" trite saying everyone says, but somehow he makes me believe it.
And then he ends that section by a perfect line, the line he should have used in his speech as the closer,  "I tell my two sons 'I want to be a woman when I grow up.'"  It's not just saying that he admires women to the point of wanting to be them, it is saying being a woman is a compliment, rejecting all the "throw like a girl" insults.  And it is saying that this is what he is teaching his sons, a reminder that it is the responsibility of the patriarchy to cure itself.
And finally, again, he focuses on divisions and the need to break them down.  A reminder that we (the people at Davos) are the gatekeepers of resources, not the owners of resources.
There are two smaller points he made that I couldn't find a good place to put in, so I am just going to throw here at the end.  First, about social media, he argues that it will inevitably connect us, even to troll is to connect, we are just going through a momentary bump in the road.  It's interesting how he brings up social media in these kinds of global conversations, I think it is something that is truly close to his heart, something he thinks about as well as uses.
And second, he talks about divisions a lot, but towards the end of his interview he mentions that divisions also exist in work, in the idea of specializations.  Which is what I am fascinated by!  If I were doing this interview, instead of stupid weird affect lady, I would have leaped on that.  Because, yes, just in the time Shahrukh has been working the Hindi film industry has followed the Western-corporate path of over specialization.  Instead of everyone doing a little bit of everything, and learning from each other, and being given a chance just because they needed a chance, it has turned more and more into needing a certificate, a training program, not being willing to do the thing beyond which you were hired to do.
Oh well, in my Shahrukh interview we will skip all the big picture globalization gender issues blah-blah and just talk about the nitty-gritty of film industry changes.  It will be much more fun.  And I will sit with my knees apart, now that I know he doesn't care about that.  Although my mother still does.  Curses!
(Ha!  I knew there was a movie where he didn't respect a woman's choice!  Of course, he also dies at the end and is the clear villain, so I think over all it is okay message-wise)