Why is my dog journey somehow taking longer than my apartment journey?  Or, like, applying for grad school?  I think it's probably me.  I am way way way way way too picky.
I used to have 0 dog.  The goal is +1 dog.  And over the past few days, I briefly went down to -1 dog, but now I am up to +.25 dog.
So, remember how there was the dog that was too young and too active (probably) and slightly too large and all of that?  So, I let my parents and my friends with dogs, and all you nice people in the comments (except Procrastinatrix!) talk me out of her.
And talk me into the totally reasonable and logical dog.  I only saw her picture on the website, but she was exactly what I said I was looking for, older and lazy and so on.  Only, I couldn't meet her because she was too sick to be in the visiting area, she was stuck in the hospital until she recovered from heartworm (a mild dog illness that is easy to cure but does require slightly careful care).
Everyone I knew told me to get her, said she was clearly perfect, I should be sensible and reasonable and so on.  And there was even a sensible and reasonable option before committing, I could offer to foster her through her recovery, the shelter pays all the expenses, I just get to take care of the dog, and if I end up not liking her or it is a bad fit, I can just give her back once she is healthy.  Easy-peasy!  What could go wrong?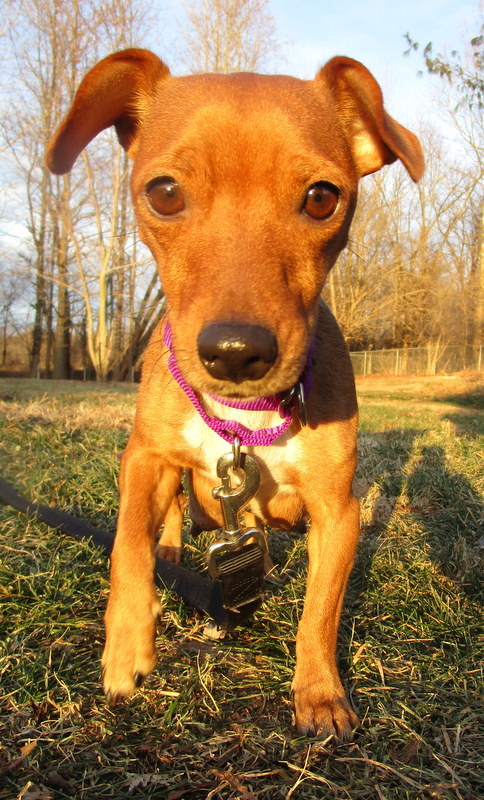 (This dog)
Well, this is what can go wrong.  After I committed to fostering, after I had her pulled from the doggie hospital and she can't go back, and after I let the other dog go and be adopted by someone else, I went to pick her up at the shelter and actually meet her, and I HATED this dog.
The first day was really rough.  I didn't love this dog enough to enjoy taking care of her, and yet I am so responsible that I have to take care of her.  And she kept me up literally all night whining.  If I were a different person, I would just sleep through dog whines, but I'm not, so I kept getting up every hour to go hang out with her.
Also, I have to carry her up and down the stairs because she is too sick to go up them, and I hate carrying dogs up and down stairs, it feels like both of us have lost all of our dignity.  And she is a cuddler and likes giving doggie kisses, which I also hate for the aforementioned "neither of us has any dignity here" reasons.  Oh, and she desperately wants to sleep in the same bed as me and NO.  I'm a nice girl, I don't sleep with someone unless I am in love with them, and I am not in love with her.  She is not getting in my bed.
(See how Shahrukh keeps pressuring her to the bedroom?  That's what it feels like with this dog, and I am just trying to dance around in item songs long enough to keep her away.)
So, that first day, that was a bit of a -1 dog day.  Because I had committed to foster her for 38 days until she was fully recovered from her illness, which meant I couldn't get another dog I would actually enjoy until I was done fostering.
But day two was better.  She did fine being left home alone all day, which also told me that I didn't have to believe her whining quite as much, she didn't need human contact all the time she just liked it.  And she seemed to have processed the "no means no" lesson a bit better and let me have my bed to myself so I actually got to sleep through the night.  And most of all, the benefits of having a dog, any dog, are beginning to kick in!
It's like I have a therapist, a personal trainer, and a nagging mom all in one!  I've visited the park 3 blocks from my apartment for the first time since I moved in, I suddenly had the energy to finally finish the baby gift that has been hanging over me for months, I'm eating at the table instead of in front of the TV, all of those things that I know in my head I should be doing but I never do.
So, I am now at +.25 dog.  I still don't have a dog that I look forward to coming home to, or building a life with, or any of that.  But I am getting all of the mental health benefits from having any dog at all, while I wait for my "real" dog to appear.
And just think how much easier all of this will be when I am doing it for someone I actually care about instead of just going through the motions out of a sense of duty!  And, of course, how much happier this dog will be when she gets to leave her transition home with me and go to her forever home with someone who loves her.  I'll put it this way, I am Rani in Kabhi Alvida Na Kehna, stuck with Abhishek and unable to love him even though on paper he is perfect for her, and my Abhishek-dog will be much happier once she finds the white girl who can really love her, while I am just waiting for my Shahrukh to come along.