Yes, it's time for another 100 year post!  You can see all the others here, I've already done male stars, films, and songs.  Time for something different!  Producers!
Producers are the unsung heroes of Indian film.  They aren't just wealthy dilettantes, and they aren't unimaginative businessmen.  They are the ones who went out there and hunted down talent and money and built up a dream of film.  Often they were producers as well as directors, writers, a little bit of everything.  Now, let's see if I can come up with 10 representative ones! (not the best, the most representative)
Devika Rani (Bombay Talkies)
Love love love Devika Rani.  One of the first major producers in Indian film, co-ran the largest studio in the country, and a strong independent woman.  She was educated abroad and met her husband there, a young man dreaming of directing. While he learned how to use a camera, she learned acting, make-up design, fashion, everything else.  They returned to India and founded Bombay Talkies.  Devika ran the studio and starred in the films and advised the actors and mentored everybody.  Until she was widowed, and then remarried and started a new life, leaving behind a legacy of the entire Bombay Film Industry we know today.
Representative films:
A Throw of the Dice (1929): Bombay Talkies first big hit, a mythological story starring Devika and her husband, directed by Franz Osten, one of their friends from the German UFA state studio.
Jeevan Naiya (1936): Ashok Kumar's first film, and the film that Devika left in the middle to elope with her co-star.  But equally important, it is a film about a love across caste boundaries, a revolutionary social statement.
Jwar Bhata (1944): Dilip Kumar's first film!  And one of the last films Devika produced.  Her main contribution was Dilip himself, she saw the talent in him and encouraged it, holding his hand through the difficult process of going from college kid to movie star.
Raj Kapoor (RK Studio)
If Devika was the mother of the Bombay Industry, Raj Kapoor was the father who took her baby and brought it up.  Raj started in Bombay Talkies, trained by Devika as his father was before him.  And then moved on to work for other directors and production houses, before gathering the money together and talking a risk on producing his own movie.  That movie became a hit, and so did the next, and the next.  Raj went from producing to directing and writing, and built his own massive studio lot which stands to this day (despite a fire a few months back).
Barsaat (1949): The film that made Raj the biggest producer in town.  His first film, Aag, had been a success but not a record breaker major hit.  This film was major, enough to announce Raj as having arrived and a new era of romance and showmanship along with him.
Sangam (1964): Raj Kapoor was the first producer to take his films out of the country, he had a vision of a wonderful trip through Europe for his carefree Indian bride and groom, and it changed forever the way Indian audiences looked at overseas sequences.
Bobby (1973): Jumping past Raj's own era of stardom, Bobby declared he was done with those days and ready to move on to helping others shine.  Raj directed and produced, using his trademark exacting high standards and unique vision.  He started off the 1970s with a reminder of the kind of precision combined with imagination that had made the film industry great.
(Instantly iconic)
Sashadhar Mukherjee (Filmistan Studio/Filmalaya Films)
One of Devika's most loyal and faithful workers, a producer at Bombay Talkies who helped her crank out hits.  And who then left to found his own studio, Filmistan, another one of the major filming locations still in use today.  And to produce a string of light romance hits.  And found one of the most enduring and connected film families, related by blood or marriage or whatever Ayan Mukherjee and Ranbir Kapoor have to essentially the entire industry.
Tumsa Nahin Dekho (1957): The film that made our beloved Shashi a star.  A light romance between a boat tour guide and the rich girl who hires him.  To be remade over and over again with various variations, including Fanaa starring Sashadhar's granddaughter Kajol.  This film, the original, was very different from the more serious "big" films coming out at the time, being a simple young love story.
Love in Shimla (1960): the most famous and successful of Sashadhar's films!  Starring his son Joy, another carefree young romance in a fun location.  Started a bit of a franchise, followed by Love in Tokyo.  And also started off a bit of a career for Joy.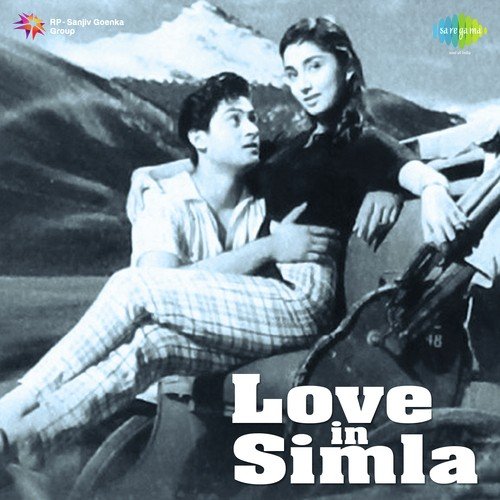 (Sadhana was so cool)
Leader (1964):  Sashadhar's old friend and mentee Dilip Kumar came to him asking his help in making a political drama, and Sashadhar stepped up, even though it was outside of his comfort zone.  Leading to a classic film that combines happy songs and romance with optimistic political commentary.
Chetan Anand and Vijay/Goldie Anand (Navketan Films)
A new era of producers.  Devika found and made stars, Raj made himself into a star and his films into "stars" in their own right, bigger than any one man, Sashadhar made others stars and invented genres, and now Goldie and Chetan come second to the star, only a producer because his brother Dev made him a producer.  And not nearly as powerful or popular a producer as those of the earlier less star-driven era.  They were the ones who did the grunt work behind the scenes while Dev starred and put up the money for the films.
Baazi (1951): A favor to Guru Dutt, Dev's close friend, Dev had his brother produce this movie, starred in it himself, and hired Guru to direct.
Jewel Thief (1965): Hugely popular film in the classic Navketan style.  Twisted crazy plot, bright colors and great songs, and of course a cosmopolitan charming hero.
(Are those cotton balls on her sari scarf?  WHY????)
Hare Rama Hare Krishna (1971): 20 years later, still going strong.  Once again Dev is the hero, but the usual mystery plot has been updated with hippies and drugs and a new young actress, Zeenat Aman.
Subhash Ghai (Mukta Arts)
A return to the director/producer.  And a return to grand visions for film.  But subserviant to the stars.  While Raj and Sashadhar made stars, and Goldie and Chetan worked with stars, Subhash had to run around begging stars to work with him, carefully crafting relationships with them and building characters around their personas.  And his success was that he accepted this, accepted that either he would need to take a nobody and somehow make them a star, or take famous people on the way up or down, and that would be the only way to make his films work.  Well, that and that he really is/was a brilliant director whose visions were unique enough to drive in the audience.
Hero (1983): His first film as a producer, and a major major hit.  He built the film around a great soundtrack, a unique story, and two attractive unknowns (Jackie Shroff and Meenakshi Sheshadri). But the top stars were not these two, but rather the aging beloved actors Shammi Kapoor and Sanjeev Kumar who gave the film the needed gravitas and name recognition to get people in the door.
Ram-Lakhan (1989): 6 years before Ghai's next big hit.  And this time he went for a mixture of mid-level stars, his own creation Jackie Shroff and Anil Kapoor on the way to fame, plus recent discover Madhuri Dixit and returning older actress Dimple Kapadia.  He added in big plot, big songs, and big visuals.  Everything had to be BIG with him, that is what made people remember his name and made people want to work with him, that is what gave him power in the industry, a director with a huge vision who also produced so he could make sure that vision appeared onscreen.
(Look at this framing!  God between them, mother and father photos behind them, brother against brother, that's the stuff that makes Ghai something special)
Kisna: The Warrior Poet (2005): And this is the end of the Ghai era of production.  He went too big, gave himself too much money and put it all onscreen.  And he also went too small, no good PR campaign, no massive overseas release.  The days of the producer/director going it alone were over.  He needed someone to rein him in, and someone to fill in the gaps in his knowledge.
Aditya Chopra (Yash Raj Films/YRF)
Oh Adi, how I love you!  The perfect combination of art and business.  Each of them in balance.  Adi didn't look at production as a film to film process, but as a factory, each piece working together, creation to release, many irons in the fire at once instead of sequentially.  In a way, it was a return to the Bombay Talkies idea, but bigger.  This is the production house that rules all today and has for the past 20 years.  And of course, the foundation it all rests on is Aditya's talent as a director and his ability to spot and encourage talent in others.
Dhoom (2004): The second film Adi produced (officially at least, he was listed as "co-producer" on the last few Yash Raj films before this).  And a totally new direction for Yash Raj!  Lighthearted action, complicated plots, a multi-starrer that wasn't focused entirely on the stars but rather the story and the stunts.  While still having the great clothes, great production values, and great songs that Yash Raj had been known for since Adi's father founded it in the 70s.
Rab Ne Bana Di Jodi (2008): This came after a string of 7 flops in a year and a half, Ta Ra Rum Pum Pum to Roadside Romeo, with only two bright spots in it (Chak De India and Bachne Ae Haseeno).  Another producer would be bankrupt by this point, but Adi was too smart for that.  He had spread the risk across so many films that it became minimal, no one flop was enough to take down his empire.  But he did need another solid hit if he was going to stay on firm ground, both financially and in terms of branding.  And so he took off his producer hat and put on the director hat and brought out a perfect little film that reminded us all of why Yash Raj was something special.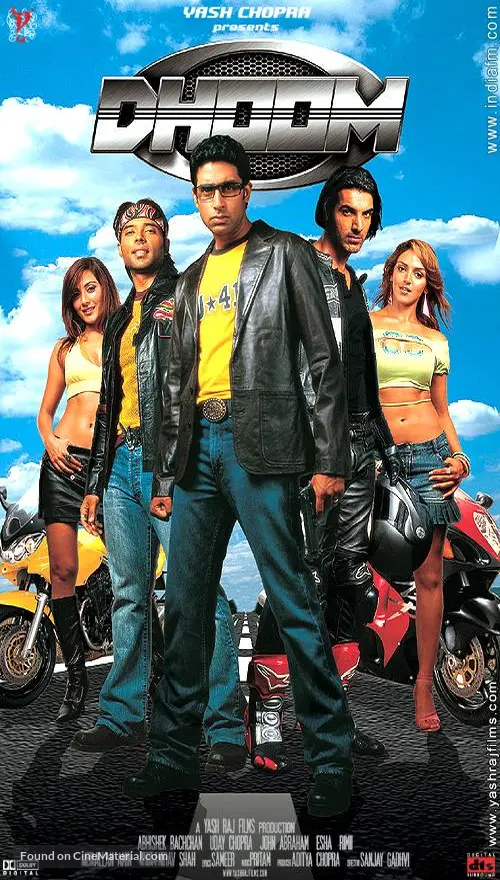 (Motorcycles and scantily clad women, but also the reassuringly familiar YRF logo in the corner)
Befikre (2017): Not a great movie, and not a hit movie.  But representative of the new era Adi has brought to his empire.  Most of the films are smaller, with only a few big solid hits scattered in.  The money is coming from everywhere now, not just one film.  There's the youtube shows pointing to the future, the DVD and streaming sales of past hits, the renting of the studio grounds for events (hosted FilmFare this year), all kinds of avenues for profit.  So if a small film like this doesn't live up to expectations, Adi is going to be fine.  And he can afford to experiment a little with a small film like this.
Vidhu Vinod Chopra (VVC Films)
Subhash Ghai was a director who turned producer so he could realize his visions.  Vidhu is a director turned producer so he can help other people realize their visions.  He is a talented director, his first film after graduating from IIFT was nominated for an Oscar.  Yes, a real Oscar, he went to the ceremony and everything.  It was a short documentary, perhaps why it is not mentioned much in the history of India at the Oscars, but it was there.  And then he gave it up, the chance for international respect, and came back to India to become a part of the growing "parallel" movement, actors who wanted to do something a little different than the mainstream.  Vidhu grew from there into the mainstream with his first big hit as producer and director, Parinda.  He continued to make well-made intelligent films every few years, keeping control of the production in every way, until he branched out to just producing with Munna Bhai MBBS.  And that is where he has found his home now, putting the high quality stamp on everything he touches and helping other artists find their own voice.
1942: A Love Story (1994): A very nice movie, good performances, good production values, good directing, great soundtrack (RIP RD Burman).  And an unusual ambitious story idea that you needed a producer who was a little crazy to make happen.
Parineeta (2005): Munna Bhai MBBS was the first movie that Vidhu produced, showing that he had the ability to produce something he didn't direct himself.  But this is the movie that showed it wasn't just a one-off, and confirmed that there was a particular look to a Vidhu produced film.  Clean visuals, good performances, good script.  Just all around a nice solid level of quality, whether or not it was a once in a life time brilliant film, it was always going to be a "good" film.
(See?  Even the poster is something a little extra, down to the fake gold frame around it)
Wazir (2016): Avoiding the big hits again!  Yes, VVC Films produced 3 Idiots and PK.  But I find Wazir more interesting.  Not a brilliant director, not a brilliant script, which makes the particular VVC touches shine.  Beautiful costumes, beautiful songs, clean lines in the visuals, easy to follow, everything just sort of tidy in a way that tells me there was a firm hand on the wheel for this whole process.
Karan Johar (Dharma Films)
Like Adi, but different!  Adi was all about spreading risk and developing a massive structure (streaming, DVDs, huge studio lot, etc.).  Dharma went a different way.  Karan let Adi take on all the complicated stuff (literally, he uses Yash Raj as his distributors and rents studio space from them), and just focused on developing a unique artistic voice.  Yash Raj was given to Adi with an identity already in place, thanks to his father there was a clear "Yash Raj Films" identity he could build on.  Dharma didn't have that, and Karan chose to focus on developing that before anything else, finding the kind of films he understood and could make well and focusing on that.  And then focusing on how to grow from that seed, who he could mentor and bring in who could follow his lead.  He went from making happy love stories, to slowly producing films with the top art directors of the day, without ever losing his voice.
Kaal (2005): This was Karan's first film as a producer, taking over after his father's death.  And it was a big big mistake!  Not at all in tune with the Dharma brand, Karan was trying to do what his father had done, just pick scripts and directors who looked interesting with no sense of continuity.  He learned from this, even before it came out he had learned enough to throw some item songs in it and remind people of what "Dharma" was starting to mean.
Dostana (2008): The first successful Dharma film NOT directed or written by Karan.  He mentored the young director/writer and provided the Dharma stamp of quality and fun, but was not as totally artistically involved as he had been in the other films.  It showed that he was able to make a hit with a hands-off approach, so long as it was the kind of film he knew how to produce and market.
(Stars, colors, this is what a Dharma film is supposed to look like!)
Ittefaq (2017): Dharma's most recent release.  Look how far Karan has come in just 9 years!  Dharma has become the place for young talent to be mentored and brought to success, and the Dharma brand has now become more of a useful myth than a reality.  People joke about Karan and Dharma and dismiss them, and meanwhile he is quietly partnering with the strongest production houses and stars in the country, making moves like funding Bahubali, and backing this small interesting little film, while everyone is still thinking of him as "just Karan" who produces the romantic fluff.
Aanand L. Rai
Our new producer!  Good director on his own, but also very interested in helping other directors get their work out there.  He started by simply producing the movies he himself directed, but just in the past 2 years has branched out to producing other's work.  And, more importantly, he is very good at navigating the new industrial reality.  He finds the people and the stories, then turns around and talks to the big companies (not Dharma and Yash Raj, but the ones who only want to fund and get a profit not create) and finds them financing.  And thanks to him, and a few other producers like him, the Hindi film world is slowly getting a lot more interesting with a lot more texture.  And it's all happening just in the past few years!  This could be the future of producing, small films helped along by small dedicated production houses.
Nil Battey Sannata (2016): The sleeper critical hit of 2016.  Not an aggressive depressing different kind of story, but a small story that people fell in love with.  Featuring a first time female director, and a female lead with the experience to carry a film but no big name.  And with the money provided by Eros as distributor, while Aanand simply served as matchmaker between the filmmaker and the financing.
(Right from the poster it is something different.  And Eros gets the big name and branding, Aanand is happy to let his "Colour Yellow" hide among the rest)
Happy Bhaag Jayegi (2016): No big names, no big story, just a light romance with a soft touch.  And again, Aanand was the matchmaker, bringing in Eros to help with the funding after the director came to him with the story.
Shubh Mangal Saavdhan (2017): The thing about Aanand L. Rai is that you don't even notice he made the movie, because his voice is so hidden.  All of his films are good, and feel like they are about real life instead of some filmi fantasy.  But that is all they have in common, otherwise it is the voice of the individual director and story which is strongest.  In this case, a Tamil remake directed by the same man who made the original.
Maneesh Sharma
And to end, with what might be the other future of producing, large production houses with dedicated members to shepherd small films.  Maneesh is something totally new and different.  A director/producer, that isn't unusual.  But what is unusual is that he is a producer who works for a larger production house.  Aditya Chopra delegated finding and nurturing talent into films to Maneesh.  After first training Maneesh for years and helping him direct and write his own films.  There is still that unique touch, Maneesh is still there to help the film into being and discover it, but he is not on his own in this, he is doing it as part of a larger piece of machinery.
Dum Lage Ke Haisha (2015): Maneesh's first film as producer.  The studio found the stars, and the director found the story.  But Maneesh was there to coordinate it, to provide that experienced touch and mentorship that made it a success.  To help with decisions about the films look, the music, to serve as a sounding board.
Meri Pyaari Bindu (2017): A flop, but a savvy flop. The promotion idea was good, the release was small and smart.  That's on Maneesh.  He saw the idea wasn't working and he found a way to make it work, instead of just letting it come out based on how the director felt about it.  He provides that balance and controlling touch that is missing in too many productions (Fitoor !!!!!!!!notice that Siddharth Roy Kapur is not on this list, he is NOT good at spotting talent and controlling productions).
Hichki (2018): Maneesh is so new that his next film hasn't even come out yet!  But there are already some interesting things about it.  First, Aditya made the (probably smart) choice to put himself at one step removed from his wife's film, he is not the one approving budgets and sitting on set watching the director, that is Maneesh.  Second, the way the filming process and plot was kept totally secret, the rumor that it was an astronaut biopic allowed to spread with no comment, and then the trailer released on time and giving the first hint of the plot, that is excellent management on Maneesh's part.  Third, that it is based on a true story sort of and the rights were legally acquired, all nice and tidy, that is good management too.  And fourth, just announced today, that the release has been moved forward a month in order to take advantage of the end of exams.  Probably a smart move, and done with plenty of warning in an orderly fashion.