News round-up part two!  Which I wrote at the same time as part one, but I wanted to post them separately so you didn't have to dig through the comments to find the topic you were interested in.  You can comment here on these stories, and on the other post on the other stories.
Ranveer in Another YRF Film
Speaking of YRF, Ranveer is being brought back to the fold!  At the same time Adi is trying to kill the star system by bringing up the director, he is still working within it.  Ranveer was a YRF discovery and Adi can still call in his favors to grab this hot young star for a YRF project.
In terms of Ranveer's career, this sounds like an interesting choice.  Right now he's got the total masala action movie with Rohit Shetty (title keeps changing) lined up next.  And a Zoya Akhtar film, which probably means a more toned down version of himself and a more clever wordy kind of film, similar to Dil Dhadakna Do.  That's exciting.  And now he has his 3rd film, Faujia, with Yash Raj, in which he supposedly plays a Sardaar for the first time.  Based on the title, presumably it will be an army film.  So, over the top masala action, relationship dramedy, and then (possibly) serious army action film.  A real nice variety there, and all of them scheduled for the next 18 months.  After giving up years to Sanjay Leela Bhansali, Ranveer is finally hitting the ground running.
(Adi and Ranveer also seem to have a real good personal relationship, of the kind Adi doesn't have with many actors)
Aanand L Rai Productions Keep Moving On Up
Another interesting production/studio changes story.  Aanand L Rai productions has supposedly signed to work with Rajkumar Santoshi.  What I find fascinating about this is that in terms of status in the industry, iconicness of films, and longevity, Santoshi is at a much much higher level than Aanand L Rai.  But Aanand has proven, in just a few years, to be such a superior director, that this news is being reported as "Aanand L Rai works with Rajkumar Santoshi" more than "Santoshi rumored to be starting new film".  A strong sign of the rise of the producer over the director, even if the star is still on top of the heap.
Adi Sends Hrithik and Tiger's Film Back for Re-Writes
YRF again!  They have greenlit a film to star Hrithik and Tiger, directed by Sidharth Anand.  This is not the kind of film that Adi is going to leave to Maneesh Sharma or anyone else to supervise, he wants a personal hand in it.  Hrithik is big enough, and presumably the budget an ambition is big enough, that it needs that special Adi touch.
And because of that, filming is delayed.  Or rather, hasn't even been scheduled yet.  Adi has the script from Sidharth, but has sent it back for revisions and rethinking, and in the meantime Hrithik and Tiger will keep working on their other projects and won't even think about starting scheduling.
Again, this is a "delay" that doesn't really feel like a delay.  Like, before films were announced so early, we wouldn't even know this film was on the horizon yet, not until Adi okayed everything and filming started.
One thing I find really interesting about this story is that it is Sidharth that has been sent back to work on his script.  I assume, like usual, that the script was a collaborative process, with dialogue writers and story writers and all.  But the ultimate responsibility still rests with the director, not anyone else.
Oh, and Sidharth previously made Salaam Nameste, Ta Ra Rum Pum Pum, and Bachne Ae Haseeno for Yash Raj.  So he's got a mixed record with them (two hits and a flop) and I can see why Adi would be cautious and looking for warning signs.
(Although he's got a perfect record of great soundtracks, I'm already excited to see what he comes up with for Hrithik and Tiger to dance to)
John Abraham's Next Rescheduled
Tiny news story here, John Abraham and Diana Penty have a film coming out, which was supposed to release alongside Anushka Sharma's Pari, but now has been rescheduled to release on April 6th. Not because the producers KriArj were worried, but because John Abraham who has a production stake in the film was personally worried.
So, first, good sign for Pari!  If it's got other films running scared.  Second, this kind ties in all the other stories from today, going back to that first one.  KriArj films as a growing production house with multiple productions doesn't care so much if one film flops.  That's the new reality we live in, producers no longer live or die film to film.  But John Abraham does, that sort of "thinking about maybe casting you" industry potential is what he will lose if his film does badly, just like Imraan and Aditya Roy Kapur lost out on Milan Talkies after their flops.  And the only way to protect his status in the industry is to make sure he has a voice at the producer's table.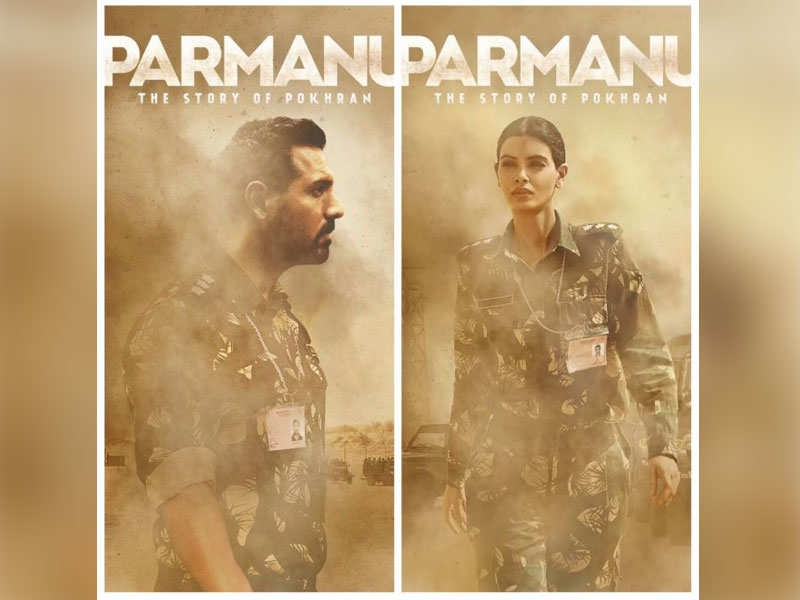 (Oh, and here's the poster.  I continue to be happy that Diana Penty's career is taking this nice modest path.  We need solid actresses in smaller movies!)
Sui Dhaaga Starts Valentine's Day
Another production story out of YRF!  Sui Dhaaga, the Anushka Sharma/Varun Dhawan film, has announced it will start filming on Valentine's Day.  Specifically, Maneesh Sharma (the producer) has announced this.
See, this is why Adi trusts Maneesh!  He coordinated the soft publicity of showing Anushka and Varun's chemistry, and then publicizing how they are learning to sew.  And now a new nice soft little story, making a point to mention the Valentine's Day date is related to the content of the film, which will be a romance.  We aren't getting overwhelmed by details or a barrage of trailers and promos, but we are getting enough to make us interested in a slightly unusual way that will get us talking.
Second, I find it interesting that while Adi felt the need to be personally involved in Sidharth Anand's Hrithik movie, he is pretty hands off on this one.  Probably a sign that this film will be one of the simpler smaller budget YRF films, while the Hrithik film is going to be big.  And also a sign of the clout Hrithik still has in the industry versus Anushka and Varun.
Sanjay Dutt Biopic Delayed, Renamed (Again)
Final story!!!!  Sanjay Dutt biopic is, shockingly (sarcasm), delayed again!  And possibly renamed (again).  It has now gone rapidly from Sanju, to Baba, to Dutt.
And rumor has it that the delay is due to the same difficulties of a biopic about and involving many living people who work in the film industry, while still making an honest involving story.  Specifically, it's the romance.  According to a "source" quoted by BollywoodHungama (if it's in BH, you can be pretty sure it's a purposeful PR plant, not just a rumor):
Raju wants to reshoot some portions. There are several episodes from Sanjay Dutt's life that have not turned out the way they were planned. He is also not happy with having to gloss over Sanju's love life….It started off as a no-holds-barred honest and brutal look at Sanjay Dutt's life. It's not that anymore.
As I imagine it, which could be wrong, they started with a script, and then as they were shooting and leaks started and people called up and put pressure, they kept compromising and compromising until the original script disappeared into nothing.
You don't have to think hard to find who would have problems with even the most respectful version of events.  Madhuri for one, who has consistently denied or not commented on the rumors that she was involved with Sanjay during his drug period before his first wife died.  Tina Munim-now-Ambani who possibly also had a romance with Sanjay, and was his co-star in his first film.  Heck, even Rhea Pillai, his second wife, who is still a part of the film community might have issues.
What's really interesting is that out of all the controversies in Sanjay's life, a life which touched directly all of the most powerful figures in Indian history from Indira Gandhi to Dawood Ibrahim, it's the filmi love affairs that are getting the film into trouble!!!!  Maybe because that was the one area they weren't expecting?  A personal look at Sanjay's life could easily avoid direct reference to politics or crime (not cut it out entirely, but just imply it through seeing his side of phone calls and stuff like that), but can't avoid entirely the women he loved and lost.