Happy Monday!  So much news to catch up on!  For instance, Amitabh went to the hospital, which is always an exciting experience for the international news media.  Poor Amitabh, can you imagine if every time you went in for a routine procedure, your picture was headlines everywhere in the world?  So stressful!
Amitabh and Aditya Chopra the Control Freak
Amitabh went to the hospital for a routine check-up, but this made the news a) because anything Amitabh does is news especially if it might mean his very fragile health is affected, and b) because photos of him leaving the hospital showed a strange mask over his face.  See: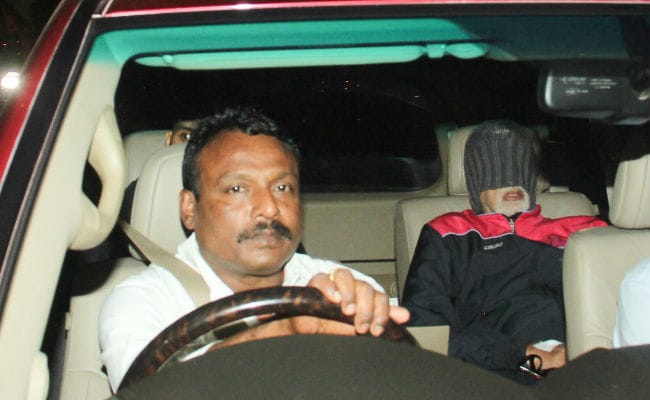 (Is that Abhishek's eye peaking from behind the driver?)
But now we have an explanation!  Apparently, Amitabh is under strict instructions from Aditya Chopra not to reveal his "look" for Thugs of Hindostan until the time is right.  So, first, confirmation again of the high level of involvement Aditya maintains in Yash Raj films, even if officially someone else is directing them.
Second, confirmation of the almost OCD way that Aditya is about the tiny details of everything.  Which reminds me, have I told you about my Veer-Zaara wall hanging?  I got it from a friend-who-shall-remain-nameless, she got it from her local movie theater after she went to see the movie over and over again and begged and begged.  But the movie theater told her she had to promise not to talk about it, because they were supposed to send every single poster back to Yash Raj after they stopped showing the film, so the only way they could give it away was to lie and say it was destroyed.  Which, from my experience of working at movie theaters, is NOT NORMAL.  Most studios don't care what happens to their posters once they are sent to the theater, even the big wall hangings.
Anyway, now every time I look at my wall hanging, I have this image of Aditya Chopra wandering the warehouse counting and recounting going "where is Veer-Zaara wall-hanging #123679?  My collection is incomplete!  My numbers don't add up!  All of life is a veil of sorrow!"  And the fact that he makes Amitabh Bachchan wear a mask when leaving the hospital as part of a very calculated pre-film release strategy just makes this image stronger in my head.
Two awesome women team up!
This is just an announcement story, but it is very cool. Ashwini Iyer Tiwari, the director of Bareilly Ki Barfi, announced a two film deal with Ekta Kapoor.  Most importantly, this is being announced as a partnership between Ekta and Ashwini personally, NOT Balaji Films.
This is what I have been waiting for!  Ekta's instincts made her the top of the TV field as a teenager, I don't know why she kept trusting other people to run her film division instead of taking a personal hand in it.  It sounds like she is now, finally, running things personally and her first step is to pull another powerful woman with a creative heart and a business head (remember Ashwini was the most successful woman in advertising in India before she quit to make films) as her partner.
Anupam Kher in NBC Series
First, yaaaaaay!  A doctor series that finally has a desi doctor in it instead of pretending all our hospitals are staffed by attractive white people and troubled Black people!
Second, Anupam continues his slow slide into the mainstream in America.  Not directly into the mainstream, but sort of sideways through character roles and so on.  In this case, sounds like he will be a small part as an aging wise old doctor.  But still, broadcast television!  That's definitely A Thing to be proud of!
Sonam Kapoor and Sonakshi are Classy
Sonakshi on some talk show was baited into saying that Sonam had been rude to her at one point.  Which could have turned into a never ending media cycle, but instead Sonam immediately took to twitter to apologize if she ever gave unintended offense, and Sonakshi apologized back saying it was no big deal, you know how those talk shows try to trick you.  And Story Over.  I mean, the two women could secretly still hate each other, but they are savvy enough to know that public feuds are ultimately destructive.
Two things: first, this is Part the Thousandth in the continuing series of "Sonam models how to be a good feminist in the world".  Rather than turning it into a whole thing and claiming offense for being blamed for being outspoken, or blaming Sonakshi for tearing her down, or any of that, she immediately took to a semi-public forum to apologize and claim responsibility and build them both up as woman working together.
Second, this is the best possible way to use twitter!  They are talking directly to each other, not sending messages through the media, but doing it in a way where there is a public record of what happened so no one can try to start it up again or claim the conversation never happened.
Manikarnika Protests Over
Speaking of outspoken women, Kangana's Jhansi Ki Rani biopic is back on track.  As expected.  The Brahmin group has backed off saying that it was a "misunderstanding" and they thought that Kangana's character would be shown having a romance with a British officer, that's why they were protesting, but now they have met with the filmmakers and learned that is not the case, so no more protest.
All of this translates to me as "they were paid off".  Feel free to disagree, but when a protest appears out of nowhere, and then suddenly disappears post a meeting with the producers, it just seems like the most obvious answer.
Imran Khan Has a Job!
So, the Aamir Khan Khan Family is apparently spinning the last few years as "extended paternity leave".  Uh-huh.  Now that Imran's "paternity leave" is over, he kind of would like to work again!  And coincidentally, his uncle Aamir thinks he would be just perfect for a role in his Mahabharat.  I am sure Aamir had an open casting call, carefully considered all options, and then decided that his out of work nephew is the best choice out of all the actors in all the world *sarcasm*.
I wonder who Imran will play?  Can you see him as ANY of the Pandavas?  I just keep picturing him wandering through epic battle scenes in a hipster t-shirt playing on his smart phone.
(NO!)