There are two reasons I want to write this post.  First, I'm concerned that my fandom for Shahrukh may be seen as blinding me to his flaws and thereby lowering the power of my analytical voice in general.  Second, I'm concerned that there is a growing chorus of criticism of things that are NOT his flaws which are obscuring the real problems in two areas: his issues as a representative of women in India, and his issues in selling the audience on his recent films.  This also, by the way, doesn't mean that I think he is a bad actor or a bad person, it is just pointing out that I am not blind and aware he does have faults.
To all Shahrukh Fans: The first bit of this will be nice, the middle bit will be hard, but then I bring it around again at the end, so make sure to keep reading until then.
To all non-Shahrukh fans: the first bit may seem defensive, but keep reading to the next part. And notice that the ending doesn't completely exonerate him.
I want to start by addressing the things which are not problems with Shahrukh, but which are somehow becoming accepted "common knowledge" about him.  I want to get them out of the way first, so that any readers know why I am not addressing them as particular flaws for his career.  And also to clarify my position, and I think the position of a large number of self-indentified Shahrukh "fans" which is not that he is flawless, but that his particular flaws are not being addressed in the talk about him, rather unrelated issues are being brought up in an unproductive manner.
Let me take a step back and talk about productive versus unproductive criticism.  Unproductive criticism is either merely pointing out flaws without guidance towards a solution, "you are stupid" versus "you are incorrect in this one way which is related to a particular flaw in your education and here is the book that will fix that".  Or it is criticism that is just plain wrong, like when Vice-President Quayle corrected the kid who had spelled "potato" correctly.  Which is not only not useful to the child, it makes it harder to correct him when he IS wrong, because he will not listen to you any more.
(This is not wrong, this is a joke they are clearly both laughing at because the idea of him actually hitting her or her actually being afraid of him is so ridiculous)
There is a whole heap of unproductive criticism of media swirling around in the world today.  It's kind of the WebMD problem, everyone thinks they just need a little bit of knowledge to diagnose a problem, and the internet makes it dangerously easy to get that bit of knowledge.  And so bloggers and writers and all sorts of people misdiagnose a problem, either say criticism that is just plain wrong, or is merely useless.  And the readers of these articles, excited by something that feels like it is articulating something similar to what they feel, run with the concepts without interrogating them.
This is especially dangerous in terms of Indian film stars because there is so little criticism of them of any kind.  Obviously, they are not perfect unbreakable people.  And the general public knows this.  So the relief of reading any kind of criticism can be mistaken for a gut feeling of "truth".  Rather than taking a moment and judging whether this particular criticism is accurate, or if it just feels true because any criticism at all is exciting.
(This is disturbing, a girl less than half his age laying on a bare bed while he sits joylessly not even looking at her, implications of sex slavery and sex trade and blech!  But if you critique this photo and the first photo together, it weakens your critique of something that is a problem by lumping it with something that isn't)
The first strand of inaccurate unproductive criticism that I see floating around related to Shahrukh today is that his romances are regressive, his characters "harass" the heroine, and so on.  This is not wrong, but it is also not accurate and therefore not useful.
Let's start with the idea of representational versus aspirational media.  Representational media is saying "this is the reality on the ground today and we are showing it".  Aspirational is saying "this is the ideal and we are teaching you how to be".
It gets very tricky drawing a line between the two in terms of social structures and stereotypes.  In American film, are you showing a working class African-American man because this is the class they have been forced to occupy through generations of systemic oppression?  Or are you showing a working class African-American man because you believe that is the level all African-American men should be at?  There is no one answer for this, it is something that must be looked at closely and on a case by case basis.  Media from every society requires this same discussion, because every society has the systemic oppressions which are either reflected or reinforced by their media and you cannot give a simple blanket rule for figuring out if the media is reflecting or reinforcing.
In Indian film lately there have been soooooooooooooooooooooo many articles about romances in which a man pursues a passive (or fleeing) woman and therefore are anti-feminist.  But here's the thing you need to look at film by film, is the woman passive because her character is being considered an ideal of Indian womanhood, a model for the audience of the perfect passive woman, or is she passive because she has been trained to be that way against her natural instincts, reflecting the systemic oppression of women?  Because that question also relates back to the boy's behavior, is he being aggressive because it is the only way to break through her reserve, or is be being aggressive because he enjoys her fear.
Shahrukh's movies have been a mixture of the two, as have all Indian film romances since forever.  Remember Awara?  The ur-romance of Indian film?  In which Raj Kapoor slaps the heck out of Nargis in order to "punish" her when she stepped out of line?  In response to which she literally falls at his feet?  That was definitely not Raj trying to break Nargis out of systemic oppression, but rather shoving her back into it.  The same thing Aamir did by threatening rape to Madhuri in Dil, Shahrukh did when slapping Divya Bharti in Dil Aashna Hai, Salman did when attacking Manisha Koirala with a whip in Sangdil Sanam.
(Look at this scene, in which Dharmendra's character is molesting Hema Malini's character, and Dharmendra was molesting Hema in real life as well, paying off the cameraman to force reshoots.  I'm not saying in context that either molestation is a serious problem, but if you are talking about Indian films, it has to be acknowledged that this kind of aggressive male flirtation is almost always present)
So, yes, sexual harassment and violence in Hindi film is an important conversation to have.  But it is not a conversation that should be limited to Shahrukh Khan movies, or even films of the 90s.  And it is not a conversation that should be expanded to all films equally.  Shahrukh slapping Divya for daring to offer him her sexual favors in Dil Aashna Hai is not the same as Shahrukh teasing Kajol in DDLJ.  One is a moment of violently putting a woman back in her box, the other is a moment of aggressively trying to drag a woman out of the box that society has put her in and where she does not belong.  Both of them are patriarchal, in that in both cases Shahrukh/the hero is saying that he knows what is best for her.  But they are a very different flavor of patriarchy and putting them next to each other makes the over all argument useless.
And this is what is happening over and over again, rather than addressing the larger long history of aggression against women with the purpose of forcing them to fit a female ideal in Indian film, and that concept of the female idea being the actual problem (research generally shows that small moments of violence have less effect on teaching the audience than larger normalization of social ideas) there is a smaller purpose being served, of pointing out that aggression against women exists in Indian film (no duh!), and, sometimes, the blame for that is being put on Shahrukh as a single film star and his body of work as a single subset.  Which makes it unproductive criticism, both failing to address the larger issue (this violence is part of a general effort to present an ideal version of womanhood and give permission to the patriarchy to reproduce that version by any means necessary), and being just plain wrong (Shahrukh's filmography, or even just expanding it to all the films of the 90s era, is no worse than any other star, or any other era, this is an issue of all Indian film, not just one man and one time).
But, that doesn't mean Shahrukh is perfect and has nowhere to go to improve in how he relates to women both on and offscreen!
Shahrukh and feminism: Shahrukh is patriarchal in how he treats woman.  Both in film and in life.  In a very nice way, he wants them to be happy, he wants to "help" them, and so on and so forth.  But there is still an attitude of women as delightful pets that he cares about and needs to help.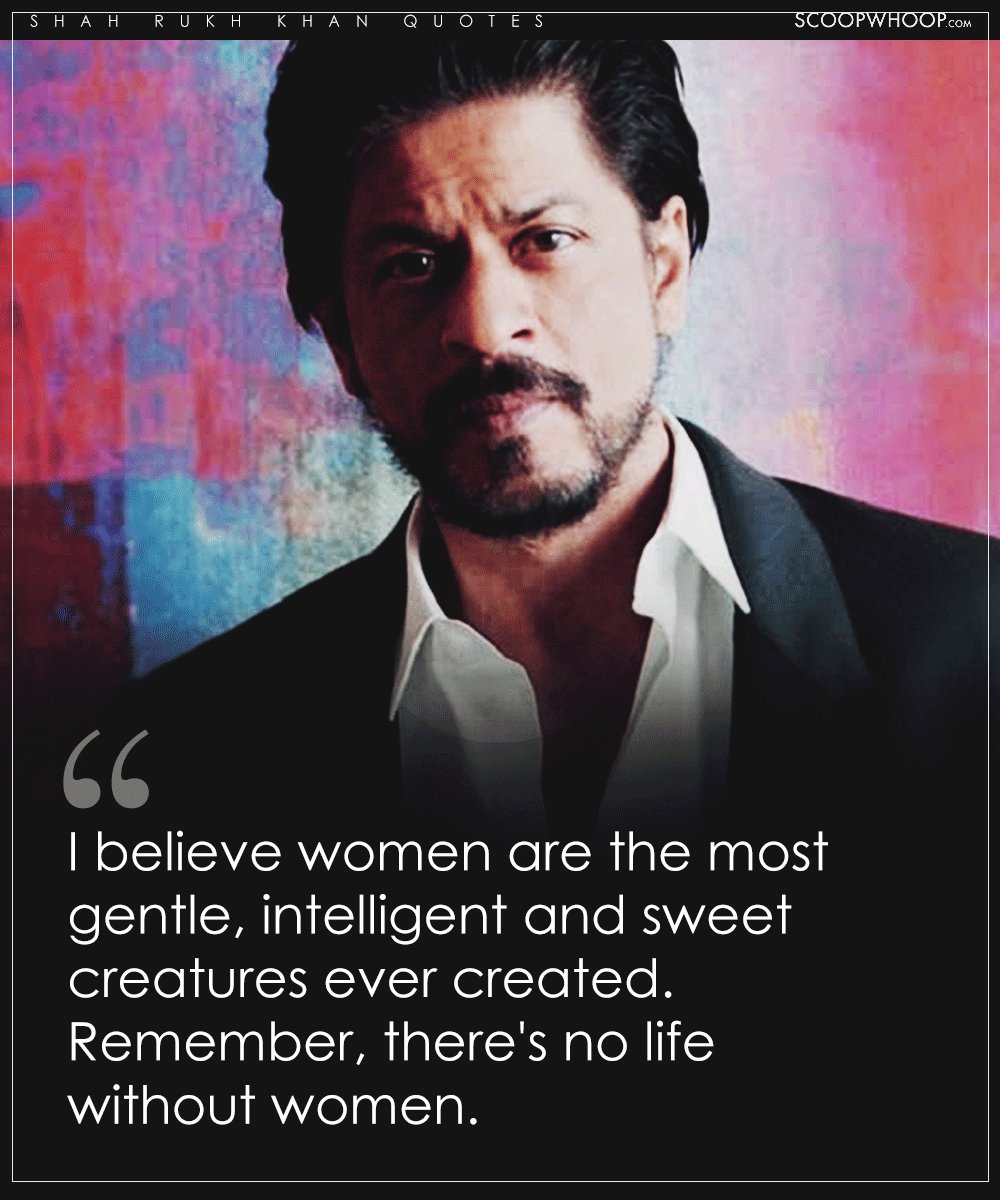 In the best version, both of film and of life, this help is provided with the larger understanding that he lives within a patriarchal society and within that society there are truly certain things only a man can do, so he will use the power (that he wishes he does not have) to help a woman achieve equal power.  And he will use his power in an extremely limited way and only as it is specifically needed in the moment.
This is, for me, why his character in DDLJ is in fact so delightful.  Rather than following Kajol around and constantly doing things for her, he treats her as an equal the majority of the time, teasing her and baiting her.  It is only in very limited moments that he asserts his power as a man to help her with situations she truly cannot handle as a woman raised in a very restrictive household.  To treat her with more courtesy would, in a way, be patronizing her.  He treats her no more or less well than he would treat a man he was traveling with.  The first half of DDLJ has no problems for me, nor does most of the second half, there is a reason for all their bickering scenes there, it reminds us that they are equals even if it is Shahrukh's plan driving them.  Yes, the ending is a problem, because of all the "I trust you more than myself" kind of language and actions.
The same problem appears magnified in Chennai Express.  Which culminates in the final scene in which he gives a long speech while Deepika is silent, about the decisions he has made for her own good.  He is trying to help her, and I don't even disagree with his decision (to return to her father and confront him over his wrongful treatment of her), but he is still doing something for her that she should be allowed to do for herself.
There is a similar problem with his public feminism.  He frequently says things about women being "better" than him or "harder" workers and never complaining about it.  About how his wife and sister and daughter have taught him things and "brought him up".  It sounds, frankly, patronizing. We (women) don't have the responsibility of teaching you to be a better feminist.  You aren't some infant that we need to "train", you are an adult person with your own judgement.  And your actresses should have the right to complain if they are working harder than you and being unacknowledged, not complaining is not an additional value to add to the list.  Most of all, you should not be out there saying "this is what I have learned from woman", but rather "this is what the world is as any thinking person should know, male or female".
Both in life and in film, the changes that need to be made are not small things.  It's not about a word here or an image there.  It is an overall attitude adjustment.  The next Shahrukh romance film should not be about him loving a heroine from afar and gently supporting her in all her desires until she realizes at the end that she loves him back.  It should be about him and the heroine, as equals, battling towards a mutual understanding.
Shahrukh has come close before.  Part of the reason the end of Chennai Express felt so jolting was their relationship had been primarily one of equals up until that point.  If Shahrukh had fallen asleep in the car and Deepika had been the one to drive them back to her village and confront her father, it would have felt more true to the rest of the film, in which they argued and fussed and Shahrukh was childish and selfish, and Deepika dealt with her own problems.  Part of the reason his angry confrontation with Kajol in Dilwale felt so cleansing was that, for the first time in their relationship in that film (or in many of their other films) he was being petty and angry with her instead of treating her with kid gloves, and she wasn't scared off, she was angry right back.  Part of the reason Darr and Anjaam were exciting at the start of his career is because he fought the heroine with no holds barred and she fought back the same way.  If only that energy was present through out his onscreen persona, and even his public one, instead of getting sapped into pablum of women being "special creatures".
He does the same thing in public appearances, treating women as less than equal.  It is hard to see, because he is very sensitive to others and knows exactly how to charm and flirt to make you feel like you are getting what you want.  Especially with female interviewers.  It's pleasant to watch and, I am sure, pleasant to experience.  But it is also a little insulting, to treat women to his charm and wit and a little flattery instead of seriously responding to their questions.  And, just to be clear, it is NOT sexual harassment, I have never seen anything that made me think he was flirting in a way the woman didn't want.  Interviewers know that a flirtatious fun interview will get them more views than a boring one, they are happy to go along with it, and of course he is always able to flirt in such a way that it is pleasurable for all involved.  But it is insulting if you think about it, that he consistently treats women as "special" rather than as equals, brushing them off with a little bit of charm instead of the truth.
That's what was so exciting and also frustrating about his Hardtalk interview.  For once he was facing a female interviewer so aggressive that she forced him out of his usual charm and fluff answers.  But her questions were a waste of her aggression.  Rather than asking him the hard questions, like "why did you slap your female co-star in your very first film?  How did you justify that at the time, how do you justify it now?" she did not even know enough to be able to pin him down to a particular film.  Rather than asking "you say that you respect women because your daughter and sister and wife have taught you that, are you saying it is women's responsibility to teach men to be feminist?" she just let that pat answer go as though she wasn't even listening to it.  Shahrukh didn't give her the charm like usual, but he did still give her the usual fluff answers, because there was no substantive answer to the questions she was asking.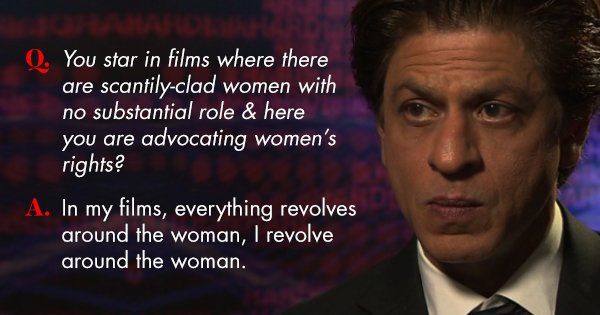 (He gives a fluff answer here because there is no serious answer possible to her ridiculous obviously false statement/question.  His heroine's do have substantial roles and don't dress scantily.  There are still problems, they may still be punished by the narrative for their strength, or end the film bowing down to worship him, but that's not the question she is asking.)
So, that's Shahrukh's own unique individual feminist issue.  Separate from the overall issues of Indian film.  He is paternalistic, he is patronizing, he gives soundbites and charm instead of treating women as equals, both in his films and in public appearances.
Now, here is why I can see all of this and still be his fan.  First, in terms of his films, his particular "I worship and serve you and take care of you" version of less equality is a bit of a counter balance to the reality of many women that they spend their lives serving and worshiping and taking care of men.  It's still not equal, but it satisfies a need and supports some women who are struggling with their lives, so it's not that bad.
And secondly, in terms of his personal life, Shahrukh may not talk the talk, but MAN does he walk the walk!!!!!!  In the era of #MeToo, we have seen over and over again that the most perfect public feminist man can still be a total scumbag in what they actually do in private.  Saying the right thing is important as a public figure, yes.  But DOING the right thing is, to me, more important.  Both on an individual level, and as a public figure.  He can flirt with all the female reporters he wants, so long as he keeps showing by example the best way to lead a life as a man in a gender inequal world.
Shahrukh gives equal pay for equal work to his female employees.  He has never had even a hint of a suggestion of a rumor of abuse of any kind towards a woman (no, a consensual affair with an adult female costar is not abuse).  And in the place where he is actually a "patriarch", his own family, he never enforces his patriarchal authority.  His wife can do and wear and be whatever she wants, and so can his daughter.  And so can his sons.  He says the things he knows people want to hear, doesn't push his public statements or film roles out of the comfort zone for the public, but that doesn't necessarily mean he believes in them.
Here's a simple example from his last Koffee With Karan appearance.  Karan cheekily asked him what he would do if someone kissed Suhana (after setting the stage by suggesting he is an over-protective father who "stalks" her) and Shahrukh said "I would rip his lips off".  Which is the quote everyone liked and repeated and ended up everywhere, because it's what we want him to say.  But then if you watch the episode, Shahrukh immediately backed off, acknowledged that he was just saying that to say it, he is sure Suhana will date whoever she wants to date and he, her father, really has no right to have a say in the matter, beyond hoping that both she and the boy will be respectful of her parents' rules for her.
The initial statement is the fun soft patriarchal feminism we like, non-threatening and familiar.  The clarification (which no one quoted) is a lot more complicated.  He's not saying that he doesn't care who or how his underage daughter dates.  But he's saying that ultimately he trusts her and, within the limitations he and his wife will jointly set as parents when the time arises, she can do whatever she wants.  He is asserting his (rightful) authority as the parent of a child, but not as the father of a daughter, or as a man in a patriarchal society.  If you asked Gauri the same questions about who and how Aryan could date, she would almost certainly say the exact same thing, it is his decision so long as he and whoever he dates respect the rules his parents have set for him.
This is perfect equality, this is the goal, and Shahrukh has achieved it in his personal life and in his corporation, just not in his films or his usually fluffy quotable interviews.