Did you think I put up my traditional Good Friday "Hot Jesus" post and forgot my Jewish readers and Passover, on the very same day?  I would NEVER!!!!  And so a second TGIF post, based on the Ma Nishtana, the 4 questions part of the Haggadah, the instructions on how to properly celebrate Passover.
Just realized this kind of only makes sense if you already know the Exodus story.  The Jews were slaves in Egypt.  They wanted to not be slaves (obviously).  Moses, their leader, went to the king of Egypt (who was also his foster brother) and asked for their freedom and warned that a series of plagues would come to the land until they were free.
The final plague, the worst, was the death of every first born son in Egypt.  Except for the Jews, because they put a cross in lambs blood to mark their doors and the Angel of Death "passed over" their houses.  Thus, "Passover".  And after this terrible night, the Egyptians finally let them go.  So the Passover meal celebrates all the years of slavery, the end of it, and the final freedom now enjoyed.  And the story is told through the series of questions asked by the youngest person present.  And I am going to help you remember these questions, but putting them in the form of movie images!
Each question begins, "Why is this night different from other nights?"  A very tricky question to represent in image form!
But this "Knight" is different from all others, because he got to be in a movie with Amitabh Bachchan.
This "knight on shining motorcycle" is different from the others, because he is Jewish
And this "night" is different from others because it features Nagina, one of the biggest Jewish stars of Indian film, seducing Raj Kapoor.
Next question!  Or really, the first actual question since "why is this night…" is just the prologue for them all.  "That on all other nights we eat both chametz and matzah, on this night, we eat only matzah?"
Matzah is, of course, unleavened bread because the Jews fled Egypt so quickly they did not have time to allow the bread to rise.  Now, how to represent this visually?
Well, there's this:
Also unleavened, dosas!
Now, John and Varun's famous breakfast, that had all KINDS of leavened yummy stuff there.  Yet another way it is forbidden and tempting.
Next question! "That on all other nights we eat many vegetables, on this night, maror?"  Maror is bitter herbs, so that you remember the bitterness of slavery.  Hmm.  Bitter herbs?
Well, there's this:
And this:
(WHY???  Really?  Is this a thing?)
And this.  From I think Chocolate?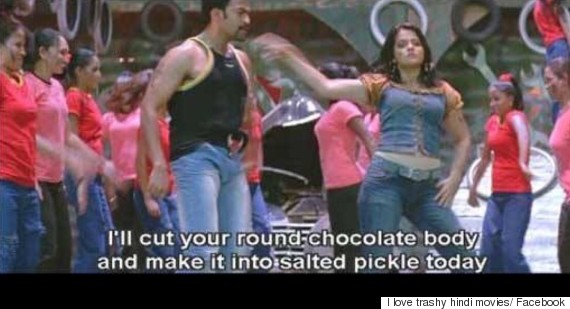 Next question! "That in all other nights we do not dip vegetables even once, on this night, we dip twice?"  The answer of course is to dip in salt once to remind us of tears, and dip the bitter in the sweet to remind us of the sweetening of our burden.
Dip once
Dip twice
Dip once
Dip twice
Dip once
Dip twice
Final question! "That in all other nights some eat sitting and others reclining, on this night, we are all reclining?" The answer, because only free people could recline in Egypt while the slaves stood.
Reclining
Reclining
Reclining
There!  Wasn't that a nice painless way to learn a little bit of history and religion?  As a reward, here is our nice ethnically Jewish Hindi movie star to congratulate us on how well we did: