Those noble souls with cell phone cameras and twitter accounts, they are the real heroes!  Making us feel like we are there partying with everyone else.  Only, less hot and drunk and vaguely tired.
Totally out of place photo I have to include first, Arjun and all 3 sisters!  With a look on his face of either "I've been up for 24 hours putting this wedding together and I just want to go home" or "I can't believe I have to do this 3 more times, but more so since I will be the primary brother" or "OMG, all my sister's are gorgeous and I have to somehow protect and support them all!"  Anyway, it's cute.
Now, PARTY PARTY!!!!  So far as I can tell, there are 3 keys to having an AWESOME all night rock out super fun talked about for years wedding reception:
Hire a great DJ who only plays bouncy stupid dance songs
Lots of alcohol
Make sure your father is Anil Kapoor, Most Energetic Father of the Bride Ever
So, it's hopeless, none of us will get to have this experience.  Unless Anil is open to adopting grown women?  At least long enough to host the wedding party?  I mean, my Dad's fun, but I don't know if he is unbutton your shirt-and-dance-all-night fun.
It's not just Anil, Ranveer is there too, amazing party starter.
And Shahrukh, showing off his Delhi I-can-drink-and-dance-all-night attitude
These are in mixed up order as things posted on twitter by the way, you have to track time by the progression from jacket and tie, to shirt only, to shirt untucked and half undone.
Speaking of, check out the falling apart trio of Salman, Anil, and Shahrukh, shirt tails flying in the breeze, hair undone, clearly having a great time.
Okay, this one is super cute, dragging Anand and Sonam forward for "Mujshe Shaadi Karoge" with Harsh, Ranveer, Anil, Salman, and Mika Singh (you know, an actual singer) all singing it at them.  And Shahrukh cheerfully clapping in the background.  Oh, and it definitively answers the "did Sonam change for the party?" question.  Yes, she did, into the PERFECT outfit.  That kind of big white caftan looks great on her, and she could dance all night without discomfort.  Unlike her reception line look, which was very distinctive, but also very hard to sit down in or really move at all without wrinkling.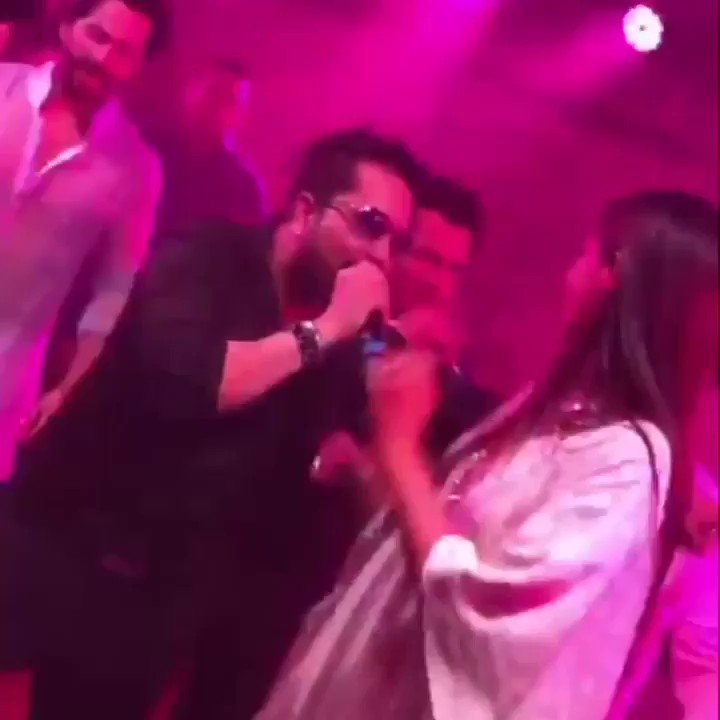 Varun's there too!  And I think that might be Shahrukh in the background, shirt now undone all the way to the waist.  Yeah, definitely a good party.  Of the "I am dancing so hard my clothes are falling off" type.
My favorite part of this video is how Shahrukh and Anil take turns drunkly falling over and hugging Salman.  I wonder if Salman, thanks to his many many many many health issues, was the only sober one at this point?
Oh man, this just makes me realize that "Chalti Ha Kya 9 se 12" is the BEST party song EVER!!!!  At my hypothetical wedding reception that Anil Kapoor is hosting for me, I am going to make the DJ play it over and over again.
Not sure if this is Harsh or Ranveer, but either way they are super excited to welcome their new brother-in-law into the family!  And yes, Shahrukh gently drawing Sonam onto the dance floor is very sweet.
Another version of the "Laila" dance!  Do you think that towel Shahrukh dried himself off with is already for sale on ebay somewhere?
Serenading Sunita Kapoor, embarrassed mother of the bride.