More photos!  And Ranveer finally makes an appearance.  Question, how horrible is it for Dips to be in America at the Met Gala while her boyfriend's cousin is getting married?  Is that like an acceptable thing for a girlfriend to do, pick a work event over a family wedding?  If the wedding is just your boyfriend's cousin?
Rani, again, looking great.  But not as great, this outfit looks ever so slightly too tight, both the waist and the top.  But the style is perfect for her, and the make up and jewelry are perfect.
Bachchan kids, looking very nice and appropriate.  They came with their Dad, but no Jaya or Aish.  Which is fair, Shweta was there to represent the female side of things, Abhi was there to escort them, and of course Amitabh was the important piece.  I forget, but Abhishek actually co-starred with Sonam twice.  Or maybe 3 times?  Anyway, he knows her.
Karisma came with Kareena and Saif, I love the skirt and hate the top.  The high neck fashion should shrivel up and DIE.
Jhanvi and Khushi look very sweet and very age appropriate in pastels.
Karan also looks very sweet in pink.  Although I really hope the venue is air-conditioned because that looks HOT.  In the literal sense.
Jacqueline looks good too, I wonder if there was a subtle "wear pink if possible" message sent out by the bride to her besties?  Or just that pink is in this year and they all know it even if I don't?
And Sonam, the perfect Punjabi bride.  I appreciate that she managed to be formal and traditional without feeling like she wasn't herself any more.  That's a lot of jewelry and henna, but she can still move and I can still see her face.
Swara Bhaskar, love the design, hate the cut.  If the neckline was just about 2 inches lower, I would love it.  Oh, but her jewelry is awesome and I want it.
Anil, very happy.  And very dashing!  My goodness, he looks better than the groom, and all the bride's brothers.  Right?
Although Arjun is looking pretty sleek.  Definitely lost a little weight, and the blue is great on him.
This is just a good photo of Ranveer.  A good photo in general too, but also the best shot I can find so far of Ranveer.  Love the white on white embroidery.
And finally, the venue!  Looks nice, I'd get married there.
Now, final section, the most "awwwwww" worthy photos!
Bride and groom smiling at each other!
Taimur!!!  He just has to show up.  Oh, and also Kareena looks stunning in pink.  If it is this year's color, she is going to have a good year.
Sister's!  Rhea helping Sonam get ready.
Junaid casually putting his arm around his stepmother.  So sweet! It kills me.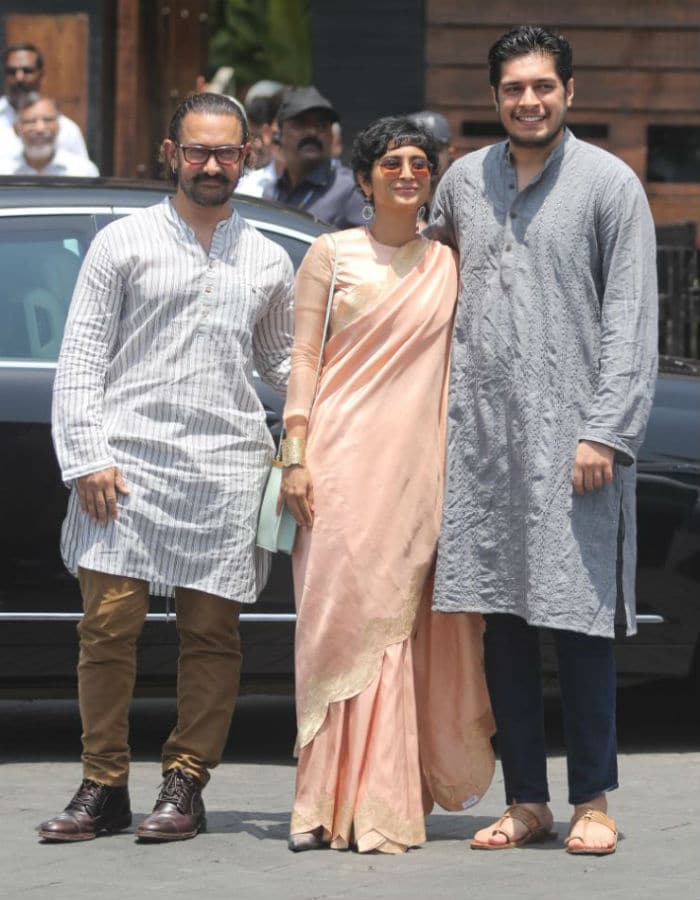 Ranveer and Arjun giving Anil kisses.  Obviously I love this.
All the many many men in Sonam's life carrying her veil.  I recognize Harsh and Arjun up front, not the others.
And of course, Ranveer and Arjun's friendship will always make me smile.
But somehow, this is the most "awwww" photo for me.  Love the way Shweta is leaning p against Amitabh.