I got very excited by this idea.  A few of these are reposts, but the really long ones are original, written just for today.  Which is why I had to do two parts, because this is much much much too long.
Kal Ho Na Ho Na Ho
We ended with Saif and Preity together, and Gia apparently a beloved part of their household and Shiv no where to be seen because no one actually cares that much about him.
So, I want to build on the idea of Gia!  Jaya has decided to spend her retirement traveling the globe (I can't kill her off again after already killing her in K3G2) and Gia is living with Saif and Preity.  Gia is out of school and working at an internship at Saif's company, but the family is too protective and old-fashioned to want her to live on her own, if she can't stay in the family house with Jaya, obviously she is moving in to Saif and Preity's big house and staying with them and their daughter.
(Oh heck, we could cast Sara)
At the internship, Gia meets someone who at first she hates, because he is irreverent and rude and makes fun of Saif, Gia's beloved brother-in-law.  But then he helps her out of a jam at work, figures out how to get the thing the big client wanted that she completely forgot about and cover for her, and she grudgingly says thank you and they start to become friends.  And, eventually, she realizes she is in love with him.  She goes to tell him, all excited, but before she can say anything, another guy shows up and he says "oh hey, here's my boyfriend, you haven't met yet".  Gia hides her broken heart and manages to get through the conversation at which point TWIST!!!!!!
Gia's guy thanks his friend who says "no problem" and then reveals he is actually a private eye!!!!!  He has been working with Gia's friend to track down his biological father.  He knows Gia loves him, or thinks she does, and he loves her too.  But he only took the internship because he knows his father is someone related to that company.  He liked Gia and became friends with her without know she was Saif's sister-in-law (she didn't want other people to know at work, so she and Saif didn't talk about their relationship).  Once he found out, he knew he had to back off.  They could be related by marriage, or even brother and sister, he couldn't risk a relationship.  The private eye apologizes, says he is working as fast as he can to figure this out.
(Amit Sadh as Gia's guy I think, continuing my quest to cast him in everything)
Gia is heartbroken and Saif thinks her guy has done something awful to her, like seduced her and then thrown her away or something.  He confronts him and it is all humorous misunderstanding, until Gia explains "He's GAY!  It's not his fault!"  Saif feels so bad that he invites the guy to the house with them all for the weekend, it's all happy but sad under the surface and you can see the guy is looking at their happy home and family and wondering if this is where he belongs.  At some point he talks to Gia and explains that his mother died when he was 8, and after that he grew up in an orphanage.  He got a scholarship to an Indian college, and finally to an American school, and now he is on track to have a wonderful life, but he still misses having a family.  And Gia admits that she could have had that life, but she was lucky enough to be adopted by a wonderful family that loves her.  The guy starts to think they could really be together, since Gia is adopted, and confuses her by looking at her strangely and lingering on her hand and all that until, finally, at Thanksgiving, Preity gives a toast about their wonderful family which also alludes to Gia's background, adopted but also the biological child of Preity's father.  And he is all confused again, makes an excuse and rushes out, only to get a call from his private eye saying they have finally found his father.
Dun dun dun!!!!!  It's SHAHRUKH!!!!!!!!  Years before he met Preity, before he knew he was sick, he had a relationship with a woman in Delhi.  It was just a casual thing, while he was in town for a few weeks, they both knew it wouldn't be anything more.  And then she got pregnant and tried to track him down, and by the time she found him, he had been diagnosed and she learned from a neighbor that he was sick and decided not to tell him about the child.  But she cut a newspaper clipping about Preity's wedding out of a New York paper because it had a picture of Shahrukh in it, and that was the clue that lead her son to this family.  The private eye is sure now, he tracked everyone involved and Shahrukh was the only one in India at the right time, he even found the neighbor who spoke to the mother years earlier.  But, in his investigation, the private eye also uncovered the rest of it, how Preity was in love with Shahrukh and vice versa but married Saif, how everyone was sobbing at the wedding, and a touching tribute Gia wrote on Shahrukh's 10 year death anniversary that was anonymously printed in the paper talking about how he was her first love to.
(For some reason this is the photo the paper chose to print)
And now Shahrukh's son is torn, TORN!!!  He can tell Gia the truth, but she might never forgive him for all the lies.  Plus it would rip open a wound for this family.  And while he is still debating it, he goes back to the family party just in time for the arrival of Saif's young cousin, a nice bright perfect young man that is clearly set up as a potential husband for Gia.  Everything seems clean and simple and happy, so he decides to keep his mouth shut and go along with it all.
Gia is now seriously doubting his gayness, or at least suspecting that he is bi.  Because they keep having these tender moments.  She pushes him for an admission of his feelings, but he keeps avoiding it, and Gia's wedding plans move forward.  She goes on a formal date with Saif's cousin, followed by a proposal, big engagement party, and so on.  And then, in the middle of it all, she picks up Shahrukh's son's cell phone and discovers that her photo is the screen saver, and that he has tons of other photos of her, he is clearly in love with her.  She confronts him and demands an answer and an explanation, pushes and pushes, and finally it all comes out.  She is stunned and doesn't know what to say, disgusted that he has been lying all this time, conflicted knowing that Shahrukh has a son and no one else knows the truth, lots of emotions.  She rushes out.  At her wedding, he is there (because she couldn't logically explain uninviting him), she is stressed, the sad music builds as the ceremony starts, and then finally she stands up and announces she is stopping all this.  She doesn't love this man and can't marry him.  Shock!  Gasps!  Horror!  She goes on to explain the whole situation, that she loves someone else and he loves her but he was hiding his feelings for the sack of the rest of them, because he is the son of a man they all loved. Only, wouldn't it be nice to feel Shahrukh's spirit is looking down, bringing them all together, once again leaving love behind now that he is gone?
Saif's cousin is a decent guy, he hands the wedding turban over to Shahrukh's son.  And, finally, the right couple gets married.
Kabhi Alveda Na Kehna Na Kehna
(reposted from this post)
There aren't many open questions left by this ending.  Abhishek is getting remarried to a woman who loves him in all ways.  Preity and Arjun are taking it slow by moving towards a romance.  And Shahrukh has proposed to Rani.
Let's just play this out a few years down the line.  I think Rani and Shahrukh will probably stay in Philadelphia.  Good for her to start fresh somewhere else.  I think there will be an adjustment period as they get used to feeling happy and loved.  And Preity and Shahrukh will both be very cautious about introducing Rani into the life of their son.
But, I think a few years down the line, when they have a routine in place and everything has settled, maybe around the time that Preity and Arjun finally get married (Preity!  You've got to LOCK THAT DOWN!!!), Rani will realize that even with a life that is happy in every way, she still finds herself craving motherhood.  After a lot of discussion, they will decide to try as foster parents.  Shahrukh will be initially reluctant, but as they jump through the hoops and get closer to having a child, he will become more and more committed.  Finally, they will get a difficult child, let's say a boy and girl sibling who were with their grandmother until she died and now have been bounced around group homes for a few months.  Rani will try to be warm and wonderful and supportive, but Shahrukh will be the one who really breaks through, especially to the boy who is all tough and angry just like him.  After a lot of struggle and anger and tears, they will finally ask they kids if they are willing to be adopted, and become their children "for real".  And it will end happily, Preity is pregnant again, Shahrukh's son with her is about to start high school and talks to his Dad on the phone every night, and at Thanksgiving they all get together for a big meal Kirron Kher cooks, Preity and Arjun and Preity and Shahrukh's son, Rani and Shahrukh, and their two kids.
(I just like the idea of Shahrukh as a stay at home Dad and happy that way)
Ae Dil Hai Mushkil Again
(reposted from this post)
The ending part of ADHM kind of reminded me of Love Story in some ways, so why not complete the parallel and make an Oliver's Story option?
(Obviously the better sequel to Love Story would be if we followed the most interesting sexiest character of the original, Ray Milland.  Way way cooler than his stupid spoiled brat boomer son!)
We pick up right at the end, Ayan leaves his interview, caught up in his memories.  He gets a phone call from his father, who asks him to come home.  His father is dying!  Which lets us explore the new territory of all the family stuff that the original film carefully ignored.
Ranbir is sad over his father's death, especially as they finally become close towards the end.  After their conversations about why his parent's marriage broke up, in his grief, Ranbir is inspired to track down his mother.  He finds her, living in an idyllic small hill station, only to learn that she is also dying.  He manages to build a relationship with her before the end, and learns more about what happened in his parent's relationship to make it fall apart.  It came apart because they rushed into it and loved each other too much but never really respected or understood each other.  Helping Ranbir to understand all these concepts is the young woman who lives with and cares for his mother, her friend's daughter who calls her "auntie", Sonam.
(Do I even need to say that Ranbir's real life parents play his onscreen parents?  Or did we all just take that as a given?)
In the end, after his mother dies, Ranbir proposes to Sonam.  But she has her pride and says that although she has grown to care for him deeply, she can't just be a substitute for the woman he can never forget, or someone to give him back the family he lost.  Ranbir goes away and starts traveling again, randomly bumping into Aishwarya.  Who is now happily re-married to Abhishek (obviously).  They talk, and he learns that while Abhishek fell in love with her, she resisted at first.  But finally realized there are many different kinds of love, and what she felt for him was different but just as strong as what she had felt for Ranbir and SRK.  With this idea in mind, Ranbir rushes back to the hill station, only to learn that Sonam is about to marry someone else.  He breaks into her room and gives her an impassioned speech about how she wants something he can't give, his love for Anushka will always be there, but he has something else to offer her which is even better.
And then it turns out he mis-understood what he had heard, there is a wedding in the house, but it isn't Sonam getting married, she is just helping the bride get ready.  And he and Sonam decide to marry and live in his mother's house and have the kind of marriage he didn't know he wanted but knows he needs.
(Do I want Ranbir to go through this same journey in real life and end up back with Sonam?  Yes, I kind of do.)
Student of the Decade
Student of the Year doesn't actually tie up that many loose ends.  Varun and Sid are friends again, and Sid is with Alia.  But Varun is still single, awesome Manasi Rachh is a stay at home Mom which doesn't seem right, and Sana Saeed still hasn't self-actualized.
What I want is that moment of coming together in the hospital to be a fresh start for all of them.  They decide to start meeting up on a regular basis instead of letting this fade away.  And it turns into an unofficial support group, they all realize that they aren't the people they wanted to be when they were in school in one way or another.  And maybe if they form a "study group", just like when they worked together in school.  Slowly, each of them admits what makes them least happy about their lives, and the others come together to help them, building up to our central 3.
First Dimpy, all he wants is a promotion to head coach.  The group helps him build his confidence until he goes in and convinces his boss to give him the promotion.  Then Sudo, he is a success at work but is still shy with women.  He has a crush on a woman at work and doesn't know how to talk to her.  The group helps him build his confidence, and then works together to help him create the perfect meet cute, and then the perfect first date.  And then Jeet, he's harder because it takes him a while to even admit he has a problem.  He keeps saying he's fine, but he is also always running around and doing things for his boss, not just missing meetings of the "study group", but telling stories about missing his kids' birthday parties and just generally being tormented by his demanding boss.  He grows through the adventures they share, ignoring phone calls and stuff like helping Sudo get a date.  And then, finally, the group pressures him and he admits that he HATES his job and he hates his boss and he doesn't know how to get out of it.  And so they save him, give him the confidence to stand up to his boss and demand to be treated better, and remind him how much he does for the company and how much he needs him.  Similarly tricky is Manasi Rachh.  She is happy being a stay at home Mom, but she also wants more.  It takes her a long time to admit that too, but after coordinating all the plans with the study group to help everyone else, she talks to the rest of them about how she is thinking she may want to go back to work.  She doesn't need their help exactly, she just needs to talk to people who know her and help figure this out.  And finally she goes home and talks to her husband, says that she wants to go back to work part time, he needs to step up and spend more time helping with the kid, and they will need to hire a nanny.  She was scared, but he turns out to be nice and understanding about it, and she gets to go back back to work.  And finally, Sana Saeed has been helping them with all of this stuff, slowly becoming more and more a person instead of the fake persona she puts on, until in the end she is surprised and delighted when Manasi asks her to join her and start an event planning business together.
(I really liked Manasi and wanted her to do more post-school)
And then, finally, the big one!  Our central three!  Varun is happy with his life as a famous musician, he says.  But he also makes time to meet up with the "study group" every week.  Sid finally confronts him about it, asking if he is still in love with Alia.  Because he keeps spending time with her and giving her little presents and stuff and talking about their past.  And Varun is shocked into confronting his own truth.  He isn't still in love with Alia, but he does want love.  He keeps looking back on their past and spending time with her because it was the last time he was in a real relationship like that and he ruined it.  He wants another real relationship, but has been running from that because he is afraid of hurting someone again the way he hurt Alia.  And so Sid first helps Varun realize that he is a different person now and he is ready for a real relationship that won't end in hurt, and then volunteers to find him the perfect woman.  Sid goes hunting through underground clubs and coffee shops, looking for a sort of rockstar chick type.  Alia starts to worry, because she can't figure out what is happening, and Sid can't tell her because he promised Varun not to.  And then Sid meets the perfect woman, chair of a rival group that he meets through work.  She is cool and confident and suggests a drink to celebrate their new contract and loosens up and talks about her wild college days before she settled down and founded her own company just to show her father she could, only to discover she actually likes business.  She's the perfect woman for Varun!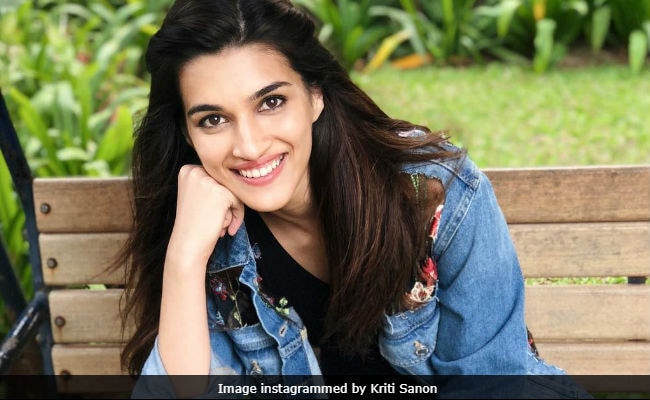 (Kriti again!  She has that nice strong but relaxed vibe)
Sid starts pursuing her for Varun, trying to arrange accidental meetings and so on.  It's more complicated than he expected, they keep just missing each other.  And meanwhile Alia is getting more and more worried.  Sid's secretary has tipped her off that he is lying about late meetings and he is spending more and more time with his "friend" from work.  After one final misunderstanding, she decides to leave him, he comes back to an empty house and a note.  Luckily, Varun shows up that night to thank him, since Varun finally met the perfect woman and realized Sid had set it up.  Varun finds Sid drunk and miserable and learns about the misunderstanding.  He goes to the study group for help getting this couple back together.
Through an elaborate plot, Sid and Alia end up back on the school campus, locked in the gymnasium together until they talk to each other.  It takes a while, but they finally open up.  Alia says that it was almost a relief to learn he was having an affair, he works so much, she thought he was tired of her.  Sid says he lost perspective, thinking she left him made him realize that none of it mattered if he didn't have her, he will work less.  And she should tell him when she is unhappy about something.  And Alia admits her own problem, her father divorced his wives as soon as they started to complain, she didn't want that to happen with them, so she always tried to be perfect and happy for him.  Especially since they learned it was her problems that were keeping them from having a child (yeah, decided to just throw that in last minute, although it would have been hinted at before, with Alia looking strained and unhappy when around children and Sid putting on a fake cheerful face when he says something about how it is "just the two of them in that big house").
The happy ending is a fake awards ceremony, they rented out the coffee shop where they have been meeting and invited all their families.  And each of them gets their own "Student of the Decade" award, for stuff they have done with the study group's support, like "Bravest former coward" for Jeet for finally standing up to his boss and "best juggler" for Manasi for being a worker and a mother.  And Varun's award turns out to be a plaque that just says "Will you move in with me?" which he hands to his girlfriend.  And Alia's says "Best Mom" with a photo of the baby Sid found for them to adopt on the back.