I watched it last night instead of Veere Di Wedding, contributing a whole $12 to the (almost certainly) very very low box office take.  I did my bit though!  Contributed to unique and unexpected art.
This is a bit of a confusing film.  Because I think the filmmakers got confused halfway through as well.  It starts out light and funny, and then slowly gets more serious.  No, not serious, angry.  Bitterly furiously angry.  And I can sympathize, I understand where that anger is coming from, it's just that it ends up confusing the film a little bit by having so much anger after such a light opening.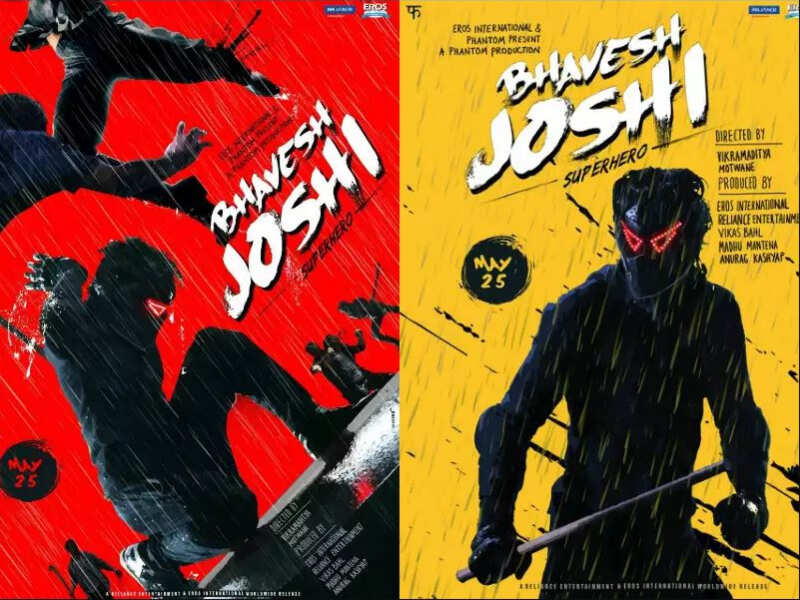 That's why I was thinking about Jaane Bhi Do Yaaro.  Jaane Bhi is a hilarious movie, almost straight through.  It looks at this corrupt broken world and laughs at it, and we laugh too.  Nothing really matters, it's all just a big joke, so smile and dance and go along.  And then in the last 5 minutes of the whole movie WAKE UP.  It's not a joke, we laugh so we won't scream, so we won't throw ourselves on the ground and rend our garments in misery at what has become of the country we love.  It's hugely effective, because it is so sudden, and because it is so small.  Like a slap in the face that sends you out of the theater suddenly awake to the world.
This movie doesn't manage that.  It has the same feeling behind it as Jaane Bhi, clever angry people who laugh because it is the only way to survive.  But that bitter furious anger breaks through a lot earlier and takes over the movie.  It goes from a clever comedy, to a fun superhero origin story, and then about 2/3rds in it hits that same peak of anger and misery and furious frustrated love for the country that is failing which Jaane Bhi only reached in, literally, the last 30 seconds of the film.  This movie stays there, at that peak, for an exhausting 40 minutes.  And then, finally, it gets control of itself and pulls back, back to the ending that fits with the original concept, back to the note of hope that superhero films are supposed to end with.  Which, as a person, I appreciated.  Because I have plenty of kicking and screaming anger of my own at the world, I need hope.  But as a film critique, I have to say it was the wrong choice.  Humor, adventure, anger, hope, these can all be part of the same movie, but they have to be mixed in the right amounts.  Anger needs to be used lightly, hope a little more heavily.
Another film this is similar to is Rang De Basanti.  And part of what makes Rang De so perfect is how carefully the filmmakers built it up.  The anger, the need to do SOMETHING, was always there, very lightly mixed in.  It wasn't such a shock when it burst out and took control of the film.  And the hope was always there too, in the background.  When it bursts out at the end, it feels right.  and it has time to breath as well, you go out feeling calm, cleansed, purposeful.  The anger has been weakened and focused.
(That need for "hope" is why they must have changed the ending.  Go to 4 minutes into this video to see the original version, you're not going out hopeful after that.  Also, I cannot BELIEVE Prasoon Joshi wrote this and then became the BJP censor board chair)
This film, I came out as angry as Vikramaditya Motwane must be on his darkest day.  And that's not good.  Anger needs hope to guide it, needs a purpose, otherwise it will simply overwhelm you.
I think this film started with that concept, the idea of the common man inspiring others.  But it lost its way somewhere, they got too caught up in their own frustration instead of remembering that nothing matters if the movie itself doesn't work.
The strange thing is, this is one of those movies where I was watching it thinking "this movie doesn't work, and yet this is some of the best directing I have seen in my life".  Moment by moment, scene by scene, it is perfection.  It is just how those scenes are put together that causes problems.  Really, the same thing I could say about Harshwardhan Kapoor's last film Mirzya.  A beautiful beautiful film moment by moment, but with something missing in how they all went together.
(Really beautiful, never seen anything like this before onscreen)
Part of what is missing is Harsh.  There is a key turning point sequence for his character in the first third of the film, the moment when he decides to be a superhero (that's not a spoiler, right?  It's in the title).  There's no dialogue to explain it, certain events guide him in that direction in a way that makes emotional sense and needs no explanation.  But we do need to be able to see in his face and his performance exactly what he is feeling moment by moment, his emotional journey to reach that decision.  And it's just not there.  Harsh is blank, unreadable.  He isn't good enough to do it, there is a hole at the center of the film.
This isn't to say that Harsh is bad.  He is perfection in the earlier more comic sections.  And there are other emotional moments that he does pull off.  Plus, he is good in the fight scenes.  And most of all, he has the physical presence you need for this role, a unique kind of presence, laidback but caring in the first bit, then calm and reasonable, and finally dedicated and determined and angry.  Harsh has a face and a body that can move through all of those beats, a kind of every man look that slowly turns into a hero.  Most of all, he's got charisma for miles.  Those few of us who actually watched Mirzya already knew that, hopefully a few more people will see this film, and eventually he will get the mainstream role he needs.  Often with these actor sons you can see how a gym body and maybe some subtle plastic surgery, and very high priced hair dressers and make-up artists, have turned them into something heroic.  With Harsh, he could role out of bed and show up on camera and you would not be able to look away.  The man is magnetic.  He just can't act that well yet.  But give him 5 years, or even 2 years, and he could handle the whole thing.  But wordlessly communicating a complicated emotional journey for your character, that's masterclass level acting, and Harsh can't do it.
Harsh's friend character is capable of this.  Priyanshu Painyuli is one to watch out for, and hopefully gets more roles after this film.  He has silent moments, and he has monologues, and he has action scenes, and he is great in all of them.  But I don't think he will ever be a star, not really, because he doesn't have that charisma.  And he's also a little too good for it, he has the best lines and best moments in this movie because he is the friend, not the hero.  He's lucky.
Harsh and Priyanshu are partners onscreen, one providing the charisma and the other the acting, and offscreen it is Vikramaditya Motwane and Amit Trivedi.  There are no straight song sequences in this movie, instead the music is woven in and out.  Similar to Amit's previous films Dev D and Udta Punjab.  He writes the spirit of the film, and the director figures out where to put it.  There is one moment, we have been watching Harsh work through his emotions while "Qasam Kha Li" plays in the background, the song is so perfectly integrated you don't even notice it, there is dialogue played over the top, and then for a moment the music stops entirely and Harsh lets out this primal scream, and the second he finishes, like it is continuing the scream, the music suddenly kicks in again on the last loudest longest version of the refrain.
(This video isn't quite the same as in the film.  The lead up is slower, more meditative walking around, and then an angry burst of words over the song, song goes away entirely and is drowned in a passionate scream of anger and grief, and then the last refrain starting at 2 minutes into this video suddenly kicks up perfectly melding with the scream)
Music and film are so totally interwoven you can go back and forth between without a break and the impact is doubled instead of halved.  Which means the comic moments are a comic peak, the angry moments are an angry peak, and the hopeful moments are a (very brief) hopeful peak.  And even if Vikramaditya chose not to end on hope, I will.