Apparently, this is going to be a story again.  So I will try to address it again.  The first time I tried, I got so much anger in the comments (by Priyanka defenders who misread it as the strawman version below) that I had to pull down the post, but maybe it will be better now.  Mostly because I will try to be more clear in my writing.
Usual Disclaimer: I don't know these people, I have no special knowledge, this is just the story as it looks from the outside based on publicly available sources.
There's no easy "truth" to this story.  I can start by giving the basic facts, and then the best I can do is the competing versions of what happened.
Priyanka Chopra and Shahrukh first officially costarred in Don in 2006.  At that time, Priyanka was only 3 years past her debut film, she had already interacted with Shahrukh at awards shows and so on, most actors past a certain level do interact, but there was no major story of them as close friends. The rumor that was dogging Priyanka at the time was that she had an affair with frequent co-star and married man Akshay Kumar until his wife put an end to it and forbade them from working together again.  Don was a hit and Priyanka and Shahrukh's performances were appreciated, and their chemistry was noticed, but no more than that.  They continued to interact at the general industry events and share a group of friends, no more roles together and no rumors.
Shortly after, Priyanka was widely rumored to have started a relationship with her co-star in Love Story 2050 (2008) and What's Your Raashee?, failed producer's son Harman Baweja.  After those relationship rumors died down, Priyanka was next rumored to have a relationship with her co-star in Kaminey (2009) Shahid Kapoor.
After Kaminey, Priyanka and Shahrukh began working on Don 2 (2011), which highlighted their chemistry in a way Don 1 did not.  And during the promotion tour, suddenly rumors started flying of an affair between them. An affair which caused his wife Gauri to blacklist her from the industry events, and Gauri's good friend Karan to confront her, and so on.
(They really did have phenomenal chemistry, on a whole other level from Don 1)
Shahrukh, whatever the reality is of his life, has never been rumored to have cheated on his wife.  Even with co-stars like Kajol or Juhi with whom he shared strong chemistry both on and off screen, the media has stuck with the narrative that he loves Gauri and only Gauri.  It is a basic part of his star persona, and what makes him popular with the public, especially women.  That he is a man who respects and loves his modern, working woman, doesn't-know-how-to-cook wife.  That he is part of a marriage that has lasted and adjusted itself over decades.  That Gauri is his first, last, and only.  For an affair rumor to suddenly be so prevalent was shocking.  Especially as Priyanka and Shahrukh continued to appear together in public as though nothing was wrong, Priyanka even did a cameo in Shahrukh's movie Ra.One.
In 2012, in the midst of all of this, Priyanka began making movements into the American entertainment world with the release of her songs "In My City" and "Exotic" which had varying success, the first doing well in India and terribly in America, and the second doing well in India and through out Asia, and slightly better in America.  Her third song, in 2014, was "I Can't Make You Love Me".  In 2015, she started working on her American TV series Quantico, while her last two Hindi films came out, both ensemble pieces, Dil Dhadakne Do and Bajirao Mastani, both major hits.  In 2016, her final Hindi film came out, Jai Gangajaal which was a Priyanka starrer with no other big names and which had terrible box office and critical reception.
In 2013, Gauri and Shahrukh had a third child by surrogate, AbRam Khan.  That same year Priyanka's father died and Shahrukh attended the funeral, which was much noticed.  Shahrukh also went through a rough patch, including getting into a physical fight with Shirish Kundar at a party and a coolness with his old friend Karan Johar.  And rumors began to start again of a Priyanka-Shahid romance fueled by their new movie together, Teri Meri Kahaani (2012).
From 2014 to today, there was minimal discussion of a Priyanka-Shahrukh affair in the press.  Instead, the focus was on Priyanka's American success, and Shahrukh's various other controversies, his falling box office, his political statements, etc.  The only time it consistently came up was in stories revolving around the possibility of a third Don film, which the director/writer/producer Farhan Akhtar has always said is planned.  Buried in those articles would usually be an acknowledgement that there would have to be a new heroine for the film, since Priyanka and Shahrukh no longer work together.
In May of 2017, the rumors started up again partly because of a talk show Priyanka appeared on in which she showed a jacket from an "ex" that the Indian press identified as matching one that Shahrukh is often seen in.  And now, in June of 2018, the American press is reporting that Priyanka has just started a relationship with 12 year younger pop star Nick Jonas, while the Indian press is reporting that Priyanka's relationship with him is only because she is unable to be with the unnamed man she truly loves.
(Jacket.  Incontrovertible proof!  Or else it is Ranbir Kapoor's jacket, or Shahid Kapoor's, or some random non-famous person)
So, what does all this mean?  Well, there are a few versions of the narrative that are accepted:
Version 1: No affair, Priyanka unfairly punished
In this version, the affair rumors sprung up merely based on the chemistry between them due to their friendship and enjoyment of each other.  But because of the rumors, while Shahrukh's career was not hindered, Priyanka's was damaged and she was unfairly excluded from parties and industry social life.  The moral of this story is the small mindedness of the public (and/or Shahrukh's wife Gauri) that can't accept a man and woman as friends and equals and nothing more.
Version 2: Affair, Priyanka unfairly punished
In this version, Priyanka and Shahrukh fell in love because they have chemistry and excitement and so on.  And then Shahrukh was drawn back into his marriage, had a "bandaid" child to save the marriage, and bowed to his wife's wishes in cutting Priyanka from his life with much angst.  Priyanka, meanwhile, was unfairly blamed as the "other woman" by the industry while Shahrukh got off scot free.  The moral of this story is that the industry is ruled by powerful men who seduce and then discard women.
Version 3: Affair, Priyanka ended it (the most recent version)
In this version, Priyanka and Shahrukh have been in love and seriously together for 7 years without stopping, despite all the "haters" and ups and downs.  But now Priyanka is bravely moving on with Nick Jonas, because she wants marriage and children which Shahrukh cannot give her.  The moral of this story is the tragedy of true love which is unfulfilled because of circumstances.
(But, why would you want Nick Jonas' children?????)
Strawman Version: Priyanka is an Evil Seductress and Shahrukh is Innocent
This is the version that is sometimes held up as a strawman argument, that is, an argument that is imagined purely in order to be destroyed.  I don't think I have ever read anything that says this, that Priyanka is evil and at fault and destroying marriages while the men are innocent.  But any discussion of this topic will come around to this, that she is only being criticized because of an outdated view of morality and Shahrukh should be blamed more than her.  Which is not actually what anyone is saying or why anyone is criticizing her. The moral of this story is "you are a bad person and a bad feminist for criticizing Priyanka while saying Shahrukh is blameless even if no one is actually saying that".
(the remaining versions are NOT supported by leaks or anonymous sources or interviews, they are just things said in response to those, if that makes sense.  No one seems to be crafting this narrative on purpose, it just happens)
Version 4: Priyanka Has a Thing for Married Men
This is a thing people actually say.  Priyanka was with Akshay until his wife put a stop to it, and then moved on to Shahrukh.  Not that the men were blameless in the situation, but that it is a pattern with her.  The moral of this story is that wives should beware and keep their husbands away.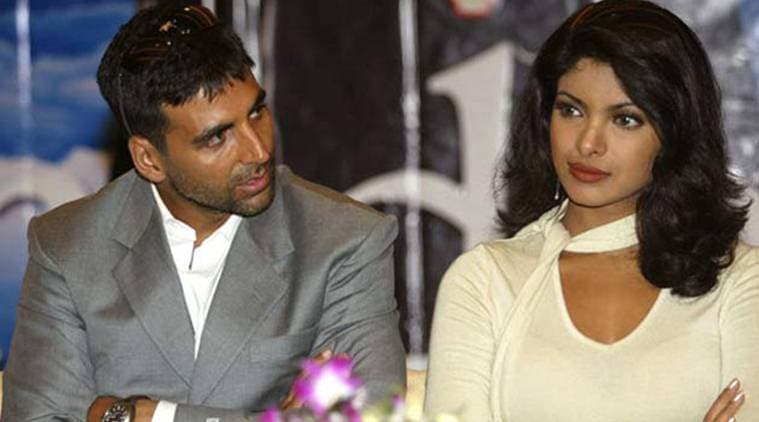 Version 5: Priyanka is Obsessed
In this version, Priyanka and Shahrukh either did or did not have an affair, but it resulted in Priyanka being unhealthily obsessed with him, and therefore continuing to drop hints in her interviews and create stories about him loving her.  The moral of this story is that Shahrukh is so desirable, he can drive women MAD.
Version 6 (my preferred version): Priyanka is Using This for Personal Publicity
In this version, again Priyanka and Shahrukh either did or did not have an affair.  But for the past 7 years, Priyanka has been dropping subtle and not-so-subtle hints as needed in order to keep the rumors alive.  The moral of this story is…..well, there isn't actually a moral.  Which is what makes me think it is true.
Gossip news thrives on the clean ending, the "moral".  The public wants to be scandalized, and then wants to be reassured with a lesson.  The created narratives, they always come back to the moral.  But the truth is messy and complicated with no clean answers.  So, knowing no details of the situation, here are some options for the "truth".
Truth 1: Midlife Crisis Embarrassing Affair Turns Nasty
Shahrukh was going through a lot around the same time as the affair rumors.  He had a coolness and a distance from his oldest friend Karan Johar (which Karan acknowledged in his book), his mentor/father figure Yash Chopra died, he was down right feuding with his other oldest friend Farah Khan culminating in physically attacking her husband at a party, and his feud with Salman had reached its peak.  And he got into an angry screaming match at Wankhede Stadium with a guard after a cricket match.  Also, his very ambitious and expensive film Ra.One flopped.  And, we later learned, he and Gauri were trying to have another child and finally opted for surrogacy.
(Not someone at a stable time in his life)
All of these facts would fit with the possibility of Shahrukh, for once, stepping out on Gauri either for the first time ever or for the first time to the degree that it got in the press.  Who knows, maybe he even briefly considered leaving her for Priyanka.  That would match with his coolness with Karan (who is even closer to Gauri than he is to Shahrukh), and the same personal turmoil evidenced in other behavior could easily lead to him having an affair, or be the result of him having an affair.
However, since AbRam's birth, all of this has greatly settled.  Shahrukh and Karan are closer than ever, so are he and Farah, and even he and Salman have reached peace.  There are no more stories of insane fury coming out, everything appears peaceful and happy.  Shahrukh's life, as tracked and documented obsessively by the press, revolves around his children, his friendship with Karan, and his work.  There is not one moment of his life that cannot be related to one of these 3 factors, he is either with his family, or Karan, or working.
And therefore the idea of the affair continuing past the messy 2012-2013 era, the same era in which Priyanka was still active in the Bombay film industry and they could have easily met without being noticed, seems impossible based purely on the publicly available incontrovertible facts.  Unless Shahrukh hired a body double to cover his absences while he flew to New York or Toronto or LA to secretly meet with Priyanka, there is no other way they could have been together.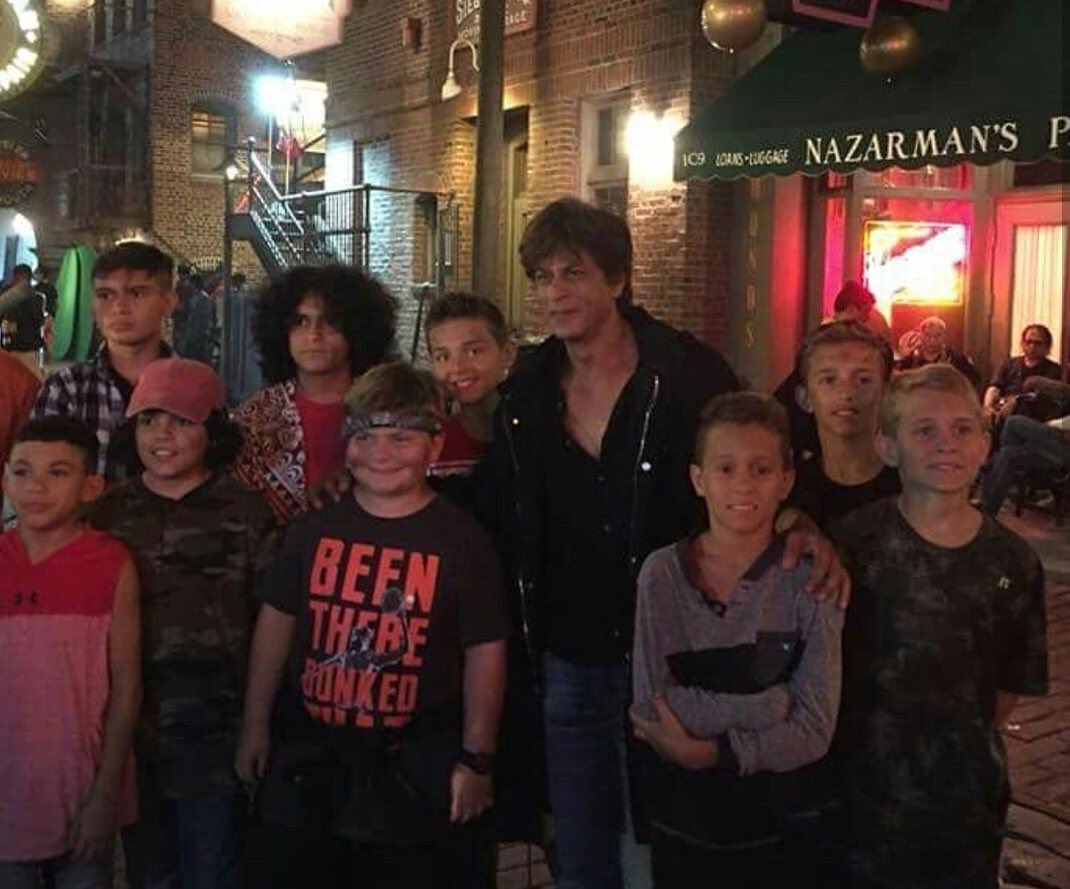 (Shahrukh in America for work, this is one of many many photos of him tracking his exact progress and location at all times)
And so this version is possible, an ugly messy midlife crisis driven affair that lead to hurt feelings all around and a (justifiable) attempt to blacken his name on the part of the woman scorned, that slowly grew until it threatened all of Shahrukh's relationships.  He has remained mostly silent and let the stories continue to swirl as an acknowledgement of his ultimate guilt in the matter, and the stories have fed on the truth at the heart of the situation.  There is no moral and no one looks good here, just a lot of hurt feelings and sadness.
Truth 2: Complete Made Up Just Because the Time was Right, Media is Keeping it Alive
Priyanka and Shahrukh really do have a great chemistry together.  And any story involving Shahrukh will sell papers.  And in 2011-2013, with the rise of social media and Shahrukh's personal breakdowns, it was the perfect time to spread a rumor about him and watch it catch fire.
Priyanka's previous relationship rumors were tied pretty closely to the release of films.  Which could be because they were onset relationships, or could be because it was standard policy to float relationship rumors in order to promote movies.  So the same thing was tried again with Don 2, and it caught fire.
Shahrukh had one previous affair story published in his entire career, back when he was starting out and making Maya Memsaab, the Madame Bovary movie in which he played the young innocent lover and Deepa Sahi played the bored doctor's wife.  There was an anonymous story published in CineBlitz saying they were "rehearsing" their love scenes off set.  Shahrukh thought he knew who wrote the article, left abusive messages on his answering machine and went to his house in the middle of the night and threatened his life.  And also refused to give access to CineBlitz for years after that.  It wasn't a very admirable response, but it did the job of successfully shutting down this story.
(Shahrukh and Deepti Sahi also had great chemistry)
But in 2012, the story was everywhere, there was no one person to threaten in order to kill it, or even one magazine to punish by lack of access.  And Shahrukh was distracted, he had so much else going on in his life just then.  And so there was no way to kill the story and suddenly it grew and grew and grew.
Perhaps this would have just been the first of many affair stories for Shahrukh, like many other stars the rumors would fly with every co-star.  But his co-stars after that were more careful and publicity was more circumspect.  Actresses were beginning to publicly acknowledge relationships (unlike Priyanka who followed the common policy of never confirming any relationship, scandalous or respectable), an affair rumor would mean not just that Shahrukh was cheating on his wife, but that Anushka Sharma (for instance) was cheating on Virat Kohli, or Deepika on Ranveer/Ranbir, or Kareena Kapoor on Saif.  Shahrukh also began to work with only a limited number of actresses, those who were unlike to spark such rumors because of their public personas, even besides their public relationships.
(No one is going to say Shahrukh and Kareena are having an affair, she is too smart for that and too young for him.  At least, in the mind of the public)
And so in order to gain clicks and ratings and sell papers, the media is left to fall back again and again on the one same old tired affair story that falls in the gap after the era when such a story would result in immediate punishment, but before the era when Shahrukh (and others) had learned how to play the game and avoid the possibility of such a story even appearing.
And so it comes up again and again, so long as Priyanka is working in India and a big name, it will be brought up.  She leaves and goes to America, and it is forgotten.  Priyanka signs a bunch of movies and her name is in the news in May 2017, and it is tied back to Shahrukh to give a new angle to the stories.  She starts a relationship with Nick Jonas, and it is tied to Shahrukh because no one in India cares about Nick Jonas.
There is no moral here either, not even something about the ammorality of the press.  The press has always been amoral, it's just a function of timing that this particular story hit and keeps hitting right now instead of another one.  If Shahrukh had worked with Preity Zinta in 2011 right as the social media boom hit instead of Priyanka, it would have been her that was picked for the affair rumors (also mature woman, also single at the time, also with great chemistry).
Truth 3 (my favorite truth): Priyanka's team is spreading the rumors to help her career
This is kind of a contination of the previous two.  First, maybe they did have an affair.  Shahrukh was publicly spinning out at that time, an affair is less impossible to imagine then, than at any other point in his life as a star.  And maybe Priyanka (justifiably) thought she had a right to at least hint at the truth in the press.
Or, maybe the media picked up on the chemistry between them and took advantage of this perfect moment to sell a story.
But however it started, Priyanka is the one who continued it.  I've heard arguments of "how can you blame her? She's just an actress, she has no control over her publicity."  But, that's just not true.  First because Priyanka does have control, the Indian celebrities have always had greater control over their public images than in other industries.  Maybe her personal PR team is crafting the story, but she is the one going on talk shows and so on and supporting it, and greenlighting their version.  And second, it's certainly not a temporary PR team for one of her projects because she has been going project to project this whole time, there is no consistency within the story besides herself.
The other possibility, that it is just the media doing it with no support, seems unlikely in this case.  First because there is support, very very subtly but there, in what Priyanka is doing and saying.  Like, for instance, covering the song "I Can't Make You Love Me".  And second because it is not just the gossip media that is reporting or hinting at these stories.  They are appearing in sites that are slightly more cautious, that would be unlikely to take a risk on such a scandalous thing without something to rely on, some actual source (fake though the info the source is feeding them may be).
And of course the biggest support for this is that all the information that is "leaked" and the narratives created end up making Priyanka look good.  She is being unfairly punished by the powerful in the industry for speaking her truth.  Or, she is just a girl in love who can't help herself.  Or, no one understands that she is capable of a deep non-romantic bond with a man because she is just that special.  Or, more recently, she is a traditional girl who is nobly giving up the man she loves because she wants a traditional marriage.
There are never any leaks or rumors about this that make Shahrukh look good.  I have never seen even a hint of a story of "married man trying to resist temptation, heartbroken and noble" or "victim of crazed obsessive, trying to protect his family" or even "guy just trying to be a gentleman and therefore unable to directly contradict story".  Everything is spun from the Priyanka side, not his.
Now, let's go to the only true absolute of how I feel about this situation:
Whoever is spreading these stories, over and over and over again, is in the wrong for spreading them.  Even if they are all true, there is no reason for them to be said.  For 3 reasons:
1.Shahrukh's public persona as a happily married man with a non-traditional family (wife works, daughter wears revealing clothing, 3rd child by surrogate, no living elders in the household to guide them, interreligious love marriage, and so on) is an important public message for India.
That marriages can be what you want them to be, can work however you want them to work.
That women can expect more from their husbands,
That husbands should do more for their wives.
(Shahrukh and AbRam visiting Gauri at her store, happy happy, working Mom and husband picking up the childcare slack, it's all good)
Throwing in this affair story distracts from the greater message and leaves open the implication
That a working wife is a "cold" wife with an unsatisfied husband,
A marriage with no elders or other traditional factors is an empty marriage,
You should be happy with your ungiving unsupportive husband because at least he doesn't cheat.
You can do the bare minimum in your marriage because at least you don't cheat and therefore are still better than Shahrukh.
(Evil modern family with no morals, bad bad, we are better than them)
2. Priyanka's public persona could be so much more for Indian women, but this story avoids that.
Priyanka could be an example of a successful working woman who is single and happy
She could be best known for her admirable professional achievements, instead of her personal life
But with the affair as a main part of her Indian public persona, instead
Priyanka's persona continues the story of a woman always needing a man, pining away despite all her success
Any story of her professional accomplishments comes with this odd footnote of her personal drama
Worst of all, she becomes another example of a woman who is not an ally with other women, the stories go around of her fighting with Gauri over Shahrukh and so on, instead of women uniting
(Even the Suzanne-Mehr friendship survived the Arjun affair rumors without turning into a woman against woman story.  An affair story doesn't have to focus on wife as enemy of the mistress)
3. Mostly I want to focus on the public lives of these people, because their private lives are beyond my understanding and knowledge.  But unless Shahrukh and Gauri and their three children are all complete sociopaths, some version of these stories is going to hurt them.
Shahrukh as a public figure did not give permission for his public life to be hijacked in this way
Gauri is only a semi-public figure and certainly did not give permission to be painted as the cruel cold wife keeping apart true lovers.
If at all possible, a child should not have to hear these things about their parents' marriage.  Especially AbRam, being called a "bandaid" to fix a failed marriage, suggested to be the illegitimate child of his father and his mistress, even the constant stories that his mother doesn't "really" love him because she is cold and incapable of love.
(I guess because she wears sunglasses and doesn't smile at him constantly it makes her a "cold" mother?)
So, that is my punishingly detailed take on the situation.  There is a convenient narrative being sold us, there are several possible complicated truthful versions, and no matter what is actually the case, it is an ugly story that does a lot of harm.