I'm back!  From an incredibly hot drive to the theater, back to the sanctuary of my nice cool bedroom, with Dog Hazel stretched out panting on the floor.  Time to start writing some kind of a review of this thing.
We were talking in the comments about all the things Raju Hirani puts into his films, especially the triumphal sunny moment as the camera slowly pulls back to reveal the characters below.  This whole film feels like those moments.  A bunch of filmic tricks in order to force us to feel something, but there isn't actually anything at the center of it for us to feel.
I could pick apart the little things, the way they gave Ranbir a series of wigs but didn't bother to cover up his distinctive scar under the eye which just screamed "Ranbir!" to me, the way Namrata mysteriously disappeared partway through, the completely illogical styling of Anushka's character, the random decision to make Vicky Kaushal's character American, Jim Sarbh's lisp for no reason, all kinds of things.  But what it all adds up to is a movie that was afraid of emotional truth.
(See under his right eye?  It's not as clear here, but it was really noticeable in the film, and very irritating.  Yet another way that it always felt like Ranbir onscreen pretending to be Sanjay, instead of Sanjay himself, or any kind of a real person)
That's the problem with a biopic, it can avoid that kind of truth if it wants to.  Because the audience will forgive it in a biopic where they won't in any other movie.  If this movie had been named, I don't know, "Sameer", the critics and audiences would be tearing it apart as viciously as they did Bombay Velvet.  But because it is called "Sanju", all is forgiven.  If you say "I didn't feel anything watching this movie", you are told "no no, it's a True Story".  To not feel something for a True Story, for Real Suffering, means you are a sociopath, you don't care about the world, you are just too stupid to understand that all of this Really Happened.
Well, lots of things in the world Really Happened.  And lots of things didn't.  And I felt more watching Munna Bhai MBBS, a movie that didn't happen starring the Real People this film was about, than I felt watching this film.  That's what a movie is supposed to do, make me care, make me feel something, not because it Really Happened, but because the film is convincing me it really happened, convincing me to care.
(I care about these people)
In this film, they were afraid of that emotional honesty.  They substitute for honesty perfect imitations of familiar people, or moments of wacky comedy, or flashbacks to underline a moment and take us out of it, and the constant overbearing ridiculous score.  There was never a time when they just let a moment land.  Never a moment when they asked the actors, or the audience, to sit for a second with these emotions instead of watching them flicker past like an instructional video.
Strangely, the part that felt most "real" to me, was the present day with Ranbir as Sanjay and Dia as Manyaata.  Perhaps because that was the one time period that the filmmakers couldn't completely fake, the audience would know the truth and they knew the truth themselves.  I cared about those people, present day Sanjay and his wife and his children, that was serious and bittersweet and a little bit funny in just the right way.  But once the film goes into the past, once the overwhelming weight of the Dutt legend hits it, it just can't find the truth any more.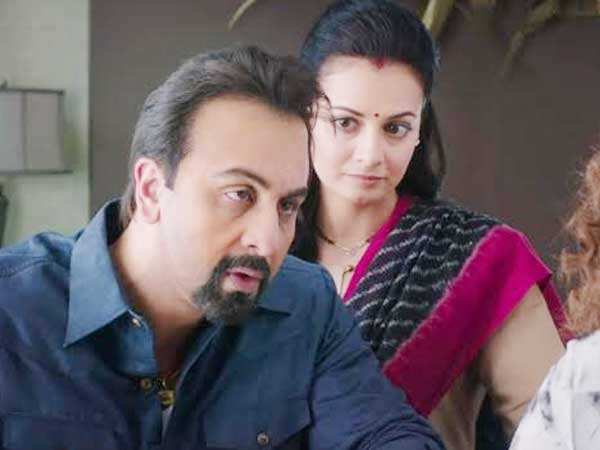 (Dia was also the only female character that felt like a real person.  Sonam was way too sweet and innocent, Manisha way too saintly and happy, and Anushka was just a mess, in many many ways)
No, that's not right, it's not the Dutt legend.  Because the Dutt legend comes with a powerful meaning to it, and this film was afraid of that meaning.  Afraid of looking at why Sunil Dutt was such a respected man, what he meant for the country.  Afraid of giving Nargis her true power, making her a powerful force for social good.  Afraid of looking at the reality of the riots that sent Sanjay to jail.  Afraid of looking at the reality of what Sanjay's bad behavior did to those around him.  That's the legend, the "real" legend, the strong self-sacrificing woman and the noble upstanding man destroyed by their tragically broken son.
And so instead this film gives us the legend with all the power stripped out and no truth added.  We are told that Sunil is a Great Man, but not shown it, not allowed to understand what he was doing for the country.  Nargis is minimized to a movie star and a mother and nothing more.  And all of the things Sanjay did wrong were just funny, foolish, boyish.
I don't mind stripping the legend of its power, so long as you replace it with truth.  If you want to focus on Sunil as a father above all else, fine, but make that feel emotionally true.  Show us his struggle to get past his own grief and support his son.  Show us his anger, letting go and being furious.  Show us him feeling SOMETHING, ANYTHING.  If you want us to forgive and understand Sanjay, then don't dance around the tragedies of his life.  Don't turn him into a cheerful tapori-speaking clown instead of a man who had loss after loss in his personal life and kept going.
The fake characters in this film end up being more "real" than the real ones.  There's a reason Vicky Kaushal's performance is already being called out, he was the only actor in this film to provide real heartbreak, real drama.  And Jim Sarbh, he was the only one to give any kind of darkness to it.
(Vicky Kaushal was great, really)
But Priya Dutt, she just sits silently in the background, hardly acknowledged.  The girlfriends and wives, of course, don't exist at all.  And Sanjay himself doesn't exist, not really, not the man of tragedy, not the loving father, not the loving son, not the dedicated actor, and not the generous man of the people.  Not even the addict, not really, it's a film version of addiction, full of twitches and triumphal moments, and manic overacted moments.  Sunil Dutt doesn't exist most of all.  It's Pawesh Rawal in a bad wig spouting philosophy made up by Rajkumar Hirani, because it wouldn't be a Hirani film without a simplistic life lesson to solve all your problems, "Jaddoo Ki Jhappa", "Ghandigiri", "Aal Izz Well", "Wrong Number", and now "Question Mark".
But the audience applauded in my theater when the film was over.  Because they felt good, they felt wise and good and knowledgeable, they had seen Truth onscreen.  And because it made them feel good, this will be the version of Sanjay Dutt's life that lives on from now on.  And slowly the old legend, and the reality of it, will drift away and be forgotten.  And all that will remain is these in this film, people going through the motions of a life instead of a life as it was actually lived.