Happy News Round-Up Day!  There is, as is often the case, very little actual news.  But I can still entertain myself by thinking about what is behind the particular kind of fake or empty news stories we are being fed.
Shahrukh Stuff I Don't Believe
Almost everywhere is now reporting that the Meer Foundation donated 21 Lakhs to flood relief.  I believe Shahrukh personally donated money (he almost always does) and I believe his foundation also probably donated money.  I am interested that this story appeared, without any quotes or source, very suddenly through out the entire internet.  It's not just in Bollywoodhungama, which is essentially as reliable as toilet paper, but also in NDTV which is slightly better (especially if the story has a liberal slant to it), and Quint, which is very very good.  So someone, either the Meer Foundation PR or Shahrukh's PR team, or just some random person who decided to spread the story, sent a press release to every single news outlet simultaneously and asked for them not to give a source.  Very weird to me.  If Shahrukh wants to get serious about promoting his charity, he's got to get the Meer Foundation a spokesperson so these stories can be confirmed through official channels without making it look like he is blowing his own horn. (Quint story here)
Oh, and Bollywoodhungama is also reporting that Suhana and either her mother or her father will be the first guest on the new season of Koffee that Karan just started filming.  And they are saying this based on one quote from a "source" which is repeated word for word on every single site.  Here, check out Bollywoodhungama.  Versus Deccan Chronicle .  Word for word, the same article.  Which also makes me not believe it.  If it was real news that leaked out, it would be leaked to one source who would write up the article their own way.  If it was real news being officially announced, it would be an official announcement.  This just means some PR person wants us to believe it is true, whether or not it is.  My guess is someone at Star TV saw how much Suhana was trending after her magazine cover and made this story up and sent it around to all the usual suspects.
I don't think it is true, because Suhana isn't being presented as ready for a Koffee appearance yet.  She's still going to school full time overseas (so far as I know).  The Vogue cover made sense as introducing her as a full grown of age adult and getting the first interview over with, but it would be a terrible way to launch someone who was about to have their first real film.  Koffee would be too.  Wait and talk about the movie first, then do the promos of the person.  Sara Ali Khan is going around to parties and stuff, but she isn't giving interviews or photo shoots until her film is ready to be released.  Alia did the same, so did Jhanvi.  It just doesn't make sense to flip it around.  Heck, even the story says "now that her Bollywood debut has been decided", which if DEFINITELY has not.  I mean, yes, she wants to be an actress, but there's not even the beginnings of the rumors of the stories that would happen if she was ready to sign her first movie.  Again, we just went through this with Sara and Jhanvi, it was impossible to hide.
So, yeah, two sourceless word for word the same Shahrukh stories.  Which proves someone (or two someones) somewhere has a really bad/good PR firm.  Bad because the stories are transparent, good because they knew the Indian media will print absolutely anything at all related to Shahrukh without a second thought because it will get them clicks.
Kangana Takes Over Manikarnika
This story seems really really weird to me, but maybe it isn't.  We'll have to wait to watch the film to find out.  According to reports that are most likely leaked from the film's PR team, Kangana is supervising the post-production work on Manikarnika herself.  The director Krish is deep into work on his massive NTR biopic, the film CGI and rough cut work still isn't done, so Kangana is doing it.  This is either the standard part of what a lead actor does, or just very strange and a bad sign for the film, or completely made up PR stuff, and I'm not sure which it is.
From the standard side of things, this really is not unheard of.  Kangana is clearly the lead actress in this, she has already helped directors with dialogue and so on and is aggressively moving into the realm of being a "male" style star instead of female.  And part of that is being able to understand filmmaking at a high level.  So maybe she has put in the work and is truly qualified to take on this challenge.  She is the one big name in the film and the lead character, so presumably she has a good grasp of the story and the needs of the film as a whole.
(Also, can the film possibly live up to the poster?)
On the other hand, she is really young to be doing all this!  Both in actual age (only 31, which is old to be an actress but young to take charge of post-production of a film) and in terms of film experience (only a few films old as a leading star).  The male stars didn't start taking this kind of control of their films until they had that chief star position in several films, and were considerably older than Kangana is now.
Plus, doesn't it seem strange that a director would just take off and start another project?  That seemed strange to me straight through, that these two massive projects with the same director were happening so close together.  Made me think he either had less faith/interest in one than the other, or Manikarnika was massively delayed in filming for some reason.  So there is a possible interpretation of this story of basically everyone but Kangana abandoning a sinking ship/refusing to work with her any more (her own description of her working methods on Koffee did not make her sound like a pleasant co-worker).
And then there's the final possibility, that someone in PR heard Kangana was giving opinions on post-production and spun it into this whole story both to make her look like more of a Star and a power in the industry, and to make it look less like Krish just took off and left the film.
We'll see, if the film is a total disaster in the end result, I'm blaming Kangana (for being the biggest name in the film and driving everyone else away).  If it's brilliant, I'm blaming her too (for brilliantly carrying this project through to completion).  And if it's mediocre, I'll go with the PR person theory (because they knew it was a movie that was neither good nor bad and just needed a little more buzz).
Yash Raj Promotion Team Strikes
I love Yash Raj stories, because everything just works so perfectly.  There's no clumsy press release without sources, no feeling of them scrambling to hide mistakes.  They keep everything secret, and then publicly and openly release exactly the information they want to release in exactly the way they want to release it.  It's just beautiful to watch.
First, for Sui Dhaaga, from the beginning they have been selling a sort of amorphous patriotic idea of "made in India".  And focusing on the actual process of making things (Varun is taking sewing lessons and so on).  Not focused on the stars, not focused on the romance, just the "made in India" message.  Which is the real USP of this film, perfectly calculated for that kind of blandly political and no one can object sweet spot that you need nowadays to avoid internet hatred.  And so the publicity campaign next step, announced with quotes from Maneesh Sharma and Anushka Sharm and Varun, no anonymous sources here, is to travel around meeting young entrepreneurs. (story here)
Second, Thugs!  They've only got 2 and a half months to get this thing going, so now is the time for the leaks and rumors to stop and the actual stories to start.  First one to come out, they are editing the film in the YRF preview theater, not in an editing bay.  Because it's a BIG movie and you have to watch it on the BIG screen and it will be India's BIGGEST film ever and so on.  Big big big, that's the message.  But it's hidden within an actual semi-substantive story, that they are editing it in the preview theater.  That's the kind of thing people will repeat to each other in real life and online because it catches your attention.  YRF is just so good.  Unlike the Manikarnika team that gave us a story which catches your attention and then makes you go "huh?  what?". (story here)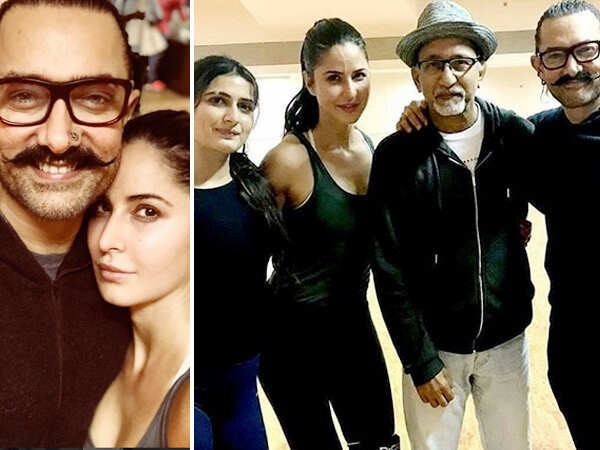 (Also, do you know how hard it was to resist the joke "Thugs of Hindostan: Everything is Big but Aamir"?  And I guess I didn't resist after all, so it wasn't just hard, it was impossible)
Item Songs, That Old Reliable
This isn't technically fake news, because it is stuff that is definitely actually happening, but it is pretty empty and cheap news.  Malaika Arora is doing an item song in Vishal Bhardwaj's next, similar (PR says) to Bipasha's "Beedi" in Omkara.  And Sonakshi Sinha is doing an item song in Total Dhamaal.
And now everyone who wasn't really interested in those movies is interested in the item songs.  And everyone who wasn't really interested in Sonakshi and Malaika is interested in them because of item songs.  So basically what this news cycle is telling me is, Neha Dhupia's statement is as true as ever, "Only Sex and Shahrukh Khan sell".
(Really?  This kind of thing is enough to get you talking about a movie and actress you didn't care about a second ago?)