Well, that was odd!  A movie with a lot of depth and meaning and purpose that somehow got shrunk and diminished until it became meaningless and small and ugly.  Huh.  Oh, but the action scenes are still kind of fun, you should still watch it for that if you want.
Indian film has a long glorious tradition of these kind of big epics.  Telugu cinema in particular, but Hindi as well.  Aan, with Dilip Kumar playing the noble bandit that saves the corrupt kingdom.  Before him, Fearless Nadia saving innocent maidens from cruel kings left and right.  Sikander, with the army of thousands turned away by love and kindness.  Mughal-E-Azam, of course.  Razia Sultan, Hema Malini and her faithful soldier Dharmendra.  Ajooba, Shashi Kapoor's failed fantasy epic.  Rajkumari (my favorite) with Anil Kapoor and Madhuri as the lost prince and trapped princess.  And of course Bahubali which crossed out of Telugu into Hindi.  What makes some of these films work better than others, what makes them memorable, is when it isn't just the images that are Epic, but also the meaning.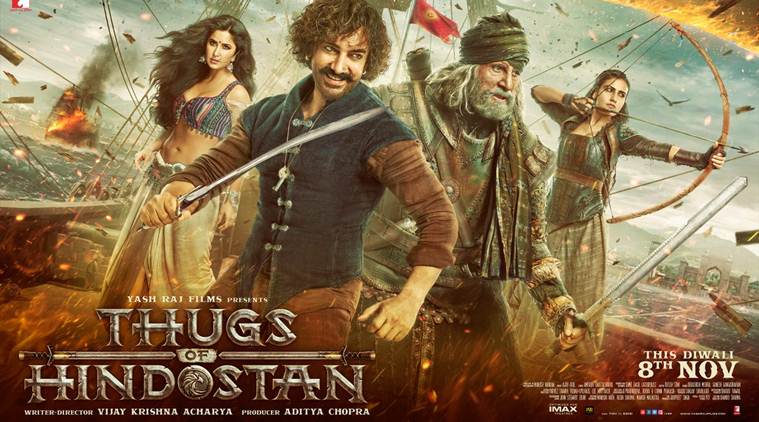 This film constantly avoids that meaning.  It puts the ignoble people and ignoble motives over the pure of heart.  You are left thinking not so much "why should I care?" but "why won't you let me care?"  The film shies away from any moment of sincerity, like a teenage boy who is afraid to see us cry.
Or, like an Aamir Khan who is afraid to see us cry.  This film might be (I hope) the pinnacle of a certain kind of Aamir performance, the one that is based on accents and costumes and tricks instead of digging deep inside and feeling something, and making us feel it too.  And he can do it, when he wants to.  I kept thinking back on Ghulam while I was watching this, another movie where he played a daring trickster with obscure motives.  But the film, and Aamir's performance, peeled back the layers for us.  We saw the real person under all those tricks, and he broke our heart.  Ghulam is an emotional catharsis, every moment of betrayal felt like we are both the ones being betrayed and carrying the guilt of betrayal, building up to the finale which feels like a shared moment of redemption.  In this movie, every moment of betrayal feels like a betrayal of us as an audience, which was beginning to feel something for this character only to learn that no, it was just another series of games and tricks and wacky hats.
What makes it especially painful is that Amitabh and Fatima Sana Sheikh's performances are the opposite of tricks and costumes.  Amitabh wears his armor like a brace, keeping him strong and upright and still, possibly literally (the man is very old and very sick to still be doing action scenes!) his performance is not there, it is in his eyes and his voice.  Those two things alone are able to convey so much more depth and emotion than all of Aamir's body wriggles and head tilts and tinted glasses.  Fatima, she isn't afraid to let us see her cry.  That's the most important part of her character, she is strong and brave and can take care of herself, but she will also cry out her pain and feel real things and let the audience see her feeling them.
The film has flaws besides Aamir's character/performance, but if it managed a great sweep of emotion, it might have been able to carry us bast those.  The plot, truly, makes no sense.  There's one moment when the Evil British Dude calls on an old enemy of Aamir for help, there is much twirling of mustaches and implication of evil schemes afoot.  And then, nothing comes of it?  It feels like a follow-up scene must have been left on the cutting room floor but for some reason the set-up scene remains.  At another point, we see trapped steerage pass angers on a ship which is later blown to bits and we never see them rescued.  So, they are all dead then?  Why show them to us if you aren't going to follow that up?  And then the usual problems with these kinds of films, Amitabh and Fatima's group grows and shrinks depending on plot needs.  Women and children appear and disappear as part of them.
Actually, NO!  That last isn't a small problem at all!  We have Fatima as this strong warrior women, but every other woman we see as part of the group is just a prop for a sexy song.  It would have been so easy to show more women fighting as part of the group.  Or else to slightly change the way they were used in songs to indicate that they are strong independent wives and mothers to the fighters, not just sexual slaves.  We need a reason to cheer for this people, a reason to want them to win, and it shows a remarkable blindness and shallowness on the part of the filmmakers not to realize that the British forcing Katrina to dance and Amitabh and Aamir dancing with these random unidentified sexualized women is far too similar for the audience to feel any real difference.
That's the real problem, I think.  The filmmakers never stopped to think why their heroes were fighting.  Why were the British bad and the Indians good?  Why did you need to keep fighting no matter what?  Behind all the swords and ships and excitement, what is the heart of it all?
The answer is right there in front of them, the heart is between Amitabh and Fatima, what they mean to each other and why they keep fighting for each other.  But true love like that, true sacrificing unselfish love, it is scary.  And so Aamir, and Victor Acharya, and Aditya Chopra, and everyone else ran away from that, ran towards something a little less painful and a little less real.
(This one song video has more emotion in it than anything in the real film, beyond the two times this song is repeated)