I can't believe I haven't reviewed this movie before! It's so good, and so different from really anything else out there. Thoughtful, complex, and with a hero who is more about quiet thinking than quick action.
Before Lagaan, before 3 Idiots, before Mela and Mangal Panday and Thugs of Hindostan, Aamir wasn't known for the ambitious large scale box office record breaking films, he was known for the quietly intelligent and thoughtful films. And this movie was one of the best of them, a film which managed to avoid all the action film tropes while still hitting the familiar action film beats. There is the romance, the backstory, the big bad charismatic villain, and so on and so forth. And yet it feels organic, not forced.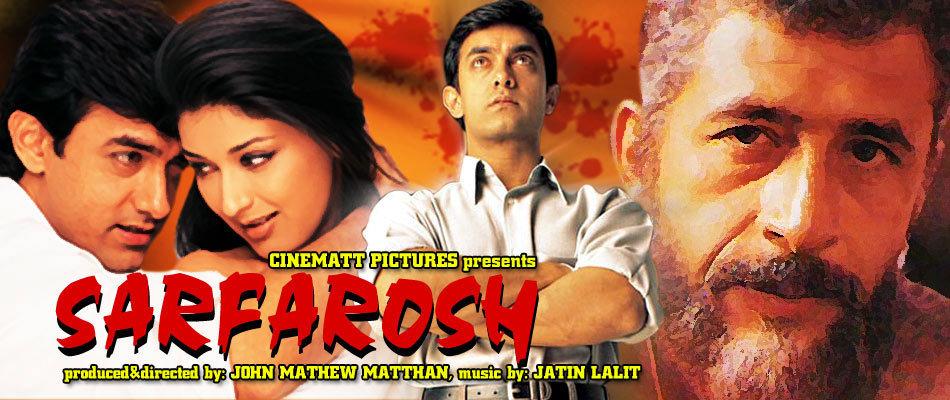 Also organic and unforced is Aamir's performance. And at the time this film came out, that was what he was known for too. The raised eyebrows, the soft big smile, the quiet line delivery, and the generous interactions with his co-stars, that was Aamir. The Aamir of the bug-eyes and tics and strange vocal intonations, that hadn't been born yet.
This movie has a great cast, Aamir is the first among equals. He is the lead more because he has the most screen time than anything else. Sonali Bendre's character, Naseeruddin Shah, even Mukesh Rishi all have complex motivations and interesting performances. It's a classic noir style film, in which the characters and setting and situation are all woven together into one story that expresses everything about a particular time and place. Aamir Khan lets himself disappear into this world, not the lead of it but just one of many other people trying to survive and move within it.
I want to give a lot of credit to the director, who spent 7 years preparing for this film, but it's hard to know how much to give since this is his only successful film. This is the classic star ghost directing conundrum. Is this film the only successful film John Matthew Matthan has made because he poured his heart and soul into it and told the story he most wanted to tell? Or is it the only successful film he has made because Aamir secretly was the one directing it? So, I have no idea how much credit to give him. Someone made this film smart and different and special, and whoever that person was deserves credit because it really is unique in the realm of Indian film, making you think and not just react.
Although there are some moments of feeling. Mostly within songs, this film uses song sequences beautifully and perfectly, the feelings that these characters would never openly reveal are expressed to the audience. It's this that makes it ultimately still a classic Hindi film, no matter the clever complex mystery and lowkey acting, the emotion is still there.
SPOILERS SPOILERS SPOILERS SPOILERS SPOILERS SPOILERS SPOILERS SPOILERS
The movie takes its time getting to the central story. We start very deliberately with the full journey of illegal guns into India. They came across the desert, pass through many hands, finally end up with tribal rebels, and are used in a massacre. Gun running isn't just a harmless crime with no victims, every link along the chain is connected to death. And then we go from there to see our harmless happy youthful hero, running into his family's sari store, nodding at his silent father in the corner, playing with his nephew, greeting his sister-in-law and mother and uncle, and then dashing out again after his uncle gives him tickets to his favorite Ghazal performer.
We have the grand sweep of crime in India, and then our innocent young hero, in a normal film this is when we would see his life fall apart as crime traps him. But this film goes a different way, after seeing his happy life and carefree attitude we get a flashback that reveals both the origin of his romance, and the unusual situation of this being his life AFTER it falls apart. One of the biggest statements on how this is different from the usual action film, it doesn't look for a reaction of revenge and constant anger after a terrible thing happens, it suggests that instead you should pause, think, relax, and build a new life.
The flashback itself is my favorite part of the movie, the whole thing. It's Sonali's flashback, she sees Aamir in the audience and immediately remembers their past together. Back in college, he followed her around but was too shy to speak to her. She liked it, they had a wordless teasing interaction and flirting, and it was going to turn into a proposal, she confronted him and let him know he could talk to her the next day, and then he didn't show up. Instead, his life fell apart, his brother witnessed a crime and went to the police, was threatened, and finally was killed, and in the same attack Aamir's father had his tongue cut out. The broken family moved to Bombay to live with his uncle, and now here they are, with a sari store and his little nephew recovered and smiling and laughing, his father happy to sit in the corner and watch, and Aamir himself still smiling and boyish too. They lost a lot, but that didn't mean they couldn't rebuild, couldn't move on and be happy instead of filled with anger. And one of the things they lost is coming back right now, Sonali isn't letting Aamir disappear again, she stops him at the concert by making an announcement into the microphone. Their romance was killed by the tragedies of his family that forced them to leave town without warning, and now they are getting a second chance.
Another nice thing, this is a second chance for SONALI, not Aamir. So far as she is concerned, it wasn't the violence and so on that destroyed them, it was her own selfishness and immaturity, choosing to enjoy the flirtation and the chase instead of pushing the issue sooner and making sure they got engaged ASAP. And this time, she is not going to stop pushing and doing whatever it takes to get the man she wants. It's great! We get the traditional kind of romance in the nicest possible way in the flashback, the stalking and glances and stuff, but all with the obvious enjoyment of both parties involved. And then we get the opposite of that, the woman aggressively going after what she wants in the present.
It's not until after all of this that we get the reveal that Aamir is a hero cop. He doesn't reveal himself in a big action sequence, but by walking into the office talking excitedly about paperwork. He is a police officer, but a patient intelligent one. He didn't let his bitterness and sorrow burn inside, he turned it into determination to do the best job he can.
And then there is Naseeruddin Shah. We have the hero, the heroine, and then the villain. And again, a different kind of character from the regular villain. Naseeruddin is a Muhajir, that is a Muslim who was born in what is now Indian territory and moved to Pakistan with nothing during Partition. This is a distinctive community in Pakistan, one that is not always welcomed by the rest of the population. Naseeruddin's character is an artist who loves his art, but also misses his home. Never feeling welcomed in Pakistan, and missing his family home left behind in India. He isn't a wild-eyed crazed criminal, he is calm and intelligent but with a burning anger inside. While Aamir reacted to his family tragedy by trying to appreciate what he has and doing the best he could to protect it, Naseeruddin reacted with well-concealed anger.
With our three central character in place, all that is left is for the story to unfold. Sonali pursues Aamir, and he avoids revealing his feelings, although she is still confident in how he feels (and the audience is too, thanks to having a glimpse of his emotion through song). Aamir pursues the gun running gang with the help of Mukesh Rishi, his faithful assistant who struggles with his own sense of conflicted loyalty, the opposite number to Naseeruddin, the Muslim who chose to stay in India and must constantly prove his loyalty. The case is solved when they connect it to Naseeruddin and arrest him. But it's never really solved, the ending of this film is one of the most quietly original parts. Sonali and Aamir have an understanding now, after her meeting his family in his hospital room following an injury (she is adorably embarrassed to meet them since she is wearing a short skirt), now she is nagging him about setting a date for the engagement, when he has to go off, one of the loose ends from this case has turned up, his team has to go. There is no solid ending, no grand finale, you just keep quietly working away at your job with no emotions and no hope of ever really "solving" things, just making them a little better. Your romance doesn't end in a perfect embrace and wedding, your sister-in-law and nephew don't get happy all of a sudden but will always have little moments of sadness, and the wounds of partition will get a little better every generation but will never really go away.
On the other hand, how hot is Aamir in his little mom jeans?