Happy Saturday! No new movies to watch this weekend, so I have all kinds of free time to do all kinds of errands. Fun fun!
I have to get up as early as possible to go to the emissions testing station and get my emissions tested. It only takes two minutes, so long as I don't have to wait in line behind all the other cars who are getting their emissions tested. Thus needing to get there as early as possible to knock it off my to do list.
Then home again and take Albie Dog to the dog park so he can run off some of his doggie energy, then take him home and zip off to acupuncture. Then back home, say "hi" to little Albie Dog, pack up all my laundry and take off again to wash it. So much laundry! I bought new underwear last week which extended my time between washes to a full 3 weeks. That's a lot of shirts, socks, underwear, and pajamas. I really need to do some serious culling of my wardrobe and consideration of my life choices.
Finally, back home for good, and time to get serious about finishing my quilting square that I have to hand in at the meeting on Monday night. I can do this! And no one needs to know I procrastinated about it for two weeks!
And then off to bed so I can get up tomorrow and do the Ek Ladki Ko Dekha To Aisa Lage tweetalong! Which I really hope some of you will be following because otherwise I just feel so silly tweeting into the void.
Now, while I am doing all those things, talk amongst yourself about whatever you want. For example:
Kat and Vicky Kaushal are rumored to be dating! Do we believe this? Do we support this? Is he good enough for her?
Sanjay and Madhuri gave a nice-nice happy-happy interview at the Kalank trailer release, are we buying this "all friends now, no hard feelings" vibe?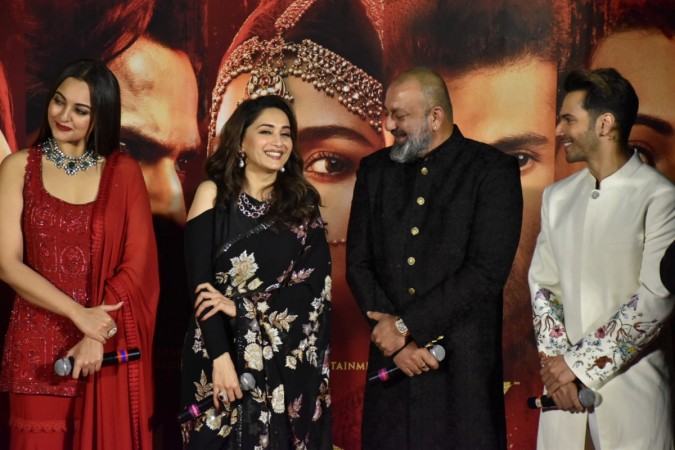 Dabangg 3 is official a prequel, meaning Salman is playing even younger than in the other two films. Bad idea, or worst idea?