Little flurry of first looks and trailers today, and instead of getting me excited for the upcoming movies, they ended up dampening my enthusiasm. Except, surprisingly, for Bharat!
India's Most Wanted
I am SO disappointed in India's Most Wanted!!!!! First, it is yet another Zero Dark Thirty style film, rah rah go India capturing a traitor and a terrorist, ominous images of the Namaz and all that. You know, watching someone pray is always so scary. I mean, really??? We've just accepted this now, that the Namaz deserves the same background music as you would give someone assembling a gun? I do like that the "death death!" quote is from Hinduism, that's kind of nice. But it's not enough to redeem the film for me.
Also, the look of it is not as intelligent as I was hoping. I wanted something like D-Day where an unexpected varied group of people (action hero, undercover agent, female agent) work together and challenge our perceptions. But instead it looks like it goes a little farther than that, makes them a gang of misfits and "ha-ha, look at them" types. Only they are also all male and youngish and Hindu. So the film may be saying "ha-ha, misfits" but what I am seeing is "ha-ha, wish fulfillment for the young male audience that wants to imagine they could do great things if only they had a chance". It's talking to a baser instinct, not encouraging us to think in a new way.
Mostly it's just not filmed in an intelligent manner. All these beats are predictable, the evil Namaz shot, the guys standing around as they are told "you can't do it", and so on and so forth. There's no wit, it's just jumping on the same empty patriotism fantasies as every other film instead of putting in some effort. Remember in the Raid teaser how there was that shot that flipped from one side of the peephole in the entry door to the other? That's the kind of intelligent filming I mean, putting in an effort to come up with a new way to film in order to best tell this story.
And Arjun looks uninteresting. That's not just a shallow comment, he is the hero of the film and represents what it aspires to be. If he had been given an unusual look for a hero it would have told me that the film aspires to be something unusual. But instead it is this very precise and styled facial hair, a movie star look not something an every man would have.
Saand Ki Ankh
Also a little disappointed in this one! I knew it was based on two 60 year old female sharpshooters, which is a great story right there. And Bhumi and Taapsee played the lead roles, which was great casting. But what I didn't realize until this poster released is that Bhumi and Taapsee are playing the woman at age 60. I thought they would be playing them as they were at a younger age.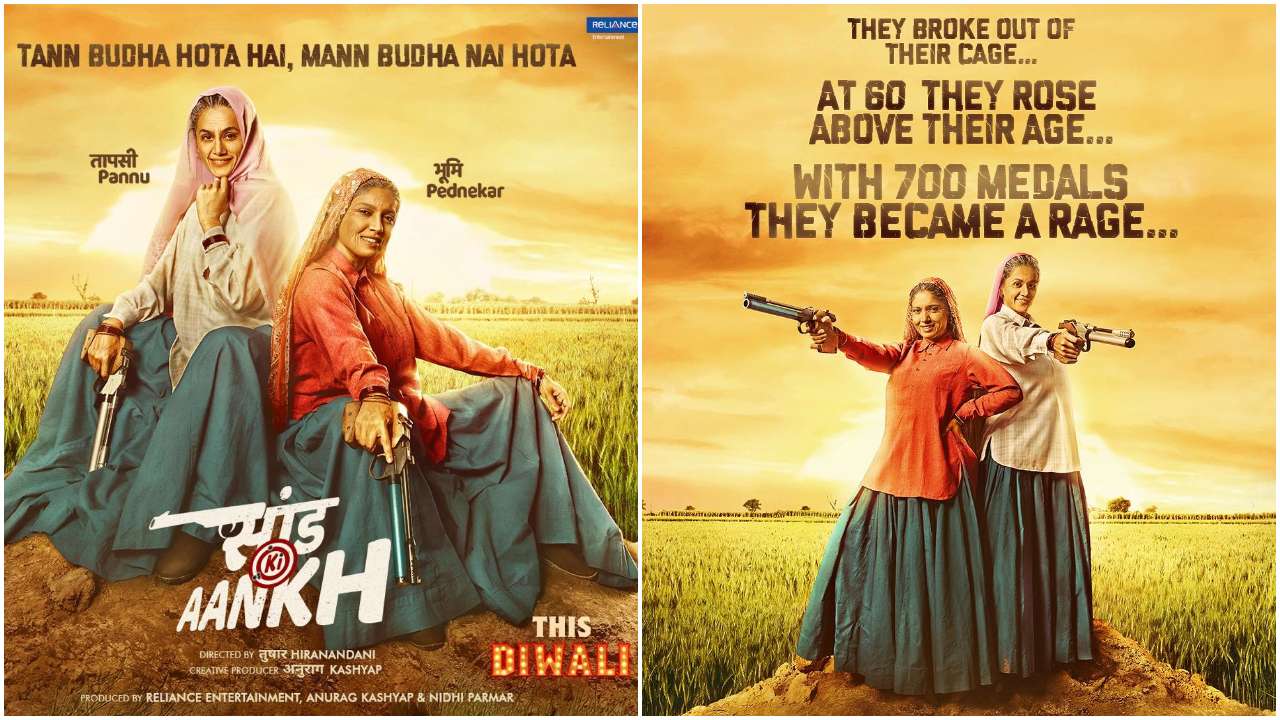 I'm excited for the story of two 60 year old heroines, that parts great. But I am disappointed that I will have to watch Taapsee and Bhumi in old age make-up. And I am really disappointed that Anurag Kashyap didn't cast actual 60 year olds to play these roles! Can you imagine how amazing Rekha and Shabana Azmi, or Hema and Jaya, or Farida Jalal and Neena Gupta, or any number of other actresses Of An Age would have been?
I will try to hold out hope, maybe this is just an image from the end of the film and for most of the film it is telling the story that lead them to the place where they became sharpshooters.
Bharat
Surprisingly, Bharat is the one that didn't disappoint me! Two new images came out, a young poster and an old poster for Salman's character. The old poster looks really good, not awkward make-up at all, he still looks like himself, but an aged version. With a nice every man nobility and strength to it. I want to see a movie about this guy!
The other poster, I am less interested in. It's okay, it's the same image we got from the teaser. But it doesn't make me excited. On the other hand, it also doesn't make me un-excited.
What do you think? Am I being too hard on India's Most Wanted? Or not hard enough on Bharat?