Still no really juicy news items, at least not my definition of juicy (stuff related to studio investment structures), but some stuff that is at least worth repeating.
PC's Brother's Wedding Doesn't Happen
I'm a little uncomfortable with this story, because it feels like bringing in an innocent bystander who never asked for this. But the facts of the story are available to the public, and maybe we can make them an interesting discussion of the price of assuming life is predictable and will have a happy ending. (story here)
Priyanka's brother's wedding isn't big news, but it is news. The mere fact of it happening is worth reporting, at least with it being a big sized wedding. The expectation is that Priyanka herself will attend in a big dress and the media will take pictures of that, maybe we will get a few sentences telling us about the venue and so on. Maybe a few more celebrities will show up, making it worthwhile for the paparazzi to wait out front. If everything goes smoothly, it is a story worth a few paragraphs, forgotten a day later. Or not a story at all, if the family wanted to, they could keep the marriage of a non-celebrity relative quiet and small. That wouldn't be normal for a wedding (celebrity or otherwise) necessarily, but you could take extraordinary measures and do something simple and then no celebrities would attend and the press would never find out, or even care. In this case, the family counted on it going smoothly and decided to let it be a minor news story. Twice.
In 2014, Priyanka's brother was supposed to get married in that just-barely-a-news-story kind of way, a big enough ceremony that there would be a photo of his celebrity sister and maybe some other celebrity friends, worth paying attention to just so the media could show up and get shots and then leave. And it didn't happen, all of a sudden. That still wasn't really headline news, it's not that people care a whole lot whether or not Priyanka Chopra's brother gets married, but it was worth mentioning. And now it has happened again. Priyanka came to India for his engagement ceremony and then returned a few weeks later, presumably for the wedding. The media knew because they saw her going in and out of the country and PC shared engagement photos on instagram, officially making the wedding part of her public world.
And now the wedding isn't happening again. I don't want to speculate on why, that is none of our business. But what is our business is a discussion of the dangerous game celebrities play when they assume that everything is going to go by the script. I suppose it's true for everyone now, thanks to social media. You try to edit your life, to only put the big fun happy things out there in the world. But you can't control everything, no matter how happy and perfect and safe something seems, life finds a way to embarrass you.
Ness Wadia is Arrested
This time, I have no problem making the story public. Ness Wadia is the heir of Bombay Dyeing, one of the oldest companies in Bombay. He went to the best boarding schools in India (was in the same graduating class as Saif Ali Khan), then took over the family business. And in the late 90s he started dating Preity Zinta. They were together for 4 years, and bought a Cricket team together through a joint corporation. Then they broke up and Preity took a year off. But they still had a Cricket team together, and had to share custody and see each other. 5 years ago at a Cricket match, well after the break up, he sexually molested her and wouldn't stop. She called the cops on him and filed a police report with witnesses. And then went on to marry one of her witnesses, her nice husband Mr. Goodenough. Now, with all of this in mind, spoiled prep school brat and abusive ex, do you see why I am kind of okay reporting that he was arrested for drug possession in Japan? (story here)
I wouldn't be happy if it was hard drugs, addiction is terrible. Or if it was hard jail time, imprisonment is terrible. But this time, he was just a spoiled rich man who didn't bother hiding his marijuana while getting on an airplane, was detained briefly and then his lawyer arranged his release. Suck it, Ness Wadia!!!! That's what you get for being a jerky spoiled boyfriend!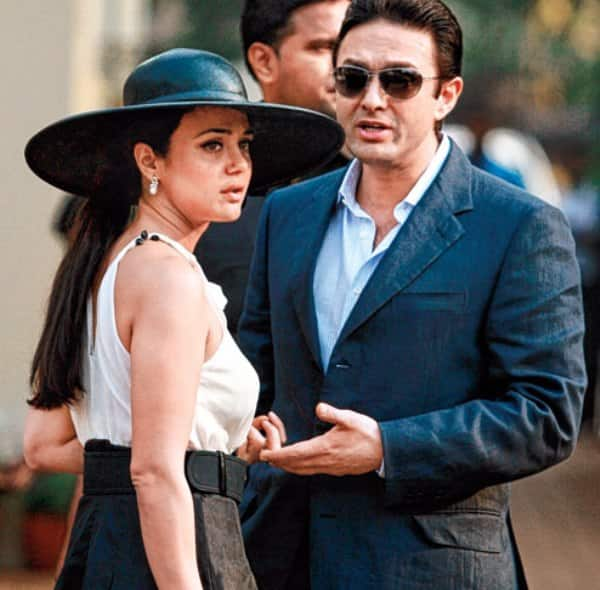 Dharma Loses Their Stuff
After RK Studios, here is another fire and loss of priceless items. I was thinking if this is a pattern or something, but I think it is more that people are storing artifacts now, and the media cares about these fires. I am sure there were plenty of storage space fires in the past, and plenty of stuff that never made it into storage, and plenty of disasters that weren't reported. (story here)
Still kind of sad though! All the props and costumes and everything that Dharma has been saving, destroyed. All that sentiment lost, and also all that value. Those things could be used over and over again as needed for future films. But now, they have to start from scratch.
Mental Hai Kya Title May Go
I'm not really surprised, this is the only smart decision and Ekta Kapoor is very smart. The mental health professionals of India are speaking with a united voice, saying the title has got to GO. Which means a cloud will be over the film until it is removed, and also probably means the title really is a problem, if everyone is agreeing that it is. So rumor has it Ekta, is now thinking about changing. (story here)
This is how these things are supposed to work. A producer, director, writer, just are not aware enough to know when they are being offensive. A community speaks up with one voice and educates them as to why it is not okay. And then the make the decision to change. There is no legal blackmail, no big violent protests, just calm moral pressure. I wish more protests against films in India were this, well, sane!