Watched another early morning classic noir, a jail break movie. But what intrigued me for an Indian remake is that it managed to come up with the most shocking possible plot and I kind of want to see someone remake it just to watch everyone Lose Their Freakin' Minds. And I also watched an early morning classic family film which would be perfect if Shahrukh wanted to play a befuddled father. Or Anil. Or Aamir. Whoever.
I'll start with the
Original plot:
There are two brothers who look almost identical. The younger one is in prison and only has a few days before he will be caught for attacking a guard and sentenced to death. He also has a gorgeous wife. The gorgeous wife and the older brother come up with a plan together. They rent a house near the prison, pretending to be husband and wife, and pull off an elaborate dangerous scheme, using the brothers' similarity to fake an escape while the younger brother really just hides within prison, then escapes later after everyone thinks he is already gone. The scheme succeeds, but along the way the gorgeous wife and the older brother fall in love, and the older brother decides his brother is too dangerous and really belongs in prison. He and the wife turn the brother in, and then go off happily together.
So, in case you missed it, an older brother falls in love with his younger brother's wife and vice versa, and then he betrays his younger brother so they can be together. And it's supposed to be a good thing! Like, it actually is a good thing in the American movie, we can see that the wife and older brother are better together than she is with the younger brother, and that the younger brother is kind of a jerk and deserves to be in jail. They make the right decision to send him back to jail and start a new life together.
But can you imagine this playing in India? A brother betraying a brother both romantically and legally? And he's a hero because his brother is kind of a jerk? The one thing India would love and have no problem with is that both brothers are played by the same actor with slightly different hair and mannerisms.
I'd start with a flashback, two boys playing together, one slightly older than the other and protective towards him. The younger boy is selfish with anger issues, he fights with another boy over a toy, and the older brother excuses and apologizes for him. And then we jump forward in time to a sentencing hearing, once again the older brother is apologizing for the younger, trying to explain that it isn't his fault, he was upset and emotional, he had just been married and was in love with his wife, it was only natural to react strongly when she was insulted. Then the wife, an actress made up to be stunningly sexy, gets on the stand to tell her version. They were at a bar two weeks after their impulsive wedding, an old boyfriend came up to her and wouldn't leave her alone, her new husband warned him off, he wouldn't go, so he hit him and it got out of control, he didn't intend to hurt him but he did. The younger brother is sentenced to jail, the wife falls apart and the older brother walks right past her.
Two years later, the wife tracks the older brother down in his office. He is grumpy and doesn't want to talk to her but finally agrees. She says she is here with a message from the younger brother, she's been visiting every weekend, and he needs help. He accidentally knocked a guard over a railing and now the guard is in a coma but could wake up any day now. Once he wakes up and reveals who hurt him, the brother could be executed. He has to get out of jail somehow as soon as possible.
The older brother decides to come up with a plan. He gets the wife to help him, but resents her. They have to travel together and live near the prison and pretend to be husband and wife. The wall between them slowly wears down, he learns that she has been traveling two hours for 15 minute visits every week for two years, that she is working to support herself while her husband is in prison, that she only knew him a month and they were only married a week when he was arrested and still she has been ever faithful. And that she lied on the stand for him, her boyfriend wasn't doing anything wrong, he just came over to congratulate her on her marriage and suddenly her husband started beating him up and killed him. The older brother starts to realize that his younger brother is kind of a lousy husband, and the wife is the victim. She wasn't an evil seductress who ruined his life, she was a pretty girl that got caught up by a powerful personality who is still dominating her life. Meanwhile, the older brother loosens up and smiles a bit (maybe a fun jokey song?) and reveals that he dreamed of college, marriage, a good life. But he was the older brother, so he sacrificed everything for his younger brother.
Living together while they work on the escape plan, they fall into a little fantasy. She pretends she has a kind funny respectful husband, he pretends he has a loving wife who believes in his dreams. But then they actually succeed in the plan and the brother joins them in their hide out. It is AWKWARD. The older brother feels weird listening to them have sex, the wife feels weird being forced to accept her husband's affection in front of his brother, and the husband starts to get jealous. Meanwhile, an honest police officer is coming around asking questions and they are putting him off. Until he has the wife and brother brought in to his office, the officers sent for them interrupting a tense situation where the older brother tried to stop the younger from threatening the wife. The honest police officer talks to the two of them sincerely, and finally the older brother and wife look at each other and reach out to hold hands for support, and turn in the younger brother. Jump forward 6 months, we see the younger brother in jail working on himself, in group therapy trying to be a better person. Meanwhile the wife and older brother are happily married and living together and the older brother is in night school to finally follow his dreams.
Best part of all this: I think it's the perfect movie to reunite Hrithik and Aish! Hrithik can do the double role, changing his physicality to match the two characters, and Aish can be the woman so beautiful that a jerky guy would want to marry her as a status thing.
Fun Father Role for SRK or Whoever
(Sister! Don't read this one! It's that movie I was telling you about that we will watch together)
Original Plot:
Our hero is kind of a fuddy-duddy stick in the mud. He is a leader in the respectable part of society, a trustee of the local university and on charity boards and so on. He married the daughter of his father's best friend, a lovely woman who is patient with his fuddy-duddiness. They have two children, older daughter and younger son. The older daughter is difficult and out-spoken and in love with a mildly radical young man. The younger son is youthful and naive and in love with an inappropriate young woman who comes from new money. The father breaks up both relationships, but has a change of heart when he remembers his own lost romance, a girl from the wrong side of the tracks who he planned to run off with and then his father found out and sent him away. He came back and married the nice girl his parents picked out. He gives his blessing to his daughter and her radical, and arranges to meet the father of his son's innappropriate girlfriend. Only to be surprised when the "lower" family rejects THEM!!! Because the two kids just want a different kind of life. This causes our hero to revert to his fuddy-duddy ways. He sends his daughter away, and announces his son's engagement to the shy sweet family friend girl who always loved him. But his prospective daughter-in-law changes his mind again by having a sweet conversation about wanting real love in her marriage. He has the radical show up at the wedding and whisk his daughter away with the honeymoon tickets he bought for the son. And he buys a bunch of gorgeous new outfits for the daughter-in-law which make the son see her in a new light. And finally, he takes his long suffering wife for the European trip she always wanted, and clarifies that he is so happy and so lucky he married her, she was the right choice for him.
Wouldn't this be a fun role for Shahrukh? Or really any of the middle-aged heroes? Anil would be good too. Shahrukh is married to Madhuri, a nice respectable Pune family. He walks in the park, is a member of the museum board of directors, and so on. His son is living at home and starting his career at a bank, his daughter is a doctor and also living at home. It starts to go wrong at their anniversary party. They invite their old best friends (Anil and Tabu) and their daughter (Sara in old-fashioned clothes looking shy) and try to force their son (Ayushmann) together with Sara, but he is clearly not interested and makes up a work emergency and sneaks out. Sara is quietly heartbroken. And then it gets worse when their daughter Sanya Malhotra shows up late and brings with her a friend from work (Rajkummar Rao), they thought it was a fellow doctor but actually it is an angry activist/social worker who turns out to be protesting the museum extension that Shahrukh is working on. Finally, worst of all, Shahrukh gives Madhuri her present (nice earrings) and she is visibly disappointed, because she thought he was going to give her a trip to Europe like she always wanted.
Everything spins out from there. Sanya and Rajkummar are seen around town flirting, Shahrukh manages to use his connections to get Rajkummar warned off by the police, Sanya is furious with him and insists she will see Rajkummar no matter what even if it means leaving the family forever. Sara has a big 21st birthday party and everyone is talking about how she and Ayushmann will "of course" be getting married. Ayushmann is awkward and finally talks seriously to Sara, explaining he is in love with someone else. She manages to say she is happy for him, but then runs off. Madhuri follows her and tells her story, how she was always in love with Shahrukh and then had to watch him fall in love with another girl. But his father disapproved and sent him away, and when he came back he married Madhuri. So things worked out after all and they might work out for Sara too. Don't give up hope. Obviously, we get a flashback of all of this complete with a cameo from someone playing Shahrukh's lost love.
Anil and Tabu and Shahrukh and Madhuri have a big fight over Ayushmann and it spurs Shahrukh to have a change of heart, to defend his son and then his daughter as well. He gives Ayushmann his blessing to propose to the girl he loves, and invites Rajkummar to come back around the house. Everything is great. Until Shahrukh and Madhuri go to meet with the mother of Ayushmann's girlfriend, Sheebha Chabbha. Shahrukh and Madhuri are eager and welcoming and ready to smooth over things, help her daughter make friends with their crowd, and so on and so forth. But then Sheebha cuts across all of this and says that it isn't happening. She doesn't think their son can make her daughter happy, and they have the money, so they are moving. Her daughter will cry for a while, but get over it. Love isn't everything. Madhuri and Shahrukh are shocked! They talk things over later and Shahrukh is accidentally hurtful when he points out that they have had a good marriage "without love". He also decides that Ayushmann is marrying Sara, no back talk. And that he is sending Sanya off with her aunt on a charity tour for 6 months, no cell reception or internet.
After 6 months, we come back to find wedding planning in full swing. Only, Sara is stressed. She hides in the garden and cries during a wedding sari fitting and Shahrukh finds her. She explains that it doesn't feel right, she is wearing their family sari, she is moving into their home, she isn't sure if Ayushmann really wants her or if she is just another old family antique. Shahrukh, surprisingly, finds himself understanding her distress. He explains that he has felt the same way, when he was a young man, like he was just living his father's life over again. But his wife Madhuri helped him feel different, loved for himself, and Sara deserves that too. He is going to take her on a trip, they are going to go into Bombay and buy her new clothes and get her a new look that is "her", not anyone else. And then his idiot son Ayushmann will fall in love with her for her, like she deserves.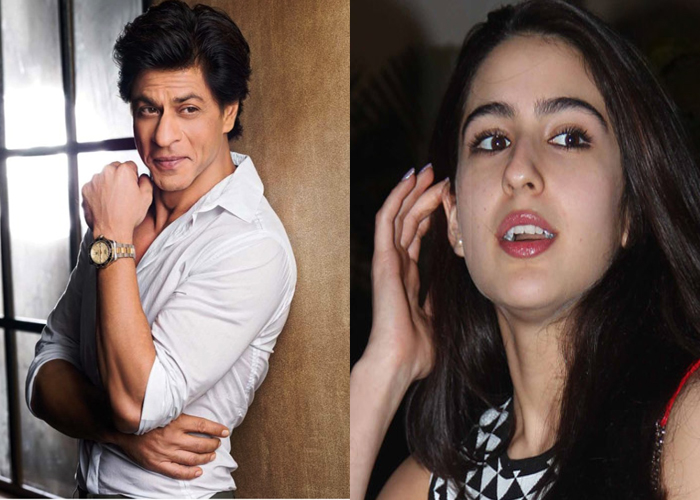 Sara and Shahrukh have a wonderful adventure in the city, until they run into Rajkummar protesting outside of a store and he confronts Shahrukh about how he is selfish and thinks the world revolves around him. It shakes Shahrukh up, and Sara ends up comforting him, telling him that he is wonderful and kind and understanding but sometimes it feels like he is trying to live someone else's life. This brings on a change of heart for Shahrukh.
Back in Pune, Shahrukh and Sara arrange to surprise Ayushmann with her new look. They succeed, he is blown away, and actually pays attention to her for once and learns she is an interesting person and starts to fall in love with her. Meanwhile, Shahrukh talks to Madhuri about all that is happening with him, and says that the one thing he is sure about down deep is that he loves Madhuri and she loves him. Which fixes the thing Shahrukh didn't even realize was broken in their marriage, and Madhuri surprises him by suddenly turning very loving. Joint love song!
And then the wedding day arrives. In the middle of the happy celebration, Sanya arrives, miserable. Shahrukh greets her and seems heartless in his cheerfulness. She suffers through the whole wedding ceremony, and then sitting alone at the reception, she is surprised by RAJKUMMAR!!!! He explains that her father invited him, personally. Shahrukh smiles across the room at them. And then surprises Madhuri by giving her a present. Two tickets to Europe, he is finally taking her for a real honeymoon.
That's cute, right? And I like it that both kids fell in love but one of them was a real relationship that could last, and the other was doomed from the start. And that the older hero is still growing and changing even in "old age". Mostly I like Madhuri and Shahrukh as the middle aged couple with little relationship issues they don't talk through.