Well, that was a bad movie! In a frustrating way, because it is trying to sell a lie as the truth. I am fine with movies selling lies, that's kind of what fiction does, but what bothers me is when it packages that lie as a truth.
I am not poor. But I have known poor people. Pretty much everyone has known poor people, there are a lot of them in the world. This film expects the audience to set aside what they themselves know to be true in order to believe in the story they are seeing. Not just believe through the magic of cinema while the lights are out, but believe as a true thing that happened in the world, that is still happening.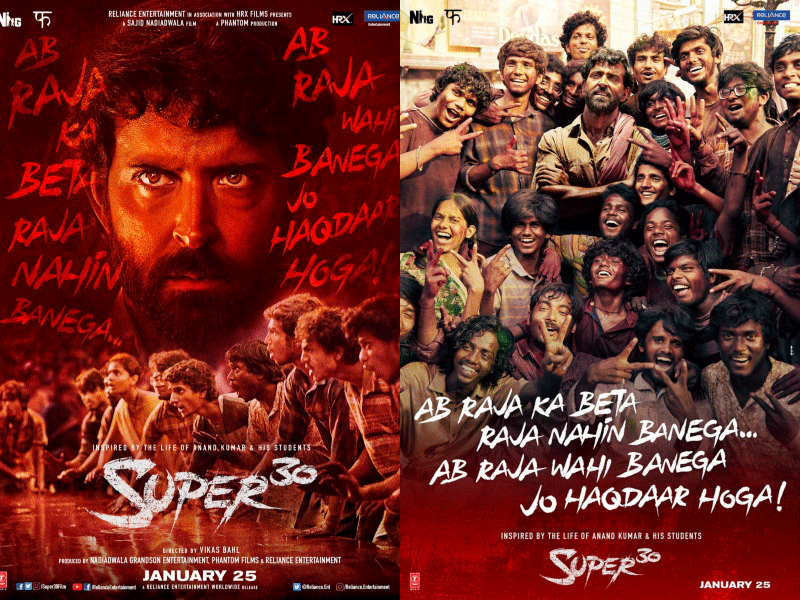 At one point in this movie (set in 1999), our classroom of poor children who still received enough education to make them viable candidates for the IIT coaching class, is asked if they have ever seen a movie. Only two out of 30 have. And those movies? Sholay and Jai Santoshi Maa. Now, Sholay and Jai Santoshi Maa are record breaking hits and all that. But are we expected to believe that in all their years of life, these children never went to a tent theater, never went to the house of a friend with satellite TV, never scraped up enough money for a single screen ticket? Essentially, do we believe that poor people live in a different world from the rest of us to the point that they do not even know what movies are?
This is just ridiculous! You don't have to be poor to know it is ridiculous, you just have to say to your domestic laborer "hey, what's the first movie you remember seeing?" and if it was anything before 1999, this film is wrong. Heck, you just have to think back to the conversations you have surely had with laborers over the course of your life and consider how fluent they were in popular culture, probably as familiar as anyone else.
This movie presents the poor as though they live on another planet from the rest of "us". It makes them into an "other" such that they cease to even exist in reality. Which is comforting, because if the poor are described in ways that makes them an impossibility, that means no one in reality is actually poor. Your driver, your domestic help, yourself, you are not "poor" because you know what movies are, you wash your face every once in a while, you have eaten in the past 3 days. By that standard, everyone is rich!
Which brings me to the bootstrap myth. The bootstrap myth says that anyone can be successful if they just work hard, pull themselves up by their own bootstraps. This film suggests that the students of the class are the poorest and lowest of the low. But it also shows that they all successfully passed a rigorous entrance exam for the coaching class. Bootstraps, even the poorest can succeed if they just apply themselves. But, the poorest and lowest of the low could not pass that test. Not because they are stupid, but because they cannot read. Who are these magical unicorn folks who are too poor to eat food, and yet were able to get the vital first few years of education that allows them to pass a basic exam?
And then there is the whole idea of getting in to IIT as a proof of intelligence. No, as the ONLY proof of intelligence. There is a certain kind of smart that does very well on tests. There are many other kinds of smart that do well in the real world, or even in classrooms, but not on tests. If you have the kind of smart that does well in the real world, you don't need IIT. Truly. If you have the kind of smart that does well in classrooms, you may manage tests and IIT, but you will be surely disappointed when you graduate and discover there is nothing there for you. And if you have the kind of smart that only does well on tests and not in classrooms, you don't need a coaching class.
I feel comfortable saying this because I come from a family of engineers. In my family we have people who graduated from the #3 engineering school in the world, the #21 engineering school in the world, and the #44 engineering school in the world. IIT is positioned as this magical perfect best ever institution. But in reality, IIT Delhi is only the #111 best engineering school in the world. IIT Bombay is #168. The IITs go down from there, all the way to IIT Dhanbad at #587. They are good schools, yes, but to pretend they are the best in the world is to tell a falsehood, which insults the true achievements they have made over the years. And what is the even bigger falsehood is to pretend that the engineering school ranking really matters that much in the real world.
In my family, you know who was the truly brilliant engineering genius? The one who took himself from nothing into a business owner and wealthy man who left enough money behind him to help pay for me, his great granddaughter, to go to college? It was the one who graduated from what is now only the #229 best engineering school (even worse than an IIT) and was back then a charity school he attended on scholarship. Education does not make the man, the man makes the education.
This whole movie builds on the idea of the tension that after all their months of work, these kids could end up with nothing if they score just a few too little points and don't make it into IIT. Doesn't that, itself, show the flaws of this whole system? The entrance exam is supposed to test your knowledge and intelligence. Never does the film say that they are not gaining knowledge and have intelligence. Whether they pass the test or fail by a few points, they will still have the knowledge and the ability to apply it. But all that is good for is this test. Then, what is the test good for? If the knowledge needed to pass it is worthless, is not the test itself worthless? Is not the entire IIT degree worthless?
The IIT entrance is a golden ticket in India, a society where class and caste rule with an iron fist. Once you have that degree, you can be respected in rooms where previously you would be ignored. But a good boring elementary school education is also a golden ticket, and one that could and should be given to everyone, not just a magical 30 group of students. That's what bothers me. This whole film is taking "deserving" poor people and giving them the thing at the end of the rainbow. But that thing is an illusion, a false pot of gold. The real value is in what they already had, the basic education that allowed them to read, to calculate, to understand the essentials before they even entered this classroom.
It is a lie to pretend that the thing at the end of the rainbow has more power than it does. But it is also a lie to pretend that the journey started when the class started. If these kids already had the basic education needed, and the basic intelligence to pass the entrance exam requirement, they were not the poorest of the poor. A coaching class, no matter how good, cannot take the poorest of the poor and get them into the best engineering school in the country in a year. It can only take the richest of the poor, as it were, and get them into the best engineering school in the country.
This lie is so big, that it effects the whole movie. Every scene, every moment, is struggling to work around it. Our characters are made more and more pitiful to distract the audience from asking questions. Every moment of drama is underlined with music and emoting, because they know they have not given the audience a reason to truly feel anything. Hrithik's central performance goes wildly from poll to poll in an effort to sell an unbelievable series of events. Heck, even the sound design and lighting are a disaster! In an attempt to sell "gritty", they landed on "dusty and dark" and "weirdly breathy and wet sounding".
The frustrating thing is, they didn't have to tell the lie!!!! A movie about poor kids who had struggled, and their families had struggled, their whole lives to give them a basic education, kids who actually KNEW WHAT MOVIES WERE, I would still watch that. And it would be a movie with a color tone besides "tired dirty dingy" and characters who had more notes to play then "desperate and eager" and a hero who could talk like a normal person instead of an inspiring speech machine. And maybe a message that was more about the importance of free early childhood education, and child labor laws, and caste freedom, instead of about the All Powerful and Wondrous IIT.