Well, that was a bad movie! I already put up a no spoilers review that explains how and why it was bad without revealing more of the plot than was in the trailer. You can read that and then not waste your time on this review. Or you can read both! Whatever you want.
Whole Plot in One Paragraph:
Hrithik is a brilliant high school student who has a love story with Mrunal Thakar. He sends in a proof to a mathematical journal, it is noticed and Cambridge University offers him a place. But corrupt politician Pankaj Tripathi refuses him a loan, and his father can't raise the money. In the middle of this, his father dies. Hrithik starts selling food on the streets until he is found by Aditya Shrivastava who wants him to head up his coaching classes. Hrithik becomes rich and successful teaching rich kids how to get into IIT. Mrunal's father approves of him. But one night he sees a poor boy studying under a streetlight and it inspires him. He quits his job and takes his savings and decides he is going to start a class for 30 students for free, only the poorest can attend. He gets a building for them to sleep and study in, and some books, and his mother makes them food. He sets a tough entrance exam and takes the top 30, telling the one who was one point behind to come back and try next year. The 30 study and study, and reporter Amit Sadh starts writing stories about them. Hrithik runs out of money to feed them and goes to evil Aditya for a loan. Aditya agrees if his 30 compete on a test with Aditya's students. They lose and, to add to the humiliation, the supervisor of the test and the one to announce the loss turns out to be Mrunal's new husband. Mrunal helps Hrithik by hiding the contract he signed saying he will shut his coaching classes if he loses. More studying and test prep, Aditya is even angrier now and so is Pankaj Tripathi. They hire goons to kill Hrithik. Amit Sadh warns him, Hrithik is attacked but his brother Nandish Singh has been following to protect him and saves him. He is taken to a hospital and Aditya hires more goons to attack, unaware that one of Hrithik's students is overhearing their plans. He warns the hospital and the kids put together a series of booby traps using their Science Knowledge and defeat the goons. The next day they sit for the exam and sure enough, all 30 pass.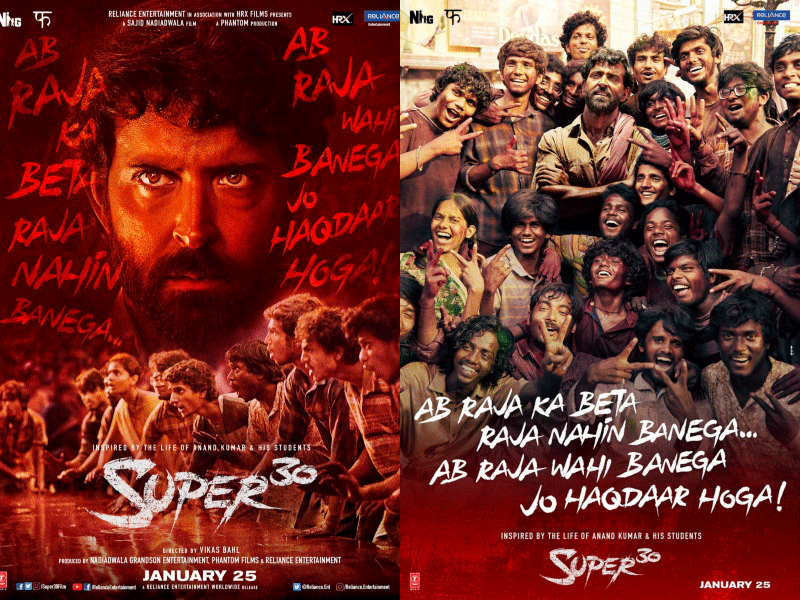 I'm trying to think what I can say that I didn't already cover in my no spoilers review. That alone is kind of a problem. The film has no twists. The central themes are right there in the poster, there is nothing for me to discuss that was not already revealed long ago. Amit Sadh, I guess? He does a great job, far more charismatic and hero-feeling than Hrithik.
Some of the little "Science Knowledge" bits are fun too, especially the end action sequence. They made me think about what this film would have been like if it had been more of a real Masala. If instead of being all serious and intense and acting like an Uncle giving you a lecture, it had been a whole bunch of fun set pieces with ridiculous uses of science.
The romance already feels quite Masala, Hrithik and Mrunal have a nice chemistry together and their love story is cute. But it only gets a few scenes, even while they are still supposed to be together, it isn't a major focus. I would have enjoyed more of that, maybe see them get married and Mrunal struggle alongside him.
Poor Pankaj Tripathi struggles with a role that isn't quite over the top enough to be entertaining, or realistic enough to be unnoticed, and instead just lands on "irritating". Aditya is the same. In the Masala version of this movie, they would both be fun over the top villains.
Most of all, in the Masala version, all the money angst would go away!!!!! We establish that Hrithik is a top coaching teacher, making enough money to hire a maid for his mother and buy a motorcycle, gold chain, fancy watch, and so on. But then he sells everything and takes all his savings, and runs out of money for food. How expensive is food???? It's just not believable, they needed an artificial driving force to keep the film going over the 8 months of classes before the test, but "money problems" is not a good one. We see they are in a dingy old building, we see they are eating the cheapest possible food, we see that Hrithik is their only teacher. Where is the money going?
In America, sure, sell some gold jewelry and stuff and you only make enough for rent for maybe a month. But in a super poor area of India (as this is established to be), the economics of it just don't make sense. And aren't true anyway, in reality the "real" Anand Kumar does the practical thing and teaches for profit coaching classes along with his scholarship one. He claims to only charge a fraction of what other schools charge, and that is probably true, but it's still more than enough to cover his scholarship students. As would be any kind of reasonable savings from a high paying important job he had previously.
This whole plot line feels like it is there to give an excuse to the audience. It's too hard to provide a free education, or a free meal, to the starving poor. Look, even Anand Kumar couldn't do it! No reason for us puny humans to try, we can keep our gold and our toys, they wouldn't make a difference.
Now, in my Masala version, the money plot could be removed and replaced with the far more entertaining violence plot. If we had a whole 8 months of violent attacks on the school being repelled by clever science tricks, that would be a really entertaining movie. And would give us the message of these kids being peppy and strong and talented, instead of dirty and subhuman.
Masala is a term for a fun silly kind of film, and there is a reason that fun silly kind of film is the traditional style for Indian film. It takes ideas and brings them to the extreme, so the audience can know they are fake, know this is just a movie, and consider whether the ideas are worthwhile or not. This movie resists the Masala, which also means it resists any sense of lightness, of fun, of permission to see the whole story as fake. This movie doesn't want the story to be fake, it wants it to be real and serious and important and the One True Answer. And wanting that so hard, to me, tells me that it is definitely NOT the one true answer. If it were, it could afford to laugh at itself a little more.