I love this movie so much! It's clever on like 5 different levels simultaneously, and also somehow extremely goodhearted. I love goodhearted cleverness, when you can see through the illusion of things and still love them.
Whole plot in one paragraph:
A scriptwriter is meeting with producer Pankaj Tripathi and narrating the script for his new cop film. In the movie, Diljit Dosanjh is a Judo champion who dreams of being a cop like his hero Ronit Roy. His first posting is in a small town under Ronit's command. He arrives and meets his constable, Varun Sharma. He starts cleaning up the town and learns that Ronit's dream is a "crime free district". He meets and falls in love with spunky reporter Kriti Sanon who is touched by his bravery and shares her research, explaining all the gangsters in the area. Diljit and Varun devise a plan to have the criminals take each other out, with up and coming vicious criminal Mohammed Zeeshan Ayyub as the final player. Kriti suspects what they are doing and is angry with Diljit because her parents died in violent village infighting and she hates violence. Then, Diljit is taken in by Ronit Roy to meet Seema Pahwa, the local MLA and richest person in town. Turns out, she is the final big boss and Ronit Roy is under her control. Diljit agrees to follow their orders and kills Varun Sharma. Kriti is furious with him and threatens him. Only to learn in the finale fight scene in the morgue that Varun and Diljit just faked his death, and Ronit was faking working with Seema Pahwa. After much humorous running around, Seema and Mohammed are finally captured, and Diljit and Kriti are reunited.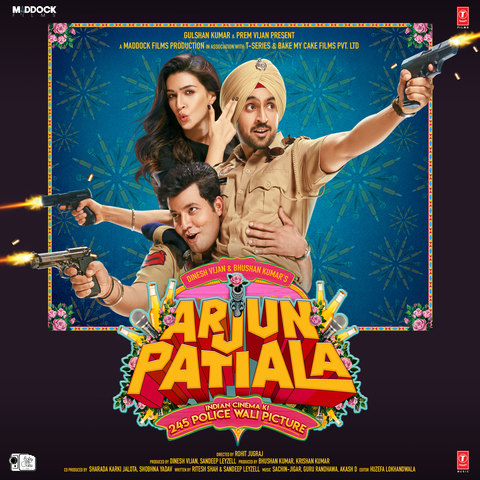 Removing the really clever scriptwriting frame story, you are still left with this original idea of a cop setting the gangsters against each other one by one, learning there was another gangster boss he didn't even know about that was using him, betraying his friend, and then the reveal that the betrayal was fake. All of that is great and cool and interesting and more original than any of the big budget Rohit Shetty cop movies have been in ages.
Even the romance is good! Kriti is her own person, she gives Diljit her research but warns him that she has been researching this for months and she is only giving it to him because she wants the crime to end. She isn't a shallow girl in love with a cop and doing what he asks, and she also isn't a heartless reporter, she is a decent person. She even gets the one truly touching monologue of the film, describing how her village was filled with violence as we see a simple line drawing of a little girl walking through violent scenes. Diljit loves her for all of that, and jumps right from first meeting to proposal without pause.
Oh, and can I mention how cleverly the framing device is used to not just comment on the story but give us clues? For example, right at the beginning the scriptwriter declares the film has 5 villains. When Kriti runs through her list of known gangsters, the screen counts up to 4. If we have been paying attention, we know there is a hidden villain not yet listed. On the other hand, when it is revealed that Ronit and Seema are working together, if we have been paying attention we would know that now brings us to 6, which means one of them isn't really a villain.
There are so many moments of clever surreal humor I have to watch the film twice to even catch them all! When Diljit is attracted to a woman, he imagines a microphone in his hand and starts singing to her. But when he sees Kriti, he reaches for the microphone and finds it hasn't appeared, which makes him realize this time it is serious. At one point Varun says he understands how Diljit feels, he has been in love so many times himself he lost count, and the screen shifts to a quick flash through all his loves as it counts down including a quick image of the station cow Victoria. Later when Varun is dying, he has a sudden vision of Victoria (his most recent love). During a confrontation with Diljit, Kriti gives her big dramatic speech and then Diljit just stars at her until she prompts him "your line". And of course the very ending, when the maid and secretary are cleaning up after the narration and the secretary asks the maid if she thinks the film will run and she says "probably not".
I could sit here and list off 20 more fun clever things in the film, but why waste your time? Go watch it! And if you have already seen it and come back to read this review, then go watch it again and find what I missed!