I have seen sooooooooooooooo many Christmas movies in the last few days. And now I really want to spend Christmas in a small cheap to film in town in Canada. It's not Christmas if I'm not seeing a bunch of random Canadian extras around an aging former family sitcom star in a Christmas sweater! Anyway, this goodness needs to break into the Indian market, and I am here with 5 separate plot ideas and suggested casting.
Santa's Heir Romances a Single Parent
The Santa family needs to learn more about their new growing market in India and so sends Santa's son/daughter to hire a market research consultant, a young single father/mother who doesn't believe in magic after his/her spouse walked out on them. Santa's son/daughter appears to be desi because the Santa Magic makes him/her look like whatever culture the person looking at him/her is in. Santa's son/daughter and the overworked single parent fall in love, and the happy ending is the two of them opening up an Indian branch office of Santa Clause International.
Cast:
Santa's Daughter: Anushka Shetty
Santa's Son: Ranveer Singh
Struggling Single Dad: Prabhas/Ajay
Struggling Single Mom: Deepika
Workaholic Movie Star version of A Christmas Carol
A famous actor/actress works all the time and thinks they are the center of the universe, leaving their spouse and children and old friends behind. On Christmas Eve, they are traveling alone to get an award instead of spending time with their family when they are visited by the ghost of an old dead superstar, here to teach them how to live a better life. They see their past as a fresh young actor, falling in love with their spouse, working harder at first just to give their children a better life, and then turning selfish and in the future losing everything when his wife leaves him and his children apart, which teaches him/her to be a better person in time to celebrate this Christmas.
Male Movie Star: Shahrukh Khan
Female Movie Star: Juhi Chawla
Male Movie Star Ghost Guide: Amitabh Bachchan
Female Movie Star Ghost Guide: Kirron Kher
Movie Star Supportive Wife: Kajol
Movie Star Supportive Husband: Aamir Khan
Opposites Fall in Love Despite Being on Different Sides of a Small Town Dispute
Our hero/heroine runs a small Christmas bakery in Kerala, while our heroine/hero is planning to open a new branch of his families big baking corporation and factory in the same town. They meet at first when his/her car breaks down and she/he gives him/her a ride and spark immediately, but when she/he learns he/she is from the big baking company when he/she stops by her/his bakery later, she/he immediately gets angry and yells at him/her which makes him/her defensive. Over time, the outsider learns to appreciate the magic of a small town Christmas and falls in love with the baker, and in the end they figure out a way to combine the two businesses and there is a magical Christmas Eve proposal.
Female Bakery Owner: Sai Pallavi
Male Bakery Owner: Prithviraj
Female Rich Factory Person: Parvathy
Male Rich Factory Person: Tovino Thomas
Feuding Family Reunites Over a Holiday Week
Nice average older man/woman was recently widowed and asked all 4 of their children to return home for Christmas, the funky little holiday they always celebrated as a family, although he/she doesn't know that all the kids are fighting. The two sons started a business together but now are feuding and dissolving the company, their wives are very different women (one traditional one a working wife) who never really got along, and the youngest sister was widowed and now lives at home and secretly resents all her siblings for not trying to make her life better. Over the course of the Christmas week, the three women realize they have more in common than the thought, the youngest daughter (with the help of her sister-in-laws) goes after the lower class farmer nearby that delivers milk to her every day, the two wives help their husbands appreciate each other and unite, and then there is a big family dance/song number.
Family Patriarch: Anil Kapoor
Family Matriarch: Juhi Chawla
Older Son: Pankaj Tripathi
Older Son's Wife: Raveena Tandon
Younger Son: Rajkummar Rao
Younger Son's Wife: Kriti Sanon
Youngest Daughter: Bhumi Pednakar
Hot dairy farmer: Sushant Singh Rajput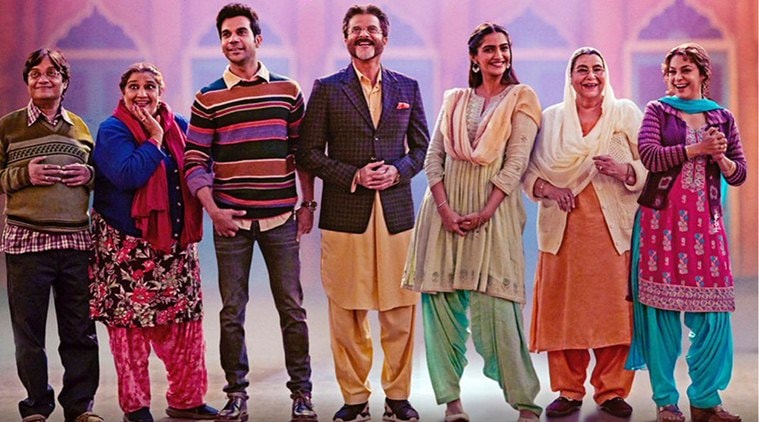 Magical Christmas Object Sends Person Into Parallel Universe
Years ago on Christmas, a young boy/girl moved away from India with his/her parents, after saying good boy to his/her best friend in the world and being given a Magical Christmas Object by that friend. Now, this young boy/girl has grown up to be a spoiled rich westernized person who has returned to India for the first time for the holidays and is grumpy and rude and horrible, including to a nice young man/woman who offers to help with his/her bags, before finally taking a sleeping pill while rubbing the Magical Christmas Object she/he discovers in his/her childhood bedroom, right where she/he left it. The Magical Christmas Object throws him/her into an alternate universe where he/she is a small town school teacher in traditional clothing and the childhood best friend is still his/her best friend, until Christmas Eve when he/she is thrown back into the regular timeline and he/she must decide what he/she wants to do.
Westernized Young Woman: Kareena Kapoor
Westernized Young Man: Shahid Kapoor
Village Best Friend Man: Arjun Kapoor
Village Best Friend Woman: Amrita Rao
Magical Christmas Object: Snow globe? Advent Calendar? Santa Hat? Tree Topper? Could be anything really.