If you have been following Indian film for the past 20 years or so, that headline will make total sense to you. If you have not, then I will explain below. It's FASCINATING.
Usual Disclaimer: I don't know these people, I have no special knowledge, this is just how it looks to me based on publicly available sources.
Preity is something special. Everyone always says that about their favorite actresses, but she really is. And she isn't even my favorite! But I still think she is special. If you only know her from the 2010s, she may look like most other aging actresses struggling to remain relevant. But if you know her from before that, you realize that she will never be like most other actresses, even if sometimes she does the same things.
Preity was never going to be like most other woman, she started out already in a very rare position. Preity was born to an army officer, in Shimla. Both those things make her different. Army, in India, is one of the most cosmopolitan intelligent and worldly worlds you can be in. Army kids aren't rich, but they get to travel all over India (sometimes all over the world), they go to great (army run) schools and live in really nice (army provided) houses. And then there's Shimla. It's a "hill station", a vacation area where the British stayed, and before them the wealthy locals, and in the present day college students and old families with old houses and intelligent folks who want to live in a place of beauty and remoteness and intelligence. Preity is doubly different, doubly independent and fearless and without the hangups of the Indian women raised in suffocating unquestioning restrictive traditional Indian society.
Preity isn't the only army kid actress, and that's not surprising. Being a Hindi film actress isn't something "normal" Indian girls do. You are displaying your body and face onscreen, you are working before marriage, you are mixing with a whole variety of not "nice" people, and the casting couch is a reality. The usual Indian parent would be terrified to allow their daughter to do this, and the usual Indian daughter wouldn't dare rebel and do it without parental approval. Hindi film actresses tend to either be super rich (so that their parents know they will be safe no matter what since money protects), or from performing families already (currently film brats, in previous generations Tawaif's children or other performers), or like Preity, part of one of those rare communities that was not super rich but had the freedom and confidence of the super rich. Priyanka is an army brat, Anushka is an army brat. Deepika is a sports brat which came with a lot of the same privileges. And communities like Shimla, the old intellectual international kind of towns, are also breeding grounds for the kind of confident young women who will fearlessly join the industry. These young women like Preity aren't "normal" Indian girls, but they are a heck of a lot closer to "normal" than the actresses Preity came up with like Rani Mukherjee (born into the industry) or Manisha Koirala (born into a wealthy powerful Nepalese family). Preity has a kind of "girl next door" casual different vibe that the other actresses didn't.
Preity went to college, went to a party, and a casting agent spotted her and asked her if she wanted to be in an ad. The ad became an immediate hit, everyone loved her dimples and different look, and suddenly there were film offers. And Preity's first film right away established her as different from other actresses, and also braver than other actresses. Mani Ratnam cast her in Dil Se… to play someone a lot like her. An army daughter, no hang ups about anything. She showed up onscreen with short natural curls, in jeans and t-shirts, and casually asking her arranged fiance at their first meeting "are you a virgin?" This was a new kind of heroine even just in appearance. Short hair in India means something, it announces you are a radical feminist. And curls mean you don't care about beauty rules, or trying to look respectable and proper. The girls of India fell in love with Preity, curls and short hair and cheerful smile. And still sweet! She wasn't an aggressive scary modern woman, she said all her radical things with a dimpled smile as though she didn't realize they were radical.
That was Preity onscreen, and it felt like that was Preity off-screen too. In her first movie she asked her fiance if he was a virgin, in her second movie her character lost her virginity onscreen and went on to be an unmarried mother. And all with a smile! She had no hangups about ruining her reputation as an actress, about losing out on "heroine" roles because she was playing risky parts. And she certainly had no hangups about losing her reputation as a person, no fear that she would be forever unmarried or any of that.
Which brings me to what makes Preity different from all those other army brat/vacation town heroines. Preity had an idyllic childhood, two brothers (one older and one younger), running around wild in Shimla with her two loving parents. And then when she was 13, her parents were in a terrible car accident and her father died. That is sad, but what makes Preity a bit unique is that her mother was bedridden post accident. For the rest of their childhood, Preity and her brothers raised themselves. They still had a mother to love them, but they fed themselves and clothed themselves and made up their own rules. Preity was twice fearless, first because the worst thing that could happen had already happened when she was 13 and she had survived it, and second because there was no adult around her in those pivotal teenage years to teach her to be afraid, to beat in the lesson that Indian girls must always be proper, careful, safe.
By 2003, Preity was a top actress and known for being fearlessly unconventional without seeming to care she was unconventional. She didn't give interviews about "women's issues", she didn't seek out art films on Important Topics. But if you wanted a heroine to play a cheerful outgoing working girl, that is Preity. Both a working girl (so many of her heroines were ambitious and pursuing careers), and a "working girl". Preity played the happiest sweetest prostitute in history in Chori Chori Chupke Chupke. Her fans were legion, young women who wanted to be like her, happy and fulfilled and fearless and being rewarded by the cute boy falling in love with them. And then in 2003, Preity proved that she wasn't just fearless in her onscreen choices, but in real life too.
In 2000, the producer of Chori Chori Chupke Chupke Bharat Shah was arrested in a police sting trying to clear the mob out of the Bombay entertainment industry. The mob and the film industry had been intertwined since the very beginning, with the Indian government forbidding legitimate sources of funding (by refusing to give film "industry status") the film industry natural looked towards illegitimate sources. Bombay was a city on the rise, rules were meant to be broken, and for a while the mob was more reliable and legitimate than city government. But in the late 80s and early 90s, things started to change. Mobsters turned from casual smugglers and "fixers" who could solve problems when the courts were too slow by brokering a settlement, to ruthless killers. Protection rackets, and random kidnappings, became the order of the day. And the film industry turned into a place of fear. The Bharat Shah case was the beginning of the end, but the fear was still there.
This was the era when Karan Johar was terrified to go to the Kuch Kuch Hota Hai premiere because mobsters called his family and promised to kill him if he released KKHH to compete with a mob backed movie. When Shahrukh Khan hid in Rani Mukherjee's trailer to escape the gangsters looking for him on set to ask why he turned down a role. When Hrithik's father was shot in a drive by, and when the head of T-series was killed leaving the temple after his weekly prayers. 13 members of film industry members were called to testify in the Bharat Shah case and repeat earlier statements they had given the police, and they all chose to turn hostile witness and refuse. Yes, even your favorite stars, whoever they are, they all refused. I am sure it was what their lawyers and everyone advised, and when Hrithik's father was still recovering in the hospital, who wanted to risk having your own family shot down in front of you by testifying?
But Preity didn't have a family. Her older brother had followed her father into the army, her younger brother was in America, both her parents were now dead. And what was there to fear? She had faced down the worst the world could give her already. So Preity became the ONLY member of the film industry to actually show up and testify. Bharat Shah threatened her life if she refused to go on the promotional tour for Chori Chori Chupke Chupke, and he threatened her co-star Salman Khan too who also put pressure on her to give in. Bharat Shah went to jail, and Preity went into witness protection for 2 months. And gained the nickname, "the only Man in Bollywood".
Her bravery didn't end there, and personally I find her later police testimony even braver, although it didn't get nearly as much attention, because it was about her personal life and that is extra scary. Preity had always been casual about her personal life in that army-kid/Shimla-girl way. It didn't seem to occur to her that dating someone might be something she had to plan out and present in a particular way. It was just dating, everyone does it, who cares? Her first boyfriend post-fame (I am sure she had normal healthy college relationships before fame) was Marc Robinson, a promoter and fashion industry type. He started as a model, then moved into organizing events like fashion weeks and the Miss India contest. He was in that transition space when they started dating, Preity was 25 and two years into her career and Marc was 35. They dated for a year and it is mostly memorable because that sort of casual relationship with a not super famous person (that is, not lasting long enough to be moving towards marriage) is not the kind that actresses usually made public back then. But Preity didn't care, she was dating this guy, why not appear in public with him and talk about him in interviews?
Preity was single after Marc, which again is unusual. She had started her career slightly "old", at 23 while in grad school after finishing college. And then she stayed single until she was 30. No rush to get a husband lined up for when her career ended, or before she got to old, she was just living life. And then at 30, she started dating again and was with the "perfect" man. Ness Wadia, the Bombay Dyeing heir, from one of the oldest families in Bombay and the richest single man in Bombay. He was only 4 years older than her, and also a Lawrence School graduate, they had loads in common, and he seemed wonderfully supportive. They even became business partners, setting up a shared corporation which they used to buy into the IPL franchise and purchase the team Kings XI Punjab. It was an accepted thing to see Preity and Ness showing up all over Bombay, going on trips together, seemingly happy as permanent boyfriend-girlfriend and business partners. For a long time, that seemed like Preity's happy ending. Her acting career was moving in a slower direction, she took a risky part as an abused wife who kills her abuser in an international production, looked like Preity and Ness would keep being childfree and happy, running their cricket team, being a golden couple in Bombay, this was Preity's post-heroine career all settled.
And then, BOOM! Preity and Ness break up and Preity announces she is moving to Boston to do a Harvard business course. What the heck???? The actress rule book says, post a public break up like that, you need to focus on your career and get that fame thing going again, save face and position yourself for another better public relationship by keeping your fame up. Preity's career was slowing down, but was far from over. In 2007, she had a lead role in Jhoom Barabar Jhoom, in 2008 she had the award winning art film Heaven on Earth, in 2009 (the year of the breakup) she had an item number in Mein Aur Mrs. Khanna. She was moving out of the mainstream, but she wasn't all the way out yet, she could have buckled down and gotten more parts, or at least more item numbers, kept her face in the public eye. But instead, she fled the country. That was very odd, I remember at the time being completely confused by it.
For 5 years, Preity stayed out of India beyond fulfilling her basic responsibilities to the IPL team and promotions, and a few TV appearances. Again, very mysterious. This bubbly happy fearless woman, who had always given interviews and live performances and been everywhere, was just gone. And then in 2014, she suddenly became part of the public eye again when she filed a police report against Ness Wadia for harassment and abuse.
In India, an abused wife has a lot of recourse. But an abused girlfriend doesn't. Her legal position is uncertain. And in Bombay, Ness Wadia's position is unassailable. If the Ambani's don't own it, the Tata's do, and if the Tata's don't own it, the Wadia's do. Ness is not just head of the massive Wadia group of industries, he is also on the board of the Tata industries, and he is head of the Wadia charitable hospitals, orphanages, and schools. If he was an abusive partner to Priety, for 5 years, there was no one who could have saved her but herself. I am just imagining, I don't know, but I can imagine a woman who had made it on her own and was proud of her independence, whose only close relatives were her two brothers and both of them were living far away. And I can see how that woman would have an extra hard time admitting to anyone, including herself, that she was trapped in an abusive relationship. I can also see how a man like Ness Wadia could twist things, make Preity think it was her choice not to be married and she "owed" him, make her think they lived a relationship by their own rules and she couldn't apply regular standards, make her think everything was her fault.
A year before Preity finally broke free, she signed Heaven on Earth, Deepa Mehta's film based on a true story of an Indian wife married to a Canadian NRI who finally saved herself from his abuse by setting his feet on fire while he slept (so he could not chase her when she ran). And then she broke up with Ness, and ran to America. Preity had never seemed to be interested in the art film world, and she hasn't pursued that since, but I have to wonder if this particular script spoke to her because it felt familiar to her life on some level. And if something about the process of filming it and living in that story lead to her deciding it was time to walk away from Ness, from everything, and just be free for a while.
In 2013, Preity came back with her own production company and her own film (Ishk in Paris). Terrible film, big flop. But very brave of Preity to try a come back at almost 40 after being gone for 4 years. And, interesting footnote, she was assisted by her best friend in the industry Salman Khan. Once again, Salman is the best support and most loyal friend to anyone in trouble. He did a big cameo in the film for no charge, just as a favor. And then while attending a cricket match, forced to interact with Ness again as a co-owner, Ness attacked her and this time Preity filed a police report. It never went anywhere, of course. Preity only had one witness on her side, "an American" (as identified in the media reports) who was her guest. All the other people around either mysteriously didn't see anything, or supported Ness's version. But it was now a matter of public record, Preity had spoken up the scariest truth of her life, that her "perfect" boyfriend was an abuser.
Two years later, Preity married the "American" who had been her witness. Gene Goodenough, a boring American executive based in LA who was a friend of her younger brother. They must have met during her Lost Years at some point, and known each other well enough by 2014 for her to invite him to a Cricket match in Bombay. At age 41, Preity got married, in a small family ceremony at her brother's LA house. Followed by a big Bombay reception as Preity began to regain her Bombay life.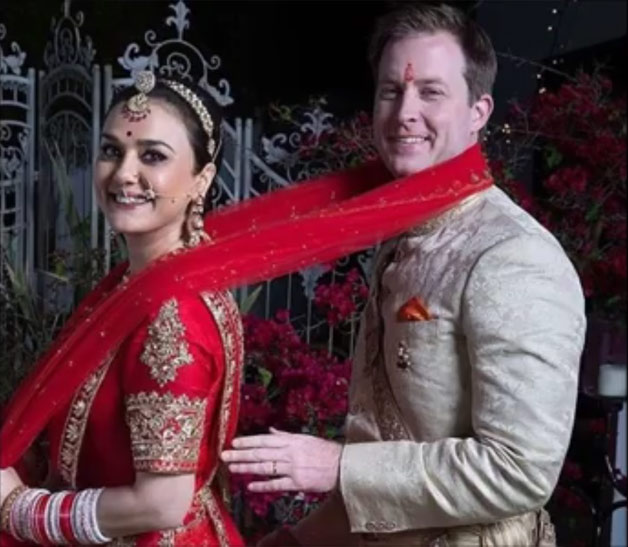 As I said, Preity seems to be following the pattern of every other aging actress trying to restart her career. But I don't think that is her pattern. I think her pattern is of an abuse survivor. She had to get away, she gave up everything in her life in order to be free, walked away from her career, her Bombay friends, her fame. And then she healed, found a man who loved her, spent time with her family, remembered who she was before all of that, and finally confronted her abuser and decided she wanted to get her life back, with the man she loved at her side. Preity came back to Bombay with a bang in 2016. After the occasional TV appearance in the past few years, she was suddenly a celebrity judge, acting in a new movie, and appearing at all the events looking spectacular. No more hiding away.
Preity as never a good fit for Bombay film, and now that she is older and married to a white man and as outspoken as ever she is an even harder fit. And so I am happy with the news that she might be getting an American TV show. I want Preity to be happy and free to be herself. And if there is an actress who is going to introduce American audiences to Hindi film stars, I want it to be Preity. Because she is "the only Man in Bollywood".