I already did this for Shahrukh, and I suspect fewer people will care about Hrithik than SRK. But lets see! And this time I am including movies where he doesn't actually have sex on screen but will have sex shortly after the film ends.
Kaho Na Pyar Hai
Evidence: He's very energetic and enthusiastic, and they certain seem happy on that desert island
Mujshe Dosti Karoge
Evidence: He's INSANE!!! And that's hot
Main Prem Ki Diwani Hoon
Evidence: Kareena's face seems really really happy
Dhoom 2
Evidence: He and Aish are both very pretty
Jodha Akbar
Evidence: The waaaaaiiiiiitttttiiiiiiing. And then the music swelling and all that like it is Epic and History Changing.
Zindagi Na Milegi Dobara
Evidence: The next day he is ready to change his whole life in order to stay with her
Agneepath
Evidence: Only time he seems relaxed in the whole movie
Krrish 3
Evidence: He has terrible hair and she's still willing to stay married to him. Also, superhero sex!
Bang Bang
Evidence: He is such a good dancer, and she really enjoyed her first kiss
War
Evidence: ALL THE TENSION! ALL THE DESIRE!!!!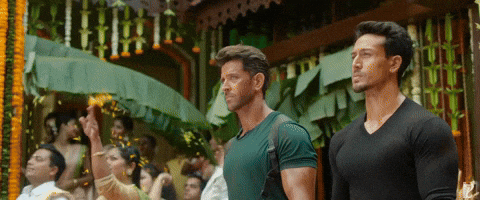 My rankings:
Zindagi Na Milegi Dobara: They just love each other so much! Plus, equal experience.
War: Both so strong, they can just throw each other around!
Agneepath: All that pain and misery going away for just a moment!
Jodha-Akbar: Sex so good it is historic
Bang Bang: She's enthusiastic, he is kind and confident, seems a good combination
Main Prem Ki Diwani Hoon: They are really really into each other, but sand?
Kaho Na Pyar Hai: Both inexperienced, plus all that sand, I'm just not thinking it was that great. Good for them, but not comparable to the others.
Dhoom Again: I just feel like they would both be pausing all the time to think about how pretty they are
Krrish 3: Can anyone really get past that hair?
Mujshe Dosti Karoge: I've decided it was terrible, because Hrithik is super sexual and has crazy kinky needs, and Rani just isn't.