This is a repost, but it's a really good post! And it's from a while back, so maybe you all don't remember it.
Women learn from an early age to use their sexuality. It's not about seducing someone, or being overly sexual, it's about saying "I am a human person with a sexual aspect, and you are a human person with a sexual aspect, and this is a dance we do sometimes". It's one of many dances that are part of the human interactions which women learn how to do because they aren't given the option of escaping that dance. You know how to play the sweet little girl to folks older than you, how to play the charming friend to people your own age, how to play the comforting non-threatening adult to little kids, and how to play "I am a sexual being, you are a sexual being" when the occasion calls for it.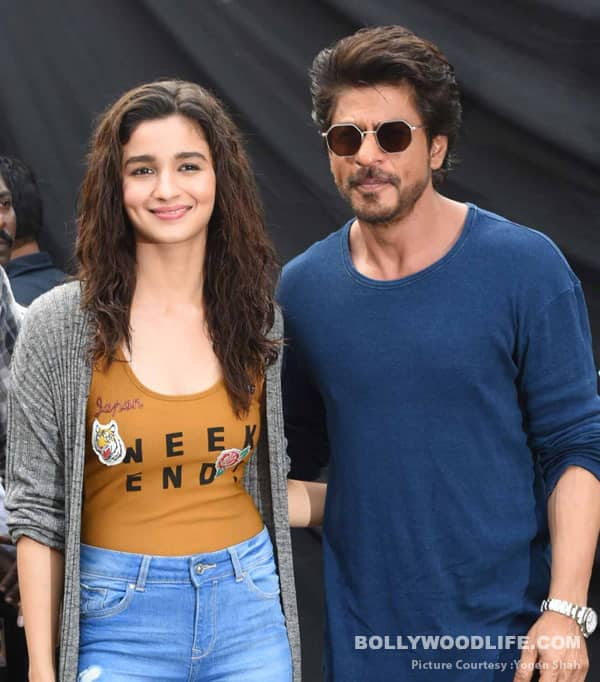 Men don't know these things, not in the same way. Because men aren't socialized to learn them, they are socialized that they should take the lead, enforce their will, not play a complex game of manners to trick people into going their way. Think about a story that revolves around a little girl and an adult. If it is a little girl and a man, it is about her being charming and sweet and innocent and softening his heart. If it is a little girl and a woman, it is about the woman being kindly and wise and healing the little girl. But you wouldn't expect a man to be kindly and wise to a small child, they are the ones who have to be softened up, not the ones who do the softening. If you see what I mean. And the same dynamic exists in flirtation. The expected pattern is that the man is standing there and the woman touches his arm, gives him bedroom eyes, tosses her hair, and he ends up flustered and seduced. In all real ways, men control the world, including relationships with their daughters, wives, girlfriends, and so on. Which is why in the complex dance of human interaction, women have learned how to be the more skillful dancers, how to lead while seemingly following.
Now, let's talk about Shahrukh Khan!!!! In general, he acts like a man. When he is in a relationship on film, he is definitely the "husband" and not the wife, it is his needs that come first while the rest of the family has to work around them. In the real world, he takes responsibility, he isn't tiptoeing around trying to please everyone and make them think it is their idea, he is saying "this is what is happening, my decision." In terms of socialized behavior, he is a "man". One of the very best versions of a "man", one who sees the people around him as people who he must protect and help, one who sees his family as an extension of himself who he must care for, one who is capable of respecting and listening to the opinions of others, all those good things. But still a person who looks at the world and takes an active role in changing it, not a passive role.
The exception to this is the way he uses his sexuality. I noticed a few years back that he drops a vision of himself naked into literally EVERY SINGLE INTERVIEW. It might be a quote like "I am always acting, even in the bath" or it might be jokes about the naked body scans taken by the TSA or it might be telling a story about going clothes shopping with Karan and having to change in the dressing room. It's subtle, but it's there, a mental image of naked SRK somehow evoked every. single. time. That's a trick recommended to women so often I've seen it as a joke in sitcoms, to drop the word "naked" into a conversation or otherwise bring up that image. And here is Shahrukh, shamelessly using it.
And there is the way he uses the possibility of pansexuality as a tease. Again, this is a trick that is a joke at this point, women told that the fastest way to gain male attention is to pretend to be lesbian or bisexual. And here is Shahrukh, casually dropping jokes about being attracted to men, very clever subtle jokes that you can't quite grab hold of but still leave an impression.
Most of all, there is just his way of behaving with an awareness that he is a sexual being. He makes eye contact with whoever he is speaking with, and he mimics their body language. He tends to sit in a relaxed posture, seemingly comfortable with his body, inviting you to share it not holding it in front of him like a shield. If you saw him at a bar or a party, you would catch the vibe that he is there, he is available, and he is interested. You would be intrigued.
This is unique among male movie stars. I can't think of someone else in Indian film or in Western film who behaves this way. When male stars want to be sexual, they are aggressive about it, come out with their shirt open or do a sexy dance. They don't wait for you to come to them. More often, they don't want to be sexual at all, they want to be strong and independent and invite the people around them to be attracted to them and behave in a sexual manner. To have a male star who lets himself be the casual non-aggressive object of your fantasies, and do it so very very well that it is invisible, that is rare.
Why is this? A couple of reasons. First, Shahrukh is good with conversation. He has a talent with words that allows him to put in these almost invisible little sexy messages. He's also good with using his body. A terrible dancer, but he acts with his whole body, changing his walk or the way he holds his head in order to fit the character. Those same skills translate to body language in conversation. He can be open or closed and use that to guide how the conversation goes.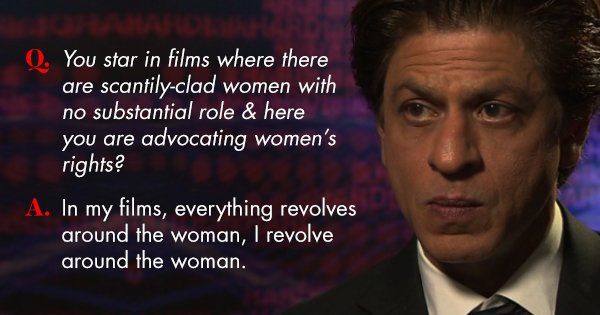 But the second reason is that Shahrukh has the originality and bravery to use his sexuality in this way. While another man might think it weakens them, Shahrukh is wise enough to see this as a tool. As an actor, he is already selling his face and body. This is just another way of doing it.
That is why he does it in particular, having the skill and the confidence, but what is the goal? What is the result that makes behaving sexually desirable?
Shahrukh gets the same thing out of it that every woman does. He creates a setting in which the other person wants to please him. Shahrukh gives out these little bits of sexiness and it creates a subconscious thrill for his conversation partner, and for the audience watching at home. In the quest for more of that, the interviewer will follow his lead and bring the questions around to areas that please him. And the folks watching at home will stop worrying about serious questions like what his next movie will be or if he is launching his kids, and instead focus on hoping for more stories about trying on clothes or why he loves his wife. In the exact same way that a woman can avoid telling personal information during a lousy date, or can talk her way into a party.
If Shahrukh was a woman, he would also have to pay the price women pay. If you use your ability to play social games in order to survive under patriarchal society, eventually you will be accused of "cheating". Getting by on "sex" instead of talent. Which ignores the reality that women generally retreat to sex in order to balance uneven scales, and that being able to use sex in this way is a kind of talent. Shahrukh does pay that price just a little bit, accused of being cast in films because Karan Johar is in love with him, accused of being a woman's star and not a serious star, and so on. But ultimately, he is still a man. He has all the power in the world and he may play at using his sexuality, but the reality is still there. In the end, that reality is all the more powerful for being cloaked. Those few moments when the charming sexy behavior drops away and the anger whips out have all the more power for how unexpected they are.
Anyway, that's all I've got! Shahrukh uses his sexuality like a woman would, and with more skill than pretty much anyone else man or woman. It benefits him by letting him subtly control interactions, and by making the occasional reveal and reminder that he is a powerful man even more impactful.
What do you think?