Well, it's true, this is the Gayest Movie Ever. There's 70s fashion, and there's 70s Hindi film Masala Guy Love, and then there's this movie. Which is just a whole other thing.
There are good Masala movies like Amar Akbar Anthony, which are ridiculous and over the top but also more or less holds together, has an internal logic to it, the character backgrounds are fully filled in, nothing feels like it is missing. And then there are bad Masala movies that are illogical and just boring, there don't feel like their are any stakes because you don't really care about any body. Somewhere in between the two is this movie. It has no internal logic, the backstory gets dropped in randomly like the writer is making it up as he goes along, and there are important scenes (like, the first meeting of our main couple) that somehow aren't there, as though they got the idea for them after it was too late to film them. But, on the other hand there is so much fun stuff! Especially related to Vinod and Amitabh who have The Best chemistry. Oh, and also Saira Banu.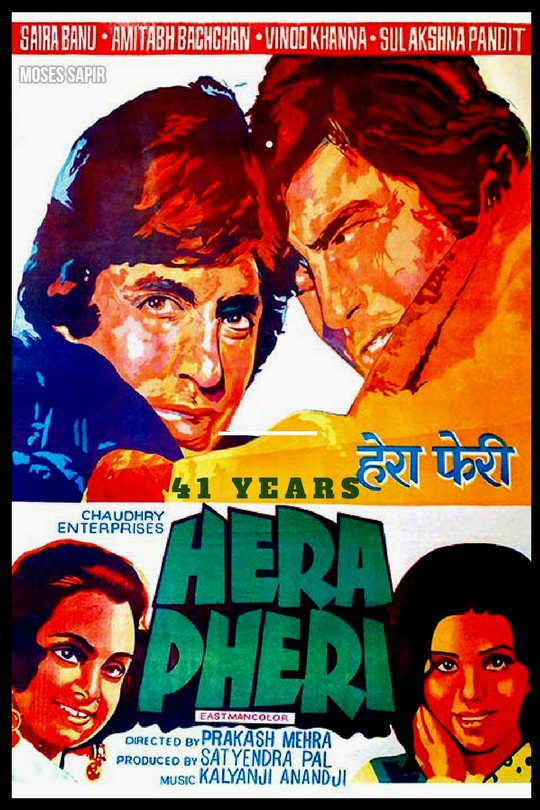 Let's talk Gayness specifically in the context of 1970s Hindi film! I did a whooooooooooole post on male superstardom and male-male friendship, and the 70s is maybe the decade when male-male friendship was most important. The heroes of the 70s were bigger than ever before, especially Amitabh Bachchan. Which meant the heroines were smaller than ever before (or since). Which means the two leads who spent most of their time together were the two heroes, not the hero and the heroine. Their relationships tended to follow the beats you would typically see in a romance, with the magical first meeting, the confession of love and commitment, the heartbreak of separation, and finally the joy of reunion. All of this isn't necessarily intended to be gay, or even IS gay, it's just a different format for a film in which the male-male relationship takes priority over the male-female relationship. So we have Sholay, Dostana, Qurbani, Zanjeer a little, movie after movie where the male friendship relationship is the most important one. And the sub-category of "friend-brother" relationships. In the context of the narrative, no romance is considered there (because brothers), but it is still possible for the audience to look at moments in Silsila, Shaan, or Suhaag and find the romance.
And then there are the 70s fashions, don't forget them! Gay culture in America was going subtly mainstream. Most folks may not know where the tight pants and unbuttoned shirts look came from, I certainly don't think the Indian film fashion people were intended to mimic the San Francisco Queer party scene. But it was the look, the popular hip up to date look. So we have our hero-hero friendship movies where everyone is in tight clothes and chain necklaces and stuff, and also it's South Asia where there are different norms for male friendship including more physical affection than in other places, and there is this whole concept of the breakdown of the standard family structure as an emotional metaphor for the breakdown of the Indian State which leads to these lonely young man forming psuedo-families with each other. And none of this is necessarily "gay", it's just a series of unrelated things which can appear to be gay.
So when Amitabh in an unbuttoned shirt and tight bell bottoms walks into a bar and locks eyes with Vinod in a tight leather jacket and pants with his chunky necklace resting on his chest hair, it's not necessarily gay. It's just how manly men dress and look at each other and stuff.
HOWEVER!!!! While most films follow the regular format of "meet cute, fight, make friends" kind of thing with the male-male heroes, this film throws a whole bunch more wood on the flaming fire (yes, all double meanings were intended). Partly because it DOESN'T follow that pattern. We don't really see the meet-cute, that bar moment is after Vinod and Amitabh are already partners. Instead we see them happily sharing a home, and bedroom, together. Vinod prays for Amitabh and scolds him when he comes home late, and is hurt when Amitabh won't take him to meet his mother. Amitabh tolerates Vinod's worry and reassures him, and over and over again declares his love and protection of him. There's very little of the 70s Masala style "two heroes challenging each other for domination of the screen out of friendship" and a lot more kind of traditional married couple love scenes. Including cozy mornings cuddled in bed together with tea, fights over family, and declarations of never ending love after the fights.
You would think with the love story being so firmly male-male, our poor heroines would be a bit pallid. But no! Good news is, since the sweet and faithful Baahu role was being taken by Vinod, our two heroines got to be all kinds of SASSY!!!! Sulakshani Pandit has almost no scenes or dialogue, but her whole character trait is "thinks Vinod Khanna is hot and has no problem eagerly chasing him". Very fun! Saira Banu is even better, this was post her marriage to Dilip Sahib and semi-retirement, but the role was such a kick I can see why she did it. She gets to play a straight up Madam! It's great! You just show up at her house, and there are all these woman hanging around smiling at you, and Amitabh kind of raises his eyebrows and then blows right past it. Also, on a shallow note, have Saira Banu's breasts always been that aggressively large? Or is it just in this movie?
So yes, I recommend this movie! Not for the plot, that's terrible and nonsense and impossible to follow. And not even for the songs, which are kind of forgettable. Fight scenes more or less too. But the gayness! And the awesome women! And the CLOTHES!!!! Amitabh and Vinod both have 3 separate three piece bellbottom suits with bowties! Come on, you know it is worth watching just for that.
SPOILERS SPOILERS SPOILERS SPOILERS SPOILERS SPOILERS SPOILERS SPOILERS
I honestly truly could not follow this plot. I don't think the script "writer" could follow this plot. I think this plot is NONSENSE!!!! It's one of those that only sort of works if you work backward from the ending explanations.
At some point in the past, not shown to the viewer, Vinod was depressed because he was an orphan and couldn't find a job, even with his good degrees. Amitabh found him and saved him and they fell in love and moved in together and now they run cons together at a gambling den. Vinod saves a girl from rapists, and she falls in love with him. A different woman (Saira Banu) shows up on their doorstep upset and ALSO pursued by rapists. Amitabh is intrigued by her, and the next morning they discover her gone along with the money they have just conned from an Evil Smuggler. But she left an address behind, Amitabh goes to her brothel and meets with her where she offers to give the money back if he and Vinod start working for her gang. But what they don't know is that Amitabh is only doing crime because he is trying to track down the Evil Killer who killed his father and drove his mother Mad. He tells this whole story to Vinod finally, who is hurt because Amitabh never brought him to meet his mother. Vinod doesn't have parents, his father was forced to sell him into child labor to raise money for medicine for his mother. Coincidentally, one of the Evil Smugglers henchman overhears Vinod telling this story to his new girlfriend (he found the attempted rape survivor and they are dating, even though she is the police commissioners sister). The Evil Smuggler is stunned, he realizes Vinod is his longlost son! He adopts Vinod into the gang and Vinod rejects Amitabh and his love now that he has found his father. Amitabh is heartbroken, Saira tries to comfort him and admits that she is in love with him. The Evil Smuggler plans to capture both Amitabh and his mother and kill them. Vinod kidnaps Mother, Amitabh and Saira show up at the Evil Den, Vinod and Amitabh fight and then…HA HA! It was all a TRICK!!!! Early on when Vinod was hit on the head and kidnapped, he overheard Evil Smuggler and his men talking about his longlost son. So Vinod somehow knew the henchmen would be listening when he told his girlfriend this story? And also somehow never had time to tell Amitabh his plan so Amitabh believed it to be true? It doesn't quite hold together. But the point is, Amitabh and Vinod love each other again, Happy Ending.
There's also something about how the Evil Smuggler goes around disguised as a Respectable Businessman sometimes. But honestly, the disguise is so weak I didn't even think it was a disguise, I just thought everyone knew he was both people all along. Until the ending scene when he shows his "son" Vinod how he can transform into a respectable businessman and Vinod goes "NO! You are the SAME PERSON? Not possible!" Like when folks don't believe Clark Kent can be Superman.
So yeah, the plot is terrible. The point of the movie is to see Vinod and Amitabh's happy homelife, and then feel the torment when Vinod abandons Amitabh and breaks his heart. And then the happiness when they are together again.
Maybe it is that homelife which makes it feel different? The typical multi-starrer, we have our heroes as friends, but they travel around together having adventures. We don't see them sharing a cozy apartment with little jokes and lazy mornings in bed and stuff. Although this also isn't a couple that has been together forever, one of those "we met in childhood and know everything" kind of couples. They still have a sort of honeymoon glow about them, Vinod prays for Amitabh and Amitabh teases him. And when Vinod is hit on the head and kidnapped, Amitabh has some real fiery new love madness to him as he threatens Saira that he will kill her if Vinod is harmed in anyway. Here we have a couple that is beyond the "meet cute" part, but still in the phase of "I can't believe how happy I am, happier than ever before in my life".
It sounds a bit like I am joking, but really, this friendship is a love story. Sure there are two heroines, the text of the film says they will marry other people. But someone involved in writing this script, whether they would have identified themselves as "gay" or not, had the happiest times of their life when they found a fellow man who loved them just as they were, who took them in and gave them a home, who they spent every day with and laughed and talked and slept together. And that glow of happiness for those times together just comes through somehow, like magic.